Retro City Rampage Review

Date: October 12, 2012
Author(s): Rob Williams

Passionate about 8-bit games? Then Retro City Rampage is for you. It offers an open world to explore and Grand Theft Auto-like gameplay in an 8-bit format that's sure to invoke nostalgia. You'll encounter an almost uncountable number of references from the 80s – especially from select NES classics – and you'll get quite a few laughs, too.
---
Introduction
If there's one thing I can't get enough of, it's nostalgia. This is especially true where gaming is concerned, and it's for that reason that I've been stalking the release of Retro City Rampage, a game clearly designed with the same passion I have for the classics – namely, those on 8-bit consoles. If the graphics or sound of a popular NES game gets you excited, judging from the trailers alone, Retro City Rampage can do much the same.
This is one of those game reviews where I implore you to watch our gameplay video below. Simple text and even screenshots don't do the game justice. Sometimes, sound can be even more powerful than graphics, and this game is a perfect example. Once you hear the soundtrack, you're bound to get hit with a surge of memories – hopefully good ones (not those where you threw your gamepad against the wall in frustration).

(Full-screen HD viewing is recommended)
The premise of Retro City Rampage isn't really that important, but you can expect it to essentially be an 8-bit Grand Theft Auto. You'll be causing a lot of destruction, killing innocent civilians at every turn (likely due to your reckless driving) and handle the odd predicament every now and then.
If you were a big NES (Famicom) gamer, there's no question that you'll grin at reference after reference. As the video above shows, even in the first 10 or so minutes you'll see numerous references to classic video games and other pop culture sources from the 80s. You'll spot a frog splattered on a busy highway, miss shooting a bird and see a dog laugh behind a crate, enter a green pipe to make an escape, travel through a dank red-bricked sewer and not long after, deal with a level pulled straight out of Contra. And speaking of Contra – the theme music for Retro City Rampage reminds me a lot of it, so it's of little surprise to see an homage to it in the game itself.
Some references are less obvious, making it easy to overlook some of them. Examples earlier on in the game include a Bimmy & Jimmy's store (based on a typo in Double Dragon III) and a twisting of a poorly-written line from Metal Gear (I feel asleep!).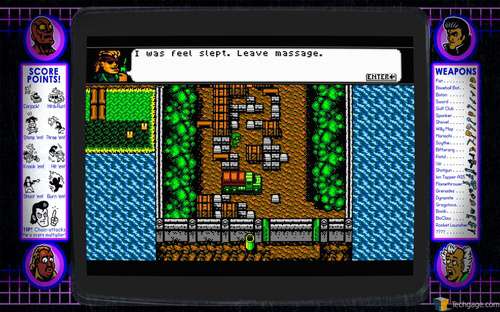 Retro City Rampage piles on the parody and isn't ashamed of it – it even provides a warning of it once the game is loaded up. This isn't a game designed to simply mimic the 8-bit classics, but rather follow in their footsteps and, first and foremost, be fun. Your missions are going to be often ridiculous, as will the dialogue be. It doesn't detract from the game at all, because it's not something here or there that's humorous – rather, the entire game is. You always expect it.
Even movies are brought into things, including an obvious one near the beginning of the game. You need to help "Doc" locate a Flux Combobulator, and once you have your car operational again, you must run over 88 civilians in order to gain enough energy to travel through time. That then leads to yet another reference – or at least what I believe is a reference. When traveling time, the screen swerves much like it does in Zelda: A Link to the Past for the SNES, when you go back and forth from light to dark world. Though, it could just be that because the game offers so many nostalgic elements, games that aren't even referenced will come to mind. In that regard, Retro City Rampage could very well act as a reminder to those games you haven't played in a while.
What about the gameplay itself? Much like most of the NES game collection, Retro City Rampage does take some getting used to. Driving is a bit of a chore, and you're never quite sure which is the right street to drive up (unless you've played long enough to know the locations). You'll find yourself hopping in a vehicle often and heading around town, much like in Dick Tracy – but instead of passing people shooting at you from the rooftops, you'll quickly be pursued by cops if you're a little too careless on the road.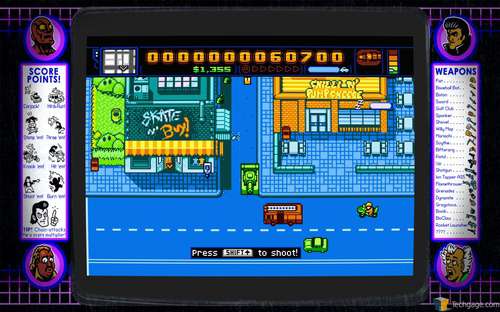 The game makes use of either the keyboard or a game controller, but the configuration of the latter will be left up to you. Though I've only played the game with a keyboard so far, I'd imagine that some parts of it are easier handled with a gamepad – and after all, this is in effect a console game.
As you might expect, Retro City Rampage doesn't require a beefy system to run, and its resolution defaults to whatever your current desktop resolution is. If you feel like ramping up the nostalgia to ridiculous levels, many different video modes are offered to you, all of which can be seen in the video above.
I haven't completed the game yet, so I am not sure how long it takes to complete. But given my timing so far, I'd have to assume it'd take about 10 hours or more if you're not adverse to completing all of the missions offered to you. In addition to the main story missions, there are also "Arcade Challenges", which are quick missions that are very, very challenging. Each of these grade your performance on a bronze – gold scale, and in some, even achieving bronze can be a real challenge.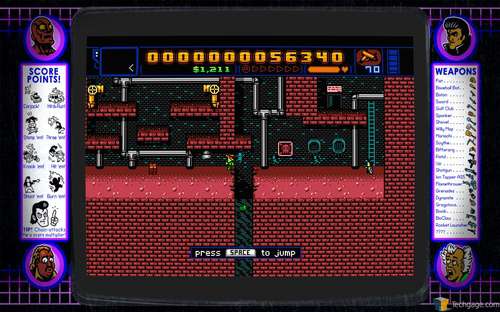 Increasing the amount of time you can sink into the game, there's also a Casino and Arcade to take advantage of. The Arcade offers games based on Super Meat Boy, Epic Meal Time and also Bit.Trip, while the Casino offers a simple card game and slots pretty reminiscent of those in Super Mario Bros. 3.
Is Retro City Rampage worth it? If you skipped the 8-bit gaming generation, chances are you won't enjoy the game quite as much as those who did, as nostalgia and references play a major role here. However, if the trailer or our video above intrigue you, it's definitely work checking out. If you do happen to be passionate about 8-bit games, Retro City Rampage shouldn't be missed. It hits the mark in many different ways, offers a bunch of laughs and will likely cause you to get that old console out of the closet or make you load up your favorite emulator.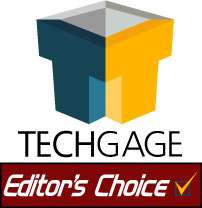 Retro City Rampage (PC)
Discuss this article in our forums!
Have a comment you wish to make on this article? Recommendations? Criticism? Feel free to head over to our related thread and put your words to our virtual paper! There is no requirement to register in order to respond to these threads, but it sure doesn't hurt!
Extra Screenshots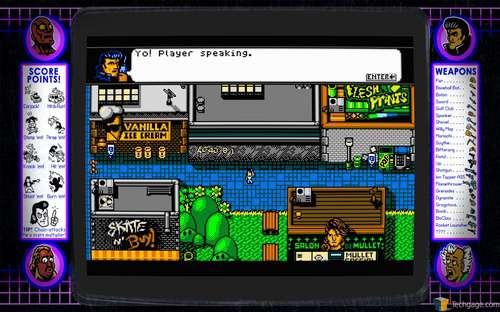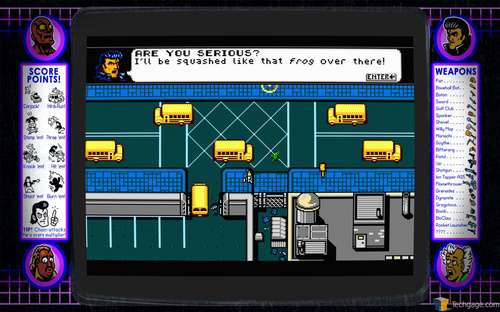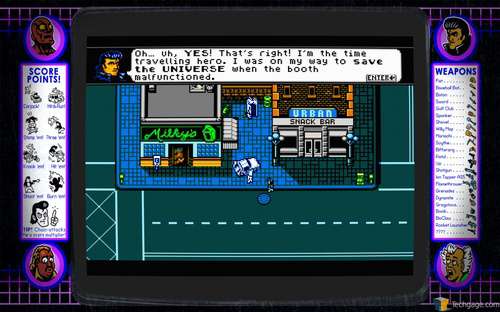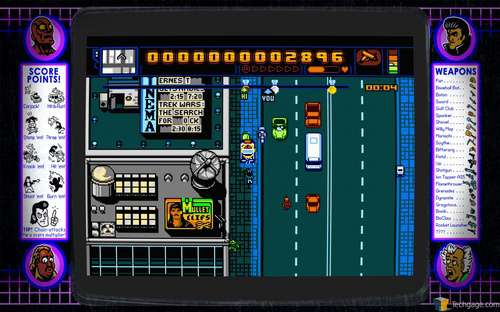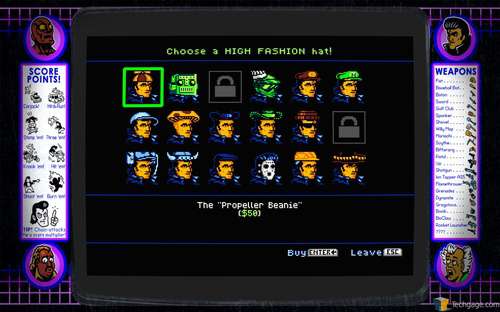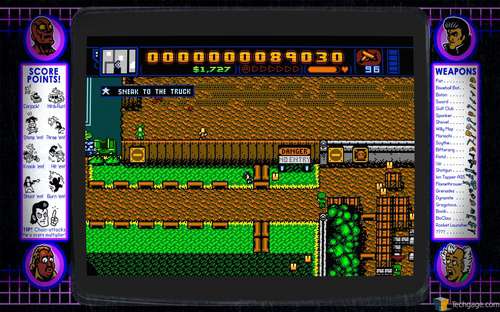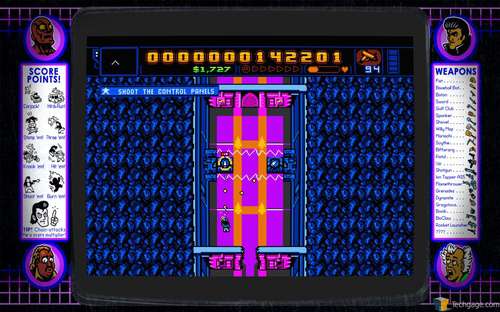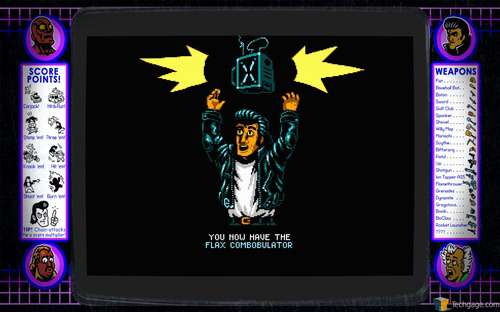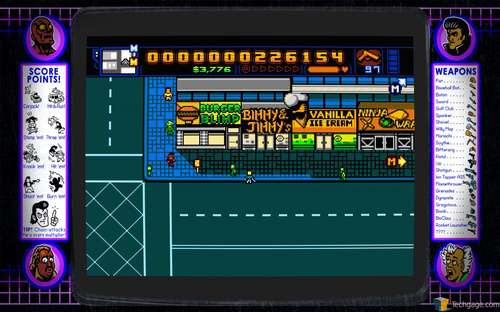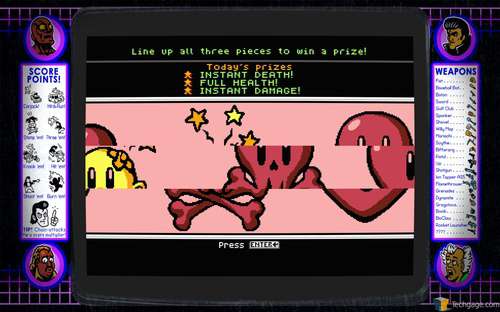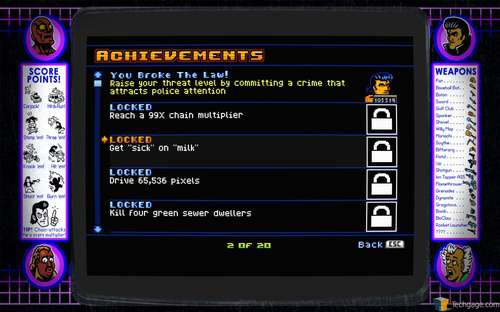 Copyright © 2005-2021 Techgage Networks Inc. - All Rights Reserved.