Roku XD Media Player

Date: December 1, 2010
Author(s): Greg King

With the surging popularity of streaming content online, media players are popping up all the place from a countless number of vendors. Roku isn't a bandwagon jumper, though, as it's been designing robust media solutions for some time. With all of the competition we've tested, we're taking a look at one of its current products, the XD.
---
Introduction
Two months ago I began an experiment to see if I could wean myself away from traditional cable television. Primarily using my current cable service to watch sporting events and a handful of recorded shows, I have never really felt that I was getting my money's worth out of the deal. Paying extra for all of the hardware and channels that I rarely watch has made less and less sense as each monthly bill comes in.
The first step in this experiment was taken two years ago when I purchased my PlayStation 3. I originally got the console for the games and Blu-ray capabilities that the machine had to offer. At the time, Blu-ray players were almost prohibitively expensive and the general consensus among A/V techies was that the PS3 was not only a great gaming platform, but also one of the best Blu-ray players available at the time.
As I moved into a new house in March of 2010, I never even bothered hooking up the cable in my bedroom, opting to stream my videos from a Synology NAS box. With the PlayStation Network, any movie that I wanted to see I could rent for a slightly inflated price… but I watch movies so infrequently that this never became an issue.
When Netflix became available for PS3 and Xbox 360 owners, a powerful blow was landed to my feelings for the cable company. While I was extremely happy with the versatility of the PlayStation (and pleased with the Xbox's similar capabilities), I had no desire to purchase a second console for use in my living room. If I was going to make this cableless television thing work, I was going to have to find something to fill the void caused by the cable box's absence. Enter the Roku XD.
My first experience with a Roku device came in 2008. I was staying with a friend for the weekend and due to the weather, we pretty much stayed inside and watched movies for the entire two days. On top of his television was a small box, ironically bundled in as a promotion by his cable provider. This also happened to be my first experience with Netflix.
Having practically owned the simple and inexpensive Netflix streaming market since its launch, Roku has been an affordable device for those looking to stream Netflix movies rather than deal with the DVDs each and every time they want to watch a new movie. As the company has grown, so has its options.
You can now access your Amazon Video on Demand account, watch MLB baseball via MLB.tv, catch your favorite TWiT netcast and browse a solid list of popular television episodes through the recently supported Hulu Plus. It's true that many of the main features of the Roku are available on both the 360 and the PS3. It's also true that you can get Roku's best model of streamer, the XD|S for $100, half the price of the cheapest 360 and almost a third of the cheapest PS3.
Today we are looking at the Roku XD. The XD is the middle sibling in the current Roku family. Starting with the Roku HD at the bottom and the XD|S at the top, the lineup has been revamped to support high-definition content from top to bottom. The XD and XD|S both support 1080p output and ship with wireless N radios with the latter being capable of using the 5GHz spectrum.
The XD sports wired Ethernet and HDMI ports, composite audio and video outputs and a power port. These are all packed into a package roughly the same width as two iPhones sitting side by side and as tall as a regular desktop hard drive.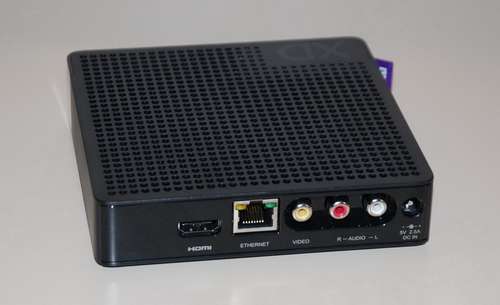 The remote is simple and is powered by a pair of AAA batteries. With navigational buttons, a quick rewind button, skip forward, skip back, pause, home and a back button, the remote should fit well in most hands. I personally found it a bit small but it wasn't anything that was unpleasant to use.
That's the hardware, and next we'll take a look at the software and content available.
Interface, Testing
When we first unboxed the Roku, we were on the network and browsing the different channels available within 10 minutes of first powering the device on. The home screen has a similar interface as the new Xbox 360 dashboard. The user can scroll horizontally through panes of different channels and settings. The Roku's dashboard is ad supported on the bottom and while we aren't overly excited about this, it's not obstructive and can be easily ignored.
Once in the settings area of the interface, the first screen we come to is the network status page. From here you can connect to your preferred wireless network and check its signal strength.
Depending on the television you are connecting your Roku to, you can choose the display option that best suits your display. As stated before, the XD and XD|S support 1080p and all models can do 720p and standard-definition signals. In our case, the Samsung 42 inch LCD can handle 1080p so that is what we have set the Roku to. The screen notes that it will not upscale 720p content but rather display at 720p when 1080p content is not available.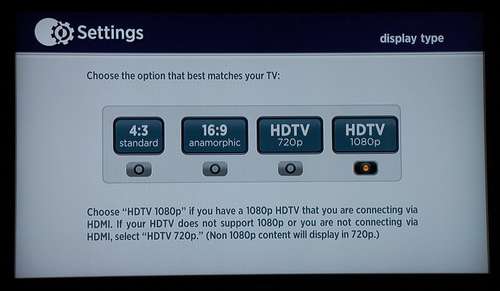 The audio settings are straight-forward on the XD. You can either choose between stereo and 5.1 surround sound. You can also control the volume of the interface's sound effects. We found that high was a little too much and after a few minutes of browsing through the interface, we lowered things down to medium.
For those of you concerned with potential screen burn in, there is a built in screen saver. You can download different screen savers if you choose but the ones baked into the device include a digital and analog clock. If neither of those options float your boat, you can set it to a generic Roku logo that bounces around your screen during times of inactivity.
There is also a time settings screen where you can set your time zone and display type.
Your Netflix account settings are stored on the Roku, allowing you to stay logged into your account each time you load the application.
Finally we have the player info screen. Here we can check for a firmware update (often pushed directly from Roku), as well as view your network status. We also have the ability to do a full factory reset on the device. This is helpful if you decide that you no longer need your Roku and want to sell it.
A huge addition to the Roku stable of supported channels is Hulu Plus. Recently introduced to the Roku channel store in a firmware update, Hulu Plus brings a lot to the table for the minuscule streamer. Offering television shows from many of the most popular networks, Hulu Plus makes you feel like you are getting your money's worth. I personally watch a lot of "The Office" and "House" so offering past episodes of both those shows are personal wins for me in my battle against my cable bill.
The channel store offers a fair amount of extra avenues of entertainment but most are extremely underwhelming. Big names like Netflix, Hulu Plus, Pandora, Vimeo and Revision 3 are present along with lesser known online networks that interest me little. I gave a few a go round but could not get into many of the other channels, even after a generous amount of time giving them a chance. Users can rate each channel, giving you a decent idea of what others think highly, or little of any particular channel.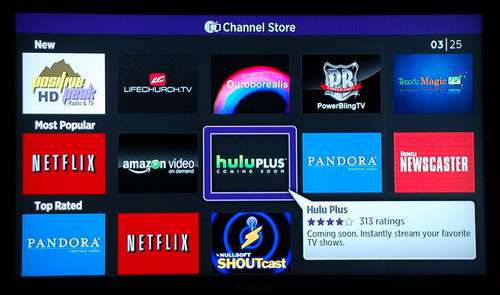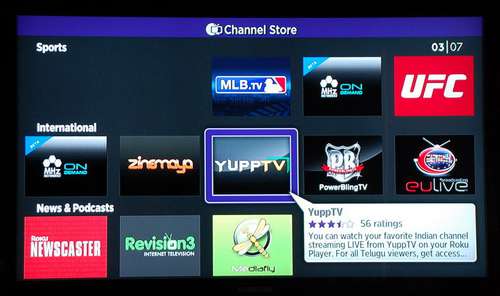 There are also other apps that can be downloaded. You can follow your Facebook friends, catch up on your Flickr and Picasa accounts and watch uploaded videos on Vimeo. In our testing, we actually used Vimeo quite a bit to test out the streaming capability of 1080p content over our wireless n network. If you care to play a few quick games, there are a variety of games and screen savers available for download as well. I spent about an hour playing the poker game and while it was enjoyable, it's not going to sell any additional units. I still love the fact that they are available as it shows that development of alternative apps for the devices is possible.
As we just stated, wireless streaming over a 2.4 GHz n connection was smooth and we didn't encounter any issues in our testing. We found a pair of quality 1080p videos in Vimeo and then played around on Hulu Plus for a while.
Watching the latest episode of House in high-definition was enjoyable and with Hulu, the need for the expensive DVR leased to me by my cable company becomes virtually non-existent.
Final Thoughts
My quest to do away with my cable television service has been an interesting ride and as of yet, I'm close but not entirely sure I am ready to cancel my membership just yet. Leaving my PS3 in my bedroom and putting the XD in the living room has opened up Hulu and Netflix to both of my televisions but I still lack the ability to catch a Colts game or watch highlights on ESPN.
Are those worth the cable bill each month? That's something that I am still trying to figure out. With the close of the NFL season coming in a few short months, I am pretty sure my cable days are numbered. Then my grand experiment will get interesting.
Our experience with the Roku XD was nothing short of spectacular. We were able to unbox the device and have it browsing media in just under ten minutes. Going as far as having a friend spend an evening with the Roku, we were impressed that a tech novice was able to get used to the interface without any questions. Leaving them alone with the device for a while, I came back to find them browsing through Hulu, looking for a particular show. There aren't many devices that can be navigated by those who still own and use a VCR on a weekly basis.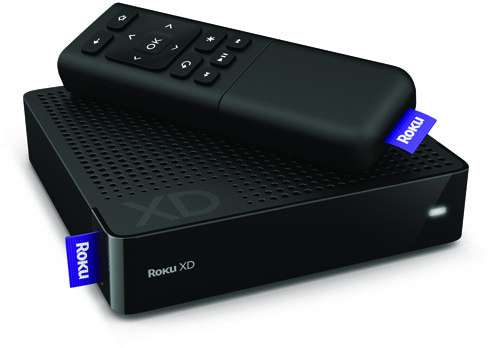 The bridge between cloud based content streaming and traditional cable and satellite television is getting shorter. We are almost to a point where you can get everything that cable has to offer online. When online media catches up with the almost outdated ways of watching television the home entertainment world will be a much better place. From the past couple of years, Roku has been leading the hardware based charge and we fully expect the company to be a leader in the years to come.
Discuss this article in our forums!
Have a comment you wish to make on this article? Recommendations? Criticism? Feel free to head over to our related thread and put your words to our virtual paper! There is no requirement to register in order to respond to these threads, but it sure doesn't hurt!
Copyright © 2005-2020 Techgage Networks Inc. - All Rights Reserved.