Saitek Cyborg Command Unit

Date: April 10, 2008
Author(s): Nate Marion

Hardcore gamer? Have a need to create insane macros to get the job done? Saitek's "Cyborg" Command Unit delivers! Although the hardware itself leaves a bit to be desired, the included software offers the ability to create numerous long macros to help you get the job done.
---
Introduction
Today, we're going to be looking at another product from Saitek, one of the world's largest PC peripherals manufacturers. Saitek recently released their 'Cyborg' product line, targeting the PC gaming market. Funky aesthetics and logos aside, there are some interesting products here, particularly since Saitek has offered some very flexible programming software in the past.
We got our first peek at the Cyborg Command Unit at CES this past January, and were told that it could be programmed using Saitek's SST software – meaning that every key should be programmable with macros of unlimited length, among other things. There aren't many game pads like this on the market today, so of course we were happy to take the Cyborg Command Unit for a spin.
This is one peripheral that's unlike most that gamers are used to. Instead of sticking to the standard keyboard as we've become accustomed, Saitek believes their special units, when used properly, could vastly improve your gaming experience, and maybe even your skill. It's interesting, to say the least, so let's get right to it.
Closer Look
There's a few unique features that the Command Unit touts. First is the fact that it's ergonomic, so it should prove comfortable for most people (or all) who use it. All of the keys are back lit also, and laser-etched, so that even during the heat of battle, there should be next to no fumbling.
Saitek also wants you to know that the Command Unit is not only for First Person Shooters, but there is a toggle mode that allows you to switch to both "Strategy" and "Role-Playing Games" as well, so really, this might be a unit you'd be using more often than you think.
On top of it all, there are 21 buttons total, including the space and shift function, and a paired all together, having up to 144 programed commands is possible. Lastly, another feature that Saitek boasts is the unique thumb control area with 2-way tilt mechanism, which can slide front to back.
It looks good, but is it really the "Ultimate man-machine interface", or worth your $40?
Once out of the package, there is not much to see besides the keypad itself. The unit comes with a driver CD containing the basic software drivers as well as Saitek's SST software, which allows for more complex button programming and functionality.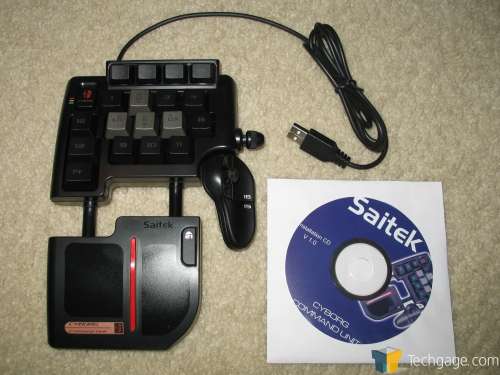 There are a total of 21 buttons on the Cyborg Command Unit, 18 of which are arranged similarly to the left side of a standard desktop keyboard. While this certainly won't be setting any new trends in button layouts, I had no problems reaching any of the keys while keeping my hand stationary – even the F1-F4 keys are easily accessible due to the way they're tilted.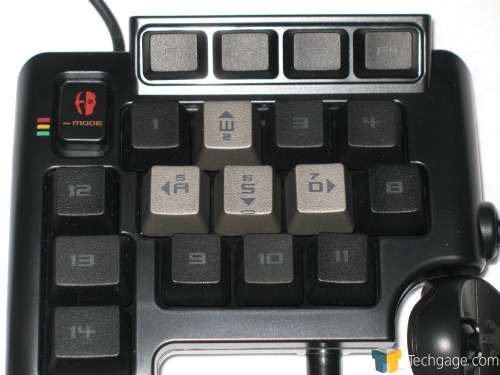 In addition to the keyboard buttons, there are two thumb buttons and a joystick, which are mounted in such a way that they can be rotated and extended/retracted slightly according to user preference with the help of a thumbscrew to hold the position in place once set.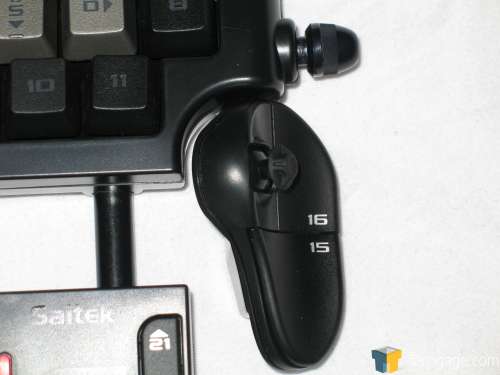 Next, button # 21 is mounted on the palm rest and by default functions as a custom 'SHIFT' key, which mislead me at first, because the Cyborg Command Unit didn't come with any instructions. This key doesn't act like 'Shift', but instead alters the function of every other key (if the user so desires) when held – effectively giving the user access to 40 different commands that can be programmed across the other 20 buttons.
If that sounds like a lot of flexibility to you, just wait until you see the software!
Finally, there is a three-position switch on the upper left of the Command Unit that allows the user to change between three different sets of commands (by default, Saitek suggests one for FPS games, one for RTS games, and the last for everything else). But that's not all – each of these sets of commands is color-coded, and the switch changes the color of the back light accordingly. I apologize for the blur.
Definitely not bad, but I think Saitek would've done themselves a favor by using colors that matched their popular Eclipse keyboard, or at the very least include blue. It also would've been nice if the red line on the palm rest changed color. I guess you can't have everything.
Now that it's all unpacked and plugged in, let's see if we can somehow figure out how to frag something with it!
Installation and Software
Getting the software installed is as simple as clicking a mouse. Here you can see the basic driver menus. The main driver tab allows the user to test the joystick and buttons, and indicates the position of the three-position switch by highlighting the switch icon appropriately.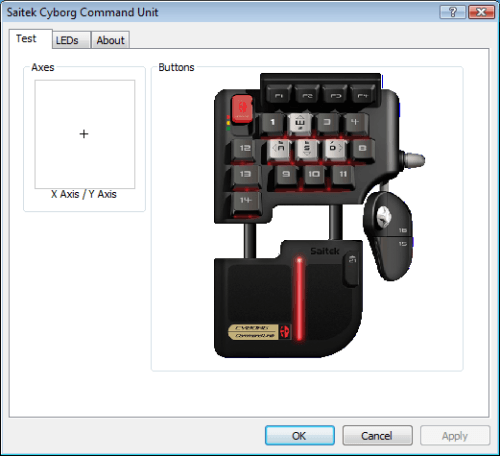 The crosshair moves when the joystick is used, and each button is highlighted red when pressed. In the screenshot above, you can see that there is no limit to the number of simultaneous operations – literally all of the buttons can be pressed at the same time while moving the joystick without having any commands dropped. On top of that, the PC still responded to Ctrl+Alt+PrtScr – pardon me while I untangle myself.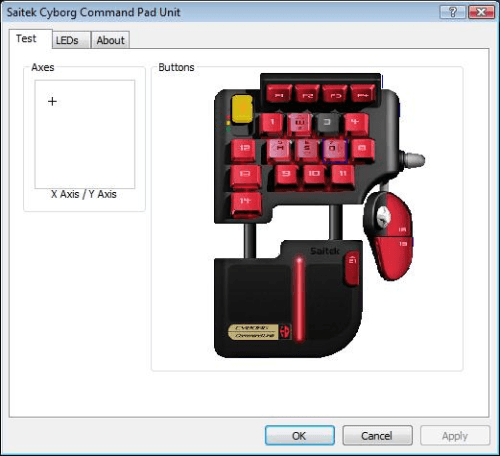 The next tab allows users to adjust the brightness of the LEDs. The position pictured is the third tick on a scale of 16; anything less than this turns off the LEDs entirely. This is definitely a nice feature, but again I have to note that the red line on the palm rest cannot be turned off this way.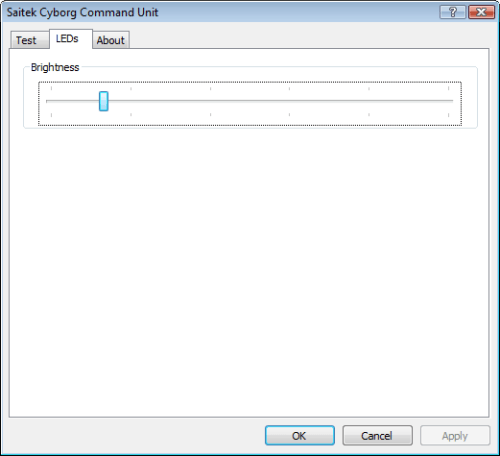 The last tab lists the driver version and gives a link to download Saitek's SST software, which I'll cover next.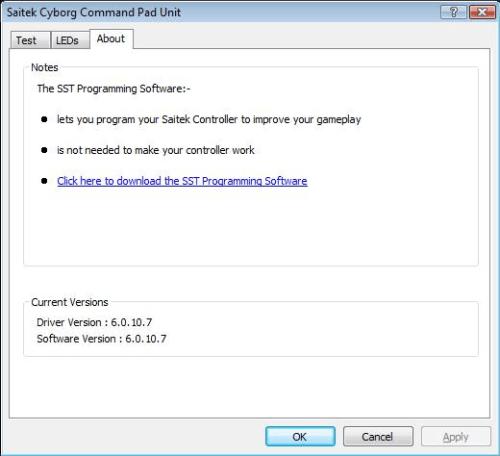 Overall, the basic driver is basically useless except for controlling LED brightness. However, it must be installed and running in order for the Command Unit to function, and the Vista [64-bit] version runs in the background and uses about 1876Kb of memory on my machine.
The SST programming software, on the other hand, is where the Cyborg Command Unit really shines. This piece of software requires 2624Kb of system memory on my Vista [64-bit] machine, and delivers a plethora of programming options.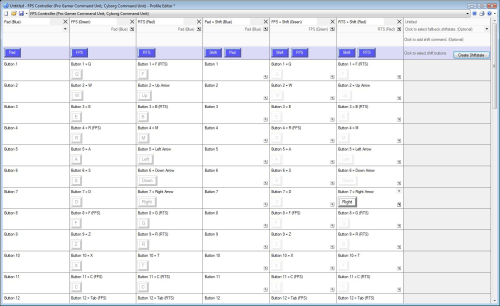 Yikes, what a menu – it almost makes me wish Saitek included an instruction booklet. Fortunately, general instructions for the Cyborg product line can be found here, and the SST manual can be found here.
Basically, this is showing the six different command sets currently loaded in this profile – three command sets can be accessed via the three-position switch on the Command Unit, the other three are referred to as 'shiftstates', and can be accessed by holding down the 'SHIFT' button (#21 by default) in each of the three switch positions.
This would mean that for each profile, up to 120 different commands can be programmed – 20 buttons excluding 'SHIFT', 6 profiles. However, users can create additional shiftstates with custom key combinations…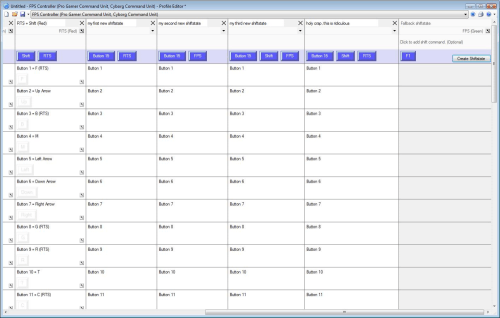 Increasing the number of programmable commands to roughly *head explodes*. If you're wondering just how many more shiftstates can be stored in a single profile, I gave up at 13. With the ability to save and load as many profiles as you want on the host PC, there just isn't any reason to remember (or have the possibility of remembering) 19 different shiftstates.
Now that we understand the limitless programming power at our disposal, we'll look at just what kind of macros can be programmed.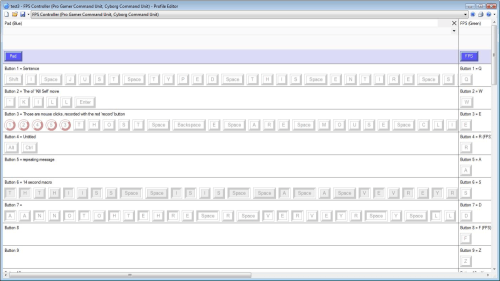 I just typed this entire sentence by pressing a single key on the Command Unit. Yup, it's that crazy. Even mouse buttons can be used in these macros – all five of my mouse buttons were detected, and scroll up/down can be inserted via a right-click menu.
All that's required to program a macro is to click on the target button and start pressing keys. In order to record mouse buttons, there's a little red 'record' button that must be pressed (I can't get a screenshot of it because it can only be pressed when buttons are being programmed).
Once a macro has been recorded, the timing can be adjusted by right clicking and selecting either specific commands or the entire macro. Delays can then be set as the user sees fit, however I've found that in practice these delays must be very small (about 0.01 seconds or less) and the key must be held down until the macro completes or the macro may get cut short.
I've found that an easier way to control timing is by using the advanced command menu, opened via a right-click menu.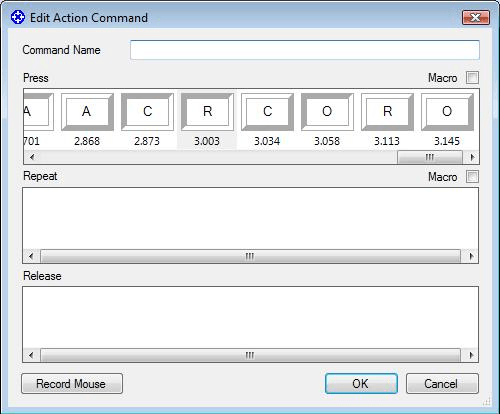 Here, users can program what happens when a button is pressed and released, and can even program a macro that repeats itself as long as the button is held down. Furthermore, timestamps are shown here, making it much easier to keep track of timing. Advanced commands do not get cut off when the button is released unless they are repeating.
As for the joystick, it can be programmed in several ways.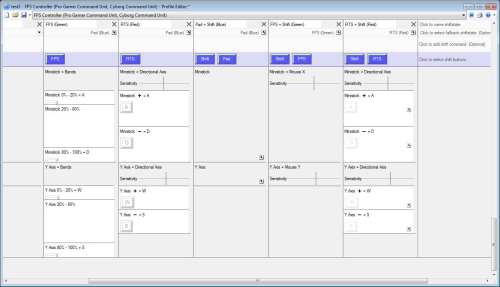 For all intents and purposes, 'Ministick' refers to the X-axis, while 'Y Axis' obviously refers to the Y Axis. In general I believe that the most useful configurations would be either the one shown in FPS (Green) – where the ministick essentially replaces WASD (and allows for diagonal movement properly) or the one shown in FPS + Shift (Green), where the ministick acts as the mouse, with adjustable sensitivity. Other uses might include flicking the ministick to knife, throw a grenade, cycle weapons up/down, etc.
I have to say that I'm very impressed with the programming-ability of the Cyborg Command Unit, and have no doubt that it will please even the most demanding macro programmers out there. While the programming techniques might require a bit of experimentation, the results are very worth it.
Final Thoughts
My first experience with Saitek's SST programming software was with their otherwise unremarkable 1600DPI mouse. Even in that case, where there were only three or four programmable buttons, the functionality of the SST software was impressive; with the Cyborg Command Unit, the SST software is incredible.
There is no macro too long, no limit to the number of shiftstates and profiles, and a huge array of programming possibilities in between. I can't imagine the software side of the Cyborg Command Unit being much better than it already is – the only slight annoyance I discovered was that no profile is loaded upon a reboot.
That said, the hardware deserves some criticism. While the button layout is good, the key action is not. The keys on the Cyborg Command Unit remind me of an old, gummed up Dell keyboard, and it doesn't take much lateral force to prevent the buttons from being depressed. Put simply, the buttons feel clunky.
The rest of the unit isn't much better, really. It's obviously very cheap to make, and while it's definitely sturdy enough to sit on a desk, I wouldn't trust it to take much abuse. The hand rest is solid plastic with almost zero coating – no rubberized surface here – meaning that hand sweat was an issue over longer periods.
Finally, as I said before, I'm a little disappointed in the color of the LEDs. The programming software refers to red, green, and blue, but the actual colors are red, yellow and green, with a red line that doesn't change color and can't be turned off.
Price is a large factor here; for a current retail price of ~$35, I think that the Cyborg Command Unit offers a HUGE variety of programming features – probably more than any similar device on the market. While the build quality and color scheme are far from perfect, the software makes up for a lot. There is no question that the Cyborg Command Unit is a very good value, so I'm going to award it an 8 out of 10.
In the future, I would recommend that Saitek try to offer more appealing (read: blue and/or UV) LEDs, a more comfortable hand rest, and higher quality keys. The Cyborg Command Unit wins with software and price, but a better-rounded product would be welcome.
Pros
Fantastic programming capabilities via Saitek SST software
Good button layout
Price (~$35 USD)
Cons
Keys feel clunky
Physical build and aesthetics are not very good
Discuss in our forums!
If you have a comment you wish to make on this review, feel free to head on into our forums! There is no need to register in order to reply to such threads.

Copyright © 2005-2020 Techgage Networks Inc. - All Rights Reserved.