Saitek Eclipse II Illuminated Keyboard

Date: September 8, 2006
Author(s): Greg King

Craving one of the coolest looking gamer keyboards around? The Eclipse II delivers. It can be equipped with three different LED colors, and also packs a fair amount of functionality.
---
Introduction
There have been a few big names in the PC peripheral game for quite a while now. When we think of I/O devices, mice, keyboards and game controllers come to mind more often than not. While keeping with the I/O theme, we just do happen to have the new Saitek Eclipse II keyboard lying around the Techgage office and I'm the one who gets to take it for a spin.
While Saitek was founded in 1979, they entered the gaming market in 1993. Since that time, they have grown into one of the better PC gaming peripheral manufacturers around. Working with gamers to better their products, they have produced products that have been praised by gamers and wanted by all. They struck gold with their Eclipse keyboard but are back to retake ground lost to its competitors with the Eclipse II. Having recently reviewed the G15 made by Logitech, how does the Eclipse II stack up against the G15 with its robust amount of extras? Let's get into the review and find out.
Packaging
In the past, I have spent far more time on packaging than I really have needed to. A box is a box is a box and that won't ever change. No one reads hardware reviews to see how an item is packaged so with that in mind, I will keep this short and sweet.
The Eclipse II came to me in a typical shipping box, brown and bland. Once opened however, the retail packaging is shown. There is all the typical marketing information one could ever need and it really stands out.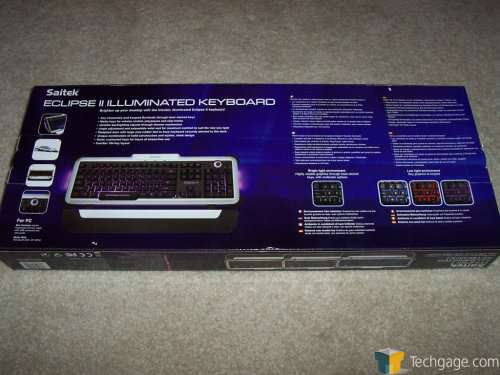 Once opened the Eclipse II comes packages in another box, separating the wrist rest to insure a safe ship.
Hardware
Once everything was out of the box and put together, not that there is anything difficult in putting the wrist rest on the keyboard, we can examine the Eclipse II itself. First, let's start out with the information provided by the people at Saitek themselves.
Key characters and keypad illuminate through laser-etched keys
Media keys for volume control, play/pause and skip tracks
Variable backlighting adjusts through dimmer mechanism
Angle adjustment and extendable wrist rest for maximum comfort to suit the way you type
Weighted base with large area rubber feet to keep keyboard securely planted to the desk
Quiet, cushioned keys for hours of stress-free use
Familiar 104 key layout
There you have it. We are dealing with a standard 104 key layout and each of those keys can be illuminated with variable brightness. One more thing that I want to point out, and its not mentioned in the specs, is the different colors you have to choose from. You have the option to illuminate your keys with purple, red or blue lighting, This is ideal for those late night gaming benders that we all have gone on in the past and most certainly in the future.
As you can see in the picture above, the layout of the Eclipse II is standard with the exception of the top right corner of the keyboard. This is where the media controls can be found. These include stop, play, forward, back, volume up, volume down and mute, but also has a knob that allows you to control the brightness of the backlit keys. There is also a button that allows you to cycle through the three different colors which are purple, red and blue. It should also be mentioned that you do not need to have to backlighting on at all. If you want to work with the keyboard unlit, you can do that but it's nice to know that you have the option of three separate colors to choose from. It's also nice to be able to adjust the brightness of the keys as well. Bright when you need it and dim when you want to be romantic. And nothing screams romance like a LAN party can.
Another neat feature, if you want to even call it a feature, is the fact that the sides of the Eclipse II have lighting on them as well. These will always be the same color as the keys are, but add a nice glow around the keyboard when the lights are low.
The side lights kind of remind me of underbody neon kits that a lot of sport cars have under them. When it comes to cars, it usually looks terrible unless it is done correctly and the same applies for keyboards and cases. Lighting is nice, when done tastefully. Fortunately for us all, Saitek nailed the lighting in my opinion.
Below you will see the different examples of the coloring that you can expect to enjoy when you use an Eclipse II yourself.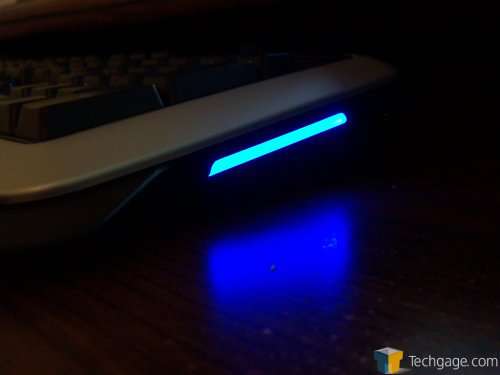 There you can see the colors are bright and the keys are relatively visible. One thing that I loved about the G15 was the fact that each key was lit up individually as opposed the Eclipse II where the lighting was underneath all the keys and the light comes through the laser etched keys. While this isn't much, it's something that all 'premium' keyboards should offer. Who knows, perhaps that can be addressed in the Eclipse III, should it ever be manufactured?
Build Quality, Final Thoughts
Something else to take note of the build quality of the Eclipse II. The keyboard has a weighted base and rubber pads on the corners to insure a firm stance on whatever surface you are setting it on. The Eclipse II has two flaps that come out to allow you to angle the keyboard back, which is much more comfortable for me and quite possible you as well. Also, each of these legs have 2 settings on them. You can have one stuck up or the other, allowing you to have a greater degree of slant should you want it. Saitek has put together a very sturdy feeling keyboard that should last quite a long time.
Conclusion
I have been working with the Eclipse II for almost 2 weeks now and in that time, I have learned to love this keyboard. The layout and design allow for a comfortable typing session as well as gaming. I have spent a lot of time with this keyboard playing games, writing articles and reviews and sending out emails. Through all of this use, I did not find anything wrong with the keyboard that I would change besides the backlit keys and that's not really a sticky issue with me. The media keys worked well in winamp, windows media player and musicmatch and took up little space on the keyboard itself.
Something else that I loved about the keyboard was its sturdiness and weight. As a frequenter of many bars in the area, I have seen a few bar fights. Having said that, the Saitek Eclipse II is certainly something I would like to have around should any LAN party I attend take a turn for the worse. It's just built that well and that sturdy.
There isn't much more I can say about the Eclipse II that I haven't all ready said. It has taken the Logitech G15s spot on my desk and that's something that I didn't think would happen so quickly.
Pros
Sturdy and stylish
Three different color options are nice
Dimmer knob is a nice addition
Comfortable to use for extended periods of time
Cons
Price. $60 US for a keyboard might be steep for some
Backlit keys could be a bit brighter
There you have it. The Saitek Eclipse II is a well made keyboard with just enough to get you going. There is no LCD like the G15 but for 90% of all users, that is an unneeded accessory. My only true complaint is that the keys really should be brighter. I would like to see future revisions or future keyboards from Saitek illuminate each key individually as opposed to backlighting under the keys and have each key share that light. Not a huge deal but it might be a turn off for some.
The Saitek is now the king of my desk and has replaced the G15 from its throne. The Eclipse II can be found online in the $60 US range. With all this information factored in, I am awarding the Saitek Eclipse II keyboard a strong 9 out of 10 and seeing how this is now my personal keyboard, an editors choice seems to be in order as well.
Discuss in our forums!
If you have a comment you wish to make on this review, feel free to head on into our forums! There is no need to register in order to reply to such threads.

Copyright © 2005-2017 Techgage Networks Inc. - All Rights Reserved.