Ultraportable Battle: Samsung Galaxy Book Pro 360 vs. Microsoft Surface Laptop 4
Date: October 8, 2021
Author(s): Rob Williams

It's no longer difficult to find a good assortment of ultraportable notebooks on the market, but finding great ones can still remain a challenge. In this article, we're going to go head-to-head with Microsoft's Surface Laptop 4 and Samsung's Galaxy Book Pro 360 – each with a different vendor platform under-the-hood – and see which comes out on top.
---
Introduction
There once was a time when you had limited options if you wanted an ultraportable notebook, but fortunately, that was long ago. Today, there are almost a mind-numbing number of sleek and thin notebooks out there that offer outstanding battery-life along with ample performance.
In this article, we're going to be taking a look at two popular ultraportable choices, both built around a 15-inch form-factor, and each featuring a different platform under-the-hood. On the AMD side, we're exploring Microsoft's Surface Laptop 4, equipped with a Zen 2-based eight-core Ryzen 7 4980U, along with Radeon RX graphics. For Intel, we're diving into Samsung's Galaxy Book Pro 360, sporting an 11th-gen quad-core Core i7-1165G7, with Iris Xe graphics.
While both of these notebooks can often be found for less than their suggested retail price, the AMD-spec Surface Laptop 4 configuration, as tested, comes in at $1,699.99, while the Intel-spec Galaxy Book Pro 360 comes in at $1,349.99. Both notebooks include 16GB of memory. Despite costing more, the Surface Laptop 4 shipped with only a 512GB SSD, vs. the Galaxy Book Pro 360, which shipped with 1TB.
For a more in-depth look at specs, here's a helpful table:
Surface Laptop 4
Galaxy Book Pro 360
Processor
AMD Ryzen 7 Surface Edition
2.0GHz Base / 4.4GHz Peak
8-core / 16-thread
Intel Core i7-1165G7
2.80GHz Base / 4.7GHz Peak
4-core / 8-thread
Motherboard
Microsoft Surface Laptop 4
Samsung NP950QDB-KB1US
Memory
SK Hynix 16GB
LPDDR4X-4266
Samsung 16GB
LPDDR4X-4266
Graphics
AMD Radeon Vega 8
Intel Iris Xe
Display
15-inch 2496×1664 PixelSense
Touchscreen (works well with stylus)
15.6-inch 1920×1080 AMOLED
Touchscreen (works well with stylus)
Storage
SK Hynix HFM512GDGTNI
512GB
Read: 2.2 GB/s
Write: 1.0 GB/s
Samsung MZVLQ1T0HBLB
1,024GB
Read: 3.1 GB/s
Write: 2.0 GB/s
Optical
N/A
Audio
Realtek HD Audio
Omnisonic Speakers w/ Dolby Atmos
Realtek HD Audio
AKG Speakers w/ Dolby Atmos
Wireless
Wi-Fi 6 AX200 802.11ax
Bluetooth 5.0
Wi-Fi 6E AX210 802.11ax
Bluetooth 5.1
Connectivity
1x USB Type C
1x USB Type A
1x 3.5mm Audio Jack

2x USB Type C
1x Thunderbolt 4
1x 3.5mm Audio Jack
MicroSD Reader
Et cetera
Supports Windows 11
13.4″ x 9.6″ x 0.58″
3.40lbs
47.4Wh Battery
720p Windows Hello Webcam
Supports Windows 11
13.97″ x 8.97″ x 0.46″
3.06lbs
68Wh Battery
720p Webcam
As Tested
$1,699.99
$1,349.99
We've been using both of these notebooks quite intently the past month, making sure to give each a fair and long-term test. A notebook can't be properly reviewed if it's lightly tested, because the chance of overlooking either a great perk or not-so-obvious detriment is far too easy. At this point, we're confident that we've put enough time into each notebook to build a proper conclusion for each.
Let's take a look at each notebook on their own, dive into performance tests, and then finally wrap up with final thoughts.
Microsoft Surface Laptop 4
Since its introduction, Microsoft's Surface series has catered to those who love their notebooks really flexible, able to be used in multiple modes, including tent. Well, Surface Laptop is different. This series isn't a convertible, so you use it like an ordinary laptop without the ability to bend the screen all the way back around, or remove the keyboard. What's familiar, though, is the PixelSense touchscreen, and the 3:2 display aspect ratio.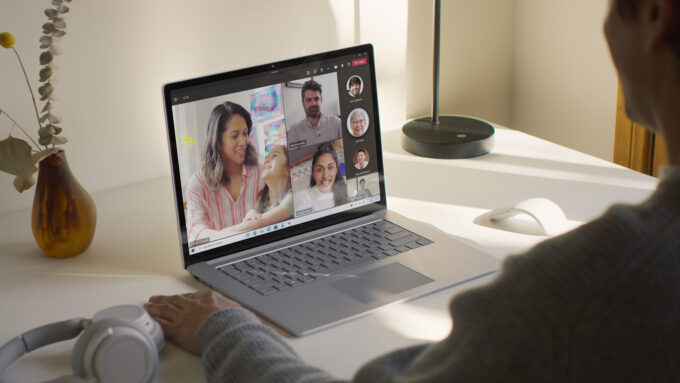 Like the Samsung notebook we'll also be tackling here, the Surface Laptop 4 includes a variety of configurations, both with AMD and Intel platforms available. Our goal with this article was to get a feel for both notebooks with a current-gen platform from each vendor, and see where one might excel over the other.
While this Surface Laptop 4 has a touchscreen, it does not ship with a stylus (Surface Pen) like the Samsung does – but that's likely because most "laptop" users wouldn't be as apt to use one as convertible Surface users would be (a stylus is included with the convertible Galaxy Book Pro 360).
Admittedly, in this day and age, Microsoft's Surface line is definitely an outlier when it comes to display aspect ratio, as the company typically foregoes 16:9, in lieu of going 3:2. This results in a resolution of 2496×1664, with the laptop defaulting to a 150% DPI in order to reduce eye strain.
As for connectivity, the Laptop 4 features both a USB-C and USB-A port – the latter of which will come in handy for anyone wanting to use a normal desktop keyboard, or plug in a typical flash drive. While USB-C is a great connector, it's been slow to catch on with peripherals and flash drives – although solutions do exist. Another perk of the Laptop 4 is the fact that it includes a webcam that officially supports Windows Hello.
As for wireless, the Laptop 4 bundles both Wi-Fi 6 and Bluetooth 5.0.
It's worth noting that the Surface Laptop 4 includes two different surfaces for the keyboard area. Our notebook sample is a "cool metal" model, offered in black, sandstone, and platinum. Another option is an Alcantara fabric surface, which is a soft material a bit easier on the palms, available in either platinum or ice blue.
As mentioned before, an AMD processor graces this Laptop 4, and it's a model that's a little more interesting than most, named "AMD Ryzen Microsoft Surface Edition". As you can tell, this is a custom-made APU delivered by AMD, and with it, along with a 47.4Wh battery, Microsoft claims you can achieve up to 17.5 hours of battery-life with typical usage with the Laptop 4.
Samsung Galaxy Book Pro 360
While we've tested a few Surface products over the years, it's been quite some time since we've had a chance to dive into testing a modern Samsung, so upon arrival, we were keen to get down with testing right away. While we'll save our full thoughts for later, the Galaxy Book Pro 360 really impressed us from the moment it came out of the box. It's undeniably sleek, and its color dark blue color really stands out.
Speaking of "stands", unlike the Laptop 4, the Galaxy Book Pro 360 (what a name, by the way) is a convertible notebook, so you can use it in tent mode, or fold the keyboard entirely to its back, and use it as a tablet. Fortunately, this device does actually include a stylus, so you can begin drawing or sketching with it as soon as you get it booted, and get through the initial setup.
This device's display sticks to a typical 16:9 widescreen aspect ratio. That means its total pixel count is less than the Laptop 4, which in turn means that the Surface can display more content at a time – assuming you are using 100% DPI, which probably isn't the case. Whereas the Laptop 4 defaults to using a 150% DPI, this Samsung uses 125%, but both result in crisp images.
Compared to the Laptop 4, this Samsung has a couple of notable advantages, which are actually quite nice to see considering the lower cost. That includes Thunderbolt 4 support, as well as 2x USB-C (there's no Type-A here, but fortunately, adapters are readily available.) Interestingly, Samsung saw it fit to include a microSD slot here, as well.
On the wireless front, this Samsung one-ups the Surface Laptop 4 ever-so-slightly with Wi-Fi 6E, and also Bluetooth 5.1. It also includes a beefier 68Wh battery, which is pretty impressive, considering the entire unit weighs 3.06lbs, vs. the Laptop 4, which is 3.40lbs. We'll see later how those battery capacities equate to battery-life.
The Galaxy Book Pro 360 has a couple of other perks that might not be obvious at first. That includes a finger print reader at the top-right of the keyboard, something that makes logging into Windows an absolute breeze, and helps negate the fact that the notebook doesn't include an official Windows Hello-supported webcam. Just press the reader, and you're into your Windows desktop before you know it.
While not everyone cares about a numpad, we happen to, as we use it a lot in Excel and the Windows calculator, so we were pleased to see one included here. For such a thin notebook, the Galaxy Book Pro 360 really does cram in the functionality, and since it also supports a 3.5mm audio jack as the Laptop 4 does, we're struggling to find something notable that's missing.
Usage & Performance
There's no question about one thing here: both of these tested notebooks are great in their own right, but depending on personal taste, one is likely to stand out as the more attractive offering than the other.
For those who might need a bit more CPU grunt, it will be hard to beat the Ryzen's eight cores in certain situations, although we can't imagine that many using an ultraportable are going to be doing heavy-lifting that would regularly utilize the full CPU. Where those eight cores really benefit are with rendering, and truthfully, neither of these notebooks are designed for that kind of work. For workstation use, you really want to seek out a bigger laptop with a discrete graphics card, since so many workloads benefit from them.
For general use, both notebooks are fast, and didn't give us any impression of limitations during normal use. Even editing photos in Photoshop seemed just as fast on both, and multi-tasking was never a problem, thanks in part to having 16GB of memory on tap.
Usually, when comparing two notebooks side-by-side, obvious differences with the keyboards and touchpads can be felt, but this is as close a match-up as we've seen in a while. Both notebook touchpads feel similar, and are really smooth and accurate to use, with each offering a large surface area. The left- and right-click at the bottom of the touchpad are also similar, but feels slightly better on the Laptop 4.
As for the keyboards, the Laptop 4's keys offer slightly more feedback, but it's hard to gauge whether that's actually important or not, since the Galaxy Book Pro 360 still feels great to type on. Both notebooks have similar keyboard layouts, down to the sizing of the right-side Shift and \ keys. On the Surface, a right-click context menu key is found beside the right Alt, whereas the Samsung retains Ctrl.
If you've ever used a Surface notebook before, then you're probably familiar with its proprietary power connector. We've never really liked this connector, although we understand its purpose. Whereas a USB-C cable will stick out from a notebook, the power connector on the Surface lays flush with the side of the notebook. That could mean that there's less chance of damage if the notebook is bumped into or leaned against, as the cable will simply fall out instead of potentially bending.
If you want to use a typical desktop mouse on either of these notebooks, the Surface allows you to use the USB-A port, which means many peripherals will natively work. On the Samsung, you will need to use a USB-C to A adapter, which, as mentioned above, are readily available for cheap, and have proven to work great in our testing, with mice, keyboards, and flash drives.
Most of the benchmarking we conduct at Techgage involves high-end workstation notebooks, or desktop/workstation PCs, which means many of the tests are not entirely appropriate for ultraportable notebook testing. Clearly, though, it offers some benefit to get some real performance testing done, because it's difficult to convey otherwise where one notebook may excel over another.
In our general use, which includes working with Excel, editing photos, watching videos, and so forth, we never felt that one notebook was more competent than the other, which is a good thing. The eight-core nature of the Laptop 4 would imply that multi-tasking on that notebook would be better overall, but we never ran into a limitation with Intel's quad-core.
Here's a look at our test results for both performance and battery:
Laptop 4
GBP 360
Cold Boot to Login *
9.9 s
6.3 s
Launching Excel Document *
2.7 s
1.8 s
Launching Photoshop *
12.3 s
6.1 s
Copy 20GB Movie From NAS
65MB/s
75MB/s
Cinebench MT
7294
4373
Cinebench ST
1147
1352
Blender BMW *
294
500
Blender Classroom *
472
796
PCMark 10
4842
4945
PCMark 10 Extended
4226
4800
PCMark 10 Applications
8419
11087
PCMark 10 SSD Score
1024
1694
PCMark 10 Battery: Applications
11h 49m
12h 30m
PCMark 10 Battery: Gaming
2h 31m
2h 32m
PCMark 10 Battery: Modern Office
12h 34m
13h 1m
PCMark 10 Battery: Video
15h 8m
18h 53m
Because we're dealing with both a quad- and eight-core CPU between these notebooks, we obviously had to load up the tried-and-true Cinebench to get a feel for overall oomph. As expected, the Surface Laptop 4's extra cores helped deliver a stronger result with the multi-thread test.
Interestingly, the Intel-spec'd Galaxy Book Pro 360 edged out the Ryzen in the single-thread test. Blender's render tests back the multi-thread performance leap – but we say again, neither of these laptops are ideal for workstation use. We merely wanted to see what was possible in the end.
As for the more relevant tests, we used PCMark 10 to gauge performance across typical ultraportable workloads, which includes a healthy helping of office work. Despite having half the number of cores, the Intel-spec'd Galaxy Book Pro 360 managed to leap ahead of the AMD-spec Surface Laptop 4 in every single test – which gives us a bit of a reason why Intel likes to focus on such tests with its notebook offerings.
We almost managed to wrap-up our PCMark testing without testing each notebook's storage, as the option for that test didn't stand out to us. We're glad we did, however, because we see a rather stark difference between the two, with the Samsung delivering a score more than 50% higher.
We're not entirely sure if it's related to the storage or the Wi-Fi differences, but on the GBP 360 with its Wi-Fi 6E and faster SSD, we were able to copy a movie from our NAS at 75MB/s. The Surface Laptop 4, by contrast, peaked at around 65MB/s.
As we said before, these notebooks are not designed for heavy creator usage, and likewise, they are not meant for anything other than simple gaming. With 3DMark, Samsung's notebook delivered better performance overall, across both the DX11 Fire Strike and DX12 Time Spy tests. We tested a couple of modern games at 1080p, and in the real-world, both notebooks deliver about the same level of gaming performance – which isn't great. In Borderlands 3, the lowest graphics profile gave us 27 or 28 FPS on both notebooks.
On the battery-life front, despite the Samsung being equipped with a much larger battery, both notebooks generally deliver similar overall battery-life, with the edge going to the Galaxy. Interestingly, the gaming battery-life test was only a minute different between the two. Ultimately, both notebooks can offer all-day battery-life, assuming normal usage.
Final Thoughts
A great thing about testing both of these notebooks together is that both are really good in their own right. Because one is a convertible, and the other not, they may cater to slightly different audiences. With the Surface Laptop 4 being the pricier of the two models, though, we have to say that after our comprehensive testing, we're left more impressed overall with the Samsung Galaxy Book Pro 360.
Highlights of the Surface Laptop 4 include a slightly larger screen (and resolution), despite both of these being considered 15-inch devices, and a familiar design great for those who don't mind not having a numpad or detachable keyboard. After using the finger print reader on the Samsung so much, we really wish this Surface would have included one, because the ease of logging into Windows is made so much easier – even more so than using the webcam for Windows Hello.
Microsoft's Surface Laptop 4 with Sandstone color
Considering the fact that the Samsung included a stylus, we feel that would have made a nice addition to the Laptop 4, but, considering it's not a convertible, we can excuse Microsoft for leaving one out. That makes for a sweet perk of the Samsung, though. It is a convertible, and can be used as a normal laptop one moment, or a tablet / tent the next.
The Surface Laptop 4 feels a bit bulkier than the Samsung, but not to such a great degree that it should matter when choosing between either of them. That said, the Samsung definitely feels sleeker, and better when pulling it out of a bag or even lifting the screen up. As said before, it's been some time since we've last given a Samsung notebook a good test, so we were really happy to be surprised by how great this Galaxy Book Pro 360 turned out to be.
For this editor, Samsung's notebook is really the more attractive of the two here, although it'd be hard to complain about having either. The fact that the Samsung is a convertible, and offers a stylus along with finger print reader, makes for a really great package overall.
Samsung's Galaxy Book Pro 360 with Mystic Navy color
Aside from its name, which features four separate branding words, the biggest complaint we can come up with for the Galaxy Book Pro 360 is the fact that the notebook includes far more "bloatware" than the Surface Laptop 4. Whereas the Microsoft laptop is super-close to a standard Windows install, Samsung includes at least a dozen Galaxy-specific apps on the device, in addition to some third-party software like McAfee.
To Samsung's benefit, its own apps have a reason to exist, since they let users take full advantage of the device, but we're never a fan of seeing commercial solutions like McAfee bundled in, as they regularly nag you until you uninstall them, or continue the subscription that comes with the device. Fortunately, it doesn't take very long to uninstall any software you don't want.
With Windows 11 having just been released, we were keen to try upgrading both notebooks to the latest (and greatest?) OS from Microsoft, and see what issues we might run into. Well, surprisingly enough, both notebooks are upgradeable to the latest OS today.
Both the Laptop 4 and Galaxy Book Pro 360 upgraded to Windows 11 without much issue, although it was accomplished by downloading the standalone assistant, as Windows Update wasn't ready to pull it down quite yet (the same applies to most computers in general). If you do run into any issues, it may be because you need to fully update the machine, both via Windows Update, and the laptop-specific updater (eg: Samsung Update).
We haven't had much hands-on time with Windows 11 on these notebooks so far, but initial testing shows absolutely nothing off, or broken. There were no bugs to speak of after the upgrades, and the OS behaved just as we hoped it would. Thankfully, even though Windows 11 cranks up the graphics fidelity in the UI a bit, the animations and special effects were fluid.
Let's wrap-up with some simple pros and cons for both notebooks:
Samsung Galaxy Book Pro 360
Pros
Great design; sleek, thin, and elegant.
Keyboard and touchpad are both solid. The numpad is a nice perk.
Convertible design; can be used in tent or tablet mode.
Includes a stylus for drawing or annotating.
Battery-life suitable for all-day typical use.
Finger print reader makes logging into Windows a breeze.
Has a single-threaded performance edge over the Laptop 4, and includes faster storage.
Special apps complement using other Samsung Galaxy devices, including phones.
Cons
Includes a lot of preinstalled "bloatware", even if you ignore Samsung's own apps.
No built-in stylus storage.
Microsoft Surface Laptop 4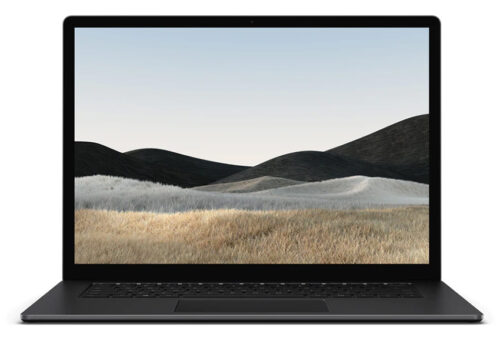 Pros
Eight-core processor good for heavy multi-tasking workloads.
Good design; features slightly larger screen in 15-inch form-factor over GBP 360.
Keyboard and touchpad are both solid.
Battery-life suitable for all-day typical use.
Feels extra durable compared to most notebooks.
Display is slightly brighter at the top-end vs. GBP 360.
Cons
No finger print reader.
No Thunderbolt port.
Copyright © 2005-2021 Techgage Networks Inc. - All Rights Reserved.