Samsung 743B 17-inch Monitor

Date: February 5, 2008
Author(s): Matt Serrano

Think large displays are over-rated? Then Samsung's brand new 743B might just be worth a look. At 17-inches, it sure isn't for everyone. It offers a 1280×1024 resolution, fast 5ms response time and an outstanding 7000:1 contrast ratio. Does this small monitor pack a big punch?
---
Introduction
In recent years, displays have continued to grow larger and larger, while smaller monitors have begun to fade in obscurity. We often overlook the fact that there is a large market for small affordable LCD displays for people who may not want the best, but are still looking for something with a low price-point that will manage every day use.
Samsung's 743B isn't a monitor that will win any awards for it's incredible performance or feature set, and it's definitely a challenge to review. It doesn't offer much to compete with other monitors, which is disconcerting to say the least. A 1 – 10 scale review wouldn't directly compete with other monitors we've reviewed, but its overall performance and pricing compared to other monitors in the same space.
It's a safe bet to say anyone looking for a full-featured monitor will probably head toward another option. a 5:4 1280×1024 17″ monitor isn't something most gamers or movie-buffs would be interested in, but people who do simple tasks who don't mind a relatively meager offering would certainly come across it. So, it doesn't fit everyone's needs, but it is one of the many solutions available.
Closer Look
You won't find much out of the box with this monitor. Essentially, you get the monitor itself, the stand, power cable, DVI and VGA cables, and manuals. The entire package is in a regular cardboard box, so right off the top nothing's too flashy.
The stand was something I initially had trouble with. It took me two tries and a trip to the manual to understand how to mount the display. Instead of just snapping it on like one would expect, the display needs to be placed atop the stand, then be rotated while a small screw is tightened to secure it. It's an awkward motion since you have to turn everything upside-down, but in the scheme of things it's a problem easily over-looked.
The stand is relatively high quality. It is able to twist and pivot the screen, and while its usefulness is debatable with a 4:3 monitor, it's a nice feature to have. The lock on the back keeps the monitor at a certain height, but it can still move in other directions if it's hit accidentally.
The DVI and VGA ports are located underneath on the left side of the display (looking at the front end of the monitor), and the power on the right. I do wish the stand had some form of cable management system, however, as the cables have to go around it.
The look overall is very basic, so the exclusion of something so simple detracts from its appearance even further. This may not be a problem if it is used with a third-party stand or mounting system, but it is still in-excusable and defeats the purpose of the stand's functionality.
I have to mention that it's nice to receive a DVI cable bundled with a budget monitor for a change. Even though there is a lack of other inputs, I can't really say with much confidence that they will be missed by most buyers.
Specs, OSD
The specifications for this model are, for some unknown reason, difficult to find. The only trace of them we found online was in a PDF file of the manual on Samsung's website, and even then, not all of the specifications were mentioned. In order to find those, we had to e-mail Samsung directly.
Samsung 743B

Specification

Maximum/Native Resolution

1024×[email protected]
1280×[email protected]

Contrast Ratio

7000:1

Pixel Pitch

0.266mm

Horizontal Scan Freq.

30 kHz – 81 kHz

Vertical Scan Freq.

56 kHz – 75 kHz

Viewing Angle

170°/160°

Response Time

5ms

Luminance

300 cd/m2

Connector

Analog, DVI-D

Other Connectors

None

Horizontal Size
Vertical Size

14.5"
12.1"

Weight

10.3 lbs
I find myself particularly intrigued by the 7000:1 contrast ratio claim Samsung makes. It's likely that they are using a technology in the monitor to "cheat" for that number, so we'll be sure to put it to the test.
The on-screen display is controlled solely by a row of touch-based buttons. For that matter, there are no physical buttons anywhere on the monitor. They can be on the sensitive side, but for the most part they work well and keep the design simple. My only real complaint with them is the lack of visibility in low light, which will bug anyone trying to do something as simple as turning it on or off.
From left to right, the buttons include the menu button, the up/preset control, down/brightness control, source/enter button, an auto button for aligning the VGA image and the power button. The monitor illuminates a cool blue LED next to the power button when it's on, and it blinks when it's on standby.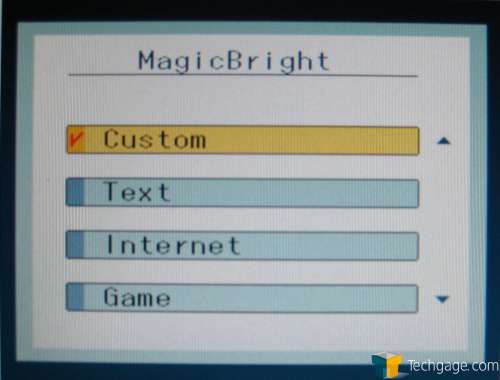 With our specs out of the way, let's finish off with testing and my final thoughts.
Testing, Final Thoughts
Surprisingly, the monitor performed exceptionally well with image tests. I found very little backlight bleed, and what I did find only affected the extreme top and bottom portions of the display (though they were more pronounced when viewing the screen at different angles). There was very little noticeable banding, which could only be observed by getting extremely close to the screen.
It's my opinion that the 743B may be one of the best pre-configured displays that I have ever seen. The only setting I changed was the brightness, which I lowered to a value of 90. After I had tweaked it, the lights and darks aligned as perfectly as they were going to get, and there was really little else to do overall.
Picture quality is about on par with other comparable LCDs, if not slightly above them. As you may have suspected, I can't say with much confidence that I believe the contrast ratio is truly 7000:1, because the 743B uses a preset-based system (what the call "MagicBright") that adjusts colors to a given task (which include text, internet, sport, movie, dynamic contrast and a custom setting).
In the real world, you won't notice that kind of accuracy, but it's better than no gain at all. I had the most luck with the dynamic contrast setting which adjusts brightness accordingly, but others will surely prefer one of the other options, depending on what type of work they're going to be doing.
While I tested the monitor for DVD playback quality and ghosting with a trailing test and playing a fast-paced game called Torus Trooper (not exactly Call of Duty 4, but a step up from an arousing session of solitaire), I didn't notice any issues other than the occasional tearing, which I'm happy to report.
I'm not so glad about the viewing angles, which are very unforgiving. Looking at the display anywhere other than head-on would result in an immediate loss of clarity. The swivel, tilt and pivoting features of the stand help keep the image centered, but the issue is far from excused because of it. Samsung could have sprung for a slightly better panel for the price, but the industry is already in a give-and-take situation as it is.
I believe it's going to be hard for the SyncMaster to compete because of the high price and basic exterior. On the surface, it's a relatively bland monitor, but it's image quality is enough to make it worth a look. The problem is relaying that message to consumers, who I'm sure will flock to the cheapest models possible. Asking for more inputs would be reaching, in my opinion, but a USB hub would have been a nice addition to have.
If you happen to be in the market for a 17″ monitor, I wouldn't hesitate to recommend this monitor. There are other products available with similar (and even more) features, so it's important to validate your own needs. Obviously, the 743B is a no-frills monitor, but it's not terrible by any means.
Pros
Average to above average image quality
Stand is able to pivot and swivel
Sensible default settings
Cons
No wire management solution
Poor viewing angles
Exaggerated 7000:1 contrast ratio
Discuss in our forums!
If you have a comment you wish to make on this review, feel free to head on into our forums! There is no need to register in order to reply to such threads.

Copyright © 2005-2019 Techgage Networks Inc. - All Rights Reserved.