Samsung SH-S162L DVD+RW Burner

Date: May 10, 2006
Author(s): Matthew Harris

With the DVD format wars still raging the smart money right now is firmly rooted in the current generation drives. Today we look at a current gen 16X Dual Format , Dual Layer DVD burner that offers a full-hand feature set for just over a pair of fours in price.
---
Introduction
I remember 3 short years ago spending $200 for a 4X DVD-RW drive, now you can get a 16X Dual Format/Dual layer DVD with Lightscribe and DVD-RAM capability for less than $50. Sometimes change is good, very good indeed. The drive I'm looking at today is the Samsung SH-S162L and does it ever lay down the options. First of all let's look at the capabilities and features listed on Samsung's site:
Write Speeds:
DVD+R 16X
DVD+R DL 8X
DVD+RW 8X
DVD-R 16X
DVD-R DL 4X
DVD-RW 6X
CD-R 48X
CD-RW 32X

DVD-RAM 5X
Read Speeds:
Features:
Writemaster™ Technology engine for the best performance
Direct disc Labeling
Easy disc Labeling. Just burn, flip and burn!
Speed Adjustment Technology
Intelligent detection of media type. Error-free reading of all media types, increases life of drive.
Double OPC Technology
Provides reliable, zero-error recording.
Tilt Actuator Compensation Technology
Improves recording capability on deformed media.
Magic Speed
Enables flexibility of drive operation, low noise mode, high-speed mode.
Buffer Under Run Free Technology
Prevents Buffer Under Run error, enabling high-speed writing of media.
Weight Balance System Technology
Mechanically designed for minimal vibration and noise.
Eco-Product
Minimum usage of environmentally harmful materials for green environment.
Firmware Live Update
Automatically upgrades the latest firmware version through Internet by continued support of newer media.
Large Capacity Writing (up to 8.5GB): Samsung DVD Writer is able to write on Double Layer DVD, which consists with 2 writable layers. Which means you can write up to 8.5GB!
I've tested this drive with the following media:
DVD+R, DVD+R D/L, CDR and I attempted to erase an older CDRW I had laying around to see how long that operation took but it locked up the PC so I scrapped that plan. The reason I ignored the other media is twofold, most people (me included) don't like spending a premium on storage media so most of us go with one flavor of media choosing either + or – and since this burner features higher +R writing speeds I went with those.
Plus, since +R media seems to be rejected more often than -R media by older set-top DVD players I wanted to see how the +R's would stack up to a player that was produced right at the beginning of writable DVD media. For testing I'm putting 5 movies on DVD and seeing if any (Or all) end up unusable. The tested player is a 2001 vintage Daewoo DVD player.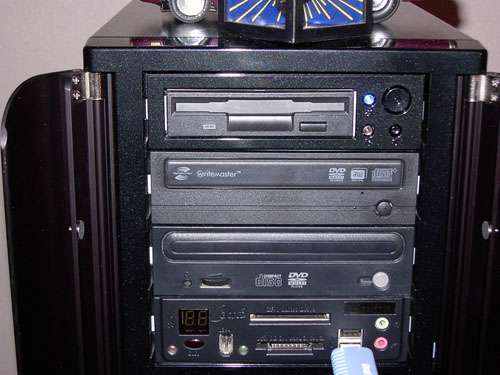 And now, the SH-S162L in all its glory. Note that Samsung has changed the front bezel design from the earlier versions of their optical drives. Gone is the translucent eject button that flashed with the LED and the front panel volume control and headphone jack. The tray door is also not as rounded nor as sculpted. This is cool if you're into stealthing your drives since a flat tray door will keep your chopped bay cover parallel to the front panel easier than the curving tray door on the older drives.
It's not as cool if you're looking to add this drive to a PC equipped with older Samsung drives and have it blend in. Also notable is the lack of the Samsung name emblazoned on the face of the drive. Come to find out that Samsung omits the Samsung scripting on OEM drives versus retail drives. The retail drives say Samsung and ship with software, screws, hardcopy manual and naturally a full color box whereas the OEM drives come in an anti-static bag with software. Happily the software features a manual of sorts so novice PC users have instructions.
Upon firing up the PC you'll notice that the drive shows up as a TSSTCorp CD/DVD, not Samsung. Intrigued by this I queried the Samsung rep. and learned that Samsung has partnered with Toshiba to build optical drives. The fruit of this partnership is TSSTCorp or Toshiba-Samsung Storage Technologies Corporation. I personally don't know the entire story but I do know that the end result is a very quiet, smooth drive. In fact this drive is so quiet that I find myself looking at the bezel to see if the LED is flashing during burns.
Testing and Conclusion
Another noticeable difference is the button travel for the eject button. On the old drive you have to push the button further, close to a 32nd of an inch and there's a definite click upon it bottoming out. On the new drive it's half that and the click is so subtle that I've found myself pushing the button twice to be rewarded with the tray powering out then in before I can grab or deposit a disk. The tray is marginally slower than my Samsung DVD-ROM (Circa 2003) so you can make that mistake easily if you're used to an older Samsung drive.
Another thing I noticed that's different from Samsung drives of yore is the access LED. The old Samsung burners had a bi-color LED that flashed green for reading and red for writing. I personally liked this feature since on important files I like to verify data and I knew by glancing at my drive whether it was burning my data or verifying that burn. Now I have to open the software and look at the progress to see where I am in my burning session. A minor quibble at best but when you're doing something else it does save you from walking back to the PC and futzing with it to find out where you are.
And now on to the numbers:
Burn times:
CDR (52X Media), 700Mb: 2:55
DVD+R Single Layer (16X Media), 4.36Gb: 6:04
DVD+R Dual Layer (2.4X Media), 7.16Gb: 43:05
Read Speeds:
Commercial DATA CD: Min; 16.99X, Max; 41.53X, Avg; 29.17X
CDR: Min; 17.47X, Max; 41.89X , Avg; 31.65X
DVD+R Single Layer: Min; 4.45X, Max; 12.16X, Avg: 9.10X
DVD+R Dual Layer: Min; 3.46X, Max, 8.25X, Avg; 6.38X
Commercial DVD Single Layer: Min; 6.71X, Max; 15.48X, Avg; 11.68X
Commercial DVD Dual Layer: Min; 3.59X, Max; 8.18X, Avg; 6.44X
CD Digital Audio Extraction:
Min; 16.28X, Max; 38.23X, Avg; 28.80X
DAE Quality: 10
Accurate Stream: Yes
The seek times hovered around 93ms for random, 103ms for 1/3 and 177ms for full for all disk types. The CPU utilization rates were a tad higher than I like to see. They were running anywhere from 6% to 35% for various media types with dual layer DVD's turning in the highest numbers. Oddly 1X speeds tended to use as high or higher percentages as 8X rates while 2X and 4X were drastically lower. For example, DAE rates were as follows: 1X = 18%, 2X = 2% 4X = 4% and 8X = 7%. This trend was present in each media type I tested.
I'm completely in the dark as to why this is the case with this drive. While this bodes well for high speed duping or ripping, this places a lot of overhead on the CPU for such activities as movie watching or music listening. I sincerely hope that Samsung is able to remedy this with a future firmware update.
Speaking of movie watching, all five of the burned DVD's I made with the SH-S162L were playable on the Daewoo set-top DVD player. These were 4 compressed single layer disks weighing in at 4.3Gigs each and one dual layer disk tipping the scales at 7.16Gigs. The recognition times with the set-top player were strangely similar to the recognition times exhibited by the SH-S162L only more exaggerated. The SH-S162L took nearly 30 seconds to recognize the burnt D/L disk while a commercially pressed DVD only took 17.
Single layer disks were pretty close at roughly 8 seconds across the board. The set-top player took about 10 seconds to recognize a single layer DVD+R while the dual layer version took close to 2 or 3 minutes. Sadly I didn't time it as I had given up on it recognizing the D/L disk at all after the first minute or so. After it did start and load the menu, though, cueing up the menu screens and the movie were just as fast as with a commercial disk.
Now to the nitty gritty:
Burnt,
Inexpensive
Quiet in operation
Decent burn times
Lightscribe
DVD-RAM compatible
Fried,
High CPU utilization at low rotational speeds
Single color access LED
New fascia design is unoriginal
CD read speeds never hit maximum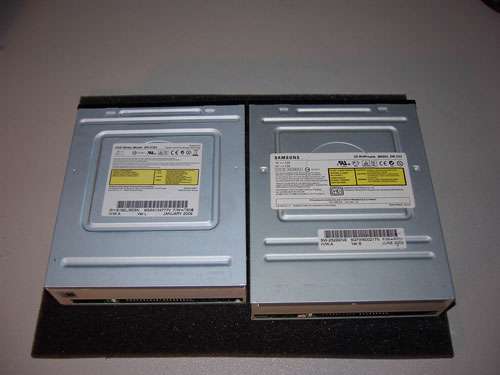 I should mention that the SH-S162L features buffer under-run protection and never did burn a coaster even when I did other tasks while burning disks. The burst rates weren't half bad but nothing above average either. One bonus I did encounter was the diminutive size of the drive. When my 252B came out it was fully an inch shorter than my aging Plextor 12X burner and both of the early DVDRW drives I had. The SH-S162L makes the 252B look like a monster, this is great for SFF rigs and people that like to have a full house in the drive bays and still have a blowhole in a mid-tower case.
When it's all said and done the Samsung SH-S162L is a decent drive for the money, it's on par with some of the offerings from the more expensive brands but so are other drives in this price category. Overall this is your average drive, you won't cuss it but you most likely won't be raving about it either. That said I'm awarding the SH-S162L a 7/10 and hoping that Samsung can tweak the firmware to get a bit more speed out of the drive.
Discuss in our forums
If you wish to discuss this review, you're in luck. Head on over to our related thread, where you can comment without having to register.

Copyright © 2005-2020 Techgage Networks Inc. - All Rights Reserved.