Samsung SyncMaster 2232GW Wide-Screen

Date: November 20, 2007
Author(s): Rob Williams

Mid-range displays keep on getting better and Samsung's 2232GW is a great example of that. At 22″, it offers a 1680×1050 resolution, 2ms response and a 3000:1 contrast ratio and one of the sharpest images we've seen in a while.
---
Introduction
It wasn't too long ago that 4:3 screen ratios were all we had. Casual computer users stuck to a tried and true 1024 or 1280 resolution, while the more "diehard" had a drool-worthy 1600×1200 resolution. In the past few years, there has been an abrupt shift from standard 4:3 panels to 16:9/10 ones though, and now it's difficult to purchase anything but. This is a good thing. Such ratios are more natural to look at and improve gaming and movie-viewing alike.
Displays today could be thrown into four categories that range the various resolutions. For the lower-end, 1440×900 is a popular choice, which normally are affixed to the 19″ and lower models. Next would be what we are taking a look at today, the 1680×1050 models. This resolution is equipped on monitors between 20″ and 23″. Moving higher, we'd eventually reach 1920×1200 and 2560×1600, but those are in an entirely different price range altogether.
All of this might change next year, however. Given recent advances with notebook displays, we cannot be far off from having higher resolutions on smaller desktop monitors. Surely, if 1920×1200 is possible on a 17″ notebook display, we should at least be able to accomplish the same on a 20″ desktop monitor. Why this progression is taking so long to happen is beyond me.
For those who prefer standard resolutions on bigger screens, 22″ seems to fit the bill well. They offer a sweet 1680×1050 resolution which is great for both workflow and gaming. Although the pixel count is similar to 1600×1200, widescreen ratios can enhance gaming, at least in my opinion.
Samsung's 2232GW offers great specs though when compared to other offerings available. First and foremost, they tout the 2ms response time as the killer feature, although it's featured on a few other 22″ displays as well, including Samsung's own 226BW. However, the 2232GW also has the advantage of a stellar 3000:1 contrast ratio, which should offer vibrant color and hopefully very deep blacks.
One slight downside that could be argued is that when moving up to a larger monitor that shares a resolution with a smaller model, the pixel width will increase. On some monitors, this increase is noticeable, but I haven't found that to be the case at all with the 2232GW.
Enough talking. Let's unbox this thing! Where design is concerned, Samsung normally does well to impress me. Not just with their monitors, but TVs and digital cameras as well. Their design prowess seems to extend far beyond a single market.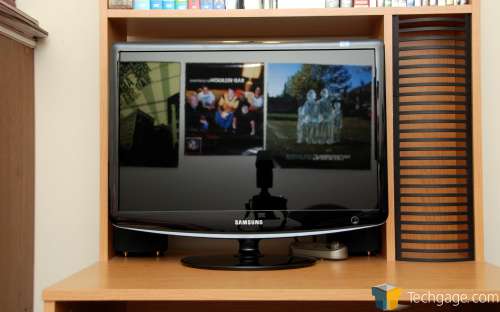 There are two versions of this monitor, with the difference being the glossy screen. Personally, I am not a fan of a glossy screen at all, but your opinion may vary. If anything, I hate the fact that they reflect everything else in the room, making it difficult to take a great photograph.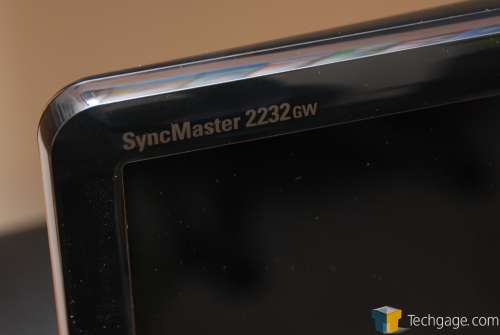 Not only a great-looking monitor, the 2232GW also sucks up dust better than a Swiffer.
The lone button on the front is the power, which lights up blue while in use.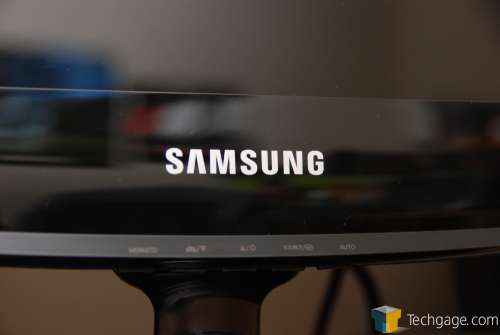 The OSD menu buttons are well-hidden in the front, under the logo. They are surprisingly convenient to use and don't stick out like a sore thumb as they do on some other monitors.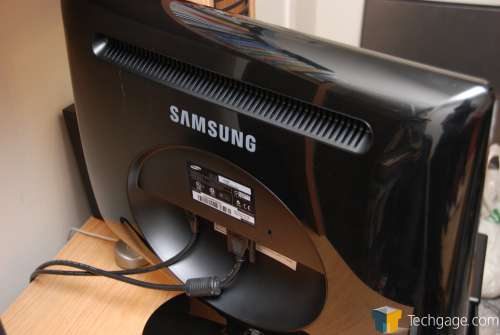 As mentioned earlier, the 2232GW features only VGA and DVI connectors, making setup a simple process. Unlike some monitor that really make you work during installation, Samsung made this setup painless. Kind of.
What I didn't show in any of the images was how the base attaches itself to the monitor.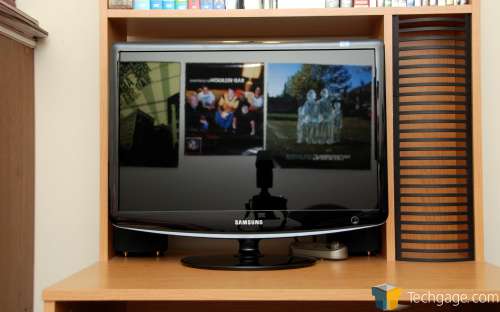 The base and the portion that connects to the monitor are two different pieces. Attaching those two pieces is a simple affair, but pushing the now complete base into the monitor was a little more tricky. Simply put, it doesn't look like the neck of the base even fits into the monitor, but all is required is a little brute force and it will be connected.
The good thing in this is that the monitor will not fall off of the base-it's totally secure. The downside is that when taking it apart (something only reviewers will have to do), it once again takes brute force to remove the two pieces. That leads to another potential downside though. The base does not rotate whatsoever, and the monitor itself can tilt up to 18°. There is no such thing as a vertical position on this monitor.
Testing, Final Thoughts
Samsung has done a great job with their OSDs because they are made easy to use and navigate. Instead of including a whack of photos from the different areas, I will just list what can be found in the entire OSD.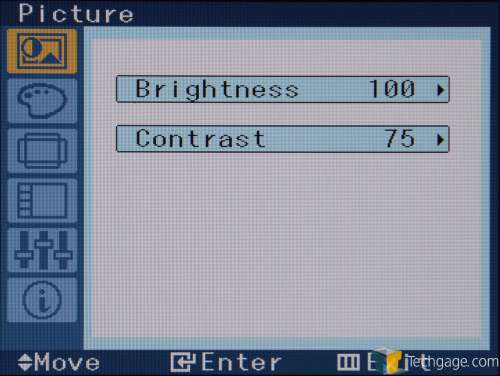 Color

MagicColor
Color Tone
Color Control
Gamma
Image

Coarse
Fine
Sharpness
H-Position
V-Position
OSD

Language
H-Position
V-Position
Transparency
Display Time
Setup

Auto Source
Image Reset
Color Reset
RTA
LED Brightness
The OSD on this display is feature-packed and allows quite a bit of tweaking-ability, a huge plus. If you are not happy with the default settings for a particular application (movies/gaming/etc), then you have the ability to alter it to your liking. Personally, I stick to changing settings in the NVIDIA panel, but the monitor controls would no doubt offer a better result for those who want to spend the time to tinker.
Testing and Final Thoughts
Before I cracked the 2232GW out of its box, I had been using Dell's 3007WFP-HC for two months, so moving between the two was a major shock to the system for more than one reason. Besides the obvious size difference, Dell's larger monitor lacked in overall brightness, while Samsung's offering does not. I am not trying to compare the two monitors at all, but there is a definite difference between displays depending on what you are looking for.
Although the 3007WFP-HC has a huge size advantage, I found that games looked better overall on the Samsung. As an example, I tried out the Crysis demo on both screens and the differences between the two were obvious. The demo begins with the lead character falling to Earth, towards an island. Of course, this is happening in the middle of the night, so being able to see what's going on is a challenge. On the Dell screen, though, things were so dark it was almost difficult to make out the island below and to know where you were going.
On the 2232GW, however, while the game was still entirely dark, the environments were better lit so that I could at least see where I was heading. Granted, a lot of these "gripes" could have been handled well with the NVIDIA drivers while using the Dell (since the 3007WFP-HC has no OSD for that purpose), but when I played the game without touching the settings on the 2232GW and saw great results, I was pleased.
Crysis aside, all games I tested looked superb on this monitor. Counter-Strike: Source, F.E.A.R. and Call of Duty 4 all had vibrant color and looked sharp overall. In the time I had the monitor, I did not test out movies (an oversight on my part), but from what I saw in all of the games I played, the monitor offers deep-rich blacks and a solid color tones. I am confident that this monitor will look good regardless of what you choose to do with it.
Overall, I am impressed with this screen and recommend it to anyone who wants an exception offering at the 22″ size range. Though, it seems no product can go without a list of problems as well, and this monitor has just a few.
The monitor lacks all types of connectivity, except for DVI and VGA. For it's price ($359USD/CAN at the time of writing) I would expect at least a component connection for those who wish to hook up a game console. However, that taken into consideration, Samsung's 275T that we reviewed a few months ago didn't do a great job in our component tests, so it might not be a huge deal that it was omitted here.
Other potential gripes are caused by the fact that Samsung preferred to deliver style over functionality on this offering. The base does not rotate, but I believe that to be due to the overall design and style of the display. It's meant to look classy, and it pulls that off well. The tilt is the other oddity though. 18° is a rather low tilt factor, but again, that might not effect many.
Lastly, the price might be the other factor that weighs this screen down. While other 22″ monitors with great specs hover around the $299USD mark, the 2232GW retails for $359USD/CAN at all retailers I looked into. After experiencing this monitor first-hand though, I believe that the extra cash is well-deserved for the exceptional color and image quality that this screen exhibits.
Pros
Exceptional image / color tones
2ms Response Rate / 3000:1 Contrast Ratio is top rate
Feature-rich On-Screen Display
Monitor has great styling
Cons
Glossy might not be for everyone
Non-rotatable base, low tilt factor
Price? ($359USD)
Discuss in our forums!
If you have a comment you wish to make on this review, feel free to head on into our forums! There is no need to register in order to reply to such threads.

Copyright © 2005-2020 Techgage Networks Inc. - All Rights Reserved.