SanDisk Sansa Clip Zip & Fuze+ Audio Players Review
Date: October 19, 2011
Author(s): Rob Williams

The smartphone might have taken over the bulk of our digital lives, but there's still room for the dedicated audio player, be it for working out or just wanting a convenient option. SanDisk has long offered some of the better, easier-to-use players with its Sansa series, so let's see how its latest models fare: the Fuze+ and Clip Zip.
---
Introduction, Look at Clip Zip and Fuze+
Once upon a time, the dedicated MP3 player market was booming. A countless number of companies had developed their own vision of what such a device should look like and offer, and evolution eventually brought us to a time where video support even made an entrance.
Then the smartphone happened. Be it the iPhone, BlackBerry or some Android device, our phones today make it easy to listen to music whenever we feel like it, leaving some to wonder about the future, or even the present, of the dedicated audio player.
The fact that just two main companies produce such things doesn't help matters. Those companies are of course Apple and SanDisk, and while both offer products that aim to do pretty-well the same thing, neither of them take the same approach to how things should be done.
SanDisk released its latest Sansa player a month or so ago called the "Clip Zip", a super-small player that can clip to your clothing for convenience – a major plus for workouts. The Fuze+ was released last fall, but for the sake of seeing all of what it is that SanDisk currently offers, we're taking a look at both in this review.
First up, a look at the most recent model, the Clip Zip. This is a player that takes the iPod shuffle head-on, but in terms of size, the Clip Zip is just a bit larger. With that trade-off comes a 1.1″ screen and microSD slot. Out of the gate, the Clip Zip is offered in a 4GB or 8GB size, but can be expanded up to 36GB or 40GB with a 32GB microSD card.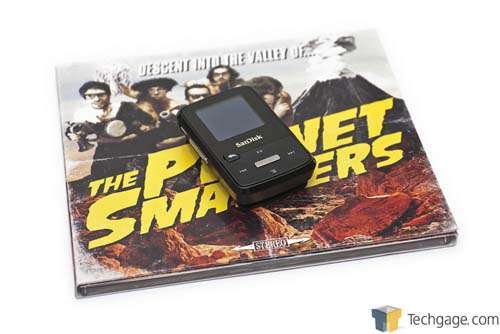 Aside from an obvious size difference, one of the most notable changes between the Fuze+ and the Clip Zip is that the latter has real buttons rather than a touch-sensitive surface – an important change as we'll discuss later. There are six buttons in total, four of which belong to the subtle directional pad. The rectangle button in the bottom middle is used as an "OK", while a protruded "Back" button can be seen just above the d-pad.
The screen is a mere 1.1″ in size and is more than sufficient for the tasks it'll need to handle. It's low-resolution as one would expect and not as crisp as the screen found on the Fuze+ (which is comparable to some smartphones), but it gets the job done.
On the left side of the device is the volume rocker and USB port connector, while the audio jack and microSD slot can be had on the right.
Included in the package are various offers from TuneUp and emusic, along with the micro-USB cable and earbuds. Pre-loaded on the player itself is a sampling of music from Casiokids, Dan Zanes and Friends, RJD2, The Raveonettes and Tiësto.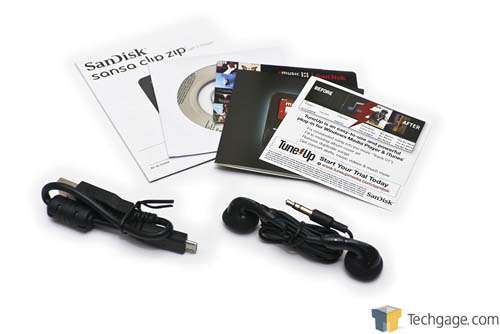 Capabilities-wise, the Fuze+ and Clip Zip aren't that much different, but the Fuze+ features a much larger and much clearer 2.4″ QVGA (320×240) screen. Pre-loaded on the device is the music mentioned above, but also a quick video showing off a Tiësto concert, and overall that alone sold me on the quality. I personally couldn't imagine watching anything on a small screen (sometimes even a Nintendo DS drive me bonkers), but if in a bind, it's an option.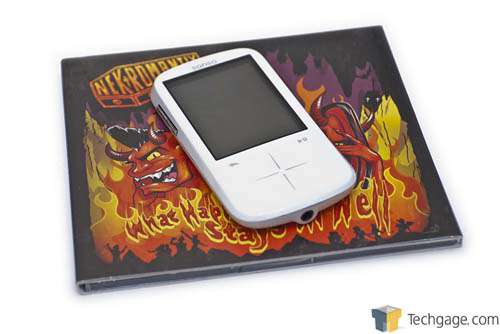 In lieu of physical buttons, the Fuze+'s lower surface is touch-sensitive. If done well, touch-sensitive buttons can be a good thing, but in this case, it isn't. If you're a person blessed with extreme patience, you may not mind it, but for anyone else who just wants to rush through a menu to get to whatever it is they need to, expect a finicky experience.
There are a total of seven "buttons" here, with the directional pad claiming four, the center of the d-pad being the "OK", a "Back" to the top-left of the d-pad and then a "Play/Pause" to the top-right.
On the left side of the Fuze+ is the volume rocker and microSD slot, while the right side has the micro-USB port. Unlike the Clip Zip which has the audio port on the side, the Fuze+ has it on the bottom – a bit strange but not a problem per se.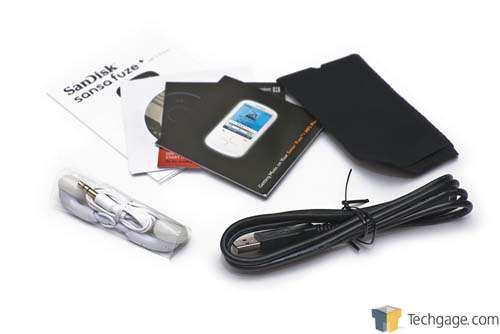 The included Fuze+ accessories almost match those that came with the Clip Zip, although a small felt carrying pouch has been included here thanks to the scratch-sensitive screen (I found this out the hard way).
That takes care of our look at each player. On the following and final page, I'll go over the software aspect of the players and wrap up with my thoughts on testing each one.
Software, Testing & Final Thoughts
In the intro I mentioned that both Apple and SanDisk had different approaches to their respective players, and as far as personal taste goes, I much prefer SanDisk's. While an iPod or similar device requires iTunes, which is neither lightweight or quick to use, copying music to your Sansa is as simple as copying over the files as if it were a flash drive.
To be fair, there is a caveat involved with this. Because iTunes updates your iPod's database as the music is being copied over, it's good to go after ejecting. But the Sansa must refresh itself after being unplugged from the computer, and with large music collections, this process can take a couple of minutes.
That's a trade-off I can handle, however. Because of SanDisk's implementation, Sansa players can be managed under any OS, not only Windows or OS X. In addition, iTunes mutilates the file naming schemes and structure on your iPod, while on the Sansa, all of that is left alone.
I mentioned that Sansas can be used like a regular flash drive, but there is another catch. Once connected to the PC, a Sansa will show up as a device using a special protocol that hides things like the storage file system being used. You also lose the ability to "Safely remove", but that doesn't seem to be an issue since the player finalizes each transfer safely on its own.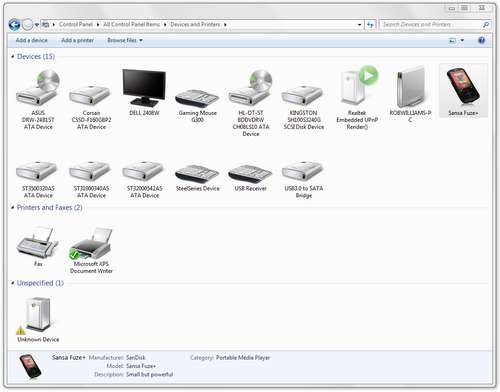 In the above shot, the Fuze+ can be seen along a multitude of other devices connected to the PC, while in the below shot, you can see what appears after clicking on the icon above.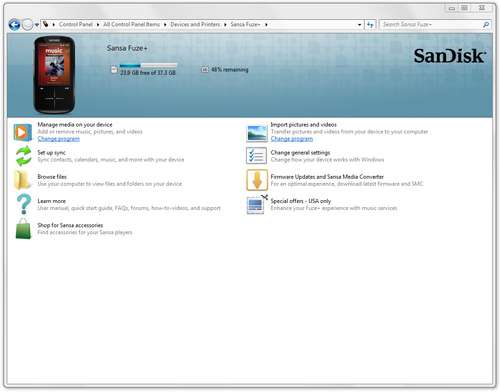 Interestingly, this sort of menu system is not available on the Clip Zip. The reasons for that could be related to the amount of storage on the device or the fact that SanDisk just doesn't expect people to use its simplest player in such ways. In this menu, you can do some fairly basic things, such as import photos, set up sync, read the manual and so forth.
Accessed as a regular drive through "Computer" in Windows, both the external and internal storage can be managed. Here, you're able to go into either or and copy over any of your media to the respective folders.
Seen the shot below, the Sansa looks no different than a regular storage device. Bare in mind that folders can be used as well, but weren't in this particular case.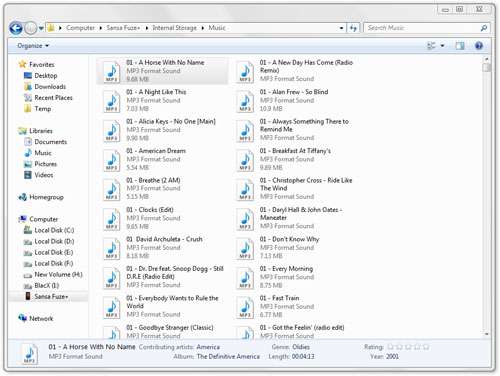 One immediate downside to both Sansas is that playlists cannot be created on the players themselves. Rather, you'll need to take advantage of the playlist creation tool in Windows Media Player (clunky unless you want to setup a sync), or in Windows itself. When perusing a folder, you can right-click multiple files and create a playlist file, then double-click it to manage it. An example of that is seen below: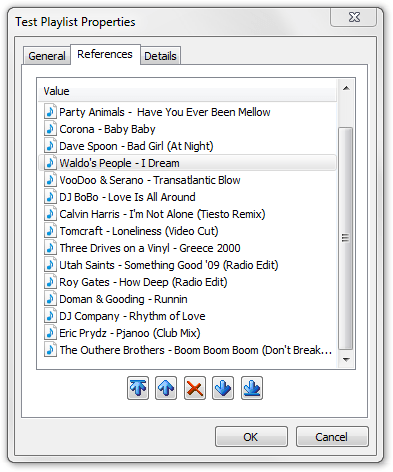 Songs can be dragged and dropped into this prompt to add them to the list, and songs you no longer want can just be deleted. Unfortunately, you can't simply click and drag a song inside of this prompt to change the order, but must rather use the arrow buttons at the bottom.
Final Thoughts
At the time of writing, the Clip Zip 4GB retails for about $50, while the Fuze+ 8GB retails for $70. Based on this pricing alone, the Fuze+ is the much better value thanks to its robust screen and capability to play videos (if you care for that sort of thing). But the Clip Zip has its own advantages, such as being super-small, attachable to clothing and has real buttons.
The touch-sensitive buttons on the Fuze+ are to me its down fall. It's not that it's truly horrible, because it's not, but when needing to navigate a lot through the device, it becomes a chore after a while and a true test of patience. The Clip Zip on the other hand has physical buttons that react just as well as they can.
Both players offer about the same sort of functionality. The Fuze+ enables video playback and other miscellaneous options, but nothing major. Both support podcasts, audiobooks, FM radio (can be recorded), voice recording and a bevvy of music formats (MP3, AAC, FLAC, WMA, Secure WMA, and Ogg Vorbis).
The included earbuds with each player are identical and overall aren't that great. Again, this is an area where what's included is sufficient, but no one who takes their music that seriously, or wants to listen to it outside of a workout, will care to use them. To SanDisk's favor, we can never expect too much given the price of the players themselves.
The current iPod shuffle 2GB retails for the same price as the Clip Zip 4GB, but it has no screen and is unable to have its storage upgraded. In that sense, Sansa is offering quite a compelling player here, and it's become one of my favorites I've ever used. It's so small that during a workout it's not even noticed, and even if sweaty, it can still be navigated fine. The Fuze+ on the other hand is bigger and not as convenient.
After reading this review I hope you have a better understanding of which one of these players is best for you. While I like the Fuze+ due to its screen, I can't personally handle the touch-sensitive buttons for too long. The Clip Zip on the other hand is almost perfect. The menu system isn't the most convenient at all times, but on a 1.1″ screen, it's hard to expect much. I love this particular player, and as such, I am compelled to award it one of our Editor's Choice awards.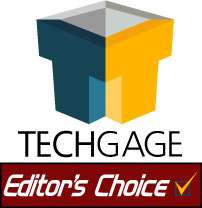 SanDisk Sansa Clip Zip
Discuss this article in our forums!
Have a comment you wish to make on this article? Recommendations? Criticism? Feel free to head over to our related thread and put your words to our virtual paper! There is no requirement to register in order to respond to these threads, but it sure doesn't hurt!
Copyright © 2005-2019 Techgage Networks Inc. - All Rights Reserved.