Scythe Katana Heatpipe CPU Cooler
Date: September 9, 2005
Author(s): Rob Williams

In a constant effort to increase out cooling and overclocks, companies are always quick to push out new technologies. CPU Coolers with killer pipes are all the rage now, if you wish to stick to air. We are taking a look at Scythes newest offering, the Katana. This ultra-light cooler offers two heatpipes to help with your cooling, so let's see how good it is!
---
Introduction
Scythe are really making a name for themselves, because they continue to release amazing heatsinks. If you check out their CPU Cooler page, you'll easily see some incredible designs they have come up with. The one we are taking a look at today is the Katana, which has a very unique design of it's own. Before we jump in any further, here is a quick bio about Scythe.
Scythe's mission is to help our customers sensibly build or customize their 'dream' computing environment, which can only be achieved through Do It Yourself (DIY) or "white-box" assembly with each component of your choice.
Scythe offers original products with high performance, innovative concept, and heavy-user oriented design..
.. At Scythe, we believe that the best product ideas come simply from knowing customers and their experiences. Born right in the middle of Akihabara Electric Town in metropolitan Tokyo, the PC enthusiasts working at Scythe know what to develop because that is exactly what we want for ourselves.
Before receiving the cooler sample, I imagined it to be a pretty hefty one. Looking at the pictures.. I just expected something massive. I was sorely mistaken, because it's the opposite. The box the cooler came in was quite small.. I was surprised. I quickly ripped into it to reveal a much smaller cooler than I had anticipated.
Inside the box, they have included all the mounting brackets you need, screws and of course, the cooler. I immediately took out the cooler to examine it. Wow.. I could not believe how light this thing was! I am very impressed, and have no worries about installing this in the case.
To get some of the specs out of the way, the "Katana CPU Cooler is compatible for socket 370/462/478/754/939/940 & the new LGA775. All in one solution for your PC system!" It's equipped with a 92mm fan, which is rated at 2000±10%RPM and 35.12CFM. The combined dimensions with the fan is 98x96x130mm. Finally, the noise is rated at 25dBA and as a whole, the cooler weighs 300g!
Upon closer inspection, we see that the design is very similar to what Asetek has done with their VapoChill Micro cooler. The most noticeable difference between the two would be the base. Overall though, this is one super slick design.
Installation
What makes this cooler different than many though, is the fact that it sits at an angle. Most coolers are like towers.. straight up. The Katana is on a 70º angle, which will hopefully prove some killer advantage when it comes to clearing the heat off the CPU quick. Another nice feature, is that this is also a four-way cooler. If you find that the way the cooler is situated is not the best for your case, you can take it back off, and rotate it on 90º angles. Depending on your case layout, this could make a difference.
The cooler in general does look quite similar to the VapoChill micro, but it has it's unique features at the same time. Let's check out the results from our benchmarks, where we compare the Katana to the stock cooler and Titan Vanessa L-Type.
Installation
Because of the 'odd' design of the cooler, I had expected a difficult install. In the end, I was surprised by how easy it really was. As usual, I don't usually pay attention to instruction sheets, because they confuse more than help. The included sheet was no real exception, so I just played it by ear.
First, I had to completely remove the yellow bracket which is used to house the stock CPU cooler. It's yellow on my Ultra-D, but could be different on your specific motherboard. Included is a replacement bracket, made of solid metal.. extremely sturdy. After removing the protective tape from the bottom of the cooler, you can screw the bracket to it, and prepare to secure to the motherboard.
The most difficult part of this installation was simply figuring out which parts went where. The whole process took less than 5 minutes, so it was a very smooth install. Scythe includes a white colored thermal paste with the Katana, which I ignored. The primary reason for not using it, is because it does not come in a tube, but rather a small pouch. This would have required a tool or a finger in order to smooth out the paste over the CPU. I stuck with a tube of Arctic Silver 5, which is a much cleaner way of doing things.
Testing
I have high hopes for this cooler, not just because it looks great, but because the design could really allow for some awesome cooling. Here is the system that the cooler is being tested in:
To test, I used a variety of programs. First, I simply turned on the PC and let it idle for about 10 minutes, which gives a clear result for our idle temps. To stress the CPU, I first open up Prime95 and let it do a Small FFT continuous test. I let that go for a few minutes, then I open up SuperPi and select a 32 Million test. Just to add to the fun, I also open up BurnK7 and let it do it's thing. I let the process continue for 10 minutes.
After the 10 minutes is up, I record the temps. Simple tests, but they work well.
Comparing the Katana to both the Stock and Titan, it took a nice 4ºC off the idle temps. For the load temps, the Katana proved itself 4ºC cooler than the stock cooler, and 2ºC cooler than the Titan.
I should mention that these temps all around could be better, if my ambient temps were not high. Even so though, a load of 49ºC is certainly nothing to worry about and can give a great piece of mind. Overall, the cooler does a better job than the stock cooler, although that's not a real surprise.
Conclusions
If you insist on sticking to air cooling, then I would recommend the Katana. It didn't blow my mind as I hoped it would, but it did do a great job of keeping the CPU cooler than even the Vanessa. Since my ambient temp is always high, it's great to know that my CPU still won't go above 50ºC.
This no doubt is a great looking cooler, and has good potential to keep your CPU cooler than the competition. A couple great bonuses is that it's also extremely lightweight and very quiet. It's a great cooler overall, and for that we award it an 8/10.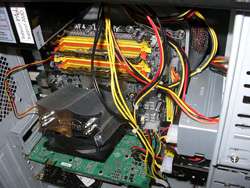 Thanks to Scythe for sending us the Katana to review. I look forward to seeing future designs that they will come up with, and maybe even improve on this current design.
Whether you enjoyed or hated this review, please feel free to post your comment in our related forum thread! You do not have to register to post, although it's quick and easy to sign-up if you choose to do so!

Copyright © 2005-2020 Techgage Networks Inc. - All Rights Reserved.