SD Card Roundup

Date: November 28, 2006
Author(s): Rob Williams

The market is completely saturated with SD cards, but which one will give you the best bang for the buck? We are taking a look at seven different cards ranging in different densities and speeds to find out.
---
Introduction
Ahh, the memory card. If there was ever a product to be released that caught on quick it would have to be flash media. In fact, this type of removable storage has been favored by consoles for the past few years, and also other tech gadgets such as PDA's and digital cameras. To create confusion, there are a number of different types of flash media for Digital Cameras including Compact Flash, Secure Digital, xD, Memory Stick Pro, Micro SD and many more. Ridiculous to say the least.
While CF cards are the norm for higher-end Digital Cameras, Secure Digital still plays a huge role. Although they are physically smaller than CF cards, they tend to be rated for faster speeds. On the negative side though, we have yet to see many cards beyond 4GB for SD, while CF has cards that range all the way up to 16GB. Toshiba recently announced an 8GB SDHC card though, so we are on the move.
When the time comes to purchase a new SD card, it seems simple although there is a lot to consider. That is, if you think the time to research is worth it. On the retail market now, you will find SD cards ranging from 60x to 155x speeds, and $19.99US to $199.99US usually. However, one mistake that people tend to make [as with anything else] is that the more expensive something is, the better. As our tests will prove, that's not necessarily the case. It could also depend on what you consider to be the "best".
Truth is, if you are using a normal $200 point and shoot camera, you probably will not notice the difference between a 60x or 150x card at all while shooting. However, you will likely notice a difference when copying your pictures off the camera to your PC. With higher-end cameras that use SD, even normal shooting speeds can be increased, as long as your camera can keep up.
Before we move into our performance and price results, let's take a quick look at the contenders.
The Contenders
As you will soon see, the cards we chose to test vary in density and rated speed. This is to show real world differences when used in a digital camera, and also to show the overall best value. First up we have a 4GB card from OCZ. Although 4GB cards are supposed to be reserved for the SDHC class, this one is not so. Thanks to that, the 150x speed is retained.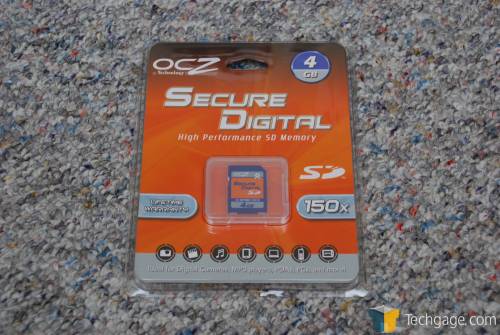 Like OCZ's card, Riteks is also a 150x 4GB card.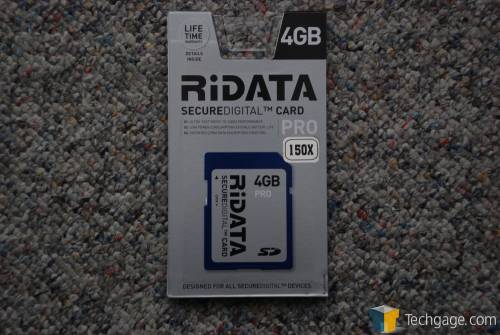 Next up is a card that may not make it too far, but we will find out soon. I asked Corsair for their 60x card specifically to see how the far lower overall speed would make a difference in continuous shooting mode.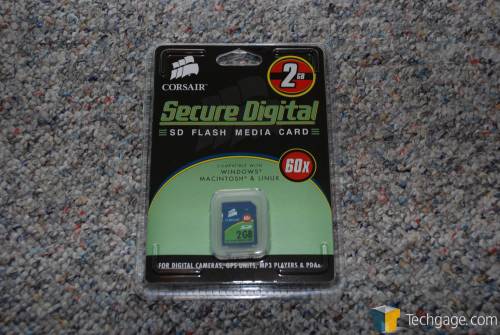 Kingston doesn't offer 150x cards, yet. So here we have a 2GB 120x model.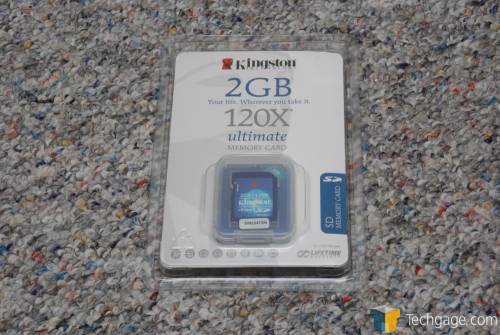 Speaking of 2GB 150x cards, here's one right here. I am looking forward to seeing any differences between this and the Kingston card mentioned above.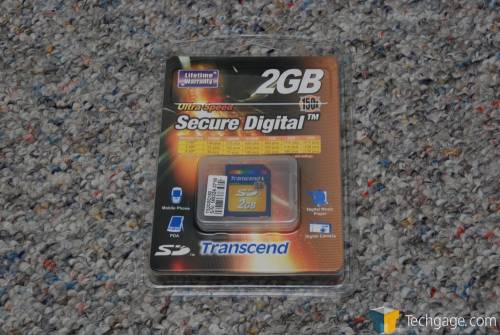 We have two cards from Sandisk, one being a 1GB 133x card and the other being an official 4GB SDHC card. These two cards are the only ones in the roundup to include any extras, in this case a small carrying pouch and SDHC card reader with the 4GB card. This is the reader that we will be using during PC testing.
So, we have a variety of cards that vary in performance and speed. It's our goal to see if there is an actual difference between a 120x card or a 150x, or if there is a difference between a 2GB and 4GB card that is rated for the same speed.
Performance Results
My testing methodology may differ from others. I believe these tests will well reflect the actual raw performance that each card offers. Before any of the testing occurred, the card was first formatted in the camera. The camera being used is a Nikon D80, which is capable of 10 megapixel images.
The first test I wanted to perform was the actual speed differences while shooting in continuous mode. The D80 is capable of 3 frames per second, but that's generally with the lowest settings the camera offers if you wish it to be completely continuous. For 10MP mode, it will burst 3 – 5 images no problem, but will slow down quick depending on the speed of the card.
To test, the camera was mounted on a tripod and directed towards one of my shelves. After focus was acquired, I put the lens back into manual mode so as to rid out the chance of the camera trying to focus during testing, which would result in inaccurate results. Of course no flash was used, the aperture was set to f/3.5 while ISO stayed at 200. Noise reduction was turned completely off.
Simply put, the shutter release button was pressed down, and then after the 30 second mark was hit, it was released. Each test was performed three times and then averaged out. In the end though, very rarely did the results differ at all between all three tests. JPEG Fine images ranged between 2.67MB – 2.68MB and the RAW NEFs were 6.9MB – 6.92MB.
The most impressive card here proved to be the Sandisk 1GB Extreme III card by far, especially with the RAW tests. The camera managed 87 JPEG Fine in 30 seconds, which helped the camera live up to it's rated 3FPS. Even the RAW proved to be an average of 1 per second. Not too shabby for a hulky 7MB file.
There are a lot of interesting things to note though. The OCZ and Ritek 4GB cards are rated for the same speed, but the Ritek managed to blow the OCZ out of the water, with the ability to take 12 more images in the same length of time. Another thing is the fact that if a 2GB card is rated the same as a 4GB card, the 2GB will almost always win the round. While the Ritek 150x managed 61 images in 30 seconds, the 2GB Transcend mustered 86. Thanks to the lower density, the Sandisk 1GB was able to beat out every other card here, despite it's slightly slower rated speed.
So the rule of thumb here is, rated speed is not always everything. If you have a card with the same speed but a lower density, it will have better shooting capabilities.
For the second test, I connected the camera to the computer with the USB cable. Though this is not something someone would normally do, a total of 383 images totalling 1GB were first copied over to the camera. After that, they were copied back to the computer in a different area of the hard drive.
It's quickly evident that the read speed of the cards don't differ that much. All 383 images were copied to the computer in around 70 seconds for each, with the slowest card being the Sandisk 4GB SDHC. Copying to the camera was a completely different story, however.
I think the one that stands out is the 60x card, which took a staggering 9 minutes and 28 seconds. Here we can also see that the rated speeds -do- make a difference. The Transcend 2GB 150x card was 14 seconds faster than the 1GB Sandisk, proving that lower density is not necessarily better for this purpose. Comparing any of the 1 – 2GB cards to the 4GB cards though, shows huge differences. Even at the same rated speeds, the Ritek manages to cream the OCZ card!
Performance Cont., Final Thoughts
In order to benchmark the cards directly on the PC, I used the SDHC card reader that was included with the Sandisk 4GB card. I had other card readers on hand, but their results fluctuated far too much in between testing to be reliable. This reader proved to show less than 1% differentials between each run with the same card.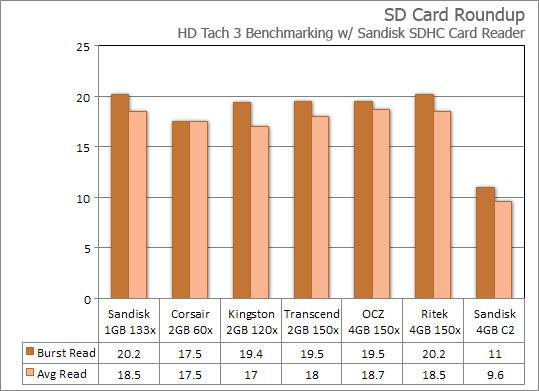 It's hard to claim one card to be the ultimate winner here, as most were quite close. The Sandisk 1GB and Ritek cards proved to have the best burst reads, while the same Sandisk card and the OCZ 4GB proved the best overall average read speed. Although Sandisks 4GB SDHC card didn't lag too far behind in the previous tests, it certainly did in this one.
Our last graph was probably the most difficult to throw together. I first scoured the web to find the different prices for each card. The prices listed below are an average of the 3 lowest prices I found, through various trusted e-tailer websites. The OCZ card is the only one that I could not find at more than one store, so it's $86.99 is an average of itself. Using those prices, I calculated how much moola you'd be handing over for each gigabyte. Simple math.
The lowest priced card here by far is Corsairs 2GB 60x, at $30.50, or $15.25 for each gigabyte. For the higher density cards, the Ritek 4GB card proved to be the best overall deal, costing only $18.38 per gigabyte. For the SDHC crowd, you'd be paying a staggering $42.88 for each gigabyte. One thing to mention though, is that this SDHC card is from the Ultra II series, so it's indeed faster than other SDHC cards on the market. A standard class 2 SDHC card is designed to handle 2MB/s write speed, while Sandisks Ultra II is rated for 9MB/s write.
For the performance per $ portion of the graph, it once again was simple math. Using the total overall shutter releases in 30 seconds from our previous tests, I have estimated how many shutter releases you will get per each $1 you pay for the card. Silly, yes, but still interesting. The best value in this regard turned out to be the Transcend 2GB which allowed 2 images per $1. Not surprisingly, the worst card in this regard is the Sandisk SDHC, which a measly 0.26 shutter releases per $1.
Final Thoughts
If you were to choose one of the cards we've taken a look at today, you will have to decide what's the most important factor. Performance, or value. If I were to run out and purchase a new 4GB card today, it would no doubt be the Ritek 150x 4GB. The only card cheaper per gigabyte was the Corsair 2GB 60x, and it was also the only 4GB card to keep close to our 1 shutter release per $1 mark.
But if I was into performance, which I am, I'd scale back on the 4GB and stick with the 2GB Transcend which gave us 2 shutter releases per $1. Hands down, it was our fastest card, even beating out the 1GB Sandisk Extreme III. If I wanted higher density, then I would just trouble myself by getting two of the same card… in the end the performance gain would be worth it.
On the 4GB side of things, there are a few things to take into consideration. SDHC is new tech, and most of the time will prove slower than the SD cards that we are used to. It's also slowly catching on, so older digital cameras will not likely even recognize the card. In order to use an SDHC card, your camera or gadget needs to specify support for it.
But, some companies such as OCZ and Ritek managed to retain the 150x speed, so there is little reason to move onto the slower, and more expensive SDHC. So why does Sandisk not have a 150x 4GB card? Simple… they are following regulations. According to the SD Association, any SD card with a 4GB or higher density is meant to fall into the SDHC category due to compatibility issues. I found absolutely no issues using the 150x OCZ and Ritek cards however, and I snapped close to 3,000 images between them not including the couple thousand images I took with this roundup. So if you wish to jump onto the "stable" and "official" bandwagon, it will cost you. If you don't care, you can save a load of cash and get either the Ritek or OCZ 4GB cards.
When 8GB cards come out it will be a different story. It's very unlikely we will see 8GB in SD's current form, so SDHC will become a requirement as we move forward.
All of that said, taking a look at our charts you should be able to decide for yourself what is the card for you. Personally I'd jump on either the Ritek or Transcend cards… they both proved to be excellent performers at a great price.
Discuss in our forums!
If you have a comment you wish to make on this review, feel free to head on into our forums! There is no need to register in order to reply to such threads.
Copyright © 2005-2020 Techgage Networks Inc. - All Rights Reserved.