Seagate Constellation ES.3 4TB Enterprise Hard Drive Review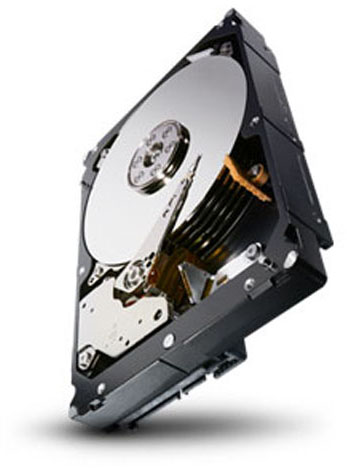 Date: February 18, 2013
Author(s): Rob Williams

We took a look at both of WD's 4TB hard drive options in the past month, so it's a great time to get some Seagate action going. The Constellation ES.3 competes with WD's RE in the enterprise space, but it brings an interesting feature to the table: a 128MB cache. So let's give the the drive a good test and see if it can topple the RE drive we raved over.
---
Introduction
With a mere 3 options for the consumer and 3 for the enterprise, the current 4TB market is small. Where's our "Green" option from Seagate? WD? HGST? Your guess is as good as ours.
While the consumer 4TB situation at the moment is depressing, the enterprise one isn't. All three of the aforementioned vendors have been taking good care of their IT friends with a collection of both SATA and SAS models, and Seagate in particular has done a couple of things to help its model stand apart from the rest.
For starters, the company's ES.3 4TB drive is the first on the planet that implements 128MB of on-board cache – up from 64MB, which might as well be considered a standard. What does that extra cache mean for the user? That's a great question, and one that's difficult to give a definitive answer for.
The purpose of cache on a hard drive is to act as a buffer so as to improve the flow of data from or to the drive. In conjunction with the drive's controller, it can hold pre-fetched data that the OS has not yet requested, but is expected to. As an example, while you may be reading page 1 of a document, the cache might already be storing page 2. This can reduce or eradicate the load time for the page transition. On the flip-side, the cache can also allow the OS to flag a data write as having been completed, even though the cache is still in the process of moving the data to the appropriate sectors.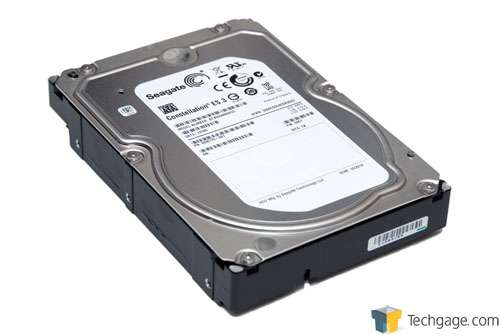 It stands to reason that a doubling of the cache could in effect double the performance of the buffer – it's just logical. However, at this micro-transaction level, the performance differences are very likely to be invisible to the naked eye, and much like with faster RAM, differences that could be seen would have to be very specific. As we'll see in our results coming up shortly, Seagate's ES.3 4TB does prove to be faster in most cases than WD's RE 4TB, which shares similar specs aside from the cache.
While working on this review, and with results in hand, we talked to WD to see if it had plans to roll-out models equipped with 128MB of cache in the future. We were told:
We aren't expected to as of today. We always make sure there is a balance, and if there is no expected gain by additional cache, then there is no reason for it other than to increase the cost.
It's hard to fault that reasoning.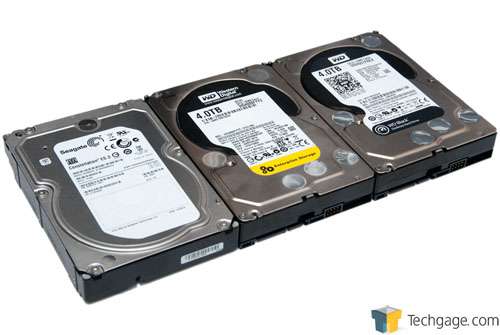 Let's go a little off-track here for a moment. This article has been in production for a couple of weeks, during which time I've been awaiting answers from Seagate regarding some performance oddities that we'll discuss later. If not for those questions, this article would have been published weeks ago. However, because of the delay, I was forced to change the intro at the top from "5" drives to "6". That's right, another has joined the fray, and it's a strange one.
 
Speed
Cache
Warranty
Usage
Price
Seagate Constellation ES.3
(ST4000NM0033)
7,200 RPM
128 MB
5-year
Enterprise
~$415
WD RE
(WD4000FYYZ)
7,200 RPM
64 MB
5-year
Enterprise
~$410
HGST Ultrastar 7K4000
(HUS724040ALE640)
7,200 RPM
64 MB
5-year
Enterprise
~$440
WD Black
(WD4001FAEX)
7,200 RPM
64 MB
5-year
Performance
~$330
HGST
(H3IK40003272SW)
7,200 RPM
64 MB
3-year
Performance
~$310
Seagate Desktop HDD.15
(ST4000DM000)
7,200 RPM
64 MB
2-year
Storage
~$210
Yup – we're looking at a 4TB hard drive that costs a mere $210. Despite its lower price, it's still spec'd at 7,200RPM and has a 64MB cache. The biggest difference is that it drops the warranty down to 2-years, though we'd imagine that the real-world performance might be a bit lower as well. According to Amazon, there's also an ST4000DX001 model that includes 128MB of cache like this ES.3 drive, but there's no mention of it whatsoever on Seagate's own site.
Given its pricing, the ST4000 is a hard option to ignore. Personally, I am undecided as to whether or not I'd opt for a drive that has only a 2-year warranty given they will likely be used for long-term storage – but that problem becomes lessened if a redundant setup is involved. It's going to be interesting to see how WD or HGST counter this drive.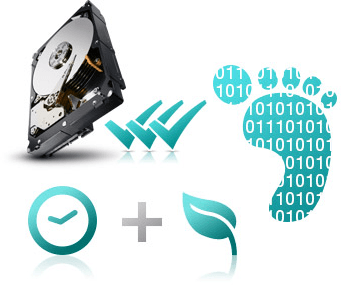 Reading around, it's hard to figure out whether or not the ES.3 drive features 4 or 5 platters. Given the performance we're going to be taking a look at in a moment, I'm willing to bet it does in fact use 4, meaning we're dealing with 1TB platters in lieu of 800GB ones like the other 4TB drives. Thanks to the increased areal density, performance is naturally increased – it's a design we can certainly get behind.
It's worth noting that while only a single ES.3 model is listed in the table above, two others exist. The ST4000NM0053 adds hardware encryption to the mix, and costs $440 for either the SATA or SAS version. Then there's the ST4000NM0063, a SAS-only drive that implements FIPS – a government-mandated encryption standard.
Regarding enterprise features, Seagate and WD do not differ too much. Seagate offers a 1.4 million hours mean-time before failure rating, up from WD's 1.2 millon, but both offer enhanced error correction, vibration tolerences, low power consumption, dual processors, ramp load technology and built-in sensors for best operation. One advantage Seagate does have with the current generation is that it offers the hardware encryption options mentioned above. Neither WD or HGST currently do, though it is expected that HGST will at some point.
With that, let's head on into a quick look at our testing methodology and then get to the first results.
Test System & Methodology
At Techgage, we strive to make sure our results are as accurate and real-world applicable as possible. We list most of the steps and processes involved in setting up and conducting our benchmarking process below, but in the interests of brevity we can't mention every last detail. If there is any pertinent information that we've inadvertently omitted or you have any thoughts, suggestions, or critiques, then please feel free to email us or post directly in our forums. This site exists for readers like you and we value your input.
The table below lists the hardware used in our current hard drive-testing machine, which remains unchanged throughout all of our testing. Each drive used for the sake of comparison is also listed here.
 
Techgage Hard Drive Drive Test System
Processor
Intel Core i7-3960X Extreme Edition – Six-Core @ 4.20GHz – 1.375v
Motherboard
GIGABYTE G1. Assassin 2 – F4E BIOS (12/12/2011)
Memory
Corsair Dominator GT 16GB DDR3-2133 9-11-12-27, 1.60v
Graphics
GeForce GTX 680 2GB (Reference) – GeForce 301.42
Audio
Onboard Creative X-Fi
Storage
OS Drive
Kingston HyperX 240GB SATA 6Gbit/s SSD
Tested Drives (Model, Cache, Speed)
Seagate Constellation ES.3 4TB (ST4000NM0033, 128MB, 7.2K)
WD RE 4TB (WD4000FYYZ, 64MB, 7.2K)
WD VelociRaptor 1TB (WD1000DHTZ, 64MB, 10K)
WD Black 2TB (WD2002FAEX, 64MB, 7.2K)
WD Green 2TB (WD20EARS, 64MB, ~5.3K)
WD Red 2TB (WD20EFRX, 64MB, ~5.3K)
Power Supply
Corsair AX1200 1200W
Cooling
Corsair H70 Self-Contained Liquid Cooler
Et cetera
Windows 7 Ultimate SP1 64-bit

Our Windows 7 Desktop for HDD Testing (Photo Credit)
When preparing our HDD testbed for benchmarking, we follow these guidelines:
General Guidelines
Our CPU is frequency-locked to avoid potential performance variances.
No power-saving options are enabled in the motherboard's EFI.
AHCI is enabled in the motherboard's EFI for best performance.
Only the Intel 6Gbit/s port controller is used for test drives.
Only cold boots are utilized; for the purposes of our testing a boot is defined as the moment the power button is depressed to the moment the last systray icon and program has fully loaded after reaching the Windows 7 desktop. Auto-login is enabled.
Windows 7 Optimizations
User Account Control (UAC) is disabled.
The OS is kept clean; no scrap files are left in between runs.
The Windows Search daemon is disabled.
Windows Update and OS power-saving settings are disabled.
Other Considerations
Outside of the Windows 7 boot time test, reviewed hard drives are installed as the target; the OS and all of the applications are stored on the SSD. This is done to remove the overhead off of the tested drive, and also to reflect the fact that most people nowadays are not installing their OSes on mechanical storage.
While HD Tune and AIDA64 are able to be used on a drive without a partition, the remainder of our tests require one. As mentioned above, we feel that the focus of hard drives is moving towards pure storage rather than housing an OS, so we've adopted the use of 64KB cluster sizes. It's the maximum NTFS can support, and it's much more efficient than 4KB for those needs.
Test Suite
For the sake of thoroughly testing the drives we review, our test suite consists of a blend of both real-world and synthetic benchmarks. Although we value real-world tests higher than synthetic, we appreciate the latter because A) they can give us the "best possible" performance numbers from a drive and B) can be run by our readers, more often than not.
Our synthetic tests include Futuremark's PCMark 7, HD Tune Pro 5.0 and AIDA64 2.70. Our real-world testing includes file and folder transfers, game level-loading and Windows 7 boot times.
In the past, we used Iometer for the sake of truly stressing a drive in high-load scenarios, but have dropped it in favor of using HD Tune's built-in Random Access benchmark. Our goal with Iometer was to deliver an IOPS result, but because the program doesn't support unpartitioned GPT drives, it's useless for our needs. Fortunately, HD Tune can give us those IOPS results we're after.
Synthetic: PCMark 7
Futuremark's PCMark benchmarking suite should need no introduction – it's been a staple of PC benchmarking for the better half of a decade. PCMark offers a range of tests to gauge every aspect of a computer's performance and presents it in a simple final result. Thankfully, it also breaks down the overall score with individual subsystem scores (such as Memory, Storage, et cetera) in addition to providing individual test results.
As we're not too concerned with the performance of the PC as a whole, for our testing here we deselect all default tests and run only the "Secondary Storage" suite, with the hard drive in question as the chosen drive. Tests in this suite range from the loading of applications, running a Windows Defender scan, editing video, gaming and more.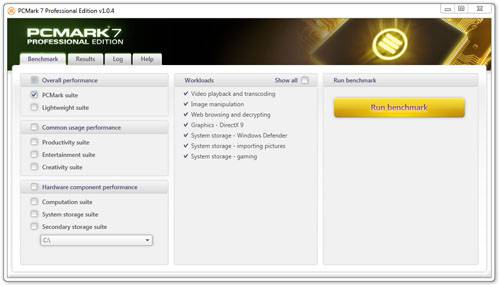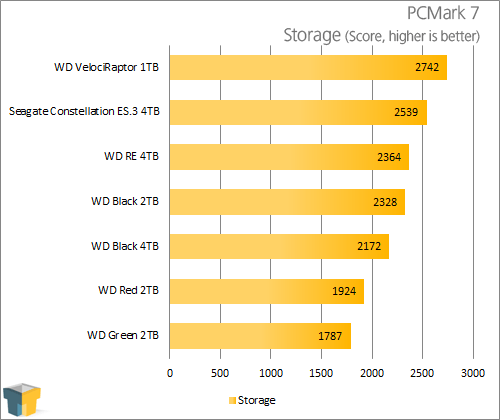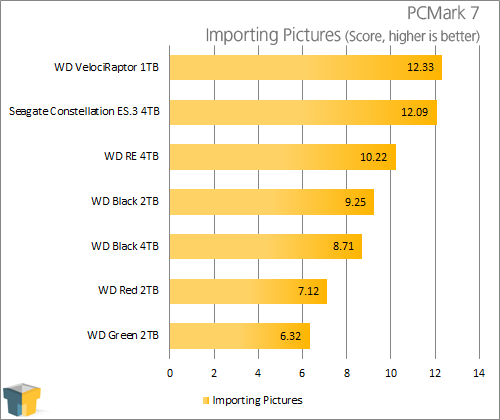 The results seen here reaffirm the idea that Seagate's drive must use (in all likeliness) 1TB platters, although the extra cache could be playing a role as well. Oddly, Seagate's drive did under-perform notably in one test, Video Editing, but that was the lone exception. Overall, PCMark 7 deems Seagate's ES.3 drive to be 7.4% faster than WD's RE.
Synthetic: HD Tune Pro 5.0
One of the best-known storage benchmarking tools is HD Tune, as it's easy to run, covers a wide-range of testing scenarios, and can do other things such as test for errors, provides SMART information and so forth. For our testing with the program, we run the default benchmark which gives us a minimum, average and maximum speeds along with an access time result, and also the Random Access test, which gives us IOPS information.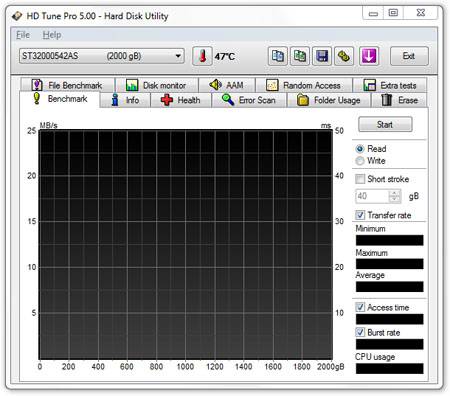 Seagate's ES.3 drive continues to perform very well here, beating out everything aside from WD's VelociRaptor in the throughput tests, and coming ahead of that in the write access time test.
A trend that's becoming obvious is that Seagate's ES.3 drive is a great performer where writes are concerned. In most read tests, it goes head-to-head with the WD RE, but in the write, as with the graph above, it inches ahead. The gains are not "blow it out of the water" good, but it's undeniable that Seagate has an edge here.
Synthetic: AIDA64 2.70
Similar to HD Tune, AIDA64's built-in disk benchmarker is one of the easiest to run. The developer also keeps up on top of architectural trends so that you feel confident that the algorithms don't get much better than this. This spreads beyond the storage benchmark, as AIDA64's system stress-testers is one of the best, if not the best, out there – thanks to it being able to take full advantage of any given CPU architecture.
For our testing, we run the Linear Read and Random Write tests. Because AIDA64 by default automatically chooses a cluster size (which changes at random), we force it to use 64KB for our testing.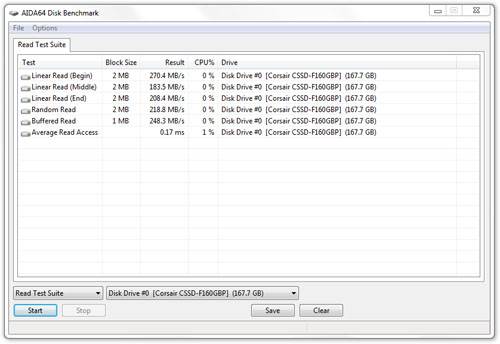 Not one to break from tradition, AIDA places Seagate's ES.3 drive ahead of WD's RE, though the RE managed to deliver a far more attractive buffered result – strange, given the Seagate has more cache.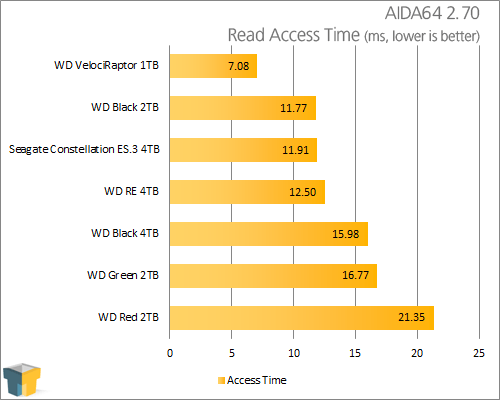 Though the ES.3 drive "wins" this battle against the RE drive, both come out as equals as far as I'm concerned. Nothing can remotely touch WD's VelociRaptor where mechanical latancies are concerned – at least on the consumer side.
Real-World: Transfers, Game Level Loading & Windows Boot
One of the most common tasks that someone will tackle with a storage device is transferring data, so to see what our collection of drives are capable of, we take a collection of solid files and folders and transfer them from our super-fast SATA 6Gbit/s SSD to each hard drive. Then for good measure, we copy a file and folder on the same drive. Both our files and folders come in 4GB and 16GB sizes, with the folders holding between ~5,000 (4GB) and ~20,000 (16GB) files.
Our stopwatch starts as soon as we click the "Copy here" button in the context menu, and stops as soon as the transfer dialog disappears.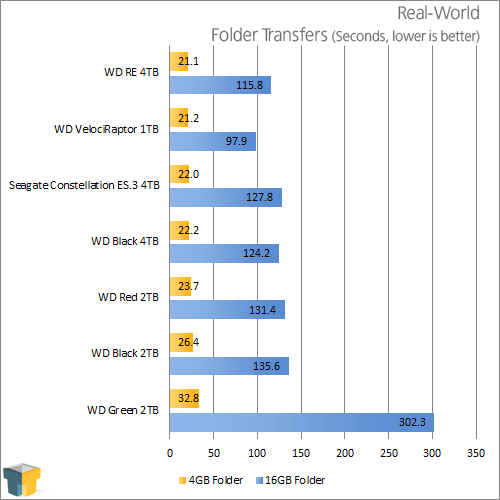 For most of the results leading up to this point, Seagate's ES.3 has excelled vs. WD's RE. However, it manages to fall behind in a couple of our real-world tests seen here. Solid file transfers are fine, but folder transfers and file/folder copies deliver some less-than-impressive results.
Game Level Loading
One of the biggest benefits of faster storage is quicker load times for games, both with regards to their startup and level-loading. For testing here, we use two of the heaviest games we have on hand; Sid Meier's Civilization V and Total War: SHOGUN 2. Our test here is simple: we see how long it takes each game to load. Our stopwatch starts as soon as we click the option to load either game..
The ES.3 drive strikes back here, slotting in just behind the VelociRaptor in our Civilization V test and actually surpassing it in our SHOGUN 2 test. This seems like a test that could have benefited from the additional cache, but it's difficult to know for sure. What we do know, though, is that quicker load times are welcomed regardless of how they happen.
Windows 7 Boot Time
Like game level loading, faster storage can mean faster OS boot times. To put this to the test, we rely on an Acronis image that has a clean install of Windows 7 Ultimate x64 and required drivers, with Ethernet disabled. For a more accurate result, we do our testing with a cold boot, after the system has been left to sit idle for a couple of minutes. We record both the time it takes to boot to the desktop from a completely cold boot, and also the time it takes from the very second we see the Windows loading screen appear.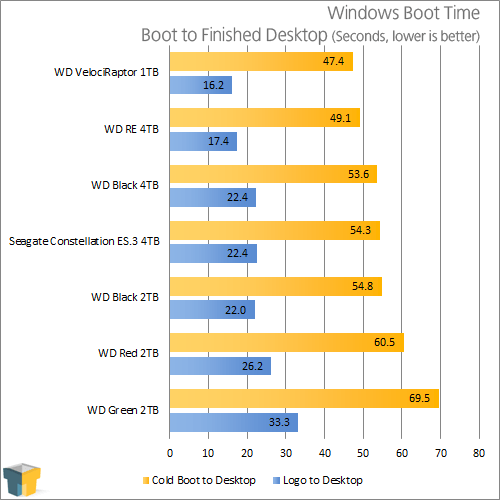 It's tests like this one that can lead to mass confusion when trying to reach a conclusion on a drive performance. Our HD Tune results put the read IOPS performance of the ES.3 drive on par with the RE, yet the RE beats it out in this test. This is despite the ES.3's synthetic results putting it ahead of most of the competition.
Final Thoughts
With our look at WD's RE drive last month, drawing up a conclusion wasn't too difficult. Compared to the company's own enthusiast-bound Black 4TB, it won the proverbial race in every shape and form. Meanwhile, Seagate's Constellation ES.3 4TB leaves us enthusiastic, but confused.
You see, based on synthetic tests alone, Seagate's drive looks to be the hands-down winner. But it's not until we get into our real-world transfer tests that we begin to see some oddities. While the drive managed to beat out its direct competitor in HD Tune, AIDA64 and even PCMark 7, it fell short in our folder transfer and file/folder copy tests – areas we would have believed it to excel in.
As of this article's posting, we've been waiting some time to hear back from Seagate regarding the couple of oddities we discovered, but it reached a point where we couldn't hold off on publishing any longer. If we do end up hearing back, I'll update this page of the review and also make mention of it in our news section.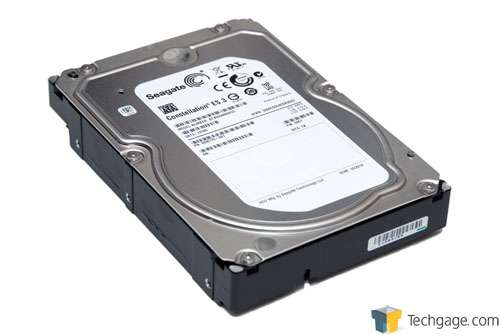 At the end of the day, the areas where the ES.3 fell short are not major. It proved a bit slower in our folder transfer tests, but not too much. While it was considerably slower with file/folder copies, that sort of operation is rare for normal usage (how often do you copy / paste a piece of data on the same drive?).
That said, the fact that there are discrepancies like this at all is strange, and frustrating. Prior to wrapping up our results, I wanted to make absolutely sure that our initial results were not flukes, so I:
Re-installed WD's RE drive for re-testing. Results were identical.
Re-installed the ES.3 for the third time. Results were identical.
Changed the ES.3 port from Intel to Marvell. Results were identical.
Normally, we don't need to re-test a storage device four times over in order to feel confident in our results, but it was necessary here. If there's one thing that drives me truly bonkers, it's feeling a little iffy about our test results.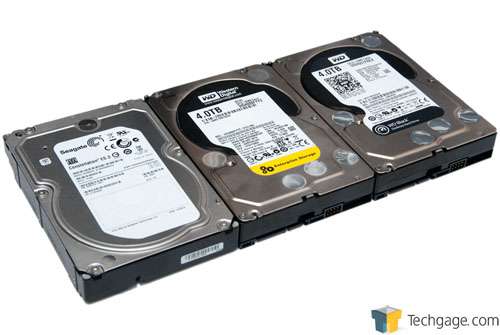 That all aside, Seagate's Constellation ES.3 is far from being a poor performer. It does fall a bit behind in a couple of our real-world tests, but it excelled throughout our gaming and synthetic tests (leading us to believe that it -could- outpace WD's drive with different types of data).
Could Seagate's odd folder and copy performance be improved with a firmware update? We're guessing that there is a good chance it could. Is there a chance we're experiencing some rarity performance-wise? Also yes, but as Seagate has so far been unable to comment on our results, we remain confident in them. We do hope to be corrected in the near-future, however, as this drive has huge potential and should be delivering better real-world performance than what we're seeing.
Copyright © 2005-2020 Techgage Networks Inc. - All Rights Reserved.