Seagate 500GB Barracuda 7200.9

Date: May 8, 2006
Author(s): Rob Williams

There seems to be a problem that's constant with computers throughout the years. That problem is not enough storage space to feed our habits. Whether or not you actually need *this* much storage, there's no denying it's supremeness.
---
Introduction
Seagate is a company that's been around for quite a while, but their presence is becoming more and more intact as the days go by. A week doesn't seem to go by without seeing their name in the news. A few months ago, we took a look at their 160GB mobile beast, the Momentus 5400.3. Even though that HDD came out months ago, it is still the largest 2.5″ drive on the market, and has no competition.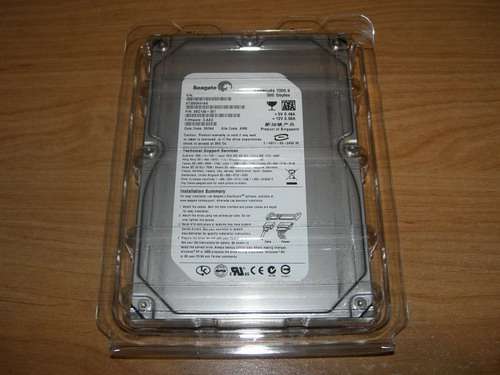 Just last week, they also released their massive 750GB desktop consumer drive which once again takes the top spot. If you are curious as to how they managed to fit so much data into the same sized frame, you can read our explanation here. So you may be asking yourself.. why are you reading a 500GB review when there is a far superior, and large hard drive already on the market? Well, according to current $ per GB calculations, the 500GB costs around $0.12 per GB less than the 750GB. That's pretty substantial.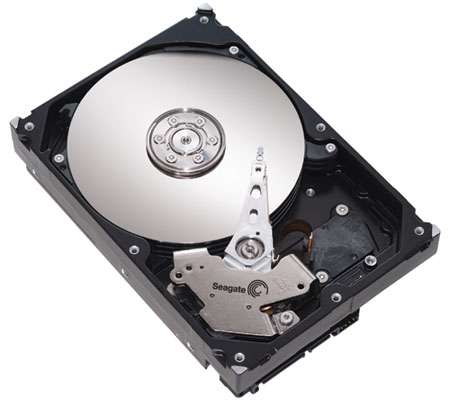 Back in the day.. I remember buying a brand new 8GB HDD for only $300, or around there. At that time, it was actually more than enough. I was able to install all of my games and applications, and still have plenty of space left over. It was a common theme, that after buying a new hard drive, it would easily be able to satisfy you. That was before digital entertainment became such a stature in our daily lives though. In a day where music collections can amount to hundreds of GB's, games can take 10GB for a simple complete install, and DVD movie backups are second nature, we are always looking for more, and more storage.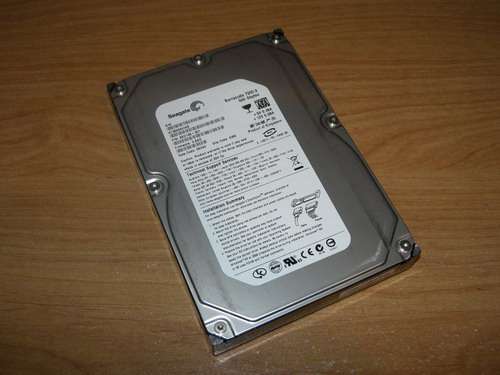 Even just a few years ago, the thought of your computer having 1TB (Terabyte) of hard drive space was ridiculous to consider. Of course, it's hardly ridiculous anymore, and all you need are two of these drives we are looking at today. Of course, due to the 1024 byte issue, the drive is around 500,000,000,000 bytes, or 476,937MB. After the benchmarking and testing was completed, I took a shot of the drive using PartitionMagic, to show the total size.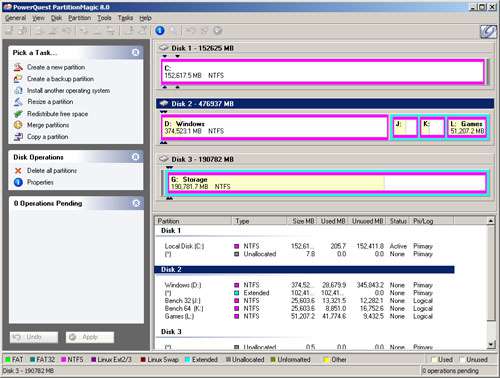 I doubt I will need to get into the nitty gritty of what a hard drive is, or how it works. What does this drive do that some other's don't? Well, not too much really. Unlike the new 750GB drive, this one does not use the new Perpendicular Magnetic Recording, simply because it has no need to. Shared by other Seagate drives is the NCQ feature, or Native Command Queueing. Essentially this is technology that allows the hard drive to receive more than one I/O request at a time, and performs them in an order that it deems best. This feature is available on their S-ATA drives only, so the ATA version of this drive will not include it.
This drive is also equipped with a 16MB Cache and a S-ATA 3GB/s capability. 7200RPM has been the norm in terms of drive speeds for a while, and it seems to be staying that way for the time being. You'll also notice mention of a 3-D Defense System, though I really have no clue what it is. It's related to data protection, but a search at the Seagate website brought forth no help.
SATA 3Gb/s with NCQ
Higher through-put and supports Intel Hyper-Threading for increased performance of SATA servers and workstations supporting intensive applications. NCQ also increases reliability in heavy workloads significantly reducing the drive's mechanical wear.
16 MB Cache
Provides the highest performance with increased data bursting through the interface
2.8 bels idle, 3.2 bels seek acoustics
Super-quiet drive is almost inaudible. Difference between idle and seek can hardly be detected by human ear, making drive operation almost silent.
3-D Defense System
Industry's most comprehensive drive and data protection system
7,200 RPM
Higher performance and data through-put
63 Gs operating shock
Robust product for challenging applications
350 Gs non-operating shock
Top reliability and durability during shipment and integration
RoHS Compliant
Meets or exceeds all current and proposed environmental standards and legislation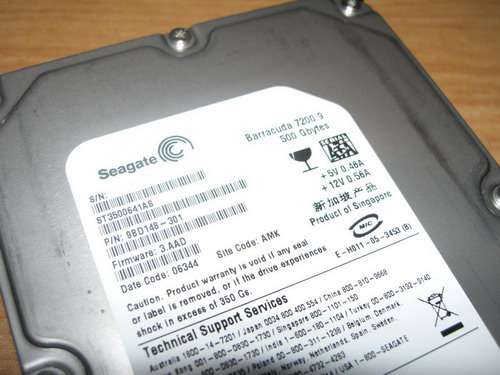 I received an OEM version of the drive for review, so there is no retail box. After tearing the bubble wrap off, it revealed the drive in a plastic blister case. This case is designed in a way to allow for some safety if you do happen to drop it. It bubbles out at various points all over, so if it hits the ground, there's a good chance not too much damage will be done.
As mentioned earlier, this is the S-ATA version of the drive, although the ATA version shares the same stats and latencies. Without further ado, let's get into the testing. )
Testing, Windows Installation
To test out this beast, I ran it through many different tests, including real world. I didn't have another S-ATA drive on hand, so I compared it to my primary drive, an ATA Western Digital 160GB 7200RPM 8MB. Before testing began, both hard drives were completely formatted with all partitions cleared. To completely clear my 160GB drive, I ran Darik's Boot and Nuke for a single pass. This program essentially overwrites all data bits on the hard drive to help them become unrecoverable. Of course, we are not worried about data recovery here, which is why I only used one pass.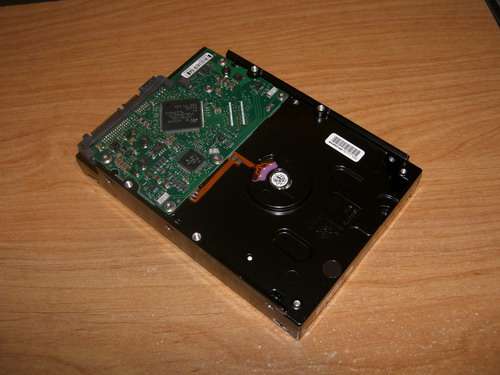 Here is the list of tools I used for testing the drive, in case you want to test out your own:
Let's jump straight into the benchmarks!
Windows Installation
Since I had two fresh drives, I figured I would see which one installed Windows the fastest. The end results are only approximate, but should not be within 5 seconds different of the actual value. The version of Windows I used was Media Center Edition 2005, which spans two CD's. For some reason, installing with the 160GB drive, I had to swap the discs less than with the 500GB. Why? I have no idea. Here are the timelines:
Seagate Barracuda 7200.9 500GB
22:14:15 – First Windows Screen boot following format and file copying
22:21:09 – Registration and Serial Key
22:22:32 – Continuing Installation
22:23:51 – Prompt for Disc 2
22:24:25 – Prompt for Disc 1
22:25:02 – Continuing Installation
22:25:45 – Prompt for Disc 2
22:26:20 – Continuing Installation
22:28:29 – Prompt for Disc 1
22:28:58 – Continuing Installation
22:33:06 – Computer reboots
22:34:30 – Visual Elements Prompter
22:35:09 – SP2 Related Options
22:35:50 – Windows Desktop
After removing the prompting for different discs, the entire installation took around 1,038 seconds, or 17.3 minutes.
Western Digital 7200 160GB
03:28:04 – First Windows Screen boot following format and file copying
03:31:39 – Registration and Serial Key
03:32:29 – Continuing Installation
03:33:49 – Prompt for Disc 2
03:34:18 – Continuing Installation
03:36:33 – Prompt for Disc 1
03:37:00 – Continuing Installation
03:41:08 – Computer reboots
03:41:47 – Visual Elements Prompter
03:42:18 – SP2 Related Options
03:43:00 – Windows Desktop
After removing the prompting for different discs, the entire installation took around 759 seconds, or 12.7 minutes.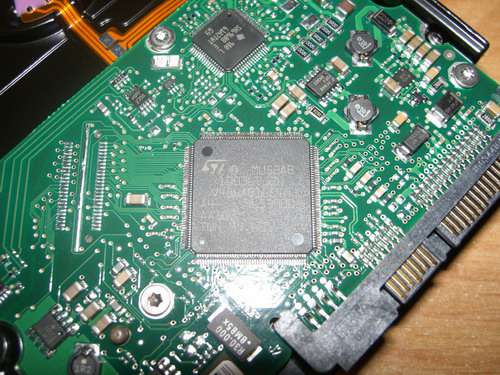 It's interesting to note the ATA hard drive had the fastest Windows install. It required less disc swapping, but that's not why. If you note the timeframe, the S-ATA took a longer time performing the same tasks. So, the ATA drive is the winner here.
HD Tach RW 3, HD Tune
HD Tach is one of my favorite storage benchmarks, mainly because it's quite in-depth. It can give you a result for a burst rate, average and a latency.
Our WD 160GB beat out the Seagate 500GB slightly in the latency and average MB's. The 500GB brought on incredible burst rates, however.
HD Tune 2.52
HD Tune is not just a benchmark, but a great tool for checking up on your drives health. Under the health panel, it will be able to tell you how many hours your hard drive has been running for. The benchmarking portion can give us similar info as HD Tach 3, but instead of a simple average, it can also give us a minimum and maximum.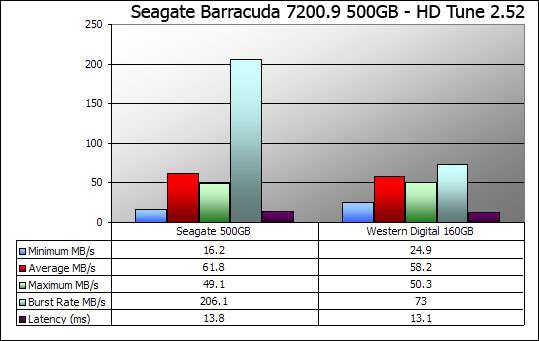 This time around, the Seagate beat out the WD 160GB in the average MB/s area, but lagged short in the Min and Max. Again, a crazy Burst rate is exhibited here.
PC Mark 05, SANDRA
PC Mark has a very interesting way of benchmarking storage. Instead of using a 'normal' Min/Avg/Max scheme, they take various aspects of everyday computer use and turn them into a benchmark. Note that the final PC Mark in the graphs have a decimal, but the real score does not. The decimal was added to allow the other bars to show.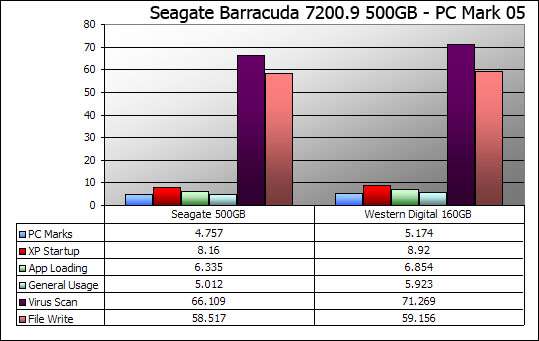 Once again our 'little' drive has taken the cake in all areas. It seems that having such a smaller density proves helpful in benchmarks.
SANDRA 2005
SANDRA 2007 was just released the other day, but all of the benchmarks were performed prior to that. From now on, 2007 will likely become the SANDRA standard in all of our benchmarking.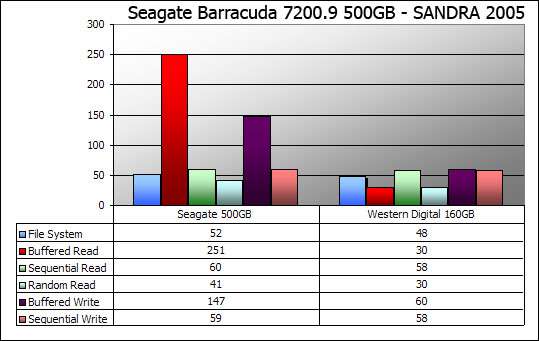 The burst rate on the 500GB drive is very consistent throughout all of our benchmarks today. This is the first benchmark, however, that shows the 500GB beating out the 160GB in every single aspect. Let's jump straight into our real world testing and our conclusions.
Real World, Conclusions
To perform real world testing, I took a huge conglomerate of files and timed the copies using the Windows clock on another PC.
Seagate Barracuda 500GB
1) Copying 1,693 Files worth 3.05GB – 117 Seconds (44.4% faster)
2) Extracting 92 RAR Files worth 4.26GB – 217 Seconds (1.38% faster)
3) Copying 1 File worth 4.31GB – 167 Seconds (19.7% faster)
4) Copying 24,379 Files worth 9.57GB – 574 Seconds (14.28% faster)
Western Digital 160GB
1) Copying 1,693 Files worth 3.05GB – 169 Seconds
2) Extracting 92 RAR Files worth 4.26GB – 220 Seconds
3) Copying 1 File worth 4.31GB – 200 Seconds
4) Copying 24,379 Files worth 9.57GB – 656 Seconds
In many of the synthetic benchmarks, the 160GB drive beat out the 500GB, but not here. The only test that the 160GB came close to matching was the extracting of 92 RAR files. I assume this is due to the fact that the end result was one file. When far more files are thrown into the pile, that's when the 500GB drive deemed superior.
Conclusion
Seagate knows what they are doing, because they continue to impress. It's too bad I did not have another S-ATA drive on hand, because it would have been a more accurate comparison, but the Barracuda definitely held it's own. Despite coming short in most of the synthetic benchmarks, it rocked our real world tests. Chances are that going from ATA to S-ATA will vary in performance depending on your system. It's odd that the 500GB took longer to perform some mundane tasks, such as the Windows installation, because it obviously kept right up to the 160GB in terms of speed.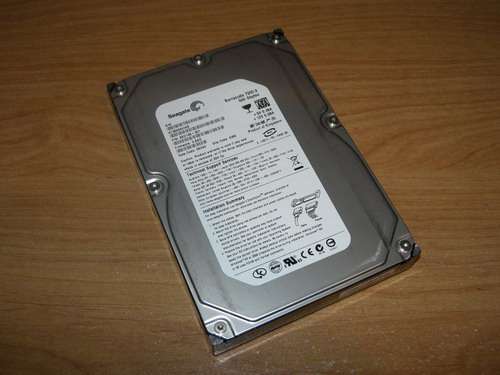 If you are looking for a new drive to buy, you can't go wrong with the Barracuda 500GB. After a quick check on an e-tailer, I found that the 500GB's cost was around $0.55 per 1GB. Comparing to their 250GB drive, which was only $0.38 per 1GB, it's clear that when you want to have a huge hard drive, you will pay for it. For those of you interested, the 750GB drive was around $0.66 per 1GB, which makes the 500GB well worth it.
Price aside, if you have a need for a large drive, you will not regret a purchase. I am giving the Seagate Barracuda 7200.9 500GB a 9/10 and our Editors Choice award.
Discuss in our forums
If you have the urge to discuss this review, (you know you do), feel free to head on over to our related thread. You do not need to register in order to reply to our content threads!
May 8 Addendum: One important factor I forgot to mention in the review was the temperature readings. This should be mentioned, because this particular hard drive is one of the warmest on the market. Currently, during regular computer use, the drive sits at 47°C. This is a huge jump from the compared WD 160GB which after a benchmark, sits at 34°C. Despite the high temps, it's not in a 'danger zone', but if you are planning to throw one in your SFF case, you will want to make sure you have excellent airflow to keep things running smoothly.
May 10 Addendum: Regarding the 3D-Defense system, Seagate had this to say: "Seagate integrates and includes features that enable Data protection
(superb ECC algorithms), Data diagnostics (SeaTools) and Data defense (data off-line scan)."

Copyright © 2005-2020 Techgage Networks Inc. - All Rights Reserved.