Seagate Barracuda 750GB ES

Date: November 27, 2006
Author(s): Greg King

Seagate made quite a splash earlier this year with their 750GB hard drives. They have since released an ES version of the drive with a far higher reliability factor making them perfectly suitable for RAID and business applications.
---
Introduction
Network storage is vital to any network, large or small. The demand for large and reliable storage has always been around. It seems that no matter how large a hard drive is, it's just a few short months from being not large enough. A good example of this is YouTube. With the ability to upload videos and share them with the world, the demand for large and reliable storage solutions are always in demand. Even for file server purposes in an enterprise/business environment, reliable storage is an absolute necessity for any business to maintain their day to day operations.
One company that always comes to mind is Seagate Technology. They are arguably the best maker of storage solutions on the market today. With the recent acquisition of Maxtor, there are really only a handful of major players in the storage game. With these needs of the industry in mind, Seagate has taken the challenge and brought their ES (Enterprise Storage) to market. Ranging in sizes from 250GB up to 750GB, the Seagate Barracuda ES is Seagate's answer to the storage size question.
On our plate today, Seagate has been kind enough to send out not one Barracuda ES 750GB drive, but 4. That's 3 terabytes of storage. There are many ways that we could test these hard drives out but for today, we are going to work with a single drive, testing it in a stand alone fashion. In a few weeks, we are going to revisit this hard drive and use it and it's three other friends in an in-depth, comprehensive RAID article. That however is for another place and time.
The Barracuda ES 750GB offers a 16MB cache, much larger than the normal 8MB that most hard drives have. Seagate also uses perpendicular recording in this drive as well. The quick summary of perpendicular recording is that it allows far more data to be packed in closer together on the platter resulting in more data in the same amount of area compared to a standard hard drive not using perpendicular recording. The more data that can be fit onto each platter means that more data can be read with each revolution of the platter itself. Perpendicular recording can be thanked for this.
Seagate give the ES line of hard drives a staggering 1 million hours of MTBF (mean time between failure) which means that this drive will be around for a long time, reliably storing all of your precious information. It should also be mentioned that the hard drives BIOS will also spin down when not in use to even further prevent unneeded wear and tear on the hard drive.
For our tests, we are going to be using a few real world file transfers as well as a couple of program's results. We will be using HD Tach, HD Tune, PC Mark 2005 and Sandra 2007 to get the information that we need for the review and will be conducting 4 separate transfers for real life results. The real life tests will include one solid 4GB file, one 4GB folder with many folders and many files, one 4GB folder with many files and few folders and one solid 8GB file as well. I will record the time it takes to physically move these folders and files from one area of the hard drive to the other.
To add to the versatility of the Barracuda ES, you have the option to switch between SATA I and SATA II by removing a small jumper on the back of the hard drive. That is if your motherboard should not have SATA II capabilities.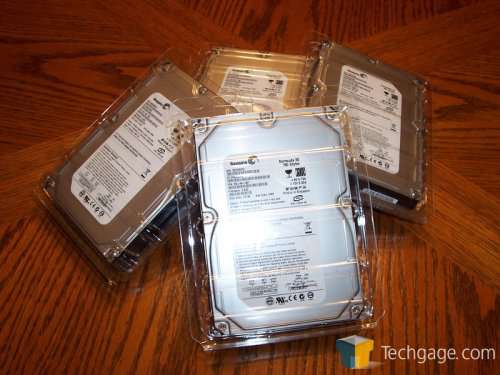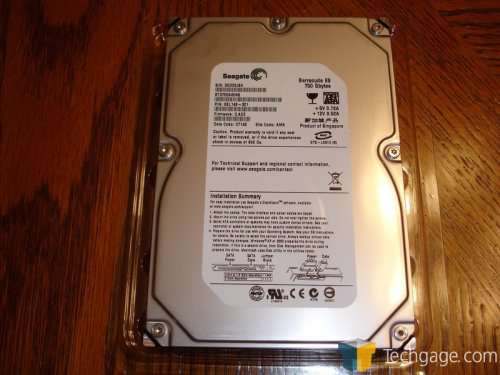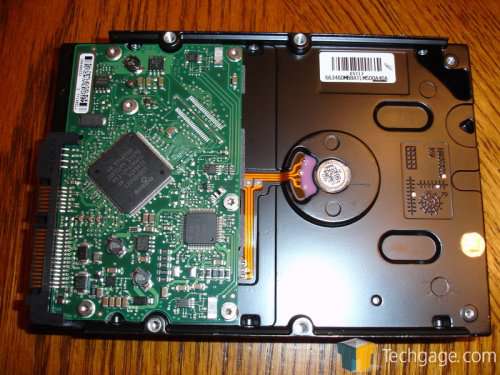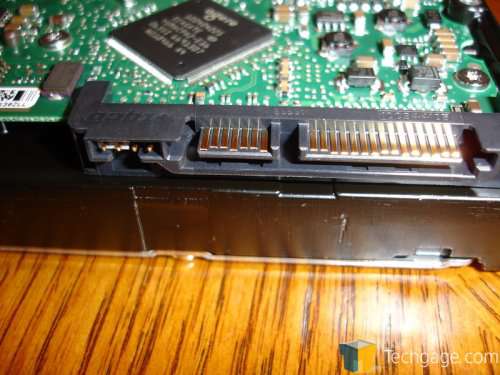 Specs and Testing
Interfaces SATA 3Gb/s 2Gb/s Fibre Channel
Capacity (GB) 750, 500, 400, 320, 250
Spindle Speed (RPM) 7200
Cache, Multi-segmented (Mbytes) 8, 16
Seek Time, Read/Write (average, msec) 8.5/9.5
Reliability Rating at Full 24×7 Operation (AFR) 0.73%
Transfer Rate, Sustained (Mbytes/sec) 72 or 78 (750GB only) 67
Power Consumption (watts, idle) 9.3
Rotational Vibration (rad/sec2) 12.5
Limited Warranty (years) 5
The test machine that we will be using for this review is as follows:
Specs and Testing
Intel Core 2 Duo 'Conroe' E6600
DFI Infinity 975 X/G
Kingston RAM Hyper X 6400 2GB
Enermax Galaxy 850W PSU
Seagate Barracuda 320GB SATA HDD
Windows XP SP2
ICH7R Southbridge for SATA II
There are 4 main hard drive benchmarks that we run here at Techgage. In no particular order of importance, they are HD Tach, Sandra 2007, PC Mark' 05 and a standard real world environment benchmark. As stated earlier, the real world test includes the transfer of large solid files and folders with many different fields and folders.
Testing and Conclusion
To start out, we will run HD Tach. This program is arguably the standard in HD benchmarking and because of this, and its distinct advantages, we use this in our benchmarks.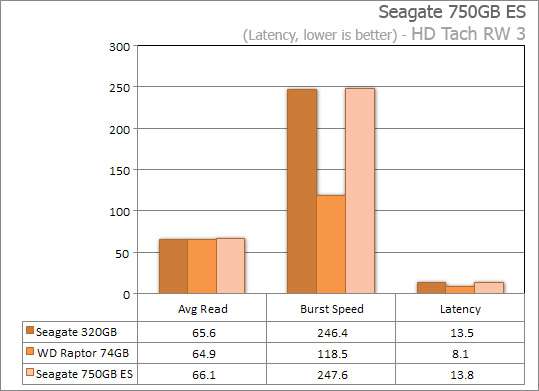 Secondly, we will use the tried and true SANDRA. SANDRA is a tried and true system information program that allows you to test virtually any piece of hardware that you might have in your system. From your hard drives to your CPU to your network, SANDRA has the results to grant anyone bragging rights or at least let you know where you need to work to improve your current configuration.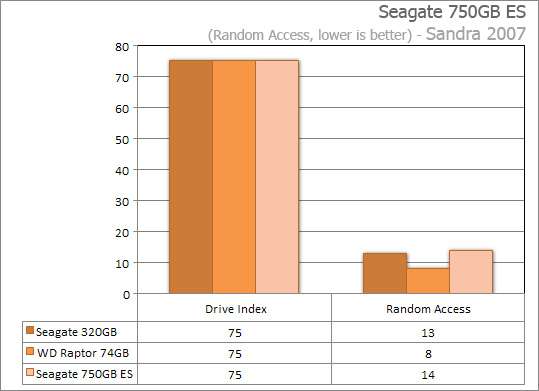 Now onto PC Mark '05. PC Mark is for complete systems what 3D Mark is for GPUs and CPUs. For this test, we will by using the standard PC Mark test but will also include the HDD tests as well.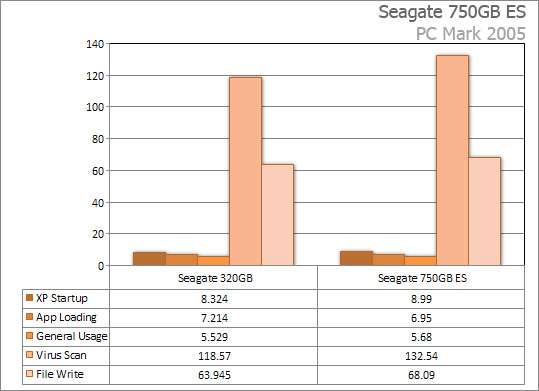 Finally, and more many, the most important test, the real world test. Nothing shows the true potential of a hard drive more than a real world test showing just how quickly files can be read and written to a hard drive. To do this, we have setup a large, 4GB solid file, a 4GB small folder with 1,042 files and 8 folders, a 4GB large folder with 4,371 files and 272 folders and an 8GB solid file. Each of these were be copied from the hard drive, to a separate folder in the same hard drive. The entire time of the transfer will be timed and recorded.
Conclusion
The Seagate Barracuda ES 750GB hard dive is a sure winner. Back in May, we took a look at the standard version of this same hard drive and the end results left us very satisfied. The drive had more than enough storage for most anybody outside of the server arena and for a drive of that size, the price was right. The ES flavor of that same hard drive offers the same performance but comes with the state of mind that the drive isn't going to up a fail on you. No product is perfect but as fickle and needy as the IT world is, nothing can be left to chance and it appears that Seagate recognizes this and the ES line of hard drives is the proof. With a 1 million hours of MTBF (mean time between failure) and a industry leading 5 year warranty, an ES hard drive will not let you down.
All of this added life does come at a cost though, a regular Barracuda 750GB hard drive can be found online for approximately $380 (US) and an ES drive premium tacks on another 70 dollars at $450 (US). For users like you an I, I would recommend the standard drive but for those of you who cannot continue on without the added security that a ES drive offers, the ES Barracuda is for you. Personally having a background in IT, I can appreciate the numbers that the ES put up and with a drive life like it has, all that precious data isn't going to be going anywhere.
At my day job, we use these drives in most of our servers and the piece of mind that comes with them is definitely appreciated. With all of this taken into consideration, the Seagate Barracuda ES 750GB is more than deserving of a high mark. I am awarding the ES a solid 9 out of 10 with an editor's choice award. The only thing keeping this drive from perfection is the fact that there is a drive with extremely similar performance but for 70 dollars less. You sacrifice some dependability but with my track record with Seagate, the plain old Barracuda would make anyone happy.
Pros
Largest drive on the market
1 million hours of MTBF (mean time between failure)
SATA II
Can be used in SATA I or SATA II
Perfect for those who need large drives with a high dependability
Cons
Expensive when a non-ES drive can be found for 70 dollars less
Discuss in our forums!
If you have a comment you wish to make on this review, feel free to head on into our forums! There is no need to register in order to reply to such threads.

Copyright © 2005-2020 Techgage Networks Inc. - All Rights Reserved.