Seagate Momentus 7200.2 160GB Notebook Drive
Date: March 29, 2007
Author(s): Rob Williams

How do you make one of the best mobile drives on the market even better? Make it faster, of course. We are taking a look at Seagates latest high-end notebook drive, which offers not only high density, but high-performance.
---
Introduction
When Seagate made the announcement of their Momentus 5400.3 160GB drive early last year, the crowds were in awe. Well, I was. I had been using a 60GB drive for months prior to that time, so I understood how much of a burden a notebook can be when you are lacking storage space. Now more than ever, the digital age is filling up our hard drives faster than we can blink. Music collections and even photography can weigh in the 100's of gigabytes. So when a new high-end notebook drive is announced, we pay attention.
The Momentus 5400.3 160GB was one of the few products we've reviewed that we really couldn't find a fault with. If anything, it was a pricey at launch, but that's to be expected. However, it wasn't the perfect choice for enthusiasts or mobile gamers, since it was not 7200 RPM. It can be argued how much importance this actually would be, but for those who want the fastest load times, they had to step back and wait out for the next offering.
Fast forward an entire year and we now have the 7200RPM model we've been waiting for. Besides the fact that it's faster overall, there is another large benefit as well. When the Momentus 5400.3 first launched, it retailed for $330USD. Todays Momentus 7200.2 160GB model will retail for just under $200. Progress, gotta love it! Without further ado, let's take a look at everything the drive has to offer, then compare it's performance to the competition.
Closer Look
Without looking at the specs, it's easy to know what to expect from a 7200 drive compared to a 5400. Read and Write speeds will be improved in addition to latencies and seek times. Because of the faster speed though, it results in higher power consumption. Still, not a huge increase there despite the immediate speed bonuses.
Specification

Momentus 5400.3 160GB

Momentus 7200.2 160GB

Interface Option

Ultra ATA/100

Up to SATA 3Gb/s NCQ

Sustained Internal Speed
Sustained External Speed

44MB/s
100MB/s
59MB/s
300MB/s

Cache, Multisegmented

8MB

8MB

Average Seek (msec)

12.5

11

Average Latency (msec)

5.6

4.17

Performance Level

5400

7200

Power Seek
Read/Write
Idle/Standby
2.0W
2.0W / 1.8W
0.8W / 0.2W
2.3W
2.1W
0.8W / 0.25W
Shock Operating 1msec (Gs)
Shock Non-Operating 2msec (Gs)
350
900
300
900
Acoustics Idle (bels)
Performance Seek (bels)
2.3
2.9
2.5
2.9
The acoustics are also heightened on the faster drive, but it's doubtful you will actually hear it unless you are in a dead silent room. That's been my experience anyway. Here you can see the drive in all it's glory, front and back.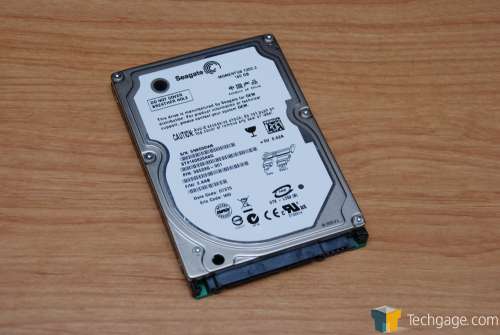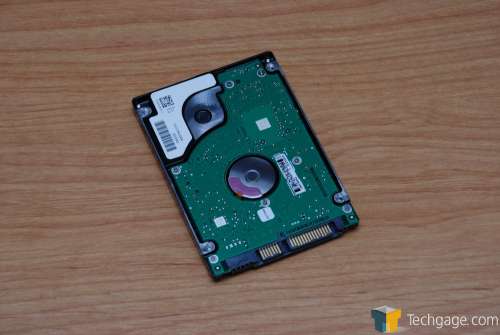 Now that we have that out of the way, let's hop right into testing.
Testing Methodology, HD Tune, HD Tach
I don't have a new laptop, so my two and a half year old Dell Inspiron had to sit on the sidelines. Lucky enough though, I still had the ASUS A8Js notebook that I reviewed earlier this week on hand, so I performed all testing there.
To prepare the system for testing, I installed a fresh copy of Windows XP Pro SP2 on the hard drive pre-installed with the laptop, which is a Hitachi 5400 RPM 100GB. I then installed all laptop drivers, benchmarking applications and games. In order to mirror this install to the other drives, I used Nero BackItUp on my desktop computer with each of the 2.5" drives connected to it. This essentially gave me perfect copies of my XP install on each.
During testing, no services were disabled as nothing besides the benchmarking tools and games were installed. No anti-virus was present and the Windows built-in security tools were disabled. No internet connection was present during testing. Lastly, the notebook had proper airflow.
In order to realistically compare the Momentus 7200.2 160GB to the other drives, I ran a variety of popular benchmarking tools as well as a few real world tests, which included file copying and also game level loading. Sadly, I did not have any other 7200RPM notebook drives on hand, so I instead used Toshibas 4200 200GB and Hitachi 5400 100GB for comparisons. Let's jump right into our first benchmark, HD Tune.
HD Tune 2.52
HD Tune is a favorite here at Techgage. Not only because of it's benchmarking capability, but because you can track your drives SMART features easily, including how many hours the drive has been powered on.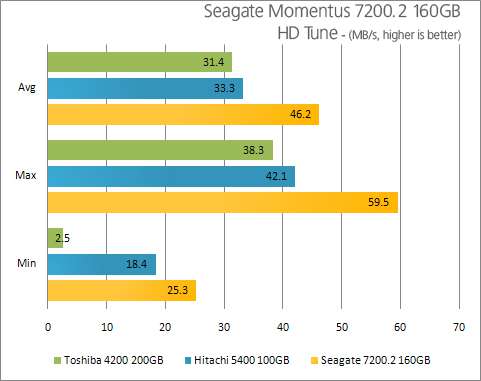 It didn't take long to see the immediate difference that a 7200RPM drive can make over slower models. 46.2MB/s a a fantastic result. Even the minimum speed shows an obvious advantage.
HD Tach R/W 3
HD Tach is another tool we use quite often. It's great for thumb drives since it has write capabilities, but for mobile drives like these, we stick to the Read tests only.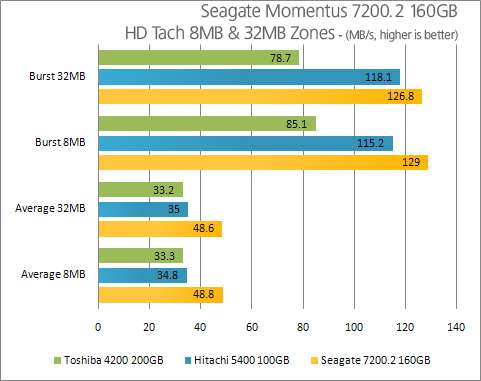 The differences with HD Tach are similar to HD Tune. Compared to the Hitachi 5400 drive, the Seagate has an approximate 40% speed bonus. Now that we have these two important benchmarks out of the way, let's move on to some real world testing.
PC Mark, Real World, Game Load, Final Thoughts
Real World Transfer Tests
The moment of truth always lays with real world tests. Technically, they should always scale similarly to synthetic benchmarks, but it gives us a more realistic result. To test, I have four sets of files and simply copy each one from one portion of the drive to another. Here are the four file sets and how they are named in the graph:
1.08GB Solid File
1.08GB Folder (583 Files)
5.83GB Solid File
7.01GB Folder (5,549 Files)
The reason we test with solid files and folders is to see how well the drive holds up over time. Copying a 7GB folder is not a small process and tends to slow down as time passes.
We could stop testing right here if we wanted to… the benefits of the drive are clear as day. The Seagate proved far faster than the others throughout all of the tests. Not surprising, but it did perform better than I had anticipated.
Game Load Times
Since a 7200RPM drive is a dream for gamers on the go, I wanted to see how this drive proved beneficial with load times. For this, I chose to use Half-Life 2: Episode 1 (ep1_c17_02a), Oblivion (Cloud Rulers Tower) and Ghost Recon: Advanced Warfighter (Contact!). The timer was started as soon as I clicked to load the level and stopped once the game was in a playable state.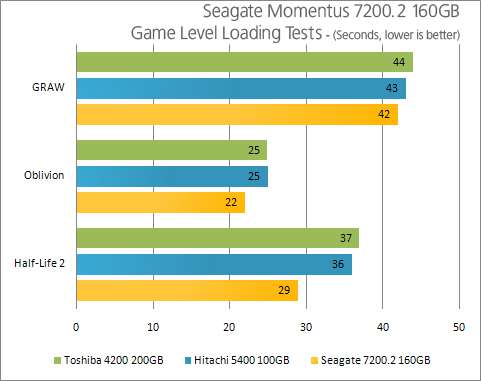 I think our question is answered. Yes, you will most definitely be seeing differences in level loading with a faster drive. It didn't make a great different in Oblivion or GRAW but was most notably faster with Half-Life 2.
CPU Usage
Each drive is different, and because of this, some will prove better for lower CPU usage than others. This doesn't matter that much on a desktop, but in a notebook it would result in a slightly faster battery drain. Even still, these numbers are not -that- important in that regard unless you are accessing your hard drive constantly.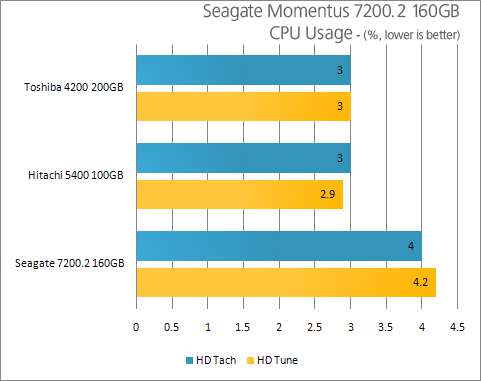 As expected, the 7200 drive proved to hog more of the CPU than the others, both HD Tune and HD Tach agree on this one.
Drive Latency
For our last test, I wanted to see how the latency on this fast drive compared to the 5400 and 4200 models. For this, I used Sandra, HD Tune and HD Tach. Three opinions are better than one.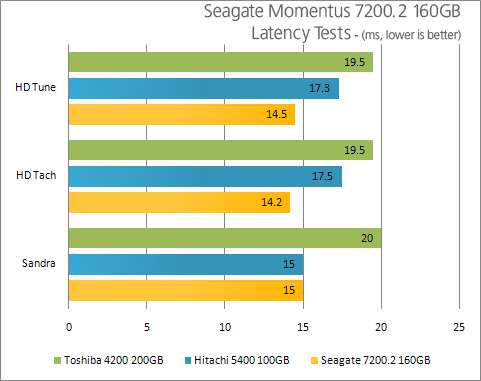 No surprise, Seagate cleaned house here.
Final Thoughts
Seagate has once again delivered a product I am completely pleased with. When I first received the 160GB 5400RPM drive last year, I loved the fact that it offered the most amount of storage compared to anything else on the market. It took near eight months after that release before anyone else released a larger drive. That was Toshiba and their 200GB, which we used for our comparison tests here today. Though larger, is was only 4200 RPM.
Now that a 7200RPM version of Seagates 160GB drive is available though, people can now have both high storage and high performance. This drive proves that the storage market is not slowing down, and I am hoping that we will see notebook hard drives surpassing even 200GB soon enough. If you have a newer notebook that offers the ability for two hard drives, you could easily get two of these and RAID 0 or RAID 1 them. That would be some serious mobile performance.
This is a great drive, and for this I am awarding it a 9 out of 10 along with our Editors Choice award. The thing that pushes this drive over the edge is it's value. Seagate told me that the SRP will be $188, which equates to $0.85 per GB. Currently, both Hitachi and Seagate sell 100GB 7200 RPM drives for $110, or $0.90 per GB. So despite this drive having the highest density on the market, it also proves to be a better value than the other 7200 models. If you are in the market for a new notebook drive and rely on high performance, there's nowhere else to look. You want Seagates Momentus 7200.2 160GB.
Discuss in our forums!
If you have a comment you wish to make on this review, feel free to head on into our forums! There is no need to register in order to reply to such threads.

Copyright © 2005-2018 Techgage Networks Inc. - All Rights Reserved.