Seagate Momentus XT 500GB

Date: November 1, 2010
Author(s): William Kelley

The allure of an SSD is one that's difficult to ignore, but with pricing still in the realm of limited adoption, many are choosing to wait things out. But what about taking a baby step into the SSD world, with a hard drive that equips a mechanical design with some NAND flash to speed things up? We're taking a look at Seagate's solution.
---
Introduction
As computer technology continues to advance, there is no doubt that the trends toward mobility and portability are by far the largest on vendor minds. Being tied to a desktop is quickly becoming something that many people just cannot do. The world is undeniably heading towards a computerized future and I even foresee the day in my lifetime that hand-writing will become obsolete. With even elementary schools beginning to focus heavily on the computer as a tool, there is no doubt we'll rely on some form of computer for everyday life needs sooner rather than later.
One of the major stumbling blocks has been the fact that portable computers were just not powerful enough to fulfill the needs of most users. That is no doubt been untrue for some time. The modern processor has been able to scale down in power needs quite well and there are a plethora of low budget high-power notebooks/netbooks available for our consumption. Using a portable PC as a desktop replacement is now not only a viable option, it is an option even the mass market can consider.
The other major area of concern has been storage space. It seemingly took forever for densities to reach any useable levels. Now while I agree that many of us keep more data than required on our hard drives, there is also no reason we should not be able to have as much as we desire. Unfortunately, there has been one major tradeoff with notebook/netbook mechanical drives: speed. Even 7200RPM versions just don't have the speed that their desktop counterparts enjoy. For those transferring large amounts of data or requiring high access speeds, there really has been no viable solution other than the highly priced and density limited SSD drives.
Speaking of SSD drives, they do have the potential to eliminate many of these stumbling blocks for us. No one can deny their speed and storage densities have begun to creep up to 500GB+ levels. Manufacturers have recently been able to refine their controllers to even make them fairly reliable. Sadly, their cost is still just out of reach for most of us. As I have said before, until they are available for under $1 per gigabyte, they are just not going to be accepted by the mass market.
Mechanical storage has basically hit its uppermost limits when it comes to speed. Drive controller technology has made small steps forward, but nothing mind-blowing has been achieved. The SATA I bus has barely been fully saturated, never mind SATA II. The recent step up to the newest SATA III bus has been unofficially accepted as only benefitting SSD technology. Even our own in house testing has verified that there are little offered in gains for mechanical storage. Something else has to change to make up that difference, especially in the portable world.
The best possible solution so far is not something new. We have seen various manufacturers give this technology some for over three years with varying success, but to date no one has really hit the nail on the head and got everything working just right. In theory, this is the perfect solution to both speed and density needs, the problem has been underwhelming performance coupled with less than reliable results.
Seagate threw its hat into the hybrid storage game this year and with it made some really bold claims. From being able to keep up with desktop speeds to cutting access times dramatically, the company really seemed to be ready to give us all something special. Seagate has no doubt become one of the premier manufacturers of storage devices so to me it seemed like the likely company to pull this off.
Using 4GB of SLC NAND on a production 7200RPM 32MB cache Momentus platform, Seagate is giving us the best of both worlds in a small form factor (SFF) package. The NAND memory is only used for reading purposes, no writing tasks are routed through it. The built in controller puts the most frequently accessed data on NAND while everything else gets routed to the mechanical section. Seagate's firmware does an excellent job of this and within a few cycles the drive quickly adapts to the user's needs.
For today's review we have the 500GB Momentus XT in our labs along with the regular 7200.4 and 5400.6 variants as to give a better comparison between current available technology and the new Hybrid drive. We will also be comparing our results with all of our previous mechanical storage so you can get a full picture of just how they all stack up against one another.
Test System & Methodology
At Techgage, we strive to make sure our results are as accurate as possible. Our testing is rigorous and time-consuming, but we feel the effort is worth it. In an attempt to leave no question unanswered, this page contains not only our testbed specifications, but also a fully-detailed look at how we conduct our testing.
If there is a bit of information that we've omitted, or you wish to offer thoughts or suggest changes, please feel free to shoot us an e-mail or post in our forums.
Test System
The table below lists the hardware used in our current storage-testing machine, which remains unchanged throughout all of our testing, with the obvious exception of the storage. Each hard drive used for the sake of comparison is also listed here. In addition, each one of the URLs in this table can be clicked to view our review of the respective product, or if a review doesn't exist, you will be led to the product page on the manufacturer's website.
Processor
Intel Core i5-750 – Quad-Core, 2.66GHz
Motherboard
Memory
Graphics
Audio
Storage


Seagate 320GB Barracuda 7200.10 (OS Drive)
Tested Drives:
Seagate Barracuda LP 2TB – 3G/bits
Seagate Barracuda 7200.12 1TB – 3G/bits
Seagate Momentus 5400.4 500GB
Seagate Momentus 7200.4 500GB
Seagate Momentus XT 500GB
Seagate Barracuda XT 2TB – 6G/bits
Western Digital Caviar Black 1TB
Western Digital Caviar Black 1TB – 3Gbit/s
Western Digital VelociRaptor 300GB – 3Gbit/s
Western Digital VelociRaptor 600GB – 3Gbit/s


Power Supply
Chassis
Display
Et cetera

LG DVD-ROM
Windows Vista Ultimate 64-bit

When preparing our testbeds for any type of performance testing, we follow these guidelines:
General Guidelines
No power-saving options are enabled in the motherboard's BIOS.
Internet is disabled.
No Virus Scanner or Firewall is installed.
The OS is kept clean; no scrap files are left in between runs.
Hard drives affected are defragged with PerfectDisk 10 prior to a fresh benchmarking run.
Machine has proper airflow and the room temperature is 80°F (27°C) or less.
Windows Vista Optimizations
User Account Control (UAC) is disabled.
Windows Defender, Firewall, Security Center, Search, and Updates are disabled.
Because it gives a more realistic interpretation of the common PC, we leave all of the power-related options in the BIOS to their default selection. This means that for Intel-based boards, SpeedStep is left in tact.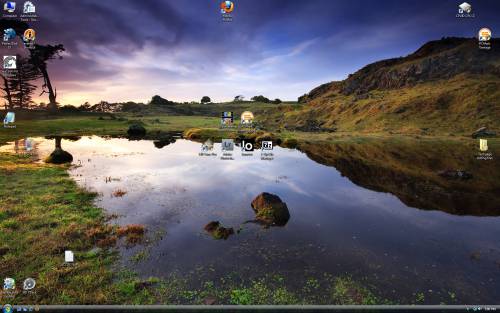 Our Windows Vista Desktop for Storage-Testing
To aide with the goal of keeping accurate and repeatable results, we alter certain services in Windows Vista from starting up at boot. This is due to the fact that these services have the tendency to start up in the background without notice, potentially causing slightly inaccurate results. Disabling "Windows Search" turns off the OS' indexing which can at times utilize the hard drive and memory more than we'd like.
Storage Benchmarks
In order to get a great overall outlook on how a particular drive performs compared to the competition, we run a variety of real-world and synthetic benchmarks. As they're standard in the industry, our synthetics include PCMark Vantage, Iometer and HD Tune Pro. For our real-world tests, we use 7-Zip, Adobe Lightroom, dBpoweramp, file transfers, and also measure boot times. On the non-performance side of things, we also measure for drive temperatures, acoustics and power consumption.
Each one of our tests is explained in more detail on its respective page.
Synthetic: PCMark Vantage
There are few PC enthusiasts who are unfamiliar with the name "Futuremark", as the Finland-based developer has been producing quality benchmarks to help us gauge our computer's worth for years. Originally known as Madonion, Futuremark has expanded its focus to go beyond its bread and butter, graphics and gaming, and tackle other areas, such as full system performance. That's where PCMark comes into play.
The company's most recent addition to the PCMark family is Vantage. For most users, a full suite would be run, but because we're focused on storage performance only, we instead run only the HDD-specific tests. Fortunately, Futuremark makes this easy for us to do as it has split up the entire suite into seven separate sub-tests, one being the aptly named "HDD Suite".
PCMark's HDD Suite may look simple on the surface, but it's actually quite exhaustive. While the benchmark does deliver a simple "overall" result, it actually tests I/O performance based on a variety of scenarios, from adding music to Windows Media Player, to loading applications in succession, to editing video, to running a malware scanner, and more. It even includes metrics to evaluate a simulated Windows Vista boot time, so Futuremark has done a fine job of combining many useful scenarios into a single button press.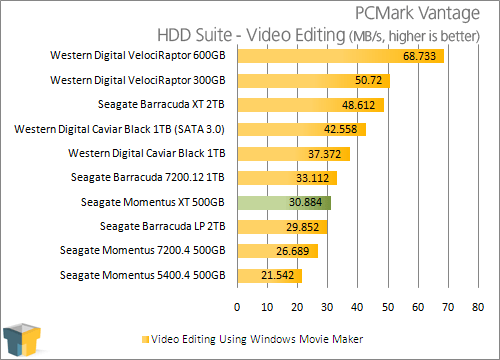 Overall the Momentus XT scored a second place finish in Vantage testing. It scored huge wins in application loading times as well as the other read-heavy tasks. In the other tasks, it performs on par with its counterparts. One very important note to remember that the initial run for the Momentus XT was lower and each repeated run increased the score. I ran this particular test 5 times and used the 3rd run for my submitted results. The latter runs were slightly higher, but it seemed to peak out after the 3rd run.
Synthetic: Iometer & HD Tune Pro
Iometer 2006.07.27
Originally developed by Intel, and since given to the open-source community, Iometer (pronounced "eyeawmeter", like thermometer) is one of the best storage-testing applications available, for a couple of reasons. The first, and primary, is that it's completely customizable, and if you have a specific workload you need to hit a drive with, you can easily accomplish it here. Also, the program delivers results in IOPS (input/output operations per second), a common metric used in enterprise and server environments.
The level of customization cannot be understated. Aside from choosing the obvious figures, like chunk sizes, you can choose the percentage of the time that each respective chunk size will be used in a given test. You can also alter the percentages for read and write, and also how often either the reads or writes will be random (as opposed to sequential). I'm just touching the surface here, but what's most important is that we're able to deliver a consistent test on all of our drives, which increases the accuracy in our results.
Because of the level of control Iometer offers, we've created profiles for three of the most popular workloads out there: Database, File Server and Workstation. Database uses chunk sizes of 8KB, with 67% read, along with 100% random coverage. File Server is the more robust of the group, as it features chunk sizes ranging from 512B to 64KB, in varying levels of access, but again with 100% random coverage. Lastly, Workstation focuses on 8KB chunks with 80% read and 80% random coverage.
Because these profiles aren't easily found on the Web, with the same being said about the exact structure of each, we're hosting the software here for those who want to benchmark their own drives with the exact same profiles we use. That ZIP archive (~3.5MB) includes the application and the three profiles in an .icf file.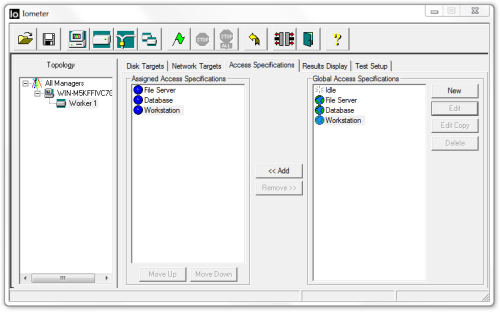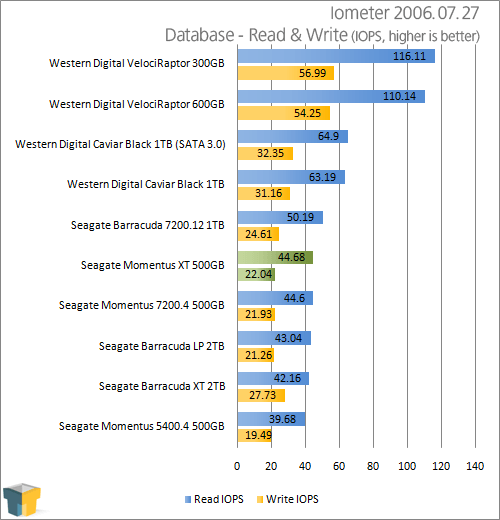 HD Tune Pro 3.5
HD Tune has long been one of our favorite storage benchmarks, thanks in part to its ease-of-use and its ability to deliver consistent results (which is obviously important). Like Iometer, no partition is created on the drive while benchmarking with this application, as the write tests will not work any other way. There are absolutely no performance gains from not having a partition, as HD Tune does its thing below the file system level during its write tests.
For our tests with HD Tune, we use both the "Benchmark" and "File Benchmark" (the latter is available in the Pro version only), as the latter gives us a bit more control over file sizes. From the Benchmark section, we gather both the read and write Min/Avg/Max results, and also the access time, and for the File Benchmark section, we run a file length of 1MB and 64MB, and record the results from the 4KB, 64KB, 512KB and 1MB chunk sizes.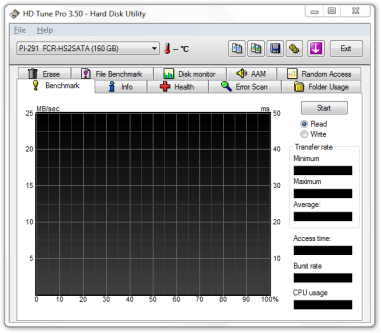 Iometer was unable to take advantage of the NAND memory at all, likely due to its larger-than-4GB test size. Here, the XT performed marginally better than the 7200.4 as well as the 5400.6. This was also the same when it came to HD Tune results. Again, it maintained a noticeable lead over the other 2.5″ drives tested, but it was outpaced by its desktop counterparts. Repeated runs did not yield additional performance gains with these tests.
Real-World: File Transfers, 7-Zip Archiving
From a storage standpoint, two of the most common scenarios for almost all computer users include copying a file from one place to another, and also archiving a folder for storage (as in backup, or portability). We tackle both of these here on this page. For our real-world transfers, we take a 4GB file and also a 4GB folder, one at a time, and copy it from one place to another on the same drive. Our 4GB folder includes 4,800 files, which we consider to be a realistic number for a media folder of that density. Included inside are numerous documents, music, photos and other miscellaneous files.
For our archiving test, we are using the excellent open-sourced 7-Zip, as it's lightweight, feature-rich, and fast. Our test consists of us taking the same 4GB folder as mentioned above, and archiving it to a .7z format using the program's default settings.
Real-World File Transfer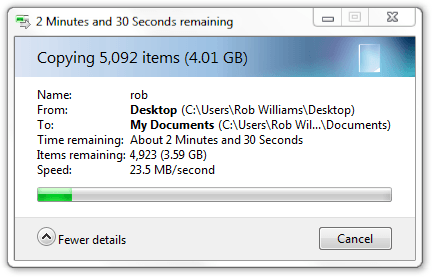 7-Zip Archiving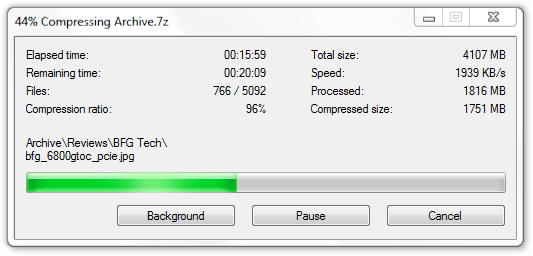 Real-world testing revealed some surprising results. The Momentus XT was the top dog in the 4GB file/folder test but the margin of victory over the 7200.4 was somewhat surprising. Again, this shows that for these particular tests which are write biased, there is really no benefit from the NAND memory. 7-Zip archiving confirmed that indeed this drive ins just not aimed at these tasks. Performance was average in the field.
Real-World: dBpoweramp, Adobe Lightroom, Boot Times
dBpoweramp R13
Thanks to the fact that mobile audio players are more popular than ever, so is music conversion. It's not uncommon for even the regular consumer to find a reason to convert a music file, whether it be an incompatibility issue, the fact that a file is too large, or because the file needs to be used for a more specific purpose, such as for a video, webpage, game, and so on. Of all the music converters on the market, though, one of the absolute best is Illustrate's dBpoweramp.
The reasons are simple. First, there's the ease-of-use, and then there's the fact that it supports a wide-range of music formats. If you have even the most bizarre audio file extension, dBpoweramp will no doubt be able to handle it. A second reason dBpoweramp is so powerful is because it supports multi-core encoding, which means that the beefy quad-core in your PC actually gets put to good use. At the same time, because we're able to convert four files at once, it makes for a great storage benchmark.
Adobe Lightroom 2.5
Photo manipulation benchmarks are more relevant than ever, given the proliferation of high-end digital photography hardware. For this benchmark, we test the system's handling of RAW photo data using Adobe Lightroom, an excellent RAW photo editor and organizer that's easy to use and looks fantastic.
For our testing, we take 100 RAW files (in Nikon's .NEF file format) which have a 10-megapixel resolution, and export them as JPEG files in 1000×669 resolution, similar to most of the photos we use here on the website. Such a result could also be easily distributed online or saved as a low-resolution backup. This test involves not only scaling of the image itself, but encoding in a different image format.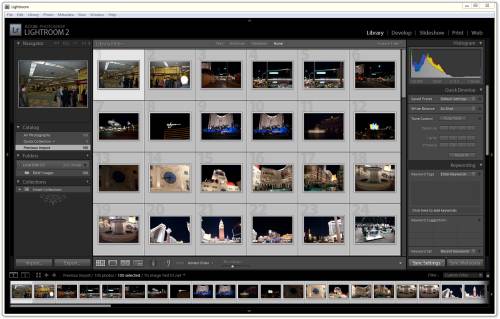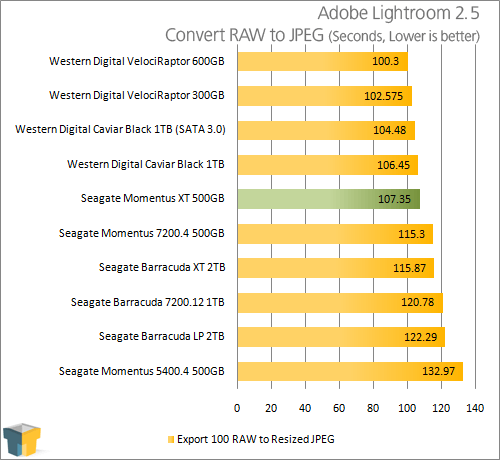 Windows 7 Boot Time
Here's a scenario that most of us deal with on a daily basis… boot times. Believe it or not, storage performance can play a rather sizable role in the duration of boot process of the OS. Storage devices with lower access times excel the greatest, as a lot of the boot data is stored on various parts of the drive – it's not usually all sequential. So, it's no surprise that 10K RPM and higher drives, or SSD's, excel where this is concerned.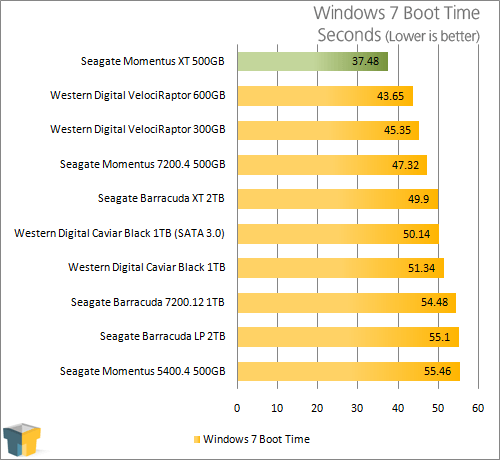 dBpoweramp continued the trend of excellent performance which is more attributed to the mechanical side of the drive and not the flash side. Performance was excellent and class leading with the 7200.4 once again closely in second. Adobe Lightroom performance was mid pack with the Momentus XT staying ahead of its little brother and even besting a few of the desktop drives.
Windows Boot Time testing was a whole different story. I ran this test 5 times just as I did with the Futuremark Vantage test as I noticed with every boot sequence, the time was lower and lower. I average out the 5 runs for the time reported. I was simply dumfounded as to how quickly I could be up and running with this drive. Here is one area that will absolutely appeal to anyone using it.
Final Thoughts
The idea behind Hybrid SSD/Mechanical drives is very sound. Enthusiasts already prefer to install a standard SSD for OS and data purposes while also installing a large mechanical drive to keep the majority of their stuff stored. For the most part, the average consumer is still unwilling to set their PC up this way as SSD drives are not easy to maintain and they must be kept clean as possible in order to maintain their performance levels. For most, it is just more sensible to keep one large mechanical drive which is nearly painless to maintain in an optimized state.
Seagate has done an excellent job combining the two into such a small package. Mainstream notebook/netbook users simply do not have the luxury of multiple bays for installing multiple drives. I know there are a few models out there that will allow this, but they are generally very expensive and out of the reach of the average user. The Momentus XT will install in a regular 9.5mm deep HDD storage caddy making it able to be installed into any machine that comes with a 2.5″ storage drive. My testing shows that this drive is even able to be installed in a desktop machine with great results.
Admittedly, most of the synthetic benchmark results were underwhelming and average when taking in comparison with all the drives I have tested. There were no gains to be seen with them and if these are your only concerns, you'd obviously not need to go the route of buying one. With the exception of Futuremark's Vantage and actual Windows Vista load time test, there is just not much to see here.
However, it is my firm opinion that synthetic benchmark testing, while having a place in all comparison, should never be taken as the sole source for determining how well something performs. Real-world testing must also be considered, especially when we are talking about a product such as a hard drive since there are many factors that will just not show up in a synthetic world. When it comes to the Momentus XT, real world testing is where it shines and where it simply demolishes the competition. For comparison sake, I also installed this drive into my ASUS UL80VT laptop just to offer some further insight into real world usage results.
Windows loading time was dramatically and consistently reduced. There was no randomness at all, once given the chance to "learn" the loading sequence, times stayed low. When installed into my notebook, I was consistently on a workable and useable desktop in well under 40 seconds even with over 70 processes loading. I am not just talking about being able to move the mouse cursor, I mean I can open programs and access the internet in under a minute with no lag. No normal laptop drive can reproduce these results. The 5400.6 drive that my notebook came with took over 2 minutes for the same job and the 7200.4 only took about 20-25 seconds off that time. To me, this made it worth it alone to step up to the XT.
Overall system feel is also dramatically different when using the hybrid drive. Programs do open noticeably faster. Game levels loaded faster. Anything I accessed on a regular basis would indeed speed up with more use and it made my mainstream notebook feel like a high-end machine. I found myself using it over my desktop just because it was more enjoyable to have no noticeable lag while trying to get my work done.
Maintaining it is also a breeze. I run weekly defrags on my machines so once a week the drive would need to relearn my usage as defragging tends to clear the NAND memory, but this was hardly noticeable. After a few reboots as well as an hour or so of normal desktop usage, everything is back to full speed. After a few weeks I don't even notice the transition anymore.
With densities of 320GB and 500GB you can buy the amount of storage you need and for a reasonable price too, with all three coming in at $109, $115 and $130 respectively. Compare that to the conventional Momentus drives at $50 and $70 and you see that there is a noticeable jump in price, but also noticable jump in some performance. With prices coming down all the time as well as rebates available chances are you're going to pay less than retail for whichever drive you choose.
This drive is a must have for anyone with a notebook/netbook who is looking for more performance. It easily wins an Editor's Choice award from me and there are just no downsides to stepping up to one. Seagate even has a wonderful free tool you can download (Acronis) that will make it super easy to replace your current drive. It only requires basic knowledge and if you are comfortable replacing a drive you can easily handle this transition. There is no other single upgrade that the average user can perform on such a machine for such a performance gain. I'd even consider one for desktop use in a workstation/gaming environment.
Pros
Good value.
Real-world speed gains.
High densities for practicality.
No extra maintenance.
Cons
Your synthetic benchmarks scores will not go up a lot.
Write performance will not change dramatically.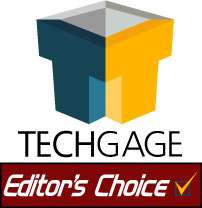 Seagate Momentus XT 500GB
Discuss this article in our forums!
Have a comment you wish to make on this article? Recommendations? Criticism? Feel free to head over to our related thread and put your words to our virtual paper! There is no requirement to register in order to respond to these threads, but it sure doesn't hurt!
Copyright © 2005-2021 Techgage Networks Inc. - All Rights Reserved.