Sennheiser PC150 Headset

Date: October 6, 2006
Author(s): Greg King

We took a look at the PC150s big brother a few weeks ago, but these are more apt to be perused due to the fact that they cost half of the price. You'd expect these to sound far worse than the 165s… but they don't.
---
Introduction
It's that time again and today, we have our second set of headphones from Sennheiser. Last week we had taken a look at the PC165 USB headset and in all accounts, it was a winner. Today however, we are taking a look at its little brother.
Sennheiser has been around for a long time. 61 years to be exact. In that time, they have become one of the leading manufacturers of audio equipment. Known for their high quality audio product, it's nice to see them not focus on top dollar equipment because not everyone has the money to purchase top tier hardware. The PC150s are designed for gamers who game on a budget. How well will the 150s stand up to the 165s?
Upon arrival, the PC150s came to me in their retail packaging. Like the 165s, the packaging is informative but not over the top. On the front, you see the headset in all it's glory and on the back, all the information one could ever need can be found' and in 6 different languages!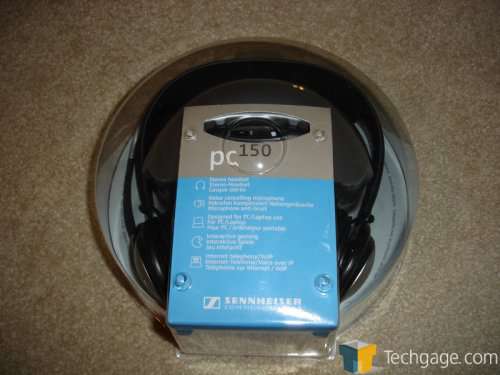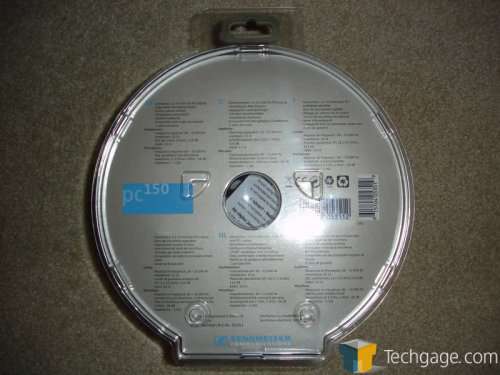 As you can see, the hardware specs for the 150s are all over the back of the case but for your viewing pleasure, the specs will now be listed.
Adjustable headband for total comfort
For IP based communications
Microphone can be adjusted and bent
In-line volume control/Microphone mute switch
Single sided cable wont bug your neck or chin
Noise-cancelling microphone
Can be used with CD/DVD/MP3 player
Compatible with Win98SE and above
Headphones
Frequency response: 18 ' 22,000Hz
Impedance: 32Ω
SPL: 114dB
Cable: 3.0m
Microphone
Frequency response: 80 ' 15,000 Hz
Pick-up patter: Uni-directional
Sensitivity: -38dB
Impedance: -2Ω
Features
Adjustable headband for perfect fitting
Adjustable, bendable and pivotable microphone makes the voice more clear and increases comfort and flexibility
The noise-cancelling microphone provides for high speech-clarity and voice recognition by filtering out the noise around you.
With the in-line volume control and the microphone mute switch, you can keep sound at the right level or have a side conversation in privacy.
Equipped with a single sided cable for maximum freedom of movement.
If you paid attention to the specs of the PC165s, the only glaring difference aside from them being a bit smaller, is the headphone impedance with is double that of the 165s. Aside from that, they appear to be the exact same headset' on paper.
Once we had the headset out of the packaging, the similarities to the PC165 headset are noticeable. You can tell that their engineers came up with a good design and stuck with it.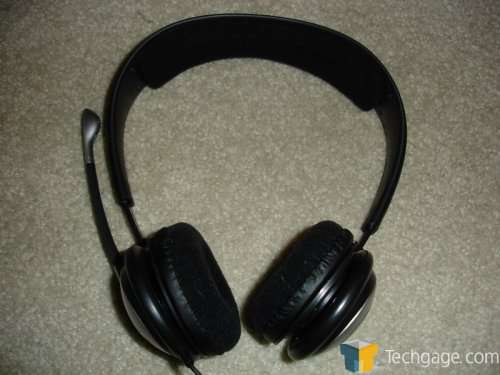 As you can see, the microphone has almost a 180 degree range. When you don't need to use it, you can pivot it up. When you need it, just pivot it down. It's as simple as that.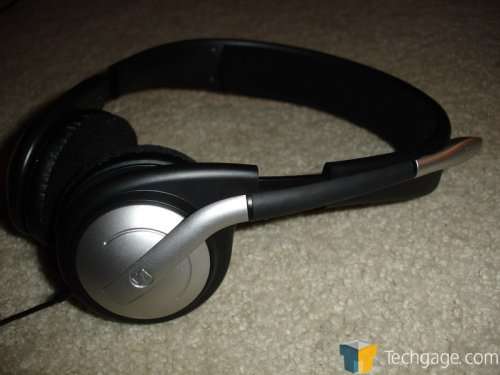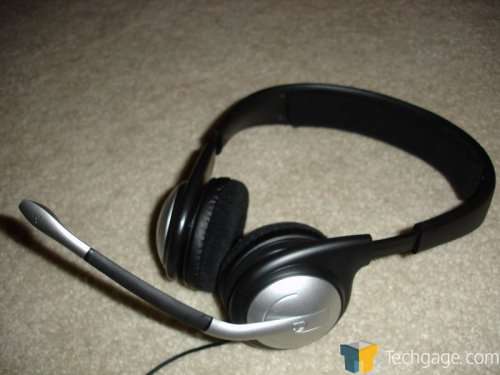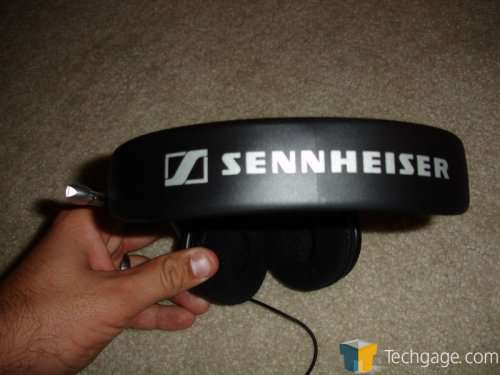 When we get to the top of the headset, there is a pad on the inside. This allows you to comfortably wear this headset without being to uncomfortable over long periods of wear. Shown below is a comparison between the 165s and the 150s. As you can see, the padding on the 165s is of a nicer material but both are equally as soft. The 165 is on the top and the 150 is obviously on the bottom.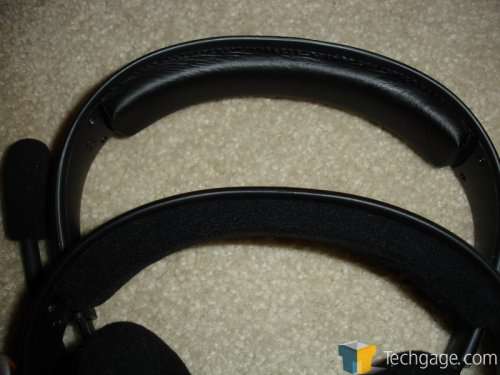 For another comparison, we will see the difference in size of the 165s and the 150s. The smaller ear bud in both pictures is the 150s.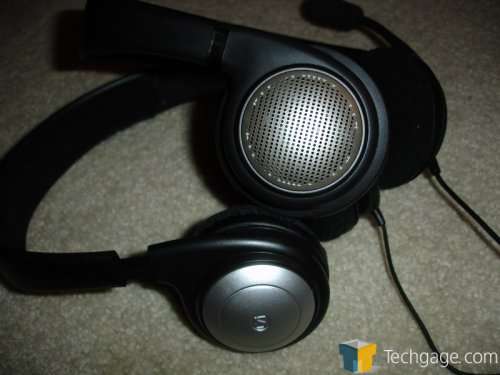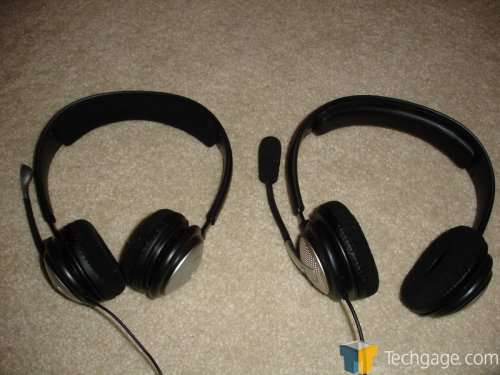 Finally, I want to show a side by side a picture of the 165s right next to the 150s. Overall the size is the same, aside from the earpods.
Testing & Conclusion
To test out the PC150s, I am going to use the same games, movies and music to get a fair comparison between the two. Since Stompfest, I have worked with the 150s quite a bit, more so than I did with the 165s. In that time, I used them to get my game on online. I also watched the movie Robots and listened to the same set of songs that I listened to in the 165 review.
For starters, I don't have a lot of time to game anymore. I work days as a network administrator and at night, I focus completely on Techgage. This is all while I do everything I can to help my wife out and take care of our two daughters. If you are a working parent, you can understand where all the gaming time goes. I know it's sad but we all have our priorities.
It is for these reasons that I enjoy Counter-Strike: Source. It's one of those wham-bam-thank you ma'am type games that allow you to just jump into a game on any open server and hop back out when you are out of time. Nothing really to it. Another game I enjoy playing is Battlefield 2. I like it for the same reasons I enjoy CS: S and aside from the excruciating load times, it's another quick gaming fix for me.
In all games, audio is of the utmost importance. CS: S is good with audio but BF2 is the master. It's a game that allows you to fully take advantage of the game audio and the in game positioning of people or objects that might just be out there to end you. I am happy to report that the PC150 headset gamed just as well as the higher priced 165s.
For my viewing pleasure, I went out to the van and stole the Robots DVD from the console. Robots is a CG animated movie that's great for kids but contains a lot of adult themed jokes that just sky right over the kids heads. There is a lot going for this movie in the audio department and the PC150s sounded great throughout. The highs were crisp and the bass was low, just what anyone in the market for a headset would be looking for.
For music, the PC150s did just as well. As a fan of most all music, I have a rather eclectic taste. As stated earlier, I listened to the same songs that I did to test the PC165s. Those songs were:
Beethoven ' Piano Sonata No. 14 in C sharp minor (Moonlight Sonata)
Crash Test Dummies ' Two Knights and Maidens
DJ Tiesto ' Conjure One
Breaking Benjamins ' Polyamorous
Ming + FS ' Nevada
Warren G ' Why oh why
Good times!
Conclusion
The Sennheiser PC150 headset is good sounding. When compared head to head with it's more expensive brother, the PC165 USB, the sound difference was hardly noticeable at all. In all honesty, I don't think there was a difference but rather, I convinced myself that there was actually a noticeable difference in the sound quality because they cost so much less. For half the price, I would be hard pressed to recommend the PC165 USB to someone over the PC150s. The Microphone did a great job of picking up my voice and the noise cancelling features were nice as well. Not all sounds were cancelled out but there was no complaints by anyone on the receiving end that they could hear anything else but my voice.
Pros
High quality sound reproduction
Comfortable on the ears design
Soft ear pods
Noise cancelling microphone
In-line volume controller with on/off microphone switch
Price
Cons
Flimsy and thin cable
Some people prefer over the ear design as opposed to on the ear
Taking everything into consideration, the P150 headset from Sennheiser is a winner in my book. Sennheiser boasts that the PC165s are made by gamers for gamers and I believe them when they say that. I would like to add to that by saying that not every gamer has a hundred dollars to drop on a set of headphones with a microphone on them. With the PC150 headset's ability to be purchased online for roughly 50 ' 60 dollars (US), you really cant go wrong with them. It's a smart choice for anyone who is gaming on a budget.
When all is said and done, I am left with a good impression of the Sennheiser PC150. They certainly have the value going for them being priced well below other headsets of this quality. With all that in mind, I have no problems giving the Sennheiser PC150s a 9 out of 10. They lack the versatility of the USB capable 165s but very few gamers need that. The 150s are the real deal for those of us who can't seem to get that money tree in the back yard to grow.
Discuss in our forums!
If you have a comment you wish to make on this review, feel free to head on into our forums! There is no need to register in order to reply to such threads.

Copyright © 2005-2019 Techgage Networks Inc. - All Rights Reserved.