Sennheiser PC165 USB Headset

Date: September 29, 2006
Author(s): Greg King

If you are looking for a gaming headset with Sennheiser quality, then where else to look but… Sennheiser? We are taking a hard look at their PC165 USB headset with noise cancelling microphone.
---
Introduction
Recently, I was in attendance at Stompfest covering the action for Techgage. For those of you that do not know, Stompfest is one of the largest LAN events in the Midwest. At Stompfest there were rules, just as there are everywhere. One of these rules was no speakers. If you wanted to hear the games you were playing, you had to bring headphones. Should you want to communicate with your team, a headset was the way to go. I opted for a headset and fortunately for me, I had just got in a Sennheiser PC165-USB headset.
Sennheiser has been around for a long time. 61 years to be exact. In that time, they have became one of the leading manufacturers of audio equipment. Known for their high quality products their entrance into the computer gaming world was a no brainer. Today we are taking a look at their flagship PC gaming headset, the PC165-USB.
The 165s came to me in their retail packaging. There isn't anything over the top with their packaging, but rather just enough information.
The back of the packaging gives up all the information that you will need to know about the 165s and in many different European languages too! This information can be found on the Sennheiser website but I will include it here for anyone interested.
Adjustable headband for total comfort
For IP based communications
Microphone can be adjusted and bent
In-line volume control/Microphone mute switch
Single sided cable wont bug your neck or chin
USB adapter, no need for a sound card
Noise-cancelling microphone
Can be used with CD/DVD/MP3 player
Compatible with Win98SE and above
Headphones
Frequency response: 18 ' 22,000Hz
Impedance: 16Ω
SPL: 114dB
Cable: 3.0m
Microphone
Frequency response: 80 ' 15,000 Hz
Pick-up patter: Uni-directional
Sensitivity: -38dB
Impedance: -2Ω
Features
Developed for and with leading professional eSport gamers.
Open air speaker system, like that of Sennheiser open headphones, provide sensational acoustics ideal for professional gaming.
USB adapter with integrated sound card chip ensures superb sound regardless of where you play.
XXL size velour padded ear caps for optimum comfort even after extended gaming session.
Once out of the box, there are a few things that I notice off of the bat. The first being the USB adapter. Sennheiser had made this adapter for anyone on the go. There are many times that you might be at a computer without a soundcard. Either this card is not accessible or the PC you are working at just does not have one. My PC at work is a perfect example of this.
With the included USB adapter, you are able to take your 165s anywhere you go and connect them to any PC that you are working at with an available USB port. This is because there is a small sound card in the adapter itself. The option to take this headset anywhere with you is nice but how does the integrated sound card stack up to my onboard sound and especially my Audigy 2 ZS.
The PC165s are not a huge headset. In fact, they are quite small when compared to the Razer Barracuda HP-1 headset that we reviewed a few weeks back. One thing I notice is that the velour padded ear buds are not designed to go over your ears. Sennheiser describes these as being XXL but still, they are no match for my enormous ears.
As you can see, and the picture does not show this, is that the 165s were designed to have the microphone on the left side of the gamers face. The microphone pivots roughly 105 degrees from a vertical position to one that places the microphone just to the side of your mouth. The microphone can be bent into a better position should you need the mic closer to your mouth.
At the top of the headset, there is a thick pad that runs along the inside of the headband. This adds to the comfort of the 165s, allowing a more comfortable, longer gaming session.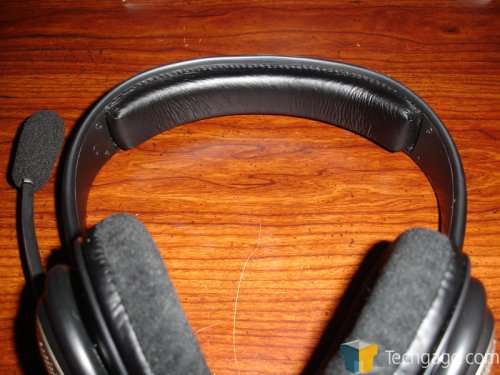 Along the length of the 3.0m (approx 9 feet for all us yanks) is an in-line volume control with a microphone mute switch on it as well. This comes in handy when you're in a game and need to adjust your volume. It's as simple as that.
Gaming, Music and Movies. Oh My!
It's obvious that these headphones were made for gamers. Sennheiser even had gamers help develop the 165s so if anything they should at least game well. Before we get into my reaction to the performance of the 165s, I want it to be known that I worked with these headphones both connected to my PC via the USB sound adapter and with them plugged directly into my Audigy 2 ZS sound card. I will provide my opinions on both of these methods near the end of the review.
Testing, Conclusion
To test out the 165s, I took them with me to Stompfest 2 weekends ago. While there, I played in the HL2: Deathmatch tourney, BF2 tourney and the CS:S tournament. All of these games have a strong dependence on sound and the 165s did not let me down. I was impressed with the crisp and detailed sound quality of the Sennheisers. If you read my Razer Barracuda HP-a review, you know that I was unhappy with the bass of the Razers. I am happy to say that I had no such problems with the 165s. The bass was clear, low and sounded strong. There was a bit of a difference when using the USB sound adapter as the sound was a bit weaker. The quality was almost as good as the Audigy 2 but the difference was obvious.
Now that we have established that the 165s make great gaming headphones, I want to see how they do when watching movies. Being a computer geek, I obviously wanted to watch the Matrix with the 165s but opted for something a little less obvious and ended up watching the movie Robots. Yeah it's a children's movie but I have a lot of respect for computer animators and the movie just happened to be lying near by. Again, the sound of the 165s was superb. The Audigy was by far the better sounding source but the USB adapter wasn't bad at all.
My last test of the 165s was winamp. I am a fan of music. I also enjoy music from almost every genre, from country to hip hop and from trance to classical. To exemplify this diversity, I made a playlist from 5 different genres of music. All of these songs have exceptional sound quality and sounded great through the 165s. The music I choose was:
Beethoven ' Piano Sonata No. 14 in C sharp minor (Moonlight Sonata)
Crash Test Dummies ' Two Knights and Maidens
DJ Tiesto ' Conjure One
Breaking Benjamins ' Polyamorous
Ming + FS ' Nevada
Warren G ' Why oh why
In all these songs, the highs were crisp and the lows were clear. I am extremely pleased with the overall quality of the PC165-USBs.
Conclusion
The PC165-USB was designed by gamers, for gamers. The Sennheiser group has always been known for their hi-quality audio equipment and their offerings to the gaming community are no different. Through out the use of the Sennheiser PC165s, I have been rewarded with great sounding headphones and a very responsive mic. With its voice cancelling properties, the microphone was able to clearly pick up my voice and allow me to communicate with my teammates in all of the games that I played.
Pros
High quality sound reproduction
Comfortable on the ears design
Soft ear pods
Noise cancelling microphone
In-line volume controller with on/off microphone switch
USB sound card adapter
Cons
USB sound card adapter isn't as strong as a high quality sound card
Some people prefer over the ear design as opposed to on the ear
The PC165-USB headset from Sennheiser is a good buy for anyone in the market for a top notch headset. There are certainly better headphones out there but when it comes to a headset with a microphone on them, the 165 headset is the best I have ever used. The sound quality is amazing and the added versatility of using the USB sound card adapter makes the 165s an even more attractive purchase. You can currently find the PC165 headset online for anywhere between $87 and $122 (US). That is a large difference in price but it's nice to know that quality can be found for less than 90 dollars.
I am awarding the Sennheiser PC165-USB a 9 out of 10 and an editor's choice award. This is a headset that I will be using until something else comes along to knock it off its throne. Honestly, that will be a difficult task.
Discuss in our forums!
If you have a comment you wish to make on this review, feel free to head on into our forums! There is no need to register in order to reply to such threads.

Copyright © 2005-2020 Techgage Networks Inc. - All Rights Reserved.