SIGGRAPH 2016: A Look at AMD's Upcoming Radeon Pro WX GPUs, Radeon Pro SSG & Radeon Pro Render

Date: July 25, 2016
Author(s): Rob Williams

SIGGRAPH 2016 hasn't been short of exciting announcements, and as expected, AMD had a number of them itself to unleash on attendees. FirePro becomes Radeon Pro, Radeon Pro SSG includes solid-state storage, and FireRender becomes Radeon Pro Render. Read on to learn more about each one of these new developments!
---
Radeon Pro WX, SSG, and ProRender
It's not just the weather in Anaheim that's crazy hot; so too are some of the announcements that are trickling out of the ongoing SIGGRAPH conference. This year, AMD has held no punches: it's been unveiling so much cool stuff, that it's hard to keep track of it all.
On Friday, I penned a quick article to tease what I am personally looking forward to seeing at SIGGRAPH 2016, and within, I mentioned that I'd love to see some new FirePro cards. Well, it just so happens that we are. Well, kind of.
AMD Radeon Pro
When the current crop of FirePro cards reach end-of-life, that's it for the branding. Going forward, AMD is going to be combining the workstation/professional and gaming graphics divisions together, and the result is going to be Radeon for gamers, and Radeon Pro for professionals.
At the moment, the only Radeon Pro available right now is the Pro Duo, which was released earlier this year. Soon, we'll also have Radeon Pro WX (Workstation Experience) models, which will mimic FirePro in that they will be targeted at professionals that need to use products that have certifications for the software they use, and of course, optimizations as well.
To be clear, Radeon Pro cards are not going to be held back in gaming whatsoever, and in some cases, regular Radeon cards might be suitable for professional use as well. An example would be with Autodesk's 3ds Max, where Radeon cards can deliver top-rate performance, for both the design and rendering processes.
Radeon Pro WX cards are going to be treated just like the outgoing FirePro cards were, but there will also be non-WX Pros available, such as the Pro Duo. Companies and system builders probably won't opt for these, only because they'll lack the certifications that must be adhered to in order to align with their ultra-strict requirements. Those cards would still have the same optimizations as the WX series, however. Again, the Pro Duo is the only such card at the moment in that particular series; AMD hasn't announced anything at this time for the future. What it has announced is the first three models that will greet the WX series: WX4100, WX5100, and WX7100.
These new cards are going to be available for under $1,000, although exact pricing is not being revealed until later. I'll take a stab: WX7100 will be $799; WX5100 will be $499, and WX4100 will be $299. It's not clear at this point if these cards will include ECC, but given their sub-$1000 pricing, I am doubtful of that. Instead, that'd be better suited for the unannounced WX8100 and WX9100 cards.
Like the last-gen W4300, which I took a look at last December, the WX4100 will be suitable for ultra small form-factor PCs. The higher-end models will fit instead standard-sized chassis.
Release dates are still tenative, but what we know for sure is that they'll be made available before the end of the year – I'm guessing an ~October timeframe.
One thing I should point out is that while AMD is treating its entire Radeon line as a unified product stack, Radeon Pro cards will still use a separate driver, which to me is important given each series' target audience. Most gamers using Radeon are not going to need optimizations for creative applications, while professionals are going to yearn for a dedicated, more focused (and of course, certified) driver.
Radeon Pro SSG
Now here's an announcement I was not expecting. At some point in the future (at least 2017), AMD is going to be releasing a special Radeon Pro card called "SSG", and if that sounds an awful lot like "SSD", it's for a reason. SSG in the Radeon realm stands for Solid-state Graphics, and it involves the same kind of NAND flash that we put to use in our storage SSDs.
To put it simply, SSG models will have dedicated flash storage right on the card itself, positioned towards the end. The goal is to improve both project loading and even potentially gaming (though it's not a consumer product in the very least at this point in time). Picture this: you play the same game a lot; textures and models could then be cached to this super-fast storage, and because it's stored right on the graphics card itself, the access times will be out-of-this-world good.
Picture this other scenario: a large AutoCAD project could take 20 minutes to load on a good day, simply because there's not enough memory available on the graphics card. NAND flash can come to the rescue here; up to 1 TB of the stuff, AMD says. Instead of this project taking 20 minutes to load, it could instead load up in one minute, or perhaps even quicker. The ultimate goal here is to allow seriously bandwidth heavy processes to be sped-up on the GPU itself. While the included GDDR (or future HBM2) is going to prove much faster than NAND flash, so many assets can instead be stored on the NAND flash and still deliver an incredible improvement in speed.
Another scenario where this fast memory can help is with high-resolution video debayering. In some cases, 4K doesn't even feel like a high-end resolution anymore; not with 5K and 8K being talked about all of the time. AMD has personally tested 8K debayering on its Radeon SSG card, and it's found there to be a 5x performance improvement. Any process that can exceed the total available framebuffer could stand to gain handsomely on such a graphics card. Ultimately, that means improved productivity.
While the user will be able to tweak some things with this storage, like how it's used, it's not going to be user-accessible from the standpoint of double-clicking on a drive in your "This PC" window. It will be internal memory that's managed entirely in hardware.
Companies interested in exploring Radeon SSG right now will be able to purchase a development kit later this year for $9,999.
Radeon ProRender
AMD released its FireRender renderer earlier this year, and because of the outgoing FirePro branding, its name is changing as well. Now, it will be called Radeon Pro Render, which to me doesn't sound nearly as bad ass, but it suits its role in the professional market.
Unlike NVIDIA, with its Iray renderer, AMD is aiming for a much more open ecosystem through GPUOpen, relying on OpenCL to make it happen. To that end, Radeon Pro Render is going to be free. Not impressed? How does the fact that it'll be open-source strike you? This is a stark contrast to Iray, which will cost users a couple of hundred dollars per year for licensing. AMD is clearly trying to make a statement here.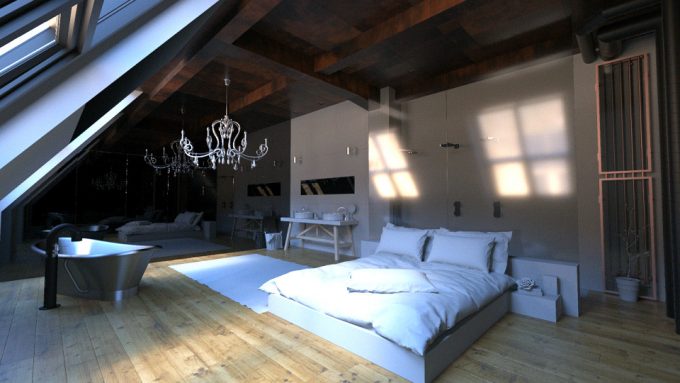 Example AMD FireRender scene; Source
How awesome this could be cannot be understated. Soon, AMD will make available its Radeon ProRender to a number of applications, including Autodesk's 3ds Max. While it's not going to be included by default with the application, users will be able to go to the 3ds Max store, find the plugin, click to install, and boom – done. All at no cost.
Because of the open-source nature of ProRender, companies that make the design software will be free to create their own plugins (if AMD doesn't do it itself) and offer them to their users. This is going to be very useful to companies offering design tools that might not be considered de facto. In fact, if a company wants to get out of the rendering business, like Autodesk yearns to, then they could even adopt the plugin as default, with no strings attached.
Unlike NVIDIA's Iray, which is a proprietary renderer, ProRender makes use of OpenCL to work across any GPUs that support it. That means it will render using NVIDIA's GeForce and Quadro cards, and even Intel's own graphics solutions (not that I'd want to personally render something on that solution).
Other design applications that will soon have a Radeon ProRender plugin include SolidWorks, Rhino, and Maya. That's a small collection, but it will assuredly grow. As for OS support, AMD is holding nothing back: Radeon ProRender supports Windows, OS X, and Linux.
Final Thoughts
I think it was clear long before SIGGRAPH that AMD wasn't going to be delivering professional solutions that are as fast as its competitor, but it's done very well to make that seem like less of an issue because it's bolstering its ecosystem to such a major degree.
I've been keen on exploring FireRender ever since its announcement, and now that it's becoming Radeon ProRender, I look even more forward to getting down to testing with it. The fact that it's open-source could be huge: I was told that there will simply be no restrictions or gotchas if companies want to adopt it. And, because it's OpenCL, NVIDIA users are free to join in on the fun as well.
The use of Radeon SSG is going to have to be seen to be believed, but in theory, it sounds like an excellent evolution of professional graphics. In time, we could even see that technology trickle down to the end-user, so as to speed up their games and essentially make the problem of a limited framebuffer disappear.
Simply put, the future of AMD Radeon Pro is beyond exciting. I cannot personally wait to see how this refreshed ecosystem flourishes.
Copyright © 2005-2019 Techgage Networks Inc. - All Rights Reserved.