SilverStone FT01 Mid-Tower

Date: October 29, 2008
Author(s): William Kelley

SilverStone has become well-known over the years for producing top-quality products, and the FT01 further reinstates that fact. Although the chassis is a bit pricier than others, it's well-deserved. Obvious R&D went into this one, and not only does it offer superb airflow and the lack of a single sharp edge, it's also one of the quietest chassis' we've used in a while.
---
Introduction
Silence and power. These two words have come to define current trends in PC building. A few short years ago, this was a fantasy. Now, it has become the mantra that is heard over and over again. I can't count the amount of times I have been asked how to get both attributes into a serious full powered PC.
In steps SilverStone once again. With a long track record of high-end power-house parts, they have been heeding our calls. The price of admission may be higher than many others, but the old saying of "you get what you pay for" has never been truer. Ask any premium builder about it and most will quickly agree and even more will recommend SilverStone.
Keeping that overclocked Quad-Core cool used to be quite the challenge and more often than not it was only possible with high CFM fans and a case full of them to boot. Thankfully, that has changed. Large low and efficient fans that are smartly placed have come to the rescue. Let's see just how well the Fortress has been designed for such a task.
Closer Look
Diving in head first, let's take a look at the factory specifications straight from SilverStone's product page. One thing to take notice is that there are two color choices and you can also get it with a window as well.
SST-FT01B (Black)
SST-FT01S (Silver)
SST-FT01B (Black + Window)
SST-FT01S (Silver + Window)

Material: 3.0mm ~ 6.0mm uni-body aluminum outer-frame and aluminum body
Motherboard: ATX, mATX
Drive Bays: External: 5.25″ x 5, Internal: 3.5″ x 7
Once out of the box, it was immediately apparent that this was not a run-of-the-mill chassis. The brushed-aluminum finish along with heavy grills screamed quality. Even the molded plastic front/top/bottom one piece bezel felt rich and well made. Just below the bottom 5 ¼ expansion bay is the power button. Below that are LED's for system power and HDD activity.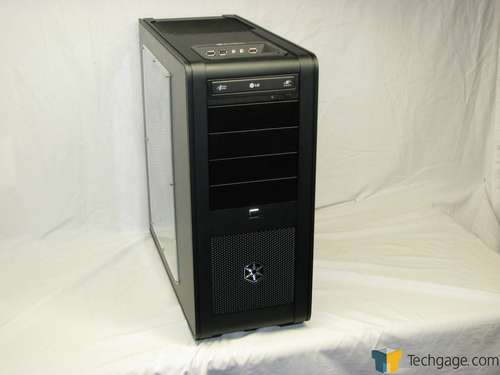 The I/O panel is well-placed in the top front. I really like the fact that it is situated at almost a 90 degree angle making it easier to plug things in especially in a desk with tight quarters (like mine). Another feature that is woefully lacking in many current chassis' is a reset switch and SilverStone was nice enough to include it up here as well.
Our first look at the windowed side panel shows how well it is fitted and the spacing is perfect. The window itself is very-well made.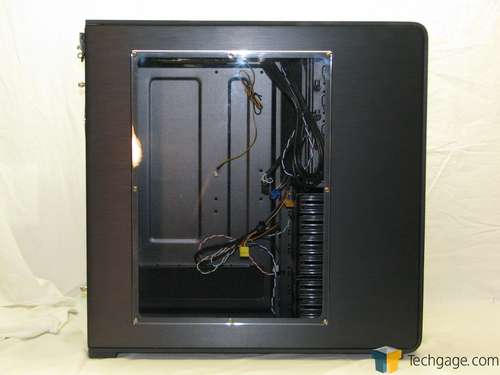 With a pull of the quick release lever shown in the upper-left-hand corner of this photo, the side panel pops off. You can use either a small padlock or the included thumb screw to keep the lever in the locked position keeping the panel firmly in place. The mechanism was easy and effortless to use and works very well.
With the side panel off, we can start to really take in the attention to detail that was put in. Personally, I love the fact that the inside is painted. Another excellent feature is the fact they put protective grills on the fans.
The front 180mm fan also has a washable filter that is easily removed by sliding it out. The 7 hard drive bays are kept nice and cool as well since the air is pushed through the cage as it enters the case. Notice the tool-less locks for the 5 ¼ bays as well. They are basically a large rocker switch that firmly captures your CD/DVD drive once engaged.
A quick push of the tab and the front of the hard drive holder swings out unlocking it from the cage. All that is left to do to remove your drive is to remove the wiring from the backside and slide it out. There is a cool feature for installing hot swap interfaces on all 7 bays. There is one included and more can be purchased cheaply enough.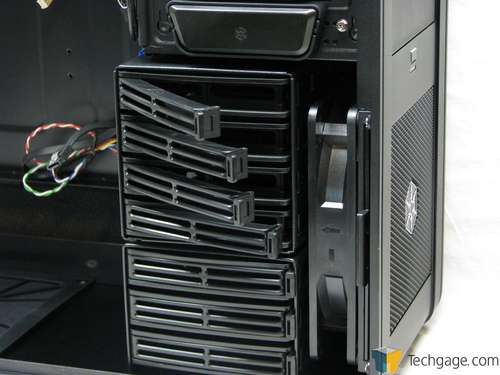 The plastic hard drive caddy is well built and holds the drive securely. There are rubber grommets and special screws to help isolate vibrations. Installation takes seconds and securing it into the chassis is just as quick.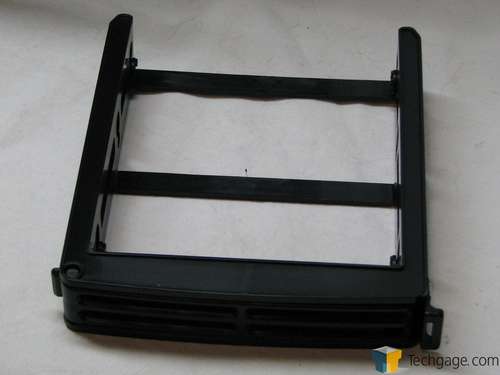 The final shot of the inside shows us the mounting area of the power supply. The power supply can be mounted to draw fresh cool air in through the floor of the case through a fixed filter. The filter itself is quite large and is ready for the largest PSU.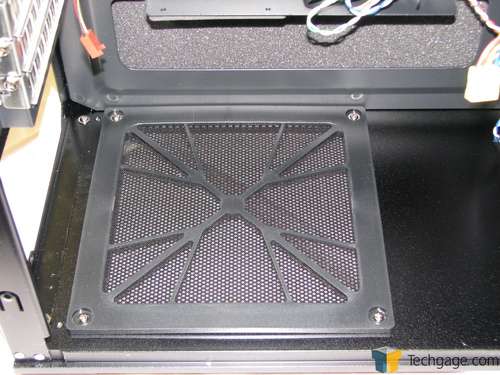 The backside of the motherboard tray reveals that there was no skimping on attention to detail. Many companies leave this area stark as they must feel it is unseen and no one cares. Not only is it finished like the rest of the chassis, there is not a sharp edge to be found anywhere. I spent 45 minutes looking for a single sharp finger-biter and can say this is the first time I was unable to do so.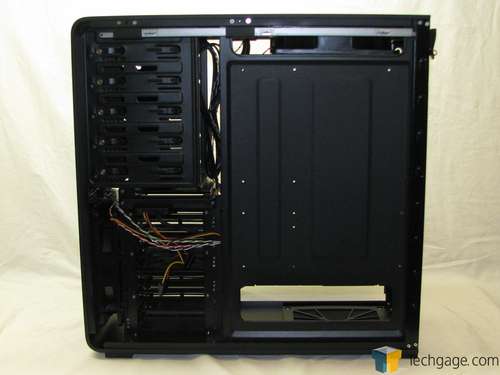 Next is a close up of the hot-swap bracket supplied. While the normal user has no need for this feature, it sure makes installing your HD easy and clean. I found extra brackets available for $9.99 CAD at the time of release of this article.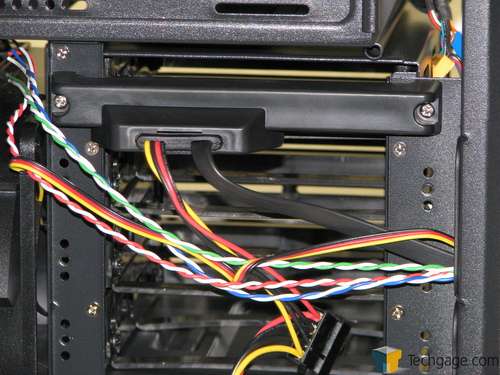 With the close look out of the way, let's move right into installation, testing and my final thoughts.
Installation and Final Thoughts
Now comes the part I enjoy most of all when it comes to reviewing cases, the installation! For this build I will be using the following parts:
ASUS M3A78-EMH HDMI mATX
AMD Phenom 9550 Quad-Core
OCZ XTC PC2-6400 2X2GB
Visiontek HD 4870 512MB
BFG 680W LS Power Supply
ASUS Xonar DX2 Soundcard
Hitachi 160GB SATA2 Hard Drive
LG 22X Dual-Layer DVD Burner
Everything installed simple enough and there was plenty of room as well. This case is designed for nothing larger than a regular ATX motherboard so you may run into issues with video cards longer than the HD 4870 when it comes to plugging in the PCI-E power cables. But, that problem arises only if the middle drive bays have to be used. If they don't, it can be removed to allow even the largest of cards to be used.
One thing that you will NOT run into problems with is the CPU heat sink. I used a SilverStone NT-08 which is about as tall as they come and had plenty of clearance for the side panel.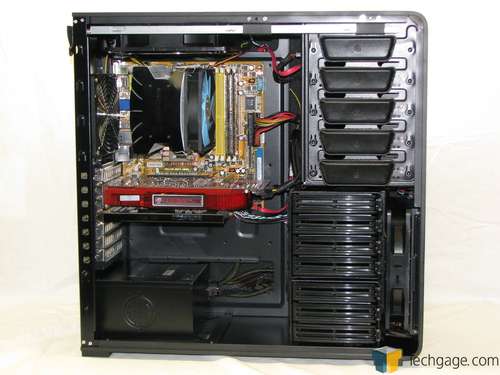 Cable management is also a breeze. The rolled edges are not only as smooth as butter, there are lots of places to route your wiring through to keep things clean. There is plenty of room behind the drive areas to stash extra wiring. One downer was the fact that the foam insulation on the side panel made it tougher than I liked to get the panel attached properly. Using a modular power supply would be beneficial as you won't need to tuck as many wired behind as I did.
When I first received this chassis, I expected it to be quiet. What I was not ready for was just how quiet it was. I have built quite a few PC's where I could hear the hard drive spinning over the fan noise but they were also not that effective in cooling everything down, requiring me to limit my overclocking or to install a CPU cooler with a loud fan. Add to that I am running a known-to-be-hot video card and I was almost certain I would run into issues with silent fans.
SilverStone took some time making sure this would be as close to silent as possible. Both side panels are insulated with foam padding. Also, by using the plastic cage for the hard drives, they were able to insulate the hard drive noise as well. I can honestly say this is the quietest case I have ever used that runs fans.
The next feature that blew my mind is the utter lack of sharp edges. Most manufacturers have woken up and pay close attention to this little detail. However, since I am looking for them, I have managed to always find at least one finger-biter in every chassis I have ever worked on. The Fortress just plain has none. If the edge is not rolled over, it is dulled. Even putting your fingers where they do not belong does not reveal a sharp edge.
When it comes to airflow, nothing kills it faster than those silly stamped fan holes. Even the newer large opening designs still contribute to back-pressure causing the fan to be less efficient than it could be. Here we see the complete lack of them and the use of a more "normal" wire fan guard instead. This makes a huge difference with low speeds fan as they lack the pressure to push through smaller openings. This is also another reason for the silence as there is a lot less turbulence from the air flowing into and out of the fans.
While there was little bling and flash used in the design of this case I can't help but feel that there was a tremendous amount of time spent developing it. Something as simple as including a reset switch gives big points in my mind. There is nothing worse than pushing your overclock too far and having to reach around to the back to flick off the switch to the power supply because you system had hung hard.
Then there is the cooling. I have yet to see fans running under 1000RPM, no matter the size, remain effective in system cooling. Noctua has been the only fan I have previously run at speeds that low that could manage decent performance. Someone sure did their math correctly because even my furnace of a video card had no idea what hit it.
Even with the GPU fan set to a measly 30%, I was recording idle temperatures in the low 40C range and I have yet to see 70C after hours and hours of gaming. Doesn't sound like that big of a deal, but that card is overclocked as far as CCC will allow. The same goes for my CPU. I haven't seen over 40C even running overclocked to 2.5GHz. This may still not seem like a huge deal until you remember that this is all happening in near silence.
Overall, this case easily scores a 9 out of 10. It has far exceeded my expectations on every level. I do not give out ratings like this very easily. In fact, I believe this is the highest anything has scored in my eyes in some time. What it all boils down to is that you simply get what you pay for. I found pricing from $200 – 240 and can whole-heartily say that you will not be disappointed for spending your hard earned money here.
Any way you look at it, this case is a sure winner. If you don't need E-ATX size and you want drop dead silence and looks, this case will work great for you. I have had the pleasure of working with some really good cases before, but from here on out I feel I may be spoiled and expect too much in the future. If you are ready to build and have yet to pick a case, take this one very seriously. I guarantee you will not be disappointed.
Pros
Top-notch build quality.
Superior air-flow.
Extremely quiet.
Light-weight.
No sharp edges anywhere.
Excellent value.
Cons
Quality like this doesn't come cheap.
Would like to see more how-swap connectors included.
Over-insulated.
No E-ATX compatibility.
Discuss this article in our forums!
Have a comment you wish to make on this article? Recommendations? Criticism? Feel free to head over to our related thread and put your words to our virtual paper! There is no requirement to register in order to respond to these threads, but it sure doesn't hurt!

Copyright © 2005-2019 Techgage Networks Inc. - All Rights Reserved.