Sleek, Stylish, If Slightly Strange – A Review Of The In Win 707 Full-Tower Chassis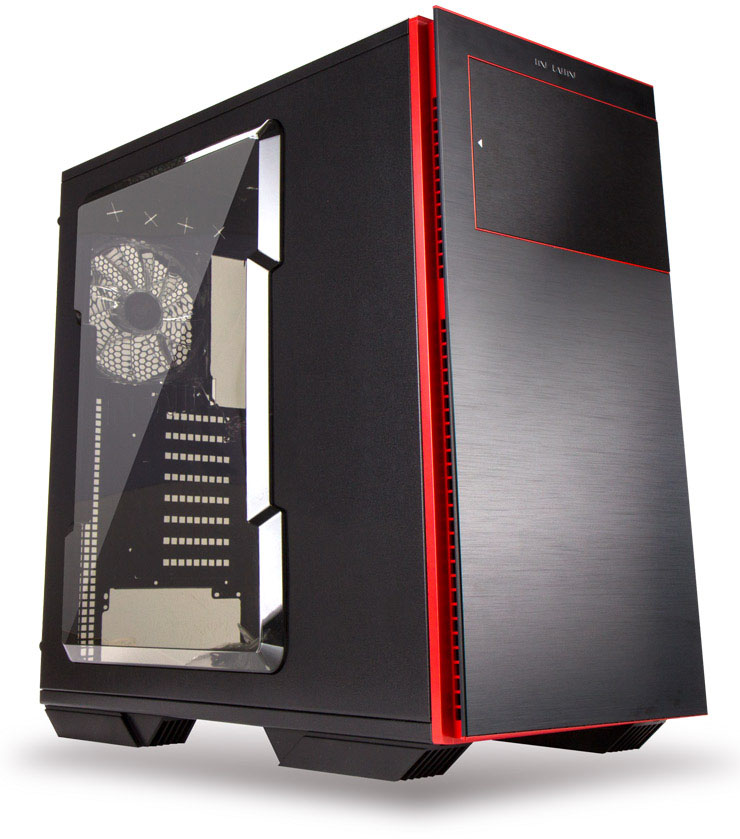 Date: May 18, 2015
Author(s): J.D. Kane

In Win may not be as well-known as many of its competitors in the PC chassis market, but it makes some eye-catching products. Its 707 is certainly one of those. Styling-wise, it's a knockout. But the beauty of a PC chassis is more than just skin-deep. Join us as we get inside the In Win 707 and put it through the Techgage wringer.
---
Introduction
Come on, admit it.
You're a sucker for style.
It's okay. I am, too. And I think everybody is as well.
As much as I hate making assumptions, I'll make this one: Deep down, we all love beauty. I'd even say that, given a choice between two things that are equally capable, we'd all pick the one we think is more beautiful than the other. No matter which of our senses get engaged, we will choose that which pleases our senses the most.
Choosing a chassis for your PC follows these same rules, I think. At any given price point, I think we'd all choose the one that best pleases our own definitions of beauty.
It's a very good thing that consumers are spoiled for choice these days.
And In Win, not typically known as a Titan in the PC chassis market, wants to spoil us even more.
In Win's full-tower 707 gaming chassis, I have to say, is one of the most stylish PC chassis I've seen. It looks very modern, with clean lines and just the right amount of pizzazz. The company sent us a beautiful black example, trimmed with exquisite red accents. The 707 is also available in silver/white with black trim.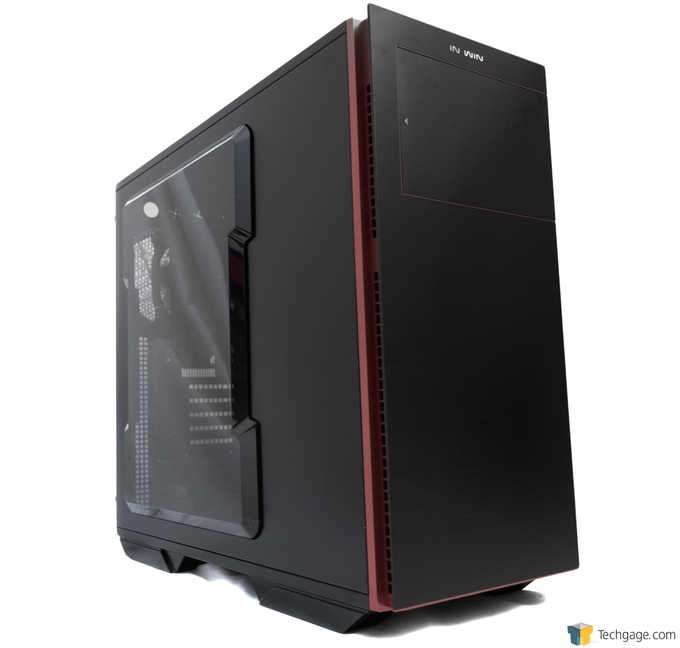 Our black review sample certainly makes a great first impression. For one thing, black and red are about as aggressive a color combination as you can have. Since the company designates this as a gaming PC chassis, it's only appropriate to use such a color scheme. The subtle asymmetry of the 707's details – the single door covering the optical drives' red accents draw an incomplete parallelogram – heightens visual interest as well. The extruded window on the left side panel, with its neat raised beveled edges, contrasts with the flat yet vented right side panel.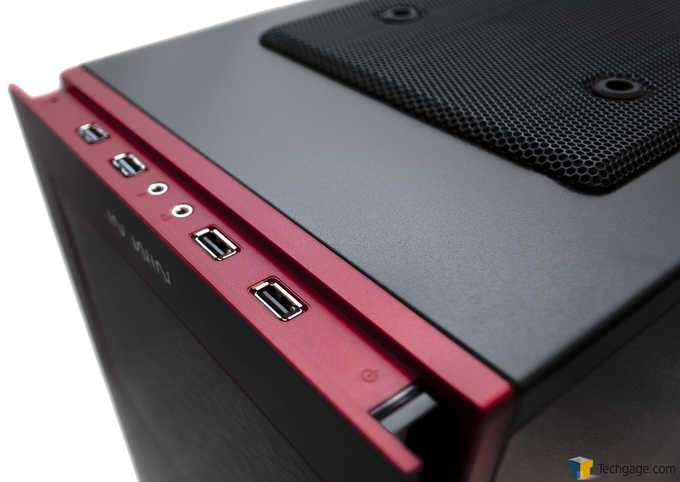 The theme of subtle asymmetry continues with the 707's front I/O ports, all of which sit in a recessed red trench that separates the front fascia from the main body of the chassis. The power button, for instance, is isolated on the top-right edge of the trench. The rest of the I/O ports – a pair of USB 2.0, the 3.5mm mic in and headphone out, and a pair of USB 3.0 – sit neatly in a line and are centered along the trench, which defies the theme of asymmetry. The theme, though, is expressed anew when you see the tiny hard drive activity LED sitting by its lonesome on the top left edge.
Since we're talking about the front of the chassis, it's appropriate to mention that on both sides of the trench are arrays of intake vents that feed the pair of 140mm fans. These fans, by the way, have both male and female 3-pin connectors at the end of their cables. I don't recall ever seeing chassis fans having both types of power connectors in any chassis I've reviewed yet.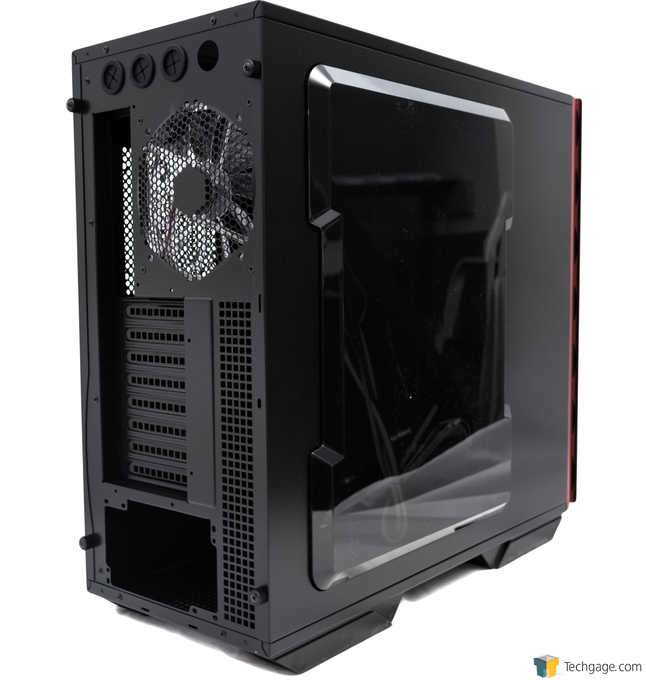 This shot shows off the rear and the left side panel. The window – smoke-tinted! – is the most prominent feature of this view. Also noteworthy are the eight PCI expansion slots, the 140mm exhaust fan, and the quartet of grommets covering up openings for externally-mounted radiator tubing. To the right of the expansion slot area is also an exhaust vent. Finally, you can see the bottom-mounted PSU area.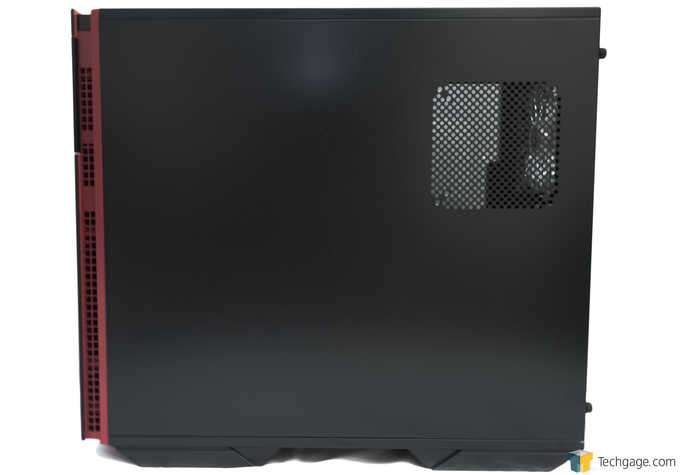 Here's a look at the other side panel. The aforementioned vent is positioned in the vicinity of most motherboards' CPU socket area. I suppose the theory behind this feature is to improve CPU temperatures. This profile view also gives you a clearer look at the intake vents at the front of the chassis.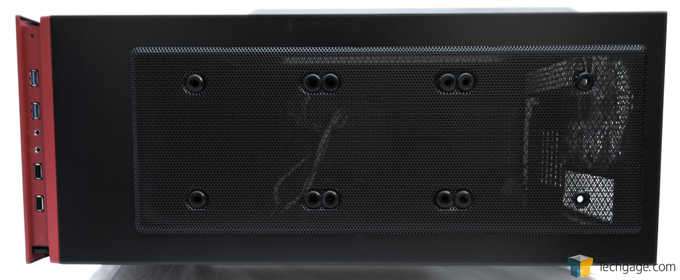 The 707's roof is mostly a mesh panel allowing for optimum ventilation. Even here the design theme of subtle asymmetry exists: The mesh panel has fan mounts for up to three 120mm fans, and these fan mounts are shifted over to the mesh panel's right side. In most cases (pun not intended), roof-mounted fans are centered along a chassis' spine. Lining the inside of the roof mesh is a finer, more restrictive mesh that serves as a dust filter.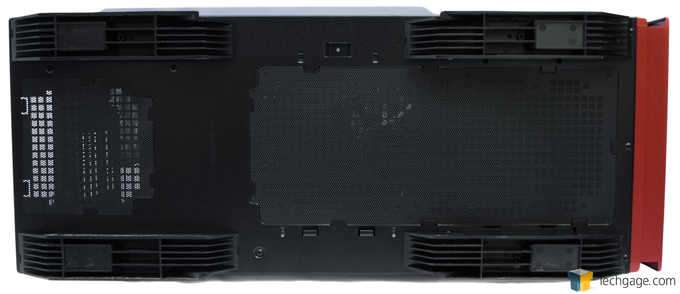 The chassis' floor is fairly nondescript. There are four large feet as well as two mesh panels for ventilation purposes.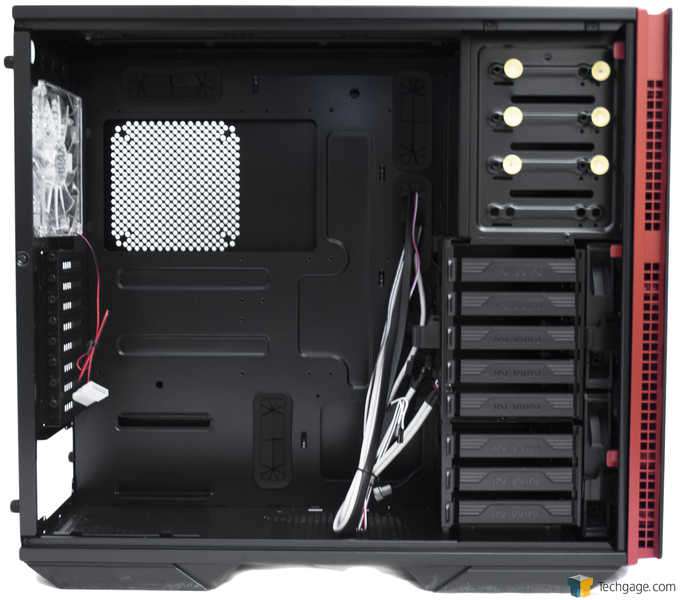 And here's a look at the interior of the 707. All of the surfaces are painted with a textured black coating; incidentally, the chassis' exterior also wears the same type of paint. This allows the black grommets covering the well-positioned cable management openings to blend in. It's therefore strange to see the I/O cables dressed in beige or left naked, exposing the red, white, and blue wires. The fan cables are likewise left undressed. The neon yellow optical disk drive retention mechanisms are also odd given the all-black interior.
It's interesting to note the 140mm exhaust fan has a Molex power connector. I don't remember the last time I saw a stock rear exhaust fan with a Molex power connector; I think it's very strange for In Win to break chassis design convention with this detail.
Also, note that none of the motherboard standoffs come pre-installed. This detail strikes me now as a bit old-fashioned and inconvenient, given that the very best chassis these days have at least the central key standoff come pre-installed. At least In Win was good enough to provide a standoff driver nut, which makes standoff installation a breeze.
A word of warning, though, especially for inexperienced system builders: The 707 is compatible with ATX, mATX, and E-ATX motherboards, so accordingly the motherboard tray has standoff holes for these types of system boards. Be sure you install the standoffs only where your particular motherboard has mounting holes. Installing "extra" standoffs where your system board doesn't have holes for them might cause a short-circuit, which will cause your PC to fail at power-on.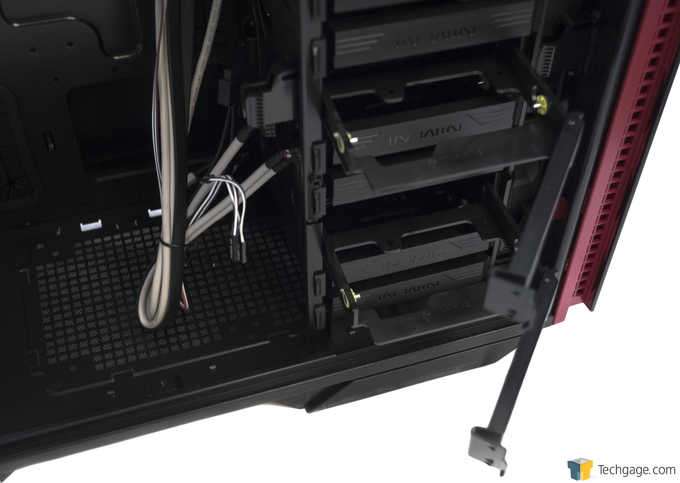 The storage retention system is functional, if not particularly innovative. The system is tool-less for 3.5″ HDDs; simply place the device inside the sled in between the retainers, then slide the sled into its place in the cage. For 2.5″ devices, though, you need to use screws to hold them in place in the sled. The 707 does not come with SSD-specific retention systems as many modern chassis do these days.
Note that it is possible to remove the bottom storage cage (which encompasses three storage devices) to create space for, say, a bottom-mounted radiator.
And speaking of radiators, you can mount them in three spots in this chassis: The aforementioned floor (2 x 120mm or 2 x 140mm max), the rear exhaust fan mount (140mm only), and the chassis roof (3 x 120mm max).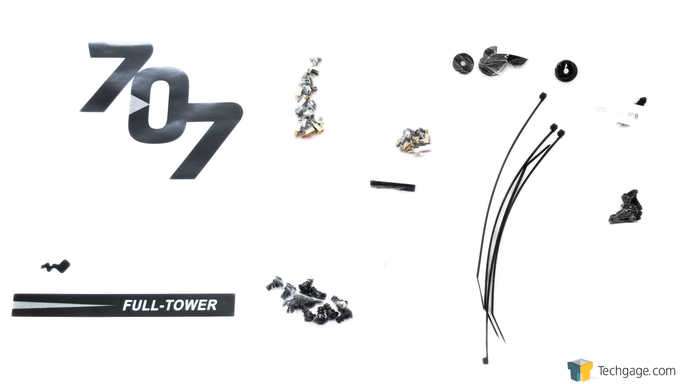 We'll end our tour with a look at the 707's accessories package. It's more or less typical: A complement of various types of screws for your system as well as some zip-ties for cable management and a fold-out user's manual. In Win also supplies a pair of rubber pads intended to support longer PSUs, which is a nice touch.
Now that we've had a good look at the 707, let's install our test system into it and see how well it works.
Performance Testing
I'll be reviewing the In Win 707 on a few key criteria: ease of system installation; cooling performance; a subjective evaluation of its noise output characteristics; and a few miscellaneous comments about the chassis' build quality.
First, though, a look at our test system's components:
| | |
| --- | --- |
| | Chassis Test System |
| Processor | Intel Core i5 2500K @ 3.3GHz/1.2V VCore |
| Motherboard | MSI Z77A-GD65 |
| Memory | Patriot PSD38G1333KH 2 x 4GB DDR3 |
| Graphics | EVGA NVIDIA GeForce GTX 680 (Reference design) |
| Audio | Onboard |
| Storage | Crucial C300 (128GB) SSD |
| Power Supply | Thermaltake 1500W Gold |
| Chassis | Corsair Graphite 780T |
| CPU Cooling | NZXT Havik 140 |
| GPU Cooling | Arctic Accelero Hybrid II-120 |
| OS | Windows 8 64-bit |
And here's a look at how everything looks in the In Win 707: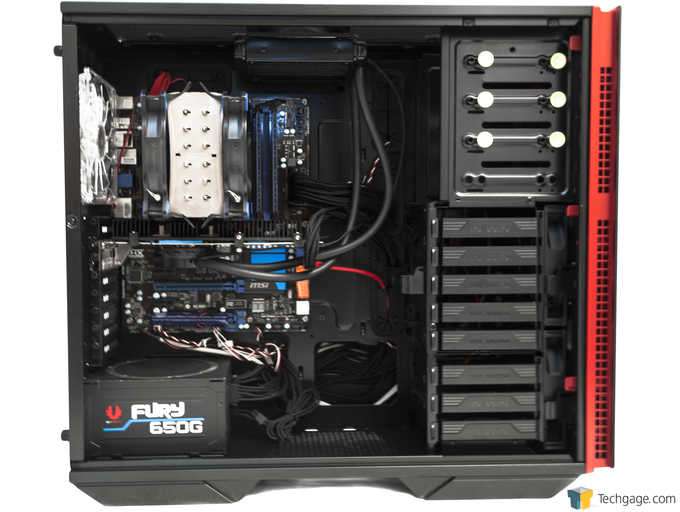 It took around an hour to install our test system into our review subject. I'd say that's about average for me. I didn't experience any specific difficulties, although I was a bit miffed at mounting the GPU's radiator on the roof. The 7o7's fan screw holes have a non-standard bore, so the normal fan screws just go right through as they're narrower than the holes. If I had read the manual, I'd have known that In Win provides washers for these fan screw holes. Overall, though, the installation phase was easy enough. I just wish the chassis' cables were all dressed in black. Cable management as a physical exercise was easy enough in this chassis, but seeing all those colors against the black background was (and remains) a bit of a sore spot for a cable management fetishist like me.
Speaking of cable management, the task is aided by a 1 3/8″ gap between the rear of the motherboard tray and the side panel. The following photo offers a look at this gap.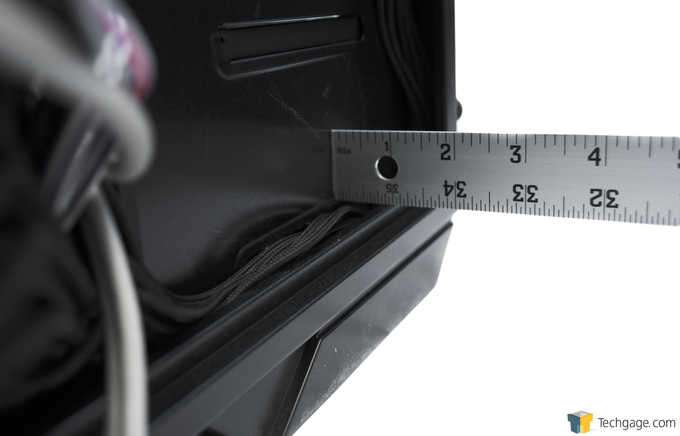 Moving on to thermal testing, I will use the OCCT CPU stability test program to generate maximum CPU load and temperatures as well as MSI Kombustor for the GPU temperature testing. Ambient temperature will be kept constant at 72°F/22.2°C.
A preliminary note about thermal testing: A PC chassis being reviewed ought to be in as close to stock configuration as possible. That means I won't add fans to the system (other than what comes with certain components' cooling systems). Also, per my now routine practice, I'll also use the same torture tests to put the CPU and the GPU under maximum load conditions. OCCT is the torture test of choice for the CPU, while MSI Kombustor fits the bill for the GPU.
So this is how the 707 fared: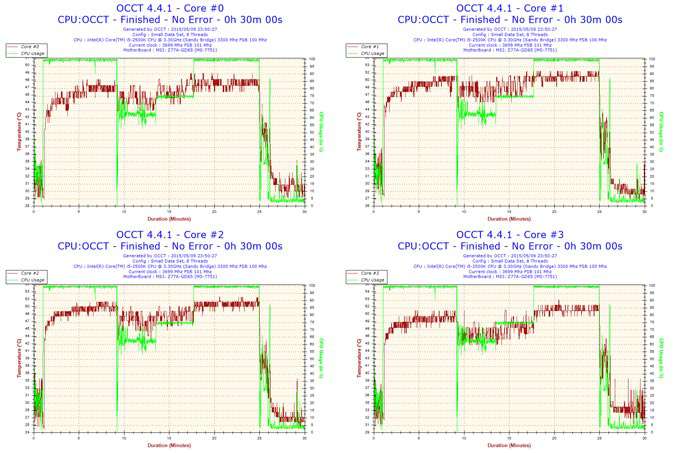 Across the four cores of the i5-2500K, the maximum temperatures registered were 49°/52°/52°/52°C. The following table shows how this performance compares to other chassis I've tested with the test system in an identical configuration:
| | |
| --- | --- |
| Chassis | Maximum Core Temperatures Recorded |
| Danger Den Torture Rack | 50°/54°/54°/55° C |
| Corsair Obsidian 450D | 49°/52°/51°/51° C |
| Puget Systems Test Bench | 51°/54°/54°/54° C |
| Corsair Graphite 730T | 48°/52°/52°/52° C |
| Lian Li PC-A61 | 48°/51°/52°/52° C |
| Thermaltake Core V51 | 50°/52°/51°/51° C |
| Corsair Graphite 780T | 48°/51°/51°/51° C |
| In Win 707 | 49°/52°/52°/52° C |
The In Win 707 gives nothing away to its competitors in the maximum CPU temperature tests, registering a paltry 1°C shy of the best performers. That one degree Centigrade is fairly insignificant unless you're chasing the absolute best performance.
Moving on to the maximum GPU temperature tests, the test system in the 707 registered a maximum of 74°C.
And here's how that compares to the rest of the chassis for which I've gathered maximum GPU temperature data:
| | |
| --- | --- |
| Chassis | Maximum GPU Temperatures Recorded |
| Danger Den Torture Rack | 55° C |
| Corsair Obsidian 450D | 63° C |
| Puget Systems Test Bench | 50° C |
| BitFenix Neos | 68° C |
| Corsair Graphite 730T | 57° C |
| Lian Li PC-A61 | 52° C |
| Thermaltake Core V51 | 74° C |
| Corsair Graphite 780T | 52° C |
| In Win 707 | 74° C |
It would appear that the restrictive dust filter beneath the mesh roof impedes fan performance. Looking at the accumulated data tables, it certainly appears that the In Win 707's thermal performance closely resembles another chassis I reviewed which also had restrictive dust filters in its roof mesh section.
Noise-wise, well, the In Win 707 keeps the test system mostly quiet. However, one (or both?) of front its intake fans emits a weird drone. The sound is a little tough to describe, but it's a distinctive signature unlike any fan noise I've heard before. Not only that, but the pitch also oscillates, almost as if the fan is changing speeds. If you keep your PC on the floor you probably won't hear this drone; if you have it on your desk, you'll hear it. And get a bit annoyed with it, I must say.
The droning fan(s) notwithstanding, the 707 is solid, with no real problem areas. The plastics used, in particular, seem to be high-quality. There is a fairly good variance in the quality of plastics used by the various chassis manufacturers. In Win's plastics don't feel cheap and make you think they'll last a long time.
Let's wrap things up with some final thoughts.
Final Thoughts
So what do we make of the In Win 707?
If it was a car, I see it as the inverse to a Bugatti Veyron: It's sleek and stylish, but doesn't quite thrill you with many of its engineered details. I mean, there's nothing fundamentally wrong with the 707; it's just not exciting or innovative. Indeed, some of its details strike me as a bit strange. In Win might be trying to "different," but truly the ways the 707 is unconventional compared to its peers are just weird and, it must be said, very old-fashioned.
Looks-wise, the 707 is as modern as they come. It's very pretty, unlike the Veyron. In Win classifies it as a gaming full-tower, but it's not really styled like a spaceship that Klaatu and Gort might use. Generally speaking, the "gaming" tag usually means the product to which this designation is attached looks over-styled, garish, and often just ugly. Rather, the 707 is sleek and stylish, with just enough visual flair that keeps it distinctive. The red accents on the black bodywork are a visual treat; the subtly asymmetric presentation of some of its bodywork detailing is also very interesting. I have a feeling that the 707's styling will age really well.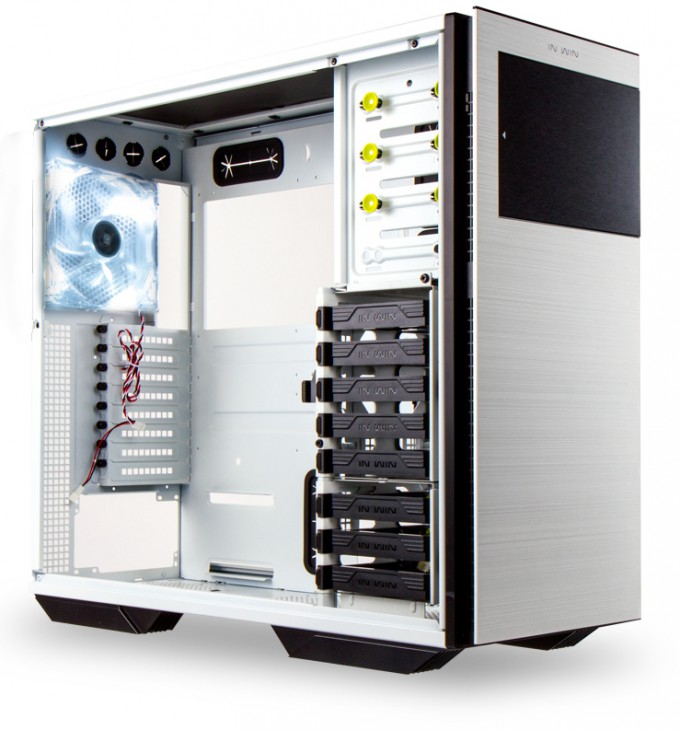 It's well-built, too. It feels like a tank, but happily doesn't weigh as much as one. I love how its engineered bits – the side panel fits, the feel of the thumbscrews, even how the drive sleds slide in and out of their cages – just feel good to use.
If I were to register any complaints, they have to do with some rather strange details. The rear exhaust fan's Molex power connector, for example, strikes me as a fossilized relic from a long-gone chassis design epoch. That's just an unnecessary deviation from the norm. Another annoyance to me are the multi-colored cables. For cable management sticklers, black interiors demand cables dressed in black. The idea is to use a monochromatic color scheme to hide the cables in plain sight. That's impossible if you've got rainbow spaghetti for cables.
Also, it's a little strange (though it probably shouldn't be) to need to consult a user's manual to build your system into a chassis. But the 707 has enough idiosyncrasies that you might be required to. The non-standard fan screw holes on the roof certainly qualify, as does the old-school need to install all of the motherboard standoffs. The non-standard fan screw holes, in particular, are singularly annoying. Just like the Molex connector for the rear exhaust fan, there's just no good engineering-based reason to opt for what is essentially a proprietary solution here. The conventional ways work just fine; there's no need to reinvent the wheel, so to speak. In Win could just stick to what's tried and true. Often the simplest ways work just fine.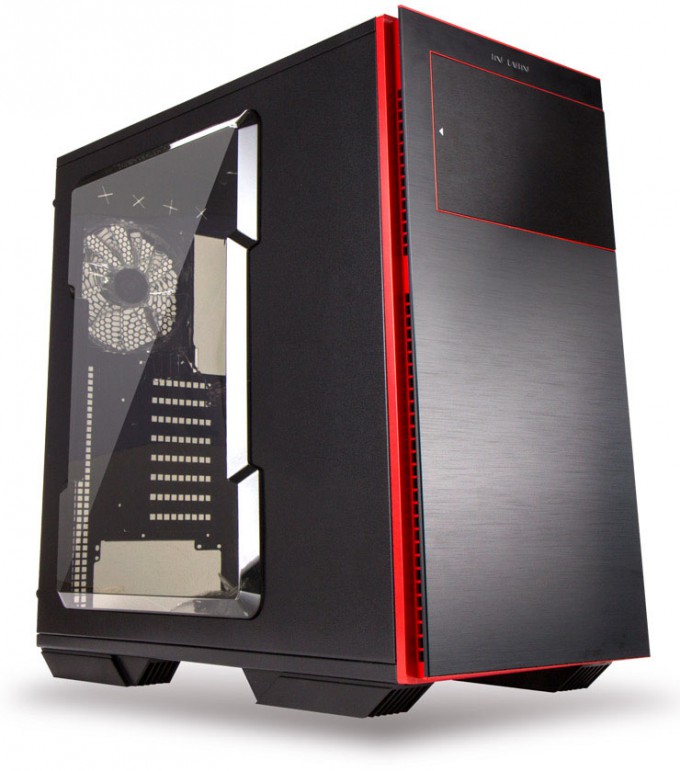 In Win may not be a giant in the PC chassis market, but with a product like the 707 it's surely a vendor worth watching. The 707 is a well-built offering that hits a lot of high notes; it's slightly off-key with some of the details, but with a little bit of polish and study the 707 can be the basis of a superior product. MSRP is $139.99, but I've found it for as low as $99.99. That's a very good value for a full-tower chassis.
It's not perfect, but the In Win 707 is still worth a look. Given that it's so sleek and stylish, I'd wager that it will get a lot of looks of admiration, too.
Pros
Sleek, modern styling.
Solid build quality.
Versatility – Compatible with ATX, mATX, E-ATX systems.
Excellent value at $99.99.
Cons
Idiosyncratic – Molex rear exhaust fan connector, non-standard screw hole sizes in roof.
Non-black cables will frustrate cable management sticklers.
Copyright © 2005-2021 Techgage Networks Inc. - All Rights Reserved.