Slim Devices Squeezebox

Date: February 2, 2007
Author(s): Greg King

Wireless is now, so why not include your music within the realm of this amazing technology? That's what Slim Devices is out to do with their Squeezebox. Not only can it wirelessly deliver music to anywhere in your home, it's also finely tuned with the Rhapsody music service for the ability to listen to even more music. It can even handle lossless audio formats!
---
Introduction
Music is one of the great passions in my life. It's what we all listen to on our way to and from work and it's where we turn when we are at our best and want to feel good. It's also there when our lives aren't exactly going as we had planned. There is just something about Beethoven's Moonlight Sonata that puts a troubled mind to ease. In that same thought, music has played a major role in all of our lives. Personally, for me, the first day each spring that is warm enough to cruise with the windows down in the car means one thing. Sublime. 40 oz. to Freedom is just one of those albums that completely takes me to another place and time and the same can be said for the Moonlight Sonata.
One of my digital pride and joys can be found on my hard drive in the form of a folder full of MP3's. My tastes span many genres and it's a given that when people come over, there will be a song that they want to hear and more than likely, I have it. In the past few years, MP3 players have taken front and center stage in the audio world. This is best exemplified by the perennial powerhouse, Apple's iPod. However, the choices do not stop there. You can get an MP3 compatible stereo for your home, office or car. You can ever buy sunglasses with small ear buds built into them so you can listen to the tunes and still look cool. As a friend to all things tech, I appreciate hardware that fills a need in my life.
In my house, I have a computer room, my office and the family room that houses the entertainment center. It's in the family room where the good old surround sound can be found. This is the room with the nice speakers that make the house go boom. With the only limit to my devices being my bank account, I don't have great speakers in the other rooms of my house but that's not to say that there isn't great potential for the full media experience.
When we have parties, it's the entertainment center that gets the work out and not being to keen on running wires from my PC to the stereo receiver, there really isn't a convenient way to listen to all of my MP3's on speakers that can actually do them justice. In my search for the perfect bridge between audio source and speaker, I have come across a company by the name of Slim Devices. They are the manufacturers of the popular Squeezebox.
Founded in 2000, Slim Devices has been a manufacturer of high quality, well designed products catering to the home audio enthusiast. In 2001, they came to market with the SlimP3, a hardware device that could stream MP3s via an Ethernet line from a host PC running their free Slim Server software to any electrical component with audio in jacks. As time went on, they added more and more functionality to their product.
The first Squeezebox came out in 2003 and added wireless 802.11b WiFi for those that opted to go with the extra accessory. Now on their third generation of the Squeezebox, the newest box comes with optional 802.11b/g WiFi as well as a redesigned look. Can the Squeezebox deliver an exceptional home audio experience? While having very little experience with the previous versions, I have worked enough with the earlier Squeezebox (rev. 2) that I certainly know what I want.
Coming to us in the retail packaging, the Slim Devices Squeezebox is a reasonably small device which is evident by the size of the box. Colorful and informative, the Squeezebox's marketing team did well to create a box that will stand out on the shelves of any store that carries the product.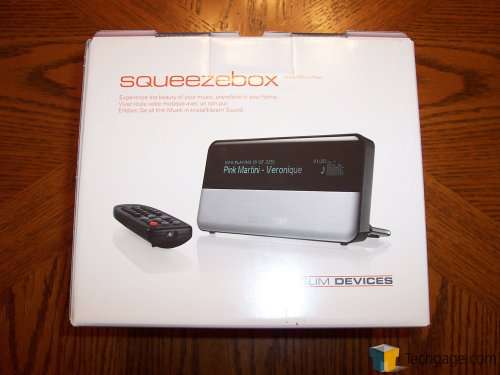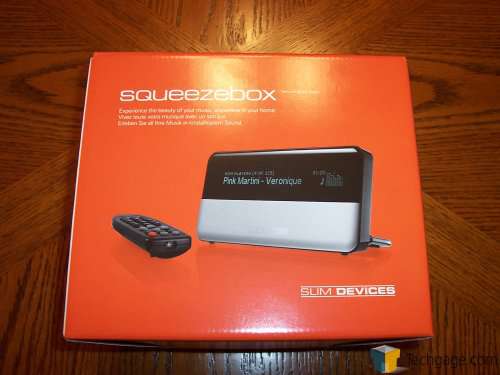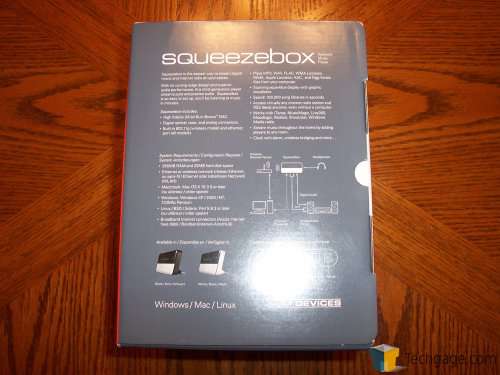 On the side, we see lots of useful information. One thing to notice, and this is sure to make a lot of Anti-Windows users happy is the compatibility with Mac OS and Linux.
Closer Look
Inside the box, we see that the Squeezebox is packaged well and that all of the extra accessories come in a separate small box as to keep them from rattling around during shipping. Surrounded by foam, the Squeezebox is sure to survive almost anything that any of the major shipping companies can throw at it.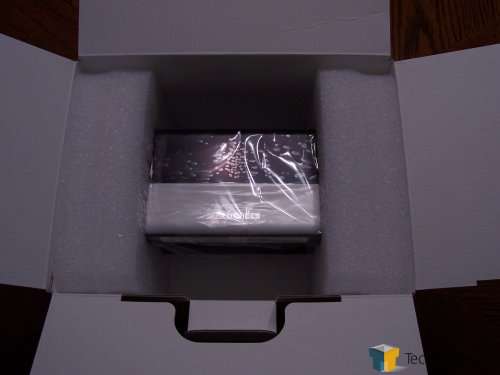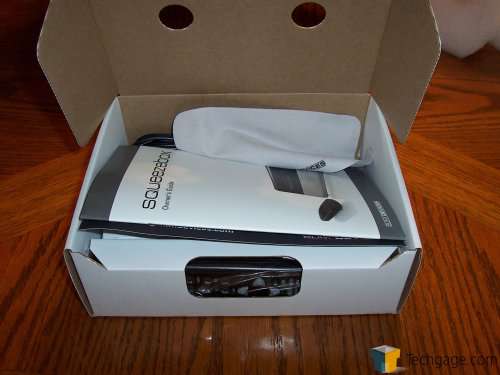 Included in with the product is just enough to get you going. First off, there is a well written manual explaining how to setup your Squeezebox. There is a small cloth to keep your investment clean as well as a power supply, an audio cable (analog RCA L/R), and a set of AAA batteries for the remote.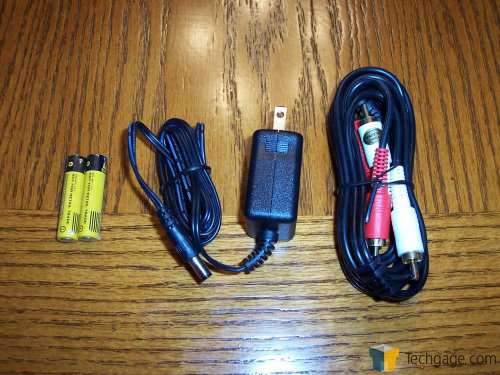 Out of the entire package, the only thing that leaves me a bit empty is the remote. With such a well designed piece of hardware like the Squeezebox, the complimenting remote isn't as elegant in appearance as the Squeezebox itself. Not that this is a terrible thing as the remote does what it should and provides more than enough functionality and control, but with something as nice as the Squeezebox, a little better looking remote would go far with the audio community. On the other side of this though, perhaps the remote allows Slim Devices to curb prices a bit and keep the Squeezebox at a price point just under $300 (US).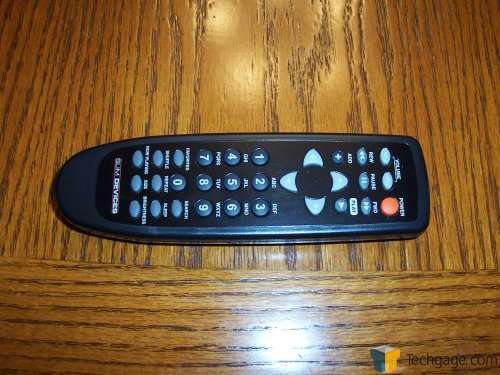 Once opened, the Squeezebox's design team deserves a gold star for making the unit as attractive as possible. With the sleek black on grey look, the unit is sure to stand out in any entertainment center.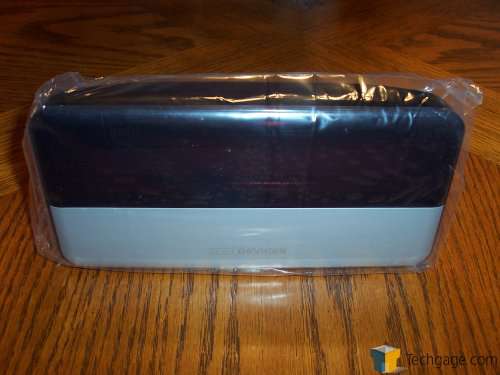 Moving to the back, the design hasn't stopped here. With one large metal bar as a support, it sits at a small angle, facing slightly upward. The back looks good in a very glossy black with all of the connectivity ports at the bottom.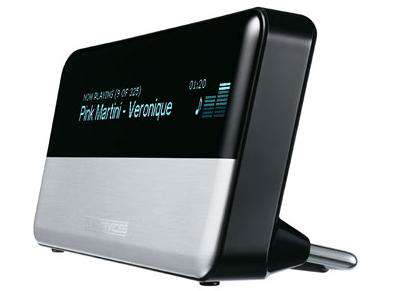 There are a few different options for connectivity. From left to right you have a headphone mini-jack, RCA analog, digital optical, digital coaxial, 10/100 base Ethernet line as well as a power socket. As the following picture suggests, there are a few different ways to connect to the Squeezebox. Either with an Ethernet line or by 802.11 b/g, it will stay connected to the host PC.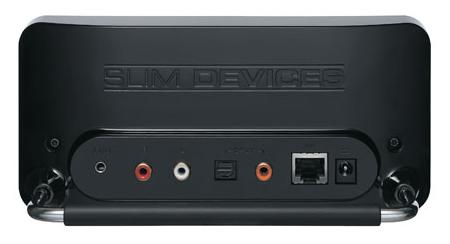 To connect to your home audio input, you can go analog or digital if you so desire. There is even the option to use a set of headphones. This would be ideal with a cordless headset, allowing you to sit is the same room as the Squeezebox but without disturbing anyone else in the house.
Installation, Final Thoughts
To use the Squeezebox, the Slim Server (free to download here) must be installed. Surprisingly not included, it must be installed before you can use the product. Once installed, you will need to direct the software to the folder that houses your stash of music. More on this software later.
To install the Squeezebox, there really isn't anything to do aside from plugging it in to a power source and your audio receiver. Once plugged in, the unit will turn on and wait for you to cycle through the setup using the remote to navigate you though each step. To set it up, you first have to choose how you would like to connect to the host PC.
If you are going the wired route, simply allow DHCP to administer the Squeezebox an IP address and you're off to the races. If you want to connect wirelessly, and if you paid the extra $50 for the wireless version, why wouldn't you, the steps aren't must more difficult. If you can set up a wireless network, installation will be a breeze. The most difficult part, and by difficult I mean annoying, is entering in your WEP key with the remote control. Working the same way that a cellular phone works to text message, the remote is adequate but ultimately slow.
Once connected to the host PC via the Slim Server software, it's smooth sailing from here.
Software
The Slim Server software is pretty straight forward and to the point and is run through your web browser. Using the web interface, the software is robust, allowing you to change almost everything you can think of.
On the home screen, you are presented with many different options. You can browse through your songs, setup internet radio streams, change settings on your Squeezebox or server as well as reference a long list of help guides. On the right side of the screen, you can see the controls for the Squeezebox itself. Shown is the list of songs in the current playlist, as well as various other controls such as play, stop, shuffle, next… etc.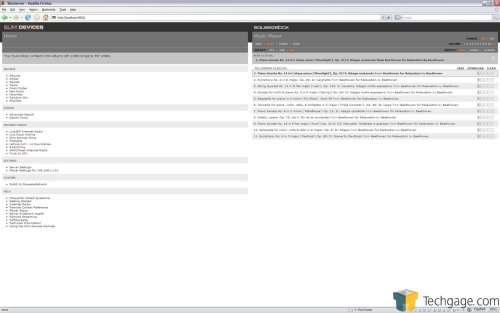 In the server settings screen, we have the ability to configure many different settings. On this screen, we can direct the server where to look for MP3s at, choose a language if you so choose and enable iTunes to work with the Squeezebox. When using iTunes, you can use your personal playlists instead of making new ones. For those of you with iPod's, this is a wonderful thing.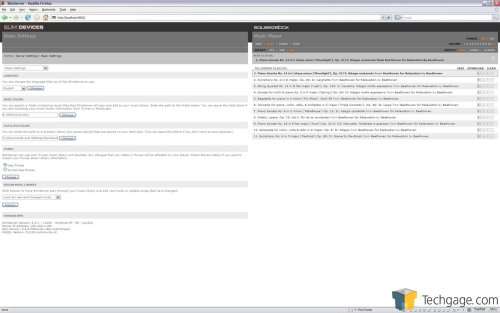 Finally, on the player settings, you have the option to control the screen saver, display format and information as well as give your Squeezebox a name.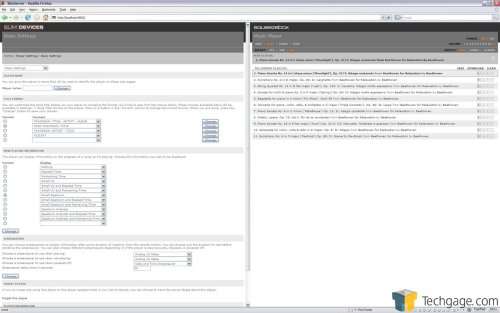 Here is an example of one of the screen savers available.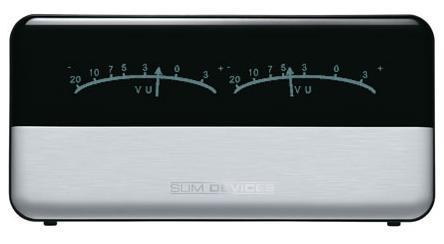 Final Thoughts
To get a good feel of the Squeezebox, I hooked it up to my home stereo and played through a few different genres of songs. I am almost positive that every worthwhile genre was hit and to be honest, the quality of sound was top notch. While I know I am not an audiophile by any stretch of the imagination like our resident audio guy, Tater, I know and respect rich sounding audio.
Setup honestly took 15-20 minutes and the web based interface is a breeze to work through. The range between my PC and the Squeezebox was roughly 20 feet and through 2 walls. The controls were responsive and the time between songs was almost unnoticeable. With the help of a Burr-Brown 24-bit DAC, a very common DAC in many home CD players, the reproduction of sounds was great.
There isn't much more that I can say about the product. The build is quality, as is the sounds that it streams. The ability to stream audio wirelessly isn't a new concept but one that is done extremely will with the Squeezebox. The versatility of the product is amazing as well. With the ability to play MP3, AAC, Ogg Vorbis, MP2, MusePack, WMA, AIFF, WAV, PCM as well as lossless Apple Lossless, FLAC, WMA Lossless, the only thing you virtually will not be able to play is Apple protected files. The software is incredibly easy and the overall appearance of the Squeezebox makes it fit it nicely in any home theater setups.
While blasphemous to the audiophiles out there, I am more concerned with functionality than I am true audio reproduction. This isn't to imply that I do not care about audio quality, but rather, that I care more about how the Squeezebox works. I was happy with the range of the wireless pickup, the quality of the music, the size of the unit, the versatility of the software and of course, the connections.
Having been bought out by Logitech a few months ago, it will be interesting to see if Logitech will continue to allow Slim Devices to research and develop more quality players like the Squeezebox or if it will swallow them whole and use their expertise to better their own products. Regardless of what happens, the Squeezebox is a perfect fit for this editor. I love working with it and I love the added dimension it brings to my living room. The Squeezebox is even something that my family can appreciate and easy enough for them to work it too.
There aren't many pieces of hardware that deserve a perfect score, and we are rather conservative in handing them out as well, but I feel that the Squeezebox is one of those products that just needs to be used by everyone. Ten minutes with the product and you'll be a believer too. Sure there are other audio streaming devices out there but not to many meet the design that Slim Devices managed to create as well as come in under $300 (US).
Pros
Professional look
Versatile Software
Compact
Digital and Analog out
Internet radio ready
iTunes ready
Easy to read screen
Cons
$300 (US) for a wireless version is steep for some
Remote could look a bit better
In the end, the only complaint that I had was that the remote wasn't as nice looking as the rest of the total package. If this is the worst of my concerns, the Squeezebox is sitting pretty. While the price might be a turn off for some, the amount of usability that Slim Devices has been able to cram into their product makes this unit more than worth every single penny. All 30000 of them. The Squeezebox from Slim Devices gets a well deserved 10/10 and this editor's personal choice award.
Discuss in our forums!
If you have a comment you wish to make on this review, feel free to head on into our forums! There is no need to register in order to reply to such threads.

Copyright © 2005-2020 Techgage Networks Inc. - All Rights Reserved.