Smartfish ErgoMotion Wireless Laser Mouse
Date: October 15, 2010
Author(s): Jamie Fletcher

To help combat things such as RSI, companies have long been developing ergonomic peripherals, and for the most part, most of them are predictable. But Smartfish has looked outside the box and developed a mouse like no other we've ever seen, and whether or not that's a good thing… we're here to find out.
---
Introduction
Smartfish is a new company in the ergonomic mouse arena, and probably a company that you have never heard of before. Its latest product under review today is the ErgoMotion Laser Mouse. Nothing immediately screams 'ergonomic', no interchangeable parts, no fancy shapes. It looks like a plain old mouse, until you look at it from the side… then its main feature will become apparent.
When the sample arrived, I was greeted with the bane of all electronic devices… that of the blister pack. Fortunately, it had already been skilfully opened (probably to make sure I received a working sample). It is simple in design and a few pictures will help show you how the mouse works. All that is included is the mouse, the popular nano-receiver, a pair of AA batteries and a very small, easy to read booklet. There are no drivers to install; it is pure plug and play joy.
Once taken out of the packaging, the main selling point becomes clear… the body of the mouse pivots upon a base plate. This is a very interesting concept, and one that some of you may appreciate straight away.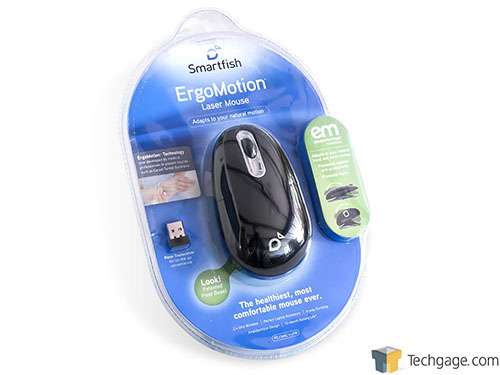 As you move the mouse around, your hand naturally wants to lean into the direction you are moving, the pivoting mechanism allows your hand to effectively float about the surface. For me, the motion was a little strange at first, and I wasn't sure what to make of it, or even how to use it to reduce strain.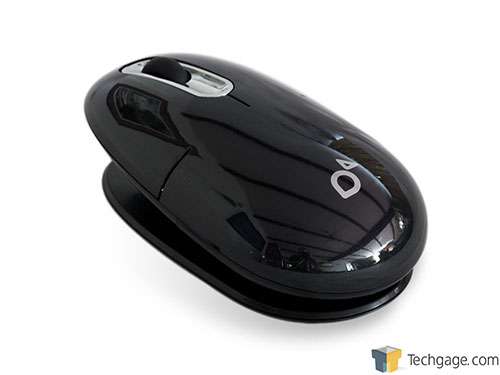 The first few days of use had no real affect; if anything it aggravated the strain in my hand. This can be normal for people adapting to a new mouse design. I use a variety of mice, including a Razer Lachesis and an original Boomslang, a Logitech Trackman trackerball and a Wacom Bamboo Graphics Tablet. The two Razer mice are quite low profile, ambidextrous designs, something I've grown accustomed to over the years.
Why the pain? Probably comes down to not using the mouse properly. I tend to use high DPI settings to minimise hand and arm movement, so my natural inclination is to move the mouse with my hand and fingers, rather than my arm. When the ErgoMotion mouse is used with your arm and locked wrist, the benefit can be noticed immediately.
Testing
The pivot itself provides a certain amount of resistance to movement. It is not loose and will remain in the same position until a small force is applied. The resistance provided could be a bit stiff for some, but when the mouse is used via the arm, rather than fingers, this resistance becomes negligible. The base panel houses the 800DPI laser sensor, which for some may not be enough, but for desktop work, this is more than enough for me.
Batteries are stored in the main body and can provide up to 10 months of life, though under regular use, you are probably going to see 2-3 months, especially if you forget to turn the mouse off at night. Even still, this is impressive battery life. I have been using this mouse for a minimum of 4 hours a day (sometimes up to 8), for 2 weeks and never turned it off over night, yet still works perfectly.
I have not suffered from any interference or strange behaviour, despite a wireless router perched just 8 inches away (both use the 2.4GHz frequency range). The use of AA batteries means easy replacement, but does add to the weight, so those who prefer a lighter mouse, take note.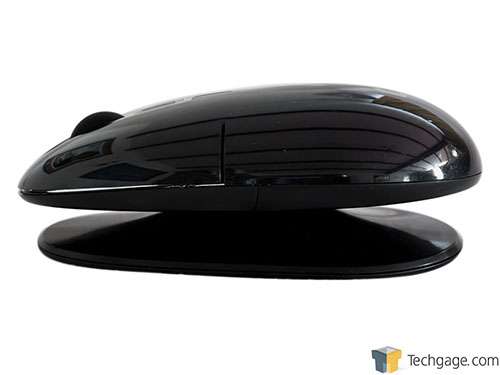 In terms of design, glossy black plastic looks great, but hard to take photos of. Forgive the reflections, it was not my intention to show the inside of my home to the world. This glossy plastic can be a real pain since dust, sweat and grease cling to it, requiring regular cleaning. On the greasy side of things, regular use does mean that your hand and fingers can slip off or become uncomfortable, so just keep a cloth close by and clean it off.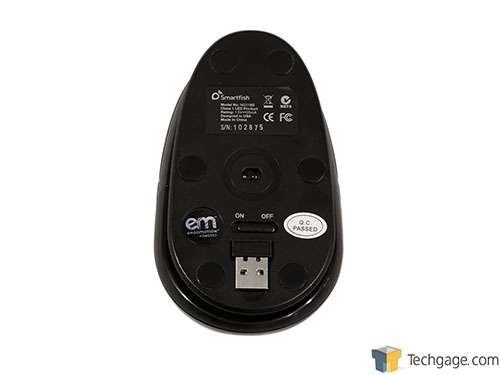 The mouse is ambidextrous with large buttons, a silent scroll wheel and adequate feedback to confirm the scroll. The scroll is 4 way, meaning that it rolls up and down with left and right buttons. This is one of my main quibbles with the device, side scrolling is not too common (at least for me), nor is pushing the wheel to the side easy or comfortable. Being right-handed and pushing the scroll wheel to the right with my middle finger requires a fair amount of effort (not to mention accidental button presses on the right mouse button as I try to grip it). Pushing it to the left is fine, but I'm not going to be scrolling to the left too often.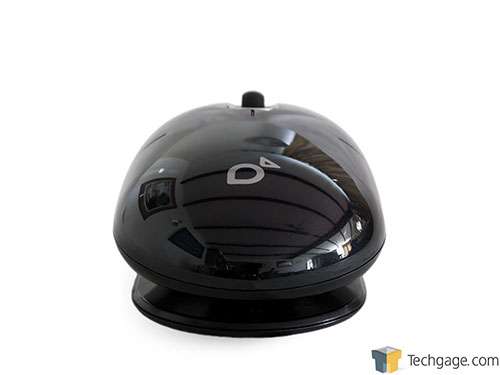 The biggest omission is the lack of buttons 4 and 5, or commonly referred to as the 'back' and 'forward' buttons. If the side scroll could be replaced with these functions instead, or indeed, later versions included the extra buttons, then this would definitely make the device more productive to the user. Firmware can be downloaded from the Smartfish website that adds some extra, but limited functionality to the mouse, though it lacks the ability to assign back and forward actions, nor can it assign actions to the side scroll. Additionally, if you have another mouse and its software installed, this firmware could interfere with your settings.
Final Thoughts
To answer the obvious question, did this mouse relieve any strain or RSI? Yes and no. Just before the first week was over, I was ready to call it a failure, but then I noticed something strange.
My forearm had that warming feeling associated with a workout, and I had no pain from using the mouse for a short while. So I thought I would give it another week before bearing judgement. Two weeks in and I can say that I can feel the benefit, although it has left me feeling the pain when I use other mice for any extended period of time.
Using the mouse for general work, editing and light web browsing is great. The problem is the lack of buttons 4 and 5 for forward and back browsing. Gaming is another thing, and one that's based on style of play. The 800DPI limitation may put off you FPS fans. For strategy and casual games, then this may be perfect, anything that doesn't require twitch reflexes. Using the mouse for quick movements does put added strain on your arm due to the weight and the pivot may reduce accuracy for a while, 'til you get used to it.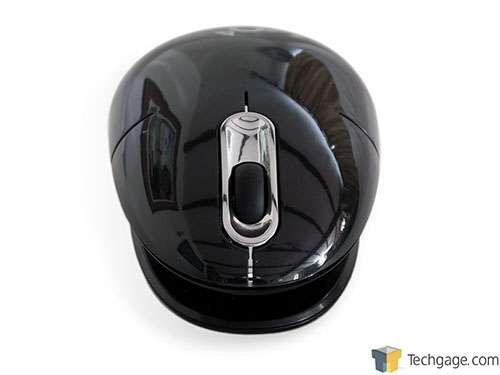 You can buy the ErgoMotion mouse for around $50. This is on the high-end of the RF based wireless laser mice, which normally go for $30-$40, but still acceptable. There is a bit of a learning curve associated with any ergonomic peripheral, but the simple shape and mechanism keeps this time low. The design is certainly unique and its pivot is a key selling point, but I really would have preferred if the company removed the side scroll and changed it for back and forward browsing. Maybe something for the firmware team to add or a new version of the mouse.
If you would like any more information or have any concerns, please let us know and we'll do our best to address them.
Discuss this article in our forums!
Have a comment you wish to make on this article? Recommendations? Criticism? Feel free to head over to our related thread and put your words to our virtual paper! There is no requirement to register in order to respond to these threads, but it sure doesn't hurt!
Copyright © 2005-2019 Techgage Networks Inc. - All Rights Reserved.