Snapdragon Tech Summit: Snapdragon 888 Performance, AI & Camera Deep-dive

Date: December 2, 2020
Author(s): Rob Williams

On day two of its annual Snapdragon Tech Summit, Qualcomm went into great detail about what makes its new Snapdragon 888 alluring. The new SoC offers huge performance improvements, as well as a fleet of new features from camera to gaming to bite into.
---
Snapdragon Tech Summit: Snapdragon Tech Summit: Snapdragon 888 Deep-dive
As anticipated, Qualcomm spent most of day two at its annual Snapdragon Tech Summit talking about the new Snapdragon 888 SoC and its plethora of features. We were provided pretty much all of the information we would have wanted, and only now wait to see what the devices do in the real-world once they actually hit the market.
Qualcomm opened its day two festivities to say that it's all about creating "the premium experiences people deserve", and with the Snapdragon 888, the company isn't just doubling-down, but tripling-down on some features. Those boosts hit the camera, gaming, and of course, AI.
An overarching theme of the day is that Qualcomm is on the path to deliver a mobile SoC that can allow people to use their smartphones for tasks that have only been traditionally relied-upon with high-end hardware – eg: smart TVs or DSLR cameras.
Photo Taking and Video Making
Yesterday, Qualcomm talked about a wildlife photographer that recently shot a documentary on a smartphone, and given the versatility and also the capabilities we're moving towards, we're sure that's going to be a more common story going forward. Few people have 8K displays today, but many future phones will be ready to let us record at that resolution.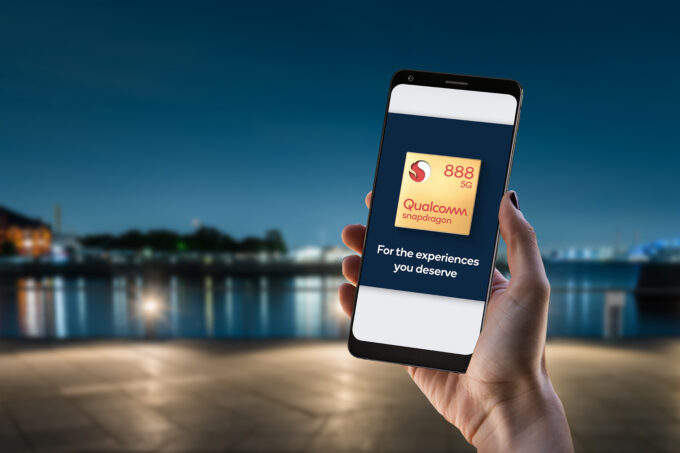 Snapdragon 888 introduces a new Triple ISP design, which iterates on the first Spectra Dual ISP design which debuted five years ago. This new design allows for concurrent capture from three lenses, and also process all three at once. The full capabilities would allow simultaneous 4K capture from three sources – including HDR – or three 28 megapixel photos.
Thanks to these upgrades to Spectra 580, up to 2.7 gigapixels can be captured at once, with support up to 84 megapixel sources at 30 FPS. Also notable is the shift from 8-bit JPEG to 10-bit HEIF, and also the ability to record at 4K/120. That latter feature will become all the more useful going forward as 120Hz screens become more common.
Also new with this Spectra ISP is the ability to let the camera automatically shift between lenses, based on your actions on the screen – rather than force you to choose which camera you want while trying to snap a photo quickly. Being touted also is the fact that the ISP can be useful at capturing images in "near darkness", with as low as 0.1 illuminance (lux).
Big Processing Power On-the-go
There can't be a new Snapdragon release without the talk of gaming, and there was a lot of it at the second day of the Tech Summit. As we covered yesterday, Qualcomm and its partners are well aware that high-FPS gaming is worth going after, so we're hearing a lot about 120 FPS capabilities, something clearly bolstered by mobile esports.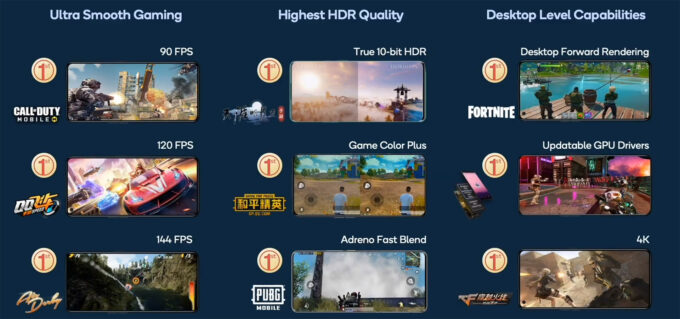 As part of the new Adreno 660 GPU, variable rate shading support has been added, effectively porting a popular feature from desktop (and new console) gaming over to mobile. With it, parts of a scene that won't benefit much from high-fidelity will be reduced, improving performance up to 30%. A good example of a racing game was given; if the right and left side is generally a big blur, then you'll benefit from increased performance, and a crisp view of what you're actually staring at.
Tying into the esports feature set a bit, Qualcomm has also introduced Game Quick Touch, which reduces the latency between a vsync refresh and the game delivering the anticipated frame. Quick Touch reduces the latency between the time you touch the screen to the time the game will recognize an input, something that could prove vital in a really competitive game. The feature is most useful with lower-refresh screens, with a 20% improvement to latency being seen at 60Hz.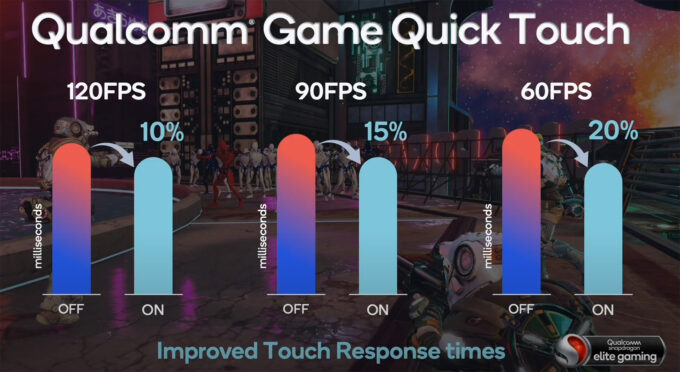 Alongside these new features, the Adreno 660 also boosts performance, by about 35%. It's also said to be 20% more power-efficient, which is always a good thing to hear. One other thing that's worth noting is just how popular mobile gaming has become. One speaker talked of how despite the fact that most people are stuck at home this year, mobile gaming has still managed to increase in popularity by 20% over last year.
Another point that Qualcomm emphasized is that it cares a lot about sustained performance. There have been stories in recent years of how benchmarks don't properly stress a device, and that obviously results in misleading information being relayed to users. Qualcomm claims that its SoC will handle sustained punishment better than the competition, something that is seriously important with gaming, and especially esports gaming.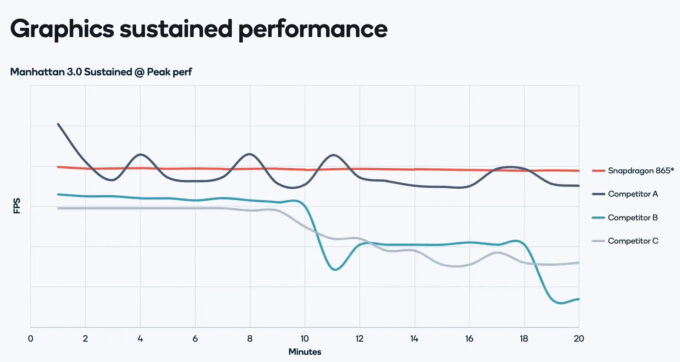 UL recently released an updated version of its 3DMark benchmark to include a more thorough test that lasts for minutes longer than the original bursty one. Coincidentally, Maxon's Cinebench R23 also recently made the same kind of change for CPU testing. It's a good move, so hopefully we see more of it – especially with benchmarks focused on fanless devices.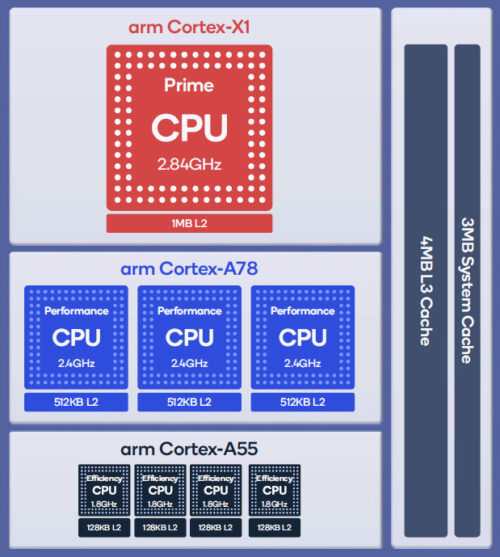 It's not just with the GPU that Qualcomm makes these sustained claims, but also the CPU. To that end, the new Kryo 680 is 25% faster than the previous top-end option, and it's also 25% more power-efficient. Interestingly, it bundles in brand-new Arm architectures: the big performing 2.84GHz Cortex-X1, and three still-fast 2.4GHz Cortex-A78s. These are joined by four 1.8GHz Cortex-A55 cores.
Qualcomm notes a 2.84GHz clock speed for the X1, but that architecture is spec'd for up to 3GHz, so we may very well see some even faster SoCs launch in time.
Snapdragon's AI Gets Smarter
The third area Qualcomm spent quite a bit of time talking about is AI. Its new Hexagon 780 processor integrates a slew of improvements, including a melding of the Tensor, Scalar, and Vector engines to act as one, even going as far as to share the same memory (which is 16x larger than last-gen). Qualcomm promises 3x performance-per-watt improvements, despite a doubling of the Tensor core throughput.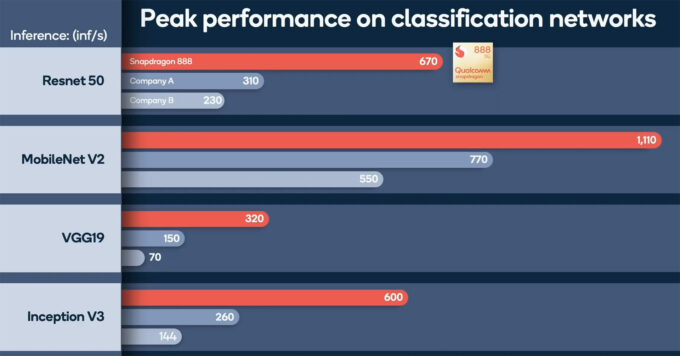 With this AI in hand, and the 26 TOPS performance the 888 offers, solutions will be able to pull off some pretty impressive things. One example given during today's presentation was a person substituting themselves with someone else in a catwalk scene. AI would make it possible to do it on-the-fly, and record the video output at the same time.
AI is one of those things that has limitless uses, and overtime, we're only going to become even more subject to its use. You're surely already using it on a regular basis without even realizing it.
Enhancing Security
While Qualcomm focused on three overarching subjects on its day-two Tech Summit event, security could have resulted in a "quadrupling down" (maybe next time). There are a couple of reasons why security is worth talking about, even if it's not always the most exciting subject.
With Snapdragon 888, Qualcomm is bringing hypervisor support to phones, which would allow multiple OSes to run on the same device simultaneously, or allow individual apps to sit in their own virtualized environment, preventing them from being able to see the rest of the system.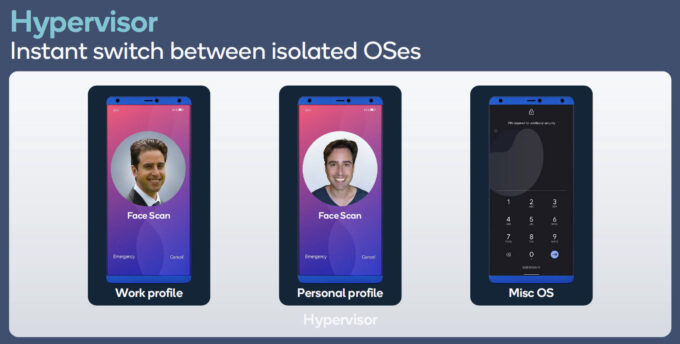 A cool example was given of a work and personal phone, where two OSes would be present on the phone for both needs. Qualcomm made it clear that the hypervisor'd OS doesn't need to be the same. Technically, Microsoft could tune its Arm on Windows for smartphones, and then allow the OS to be natively installable there. Dual-OS phones have been done before, but not this seamlessly. This is one feature we'd like to see take off.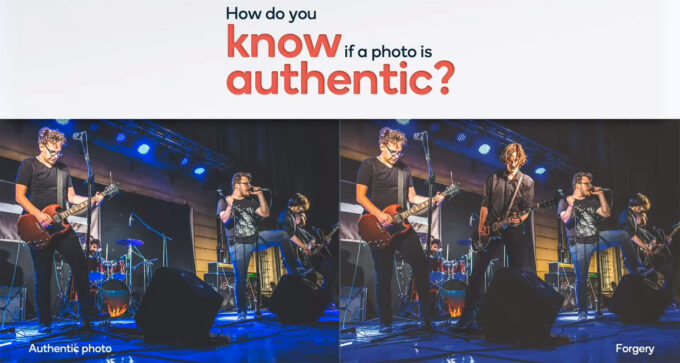 Another really neat security feature Qualcomm talked about at its Tech Summit is photo validation – a way to let the world know that the photo they're looking at is legitimate. This problem is becoming ever-more evident as time goes on, thanks to the speed of AI and accuracy of deep-fakes. We've already seen so much proof of how this can be used for nefarious purposes, so being able to validate a photo has some obvious benefits.
To implement this technology, Qualcomm has teamed up with Truepic, which uses a cryptographic seal to store validation of the pixels, date, time, location, and depth map. All of this leads Qualcomm to be the first with a processor to support CAI – Content Authenticity Initiative. CAI was kickstarted by Adobe, which might know a thing or two about doctored images.
Wrapping Up
As usual, Qualcomm had a ton to talk about at its latest Tech Summit, and despite covering as much as we did between today and yesterday, there is still a lot more we haven't had the time to tackle. We definitely got the most notable goings-on covered, however, and overall, we're looking forward to seeing Snapdragon 888 hit the market, because it really is a big update, and brings forth many cool features that would be fun to test.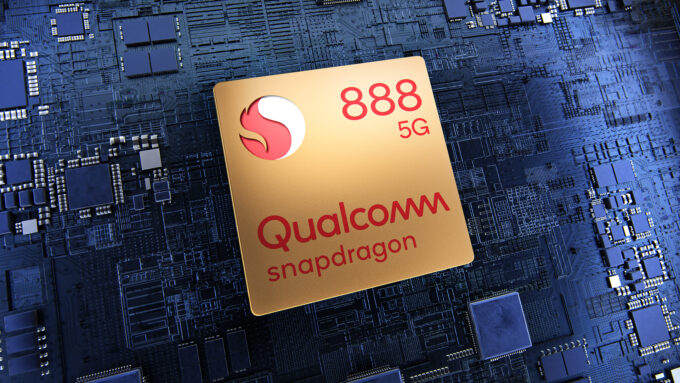 As we covered yesterday, Snapdragon 888 is implied to be the best Qualcomm chip on offer for 5G support, with carrier aggregation well-covered, so connecting to any 5G network worldwide should be as seamless as you'd hope. While we're still waiting for 5G to roll out en masse, technical peaks of throughput performance Snapdragon 888 is capable of is 7.5Gbps download, and 6Gbps upload. It's always fun to see wireless outperform what most of us are still using for our internal networks.
There's a lot to look forward to out of Snapdragon, and with CES right around the corner, we're sure to be learning a lot more about new phones then. It's notable that this Tech Summit didn't mention ACPC (always connected PC) by name too many times, but given how seriously Qualcomm has taken the platform, we'd expect to hear more about that in the months ahead (or even sooner, if we're lucky.)
Copyright © 2005-2021 Techgage Networks Inc. - All Rights Reserved.