PlayStation 4 Pro Review: Is This "4K" Machine Worth An Upgrade?

Date: November 10, 2016
Author(s): Rob Williams

Sleek and black like my morning coffee, a PS4 Pro arrived filling me with more excitement than that bucket of candy you tore through. Recent press touts the console's advancement into 4K and HDR, but is that enough? With a console in-hand, I turn speculation into fact. Let's figure out whether or not the PS4 Pro is right for you.
---
Introduction, Tech Specs & Hardware Tour
When Sony's PS4 Pro was known as "Neo", I had no idea that I'd feel so compelled to write about it after its official unveiling.
While Techgage primarily focuses on mobile and PC hardware, I've been an avid PS fan ever since the launch of the original console.
Despite that, I didn't end up buying a PS4 until last December, but since then, I've put more hours into it than I'd like to admit. That being the case, it wasn't hard to decide to pursue the upgrade.
However, just because that's the case, there is a lot about the PS4 Pro that I don't like. I ranted about the pros and cons after the announcement, and just last week, I detailed the differences between 1080p and 4K, 30 and 60 FPS, and which features which launch titles would support (to the best of my knowledge).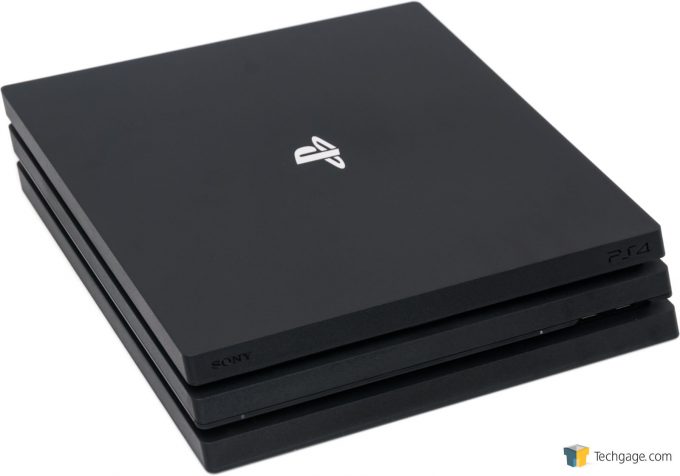 Now it's time to take a real unit for a spin and see if those complaints remain when all is said and done. But first, there are a few things that should be made clear from the get-go: PS4 Pro does not replace the PS4, and all games optimized for it will still be playable on a regular model.
Beyond that, the Pro isn't a revolutionary upgrade, but rather an evolutionary one – its upgrades might not even affect you. Who should consider upgrading are those who want to live on the bleeding-edge and don't mind that the vast majority of the PS4 library doesn't support the faster hardware, at least right now.
So, without further ado, let's take a look at the Pro's tech specs in comparison to the Slim, and then continue on with a hardware tour.
PS4 Pro Tech Specs
The PS4 Pro isn't a major upgrade to the PS4 platform, which for compatibility's sake is a good thing. To make that super-clear: the same exact firmware update file will work on either the PS4 or PS4 Pro. The operating system is also the same. When navigating the OS on a PS4 Pro, there's almost no way to tell that the unit you're using is a Pro; there's no special branding anywhere. The Pro is still a PS4, through and through.
That might make the system seem lackluster, but it won't be when games take advantage of the beefier hardware. And, while it'd be amazing if all current PS4 games would enjoy a free bump in detail, that's not going to happen.
In order for a game to support the Pro, developers need to optimize the game as they see fit and then release a new patch. Like the firmware, these patches would be delivered to all PS4 units, which means owners of original PS4s might get updates that are irrelevant to them – at least for now. All future titles that support PS4 Pro will do so out-of-the-box (or cloud).
On the performance front, the PS4 Pro's CPU is 31% more powerful, and the GPU, 227% more powerful. The memory subsystem has enjoyed a slight overhaul, as well, with 1GB of RAM now dedicated to the OS, and the overall bandwidth increased 24%. All-around, the Pro is a sweet upgrade over the original unit.
PS4 Slim
PS4 Pro
Product code
CPU
GPU
Memory
Storage
Mass
BD/ DVD drive
(read only)
Input/ Output
Networking
Power
Power consumption
Operating Temperature
AV output
Price
I should note that this table includes the PS4 Slim, and not the true original. That's important to note because the Slim features some of the same upgrades that the Pro does, including USB 3.1 ports, ac wireless, and Bluetooth 4.0.
By contrast, the original PS4 had Bluetooth 2.1, n wireless, and 3.0 USB. It's important to note also that while the Pro has a 1TB hard drive, it's still mechanical storage, so load times shouldn't improve much, if at all, despite the move to a modern SATA 3.0 bus.
At the moment, there is only so much I can comment on performance-wise, as I haven't been able to spend a lot of time benchmarking. I am going to follow this article up with a look at performance between the two units, both with the original hard drives and after-market solid-state drives installed – so stay tuned.
A Tour Of The PS4 Pro
With the tech specs covered, it's time to take a tour of the actual hardware. As seen below, the PS4 Pro packaging is standard fare; straight-up boring, in my opinion. A free game can be scored with ease if you're to purchase a Slim unit, but the same can't be said here. This makes me believe that this is targeted more at people wanting to upgrade, rather than at those who don't own a PS4 at all.
Alongside the PS4 Pro in the box is the DualShock 4 controller, an HDMI cable, a micro-USB-to-USB cable, and earbuds for voice chat. As seen in the last shot in the slider above, the DS4 controller included with the Pro is identical to the one included with the regular console – except for the fact that the buttons are a different shade of gray (which is really hard to notice without it being pointed out).
Like the original PS4, this Pro is slanted in the front and back, and has three "tiers", if you want to call it that, versus the two we saw on the original. I am not a fan of this design, but fortunately, it's not what's on the outside that matters in this case.
Whereas the original PS4 had touch buttons, and the pre-Slim model had hard buttons, the Pro has power and eject buttons that are almost invisible: they're located right under the second tier (or lip). Also at the front are dual USB ports.
At the back, more connectivity can be found: power, HDMI, AUX, optical out, USB, and LAN. At the absolute right side of the back is a little slot cover that can be removed (the left side just needs to be pushed in towards the right slightly) to remove and replace the hard drive (with another, or an SSD).
Because comparisons are fun, here's the original (well, first iteration) PS4 and the new PS4 Pro, stacked. The PS4 Pro is a wee bit wider and taller, and about 50% heavier. Because the Pro is spec'd with a much higher power draw, the power port has changed to one that most desktop computers use.
There is not too much else to say about the hardware, except for the fact that if you wish to stand yours up, you'll need to purchase a stand separately. It will secure to the right side of the console via a hole most people will never even notice.
A Look At PS4 Pro-specific Updates & Final Thoughts
As mentioned a couple of times already, the PS4 Pro isn't going to magically improve your games, and if you already own a PS4, you best be prepared to not notice anything different with the OS itself.
What's new is almost entirely tied to the games that can make use of the improved hardware. A notable exception is that with the Pro, you're able to record video at the glorious resolution of 1080p – assuming the game you're playing runs at that resolution (or better).
To give an impression of the differences, I took screenshots with the handful of games I have that support the PS4 Pro, and also the main menu screen, which was more to show the lack of difference there.
Note that all screenshots taken on the PS4 Pro have been resized to 1080p for the sake of not looking ridiculous on the vast majority of monitors. 4K screenshots can be had here:
Note: PS4 images on top; PS4 Pro on bottom.
The PS OS has gone unchanged on the Pro outside of some specific options being added to the menu. The extra resolution hasn't changed the scaling of any UI elements that I could see. These screenshots can attest that if there are changes, they're going to be very difficult to find.
Because non-Pro game screenshots on the Pro save at 4K resolution, I believe that the entire OS is upscaled so that when true 4K content is viewed, no resolution change needs to take place (avoiding a temporary black screen during the transition).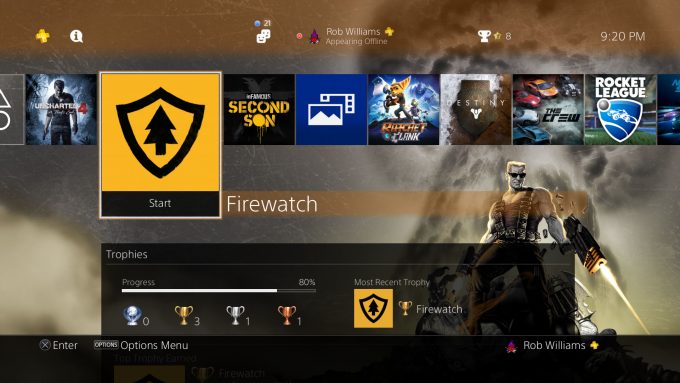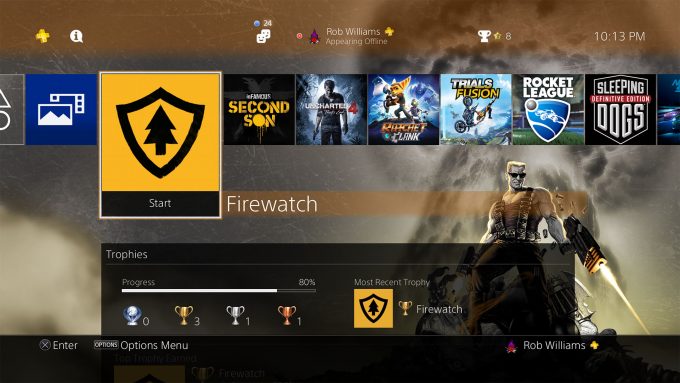 Campo Santo's excellent Firewatch received a PS4 Pro update just in time for the console's launch, and it makes an enormous difference in the level of detail. After looking at the Pro version, the non-Pro version will look downright blurry. Unfortunately, performance hasn't improved at all, and this is a game that really needs some TLC in that area. If you haven't played this gem, check out our review.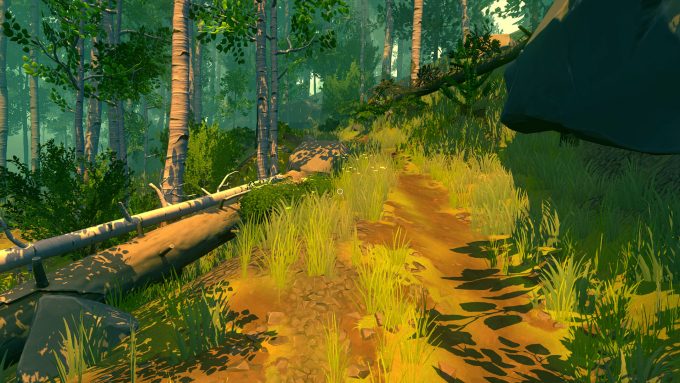 Unfortunately, none of the games I was able to test have deliberate detail improvements, but instead just increase the resolutions to, in effect, mimic anti-aliasing, even on smaller monitors. You can see that improvement in inFAMOUS Second Son quite well: signs are crisper, and so are the textures.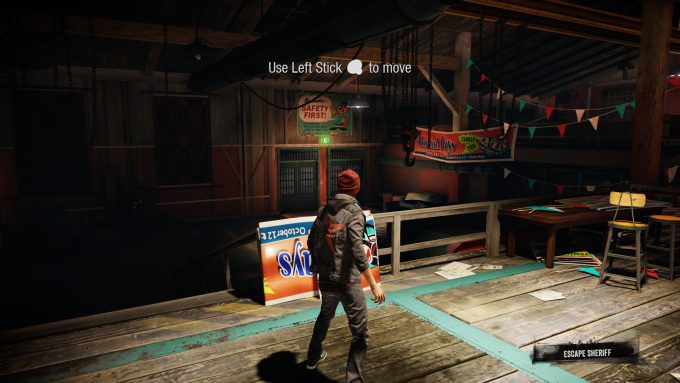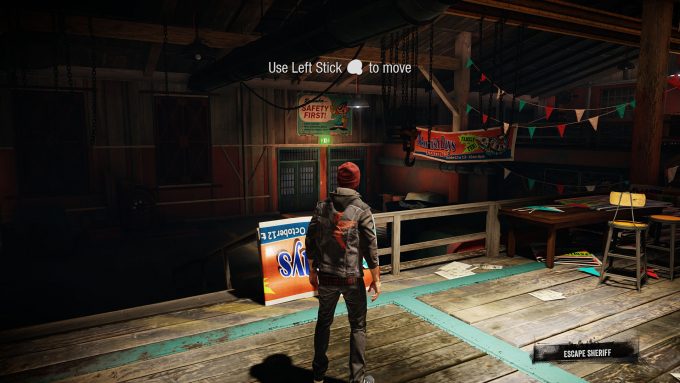 The same applies to Uncharted 4; the increased resolution makes edges seem less blurry on equal-sized displays, thanks to the simple math of compressing 4 times the pixels into the same amount of space.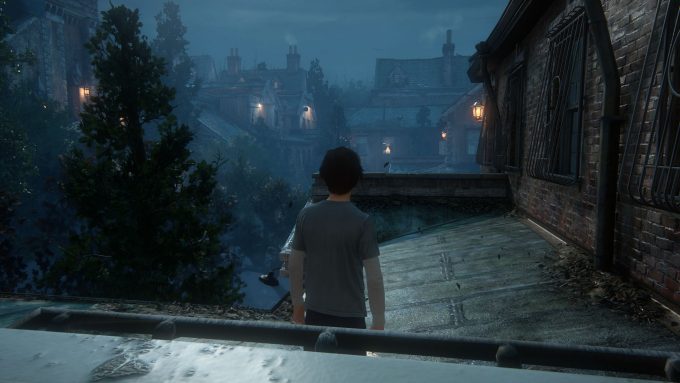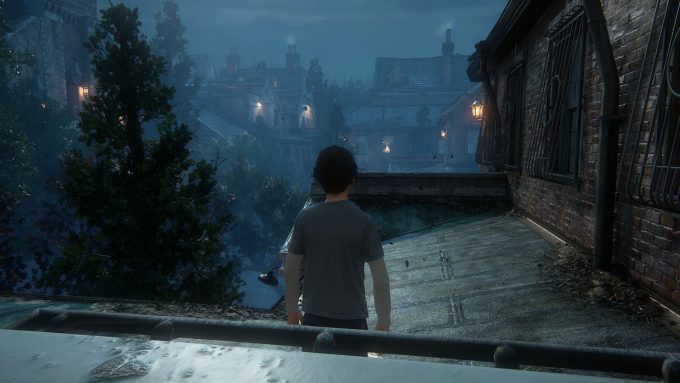 Wrapping things up, Ratchet & Clank backs up the results we've seen so far; the Pro makes things crisper.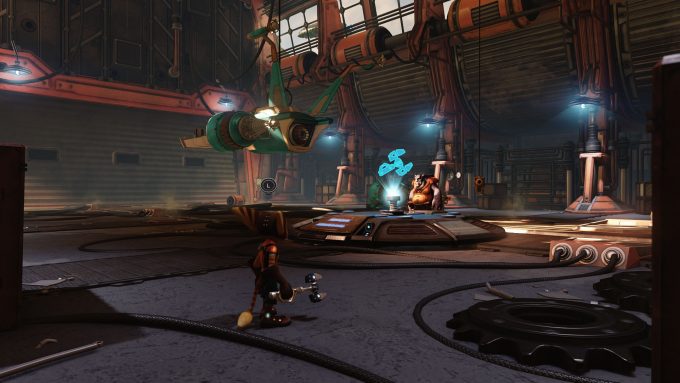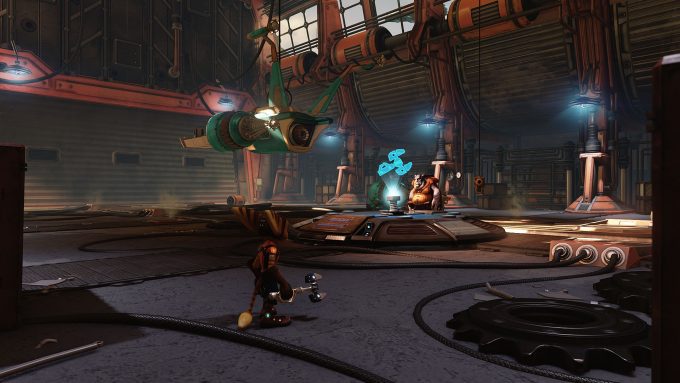 It's unfortunate that these are the best examples I can share right now. It'd be nice if more games were updated for increased image quality over increased resolution, but that's something that could change. And with that said…
Final Thoughts
I've thought a lot about the PS4 Pro ($399.99) since its announcement two months ago, and while I've been quite critical of it leading up to this point, I can honestly say that after giving it a hands-on test… that criticism was warranted.
From the get-go, I hated the fact that Sony was pushing this as a "4K" console, when even high-end gaming PCs can't handle that resolution with ease. As mentioned multiple times, I value 60 FPS over a higher resolution any day of the week, and as evidenced so far, 60 FPS is an afterthought for most developers (refer to the list here). Or, if it's not an afterthought, 60 FPS is still missing from the vast majority of launch PS4 Pro titles.
So what's the Pro upgrade really give us? Well, as seen in the shots above, the biggest advantage is increased crispness. Is that really worth $400? Of course not. Would it be much more worth it if developers actually increased detail levels and / or performance? Absolutely.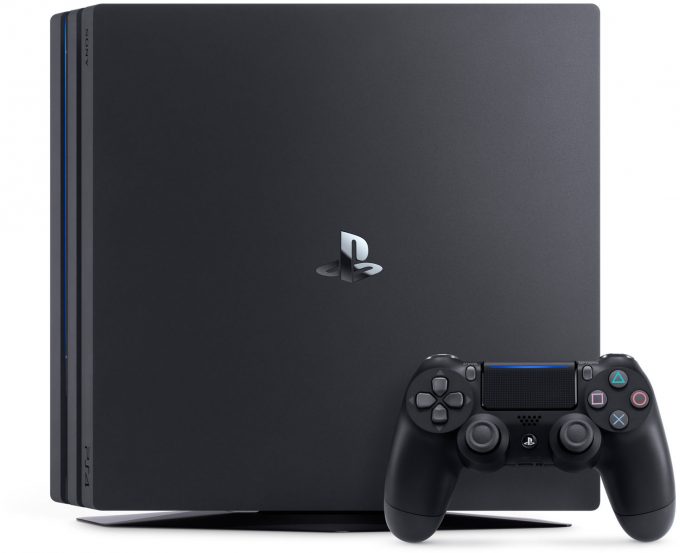 This all said, one thing I should mention is that PS VR owners should benefit more from the Pro than those with 4K TVs, although as I don't own a PS VR, I couldn't conduct that sort of testing. Thus, I regret not being able to get into more specifics about that here. Further, even if you're not a PS VR owner, it could be that you play games that have more worthwhile updates on the Pro; I am limited to what I own.
To me, the Pro simply isn't worth an upgrade based on what I've seen, but to be more accurate: it's not worth an upgrade right now. The current state of things is downright ridiculous, in my opinion, but things should improve.
To counter the negativity a bit: while 60 FPS or increased detail might be rare right now, it's almost no surprise given that most of the updated games have been in development for a while – upgrading them now just isn't something most developers will want to put that much effort into. Things will hopefully change as time goes on, as games just entering the development stage now are built with the Pro architecture in mind.
I hate to be so negative, but I can't recommend an upgrade to the PS4 Pro right now unless you have a specific reason to. I'd recommend everyone else but die-hards, PS VR owners, or first-time PS4 buyers to hold out until that reason comes along.
Pros
The PS4, but faster (+31% CPU; +227% GPU).
Runs quiet in limited testing (more testing will be done soon).
Extra USB port at the back.
Can record gameplay at 1080p.
Hard drive can be replaced with larger one or an SSD.
USB and Wi-Fi upgrades over the original.
Cons
Number of titles supporting Pro features right now is small.
Too much focus on 4K, and not enough on increasing detail levels.
Lack of 60 FPS titles, at least right now.
Nov 10 Addendum: This article originally showed worse detail in Ratchet & Clank on the Pro. This was due to the level not being fully loaded at the time the screenshot was taken. This has been fixed in the review.
Copyright © 2005-2021 Techgage Networks Inc. - All Rights Reserved.