Spire VertiCool II CPU Cooler

Date: May 30, 2006
Author(s): Greg King

Summertime. We can't get enough of it, but our computers absolutely hate it. So, we have another Spire cooler on the test bench, and this one looks promising. However, though it did a good job at what it was sent out to do, the installation hassle really holds back from this being a favorable cooler.
---
Introduction
It's summer. Well, it's almost summer and the weather is getting warmer. With ambient temperatures going up, what can you do to curb those unruly temps?
It's time for a cooler review.
Summer is starting to rear its ugly head here and with it comes heat. I keep my house cool in the summer but the temps are still higher than usual. Times like these are where coolers earn their wings so to speak. We are taking a look at the Spire VertiCool II. The VertiCool II follows in the foot steps of the original VertiCool. The similarities stop at the name. The updated VertiCool utilizes 2 heatpipes that run up through 45 stamped aluminum 'micro-fins.' There is an 80m UV reactive fan to blow across the fins and move the heat away from processor.
We took a look at the Spire KestrelKing V back in October. I reviewed it on my San Diego 3700+ and will use that same processor to put the VertiCool II through the ringer.
Let's get to the review'
The packaging exactly like the KrestrelKing but has the VertiCool. This helps keeps marketing costs down but to some, the generic packaging might be a turn off.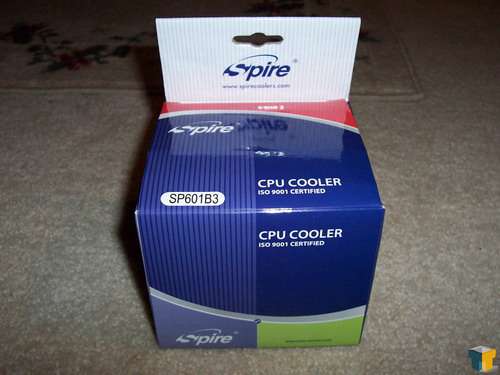 As you can see, the packaging is bland but it does have the model number on it which somewhat helps distinguish it from other Spire coolers.

Once removed from the box, the cooler is sturdy and appears to be well built. You can see the 2 heatpipes running up each side of the cooler, through the aluminum fins.

As you can see in the pictures, the cooler is compact and the fan is sufficiently large enough to push air over the fins.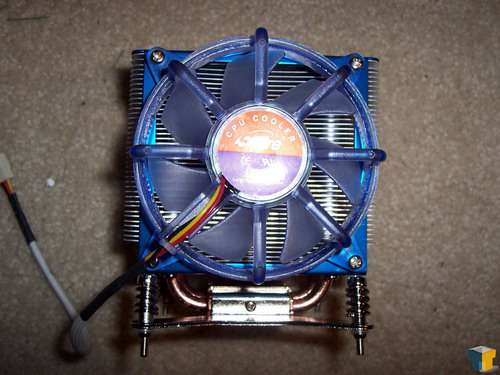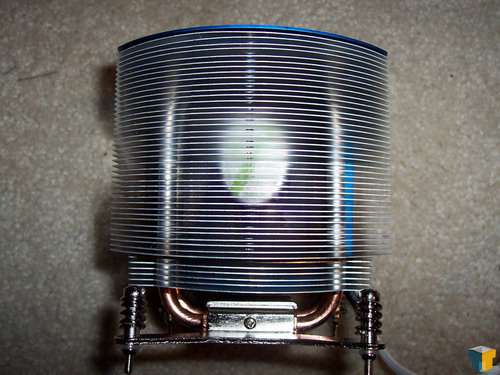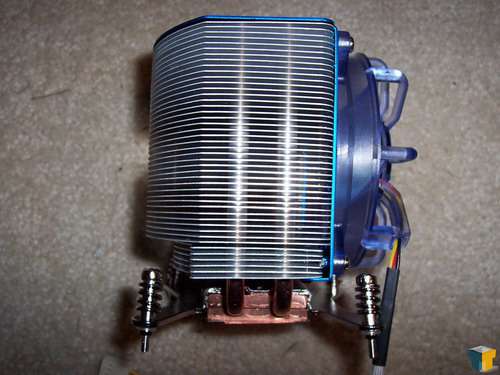 The base of the cooler is 100% copper and the heatpipes are made of copper as well. The finish of the base is smooth with very little trace of machining lines. This smooth surface should provide a nice base for the cooler to make contact with the processor, as can be seen in the following picture.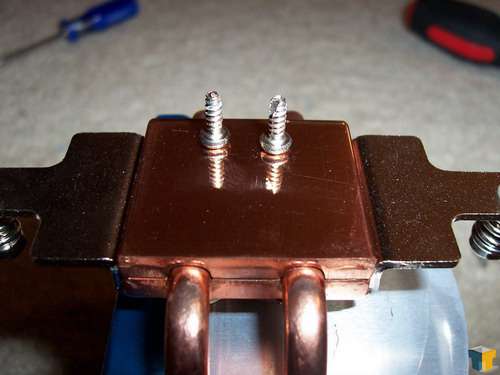 Further Look
Before we get into the meat of the review, let's take a look at the spec sheet provided by Spire themselves.
Technical Specs
Socket 754 / 940 / 775 / 939 Cooling kit
Dimensions Heat sink: 95'65'100 mm (l ' w ' h)
12VDC Fan: 80'80'25 mm

Bearing Ball bearing
Rated speed 2300 RPM +/-10%
Rated power 1.56 W
Noise level 19.0 dBA
Air flow 25.78 CFM at 2,300 RPM
Current 0.13 A
Life hours Ball: 50.000

Features Blue transparent spider fan, 2 heat-pipes, Aluminum Micro-Fin, Copper base
Connector 3 pin, mainboard

Application Intel:
Celeron D ~ 2.93 GHz (340J)
Pentium 4 ~ 3.73 GHz (775 Prescott)
Pentium D ~ 3.4 GHz (775 Dual-Core)
Pentium EE ~ 3.73 GHz (775 Dual-Core)

AMD:
Athlon 64 ~ 4800+ (K8)
Athlon 64 FX-51 (K8)
Athlon 64 FX-53 (K8)
Athlon 64 FX-55 (K8)
Opteron ~ 2.6 (K8)
Sempron ~ 3300+ (K8)

Thermal resistance 0.21 (AMD) & 0.23 (INTEL) 'C/W
On the top of the cooler, there is a nice blue cover with three arrows on the top. This is either for looks or to tell you which way the air is being pushed.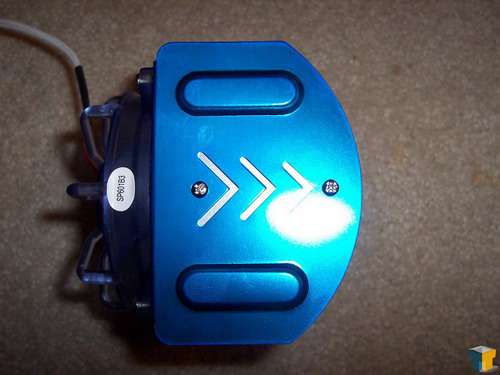 Installation of this cooler can be done on either an Intel processor or an AMD. I am currently running an AMD system so a hardware switch will have to be done. In the following picture, you can see how the socket adapters are interchanged.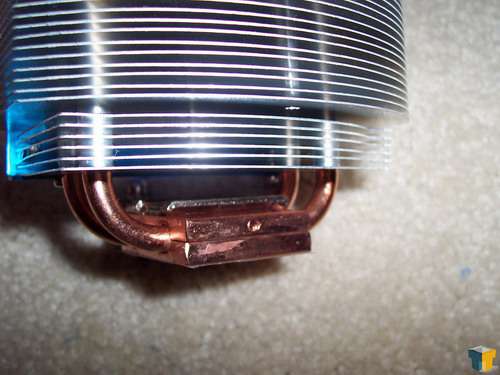 Here you can see the gap in between the copper plate and the aluminum piece there to hold the socket adapter in. You also see a hole. This is there so once you have the adapter in place, you can screw it in place to keep it from coming out.
Once we have the adapters in place, we can install the cooler on the motherboard. To install this cooler, I am keeping the stock DFI back plate on the motherboard and will install the cooler onto it. Before I install this cooler, I would like to take one final look at the cooler and its fan.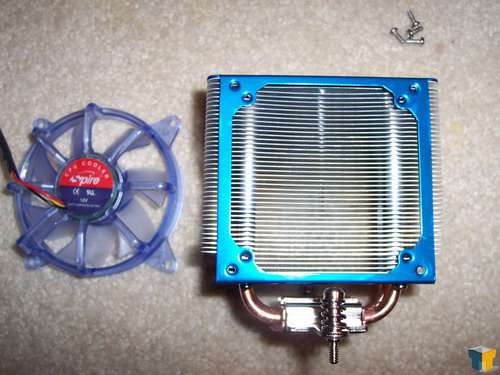 There is one glaring problem that I see right here and it's that I will have to remove the fan before can screw the cooler into the motherboard back plate. This will prove to be a problem but I would like to see if I can get around this somehow. Hey, I know how I can do this; I will cut some plastic up. It's unfortunate that any end user has to modify their cooler to fit their system but thus was the case here and now.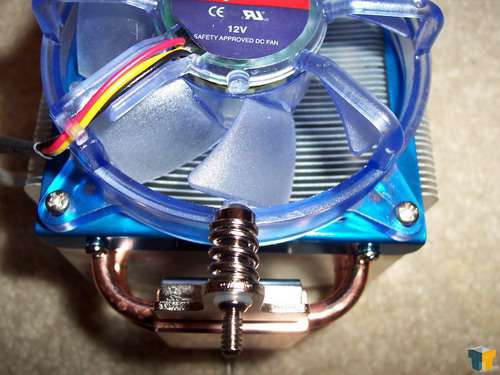 As you can see, I cut the bottom fan guard in order to get the screwdriver into the mounting screw to install this. This is something that no end user should ever have to do.
As you can see, this cooler was designed with dual core processors in mind. It is stated for Intel but AMD dual core processors can also be cooled by the VertiCool II. I do not currently have my dual core processor available to cool so my trusty 3700+ San Diego will have to once again, stand in.
Testing, Conclusion
Before we get into the guts of the review, let's review my test PC. The specs are as follows:
Processor – AMD 3700+ San Diego 1MB L2
Motherboard – DFI LAN Party Ultra – D (SLi mod)
Video Card – eVga 7800 GT x 2
Power Supply – Silverstone ST56F Strider
Memory – OCZ Platinum EB 2x1GB PC4000
Hard Disk – 2 WD Raptor 74 GB (Raid 0) / 2 Seagate 160 GB (Raid 1)
Sound Card – Creative Audigy ZS2
Case ' Antec P180 (Silver)
OS – Windows XP Pro / SP2
It's not a bleeding edge PC by any stretch of the imagination but it serves me well. This is the same. I will record temperatures of the CPU using the ever popular ITE SmartGuardian monitoring program. Idle temps will be recorded under normal usage such as internet browsing or just sitting. Load temps will be recorded while running CPU burn in as well as running a 32 million Pi calculation. This should sufficiently keep the CPU at 100% for some time and this will give us a good example of how the VertiCool II will perform under serious gaming or whatever you do with your PC.
On with the results'
As you can see here, the VertiCool II hangs with the big name coolers and then some. The idle temps were a bit higher than the other coolers but still in an acceptable range. When we look at the load numbers, the Spire continues to hang with the big boys as well. While these are higher, one degree is almost nothing, they are wonderful numbers.
In conclusion, the VertiCool II is a capable cooler for an AMD system. My results were nice to see. There are some negatives to this cooler as well. Some are petty and one is a very big one. My problems with the mounting of the cooler on my motherboard were unforgivable. This cooler appears to have been made for Intel PCs and users using AMD PCs were an afterthought. The fact that I had to physically cut the bottom of the cooler's fan guard is something that no one should have to do when they purchase a cooler.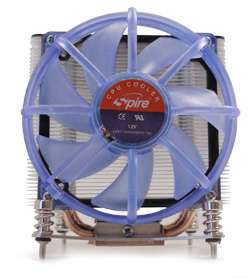 Pros
Quiet
UV reactive fan guard
Effective
Compact
Cons
Fan Guard must be cut to conveniently install this cooler on your motherboard if your motherboard is in the case. If out of the case, the fan must be removed.
Bland packaging
After all is said and done, this cooler is a good cooler. The problems I had with the install of this cooler can be forgiven if Spire takes the time to redesign the fan guard so an AMD user can easily install this cooler. As it stands now though I cannot recommend this cooler to anyone using an AMD cooler. The hassle to either physically alter the fan guard or remove the fan all together is something that the end user should never have to do. With all this said, I am giving this cooler a 6 out of 10 on the Techgage labs scale. Please note though that this cooler is a good performer, but the design of it needs to be tweaked just a bit to make AMD user's installation easier.
Thanks go out to Spire for allowing us to take a look at the VertiCool II cooler. Their support of the PC community and tech sites such as Techgage helps keep sites like us in the position we are in.
Discuss in our forums
If you wish to discuss this review, feel free to jump into our related thread. You do not need to register in order to reply to our content threads.

Copyright © 2005-2019 Techgage Networks Inc. - All Rights Reserved.