SteelPad 5L Gaming Mousepad

Date: June 26, 2006
Author(s): Rob Williams

It's no secret. Gamers depend on a superior mousepad in order to help them play better. So it's no wonder that we see countless options on the market, a few being from SteelPad. The 5L is unique, in a few different ways. Does it's uniqueness work in it's favor?
---
In today's competitive mousepad market, there's a frenzy to come up with unique ideas. More importantly, gamers want an extremely precise experience when they play their favorite games, and manufacturers realize this. There really are countless options when it comes to purchasing a mousepad, and that only makes it more difficult to the consumer. In the end, you want a pad that will not make you regret hauling $40 out of your pocket for.
What's the 5Ls gimmick? The 'L' is for layers. Yup, this mousepad is comprised of 5 separate layers, and that's why it is so unique. The top two layers are a mixture of plastic and cloth that helps add to the strength and durability. I can say, this is one durable pad, so I believe that claim. The middle layer is made of soft rubber, which is used to add a hint of 'softness'. The fourth layer is composed of highly durable plastic, which is really the backbone to the entire pad. Finally, the last layer is probably the most unique. It's made up of soft rubber elements, that look like they were just sprinkled on, like mozzarella on a pizza. They help add some grip, so no time during your hardcore gaming session will it slide off your desk.
Without further ado, here is a collection of snapshots of the pad: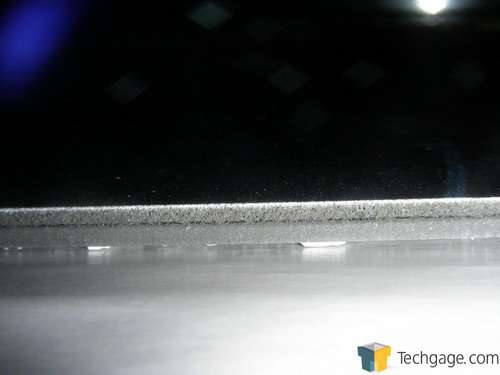 The pad is larger than most, coming in at 14.9″ x 11″. This is not 'large' compared to others on the market, but if you have a small desk like me, it will not fit. I barely can fit my Func 1030 beside my keyboard, let alone the 5L. If you have a larger desk, you will be good to go.
To show how large this pad is compared to the Func, here you go:
May as well show what the MX1000 looks like on it also. I should note that in these pictures, the mousepad almost looks faded. This is due to the flash, and it's certainly not as light colored as in the pictures.
As said previously, the bottom layer is scattered with plastic pieces that add to the extreme grip of the pad, while it's on your desk. It's hard to capture it on camera, but they are actually separate pieces just melted into the bottom. Despite that fact, the pad still remains perfectly flat on the desk.
For the last of the pictures, here is a shot of the side, but a little further away. Here you can see the texture of the top, and the five layers.
Testing the 5L
To test this baby out, I sat back and played some DoD: Source. I have to say, this mousepad feels like a cloud or a real soft cushion. It's extremely comfortable. Really, it is a great mousepad. The only problem I have, is that due to the material, it seems to apply some drag to the cursor, compared to other mousepads. This is good in some ways, because for precision in FPS games, you will have more control. It's the same as decreasing the mouse sensitivity inside your game.
I wasn't too crazy over this, but I can see how some people would enjoy it. I have come to like my Func Archtype quite a bit though, and the difference is clear. The best I can describe it is like using your mouse on a perfectly flat, sturdy cushion. If that sounds like your cup of tea, then this pad is for you.
I am awarding the 5L an 8/10. This is a great pad and full worth the $30 asking price. Pick one up, and at the next LAN party you can mock people. "How many layers does YOUR mousepad have?"
Discuss in our forums!
If you have a comment you wish to make on this review, feel free to head on into our forums! There is no need to register in order to reply to such threads.

Copyright © 2005-2020 Techgage Networks Inc. - All Rights Reserved.