SteelSeries Arctis Pro Wireless Review: The Alpha And Omega For Gaming Heaphones?

Date: February 28, 2019
Author(s): Tom Roeder

Choosing headphones is a personal experience. With the exception of your mouse and keyboard, headphones are a peripheral you will physically touch, or wear, more than any other part of your gaming PC. But in this age of wireless being king, has it really improved? Is it ready for prime time online gaming? Spoiler alert: this ain't your father's Bluetooth headset.
---
SteelSeries Arctis Pro Wireless Review
Let's face it, everyone wants wireless.
No one likes being tethered by wires that get tangled, get caught on things, and yank the headphones right off your head, which then fall onto your desk and knock your beer over into your keyboard, etc.
However, as anyone who has used Bluetooth before knows, that tech is not without its own major limitations.
For me personally, I am willing to live with the limitations that are often synonymous with using wireless, which include lower audio fidelity, battery life, interference, poor range, connection issues, and so on.
For some, these limitations are unforgivable, so back to wires they go, and who can really blame them?
Headphones have really become a necessity for gaming, superseded only by the need for a microphone.  Gaming has really shifted to be more online, multiplayer centric. This need for headphones raises other issues, though, such as wireless vs wired, and integrated mic vs separate mic.
Depending on your school of thought, you may be staunchly on one side, unwilling to compromise even a little.  The SteelSeries Arctis Pro Wireless is taking a step towards bridging the chasm between the convenience of wireless, whilst offering ultra-low latency, interference-free, good range and battery life that has been the bane of using wireless for intense, competitive online gaming.
The Arctis Pro themselves have a very sleek and simple aesthetic, which seems to be rare nowadays in the gaming community – thankfully, there is no RBG to be found on the SteelSeries Arctis Pro Wireless!
The Pro Wireless has a woven ski goggle fabric suspension-style headband.  The entire headband chassis is made from lightweight steel and aluminum alloy components.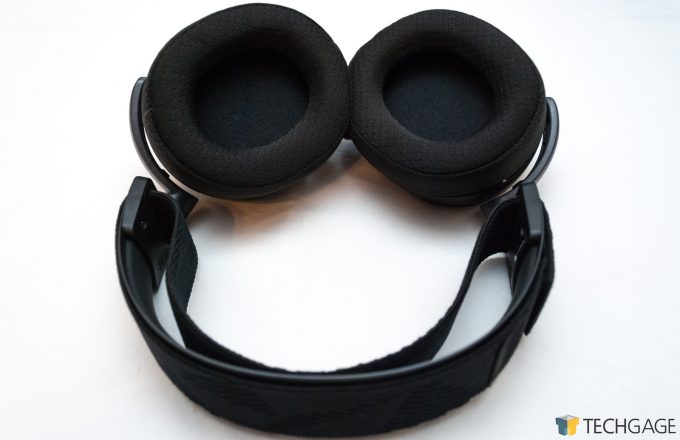 Control array:  On the left earcup, we find towards the bottom a mic mute push button, a rotary volume knob, mobile audio cable jack, 3.5mm headphone jack, and a micro-USB charging port.  On the right we find the power button, and a button to independently control Bluetooth function.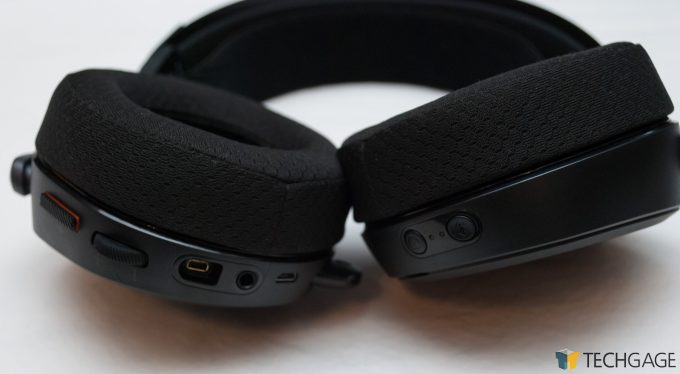 The earcups are a very thick, plush material that SteelSeries states is "athletics-inspired Airweave fabric".
The retractable boom is on the left, which SteelSeries claims is "widely recognized as the best mic in gaming"  a ClearCast bi directional mic, which is also Discord Certified. Included in the accessories is a foam filter that slips on over the mic if you are so inclined.  In case you were wondering what Discord Certification consists of, here is a link to explain it.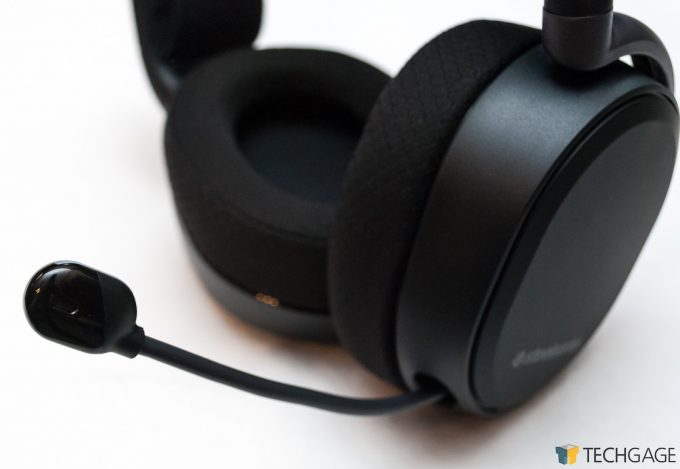 The transmitter base station is just over 4 inches square, and about 1.25 inches tall, about the size of an Apple TV or Roku device, and has a black and white OLED display (.75 inches x 1.25 inches) that blends seamlessly into the front bezel of the device.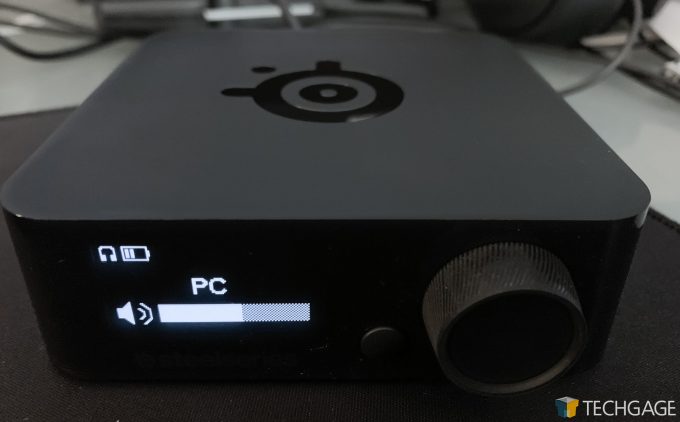 There is a large rotary knob on the right side, and a small button just to the left of that, both for interacting with the device.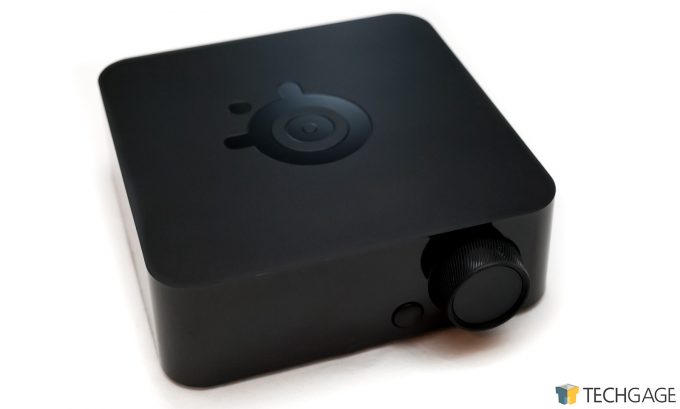 On the back of the transmitter base station we find from left to right a 3.5mm line in and line out, an optional DC power input, a mini-USB input, followed by two optical cable ports, one for in and one for out.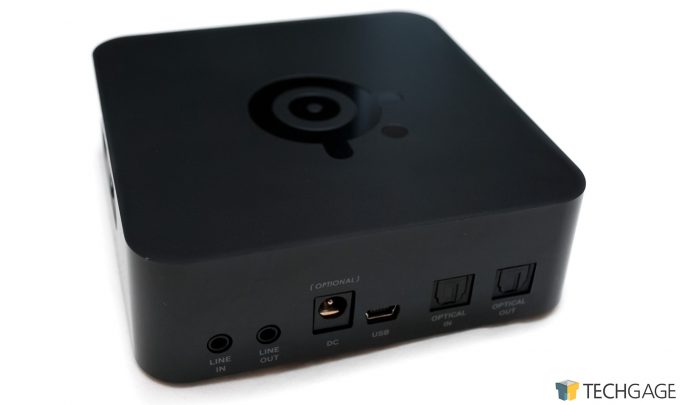 On the right hand side of the transmitter base station, we find a rectangular slot, which is used to charge the spare battery.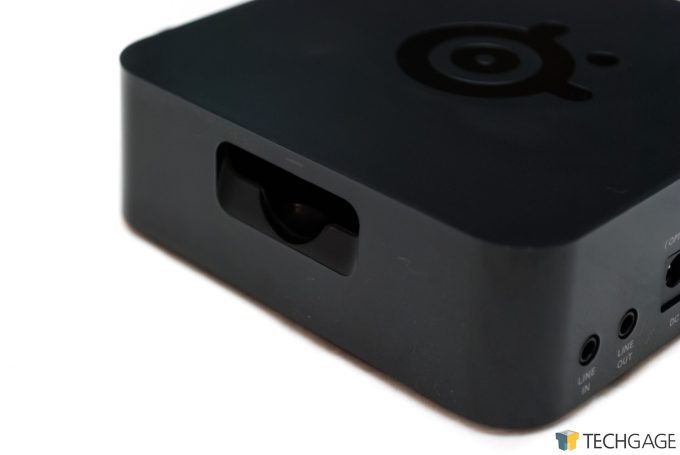 In the included accessory kit, we find a myriad of cable choices, as well as the spare battery and foam cover for the mic boom, for those of us that need to "say it, don't spray it".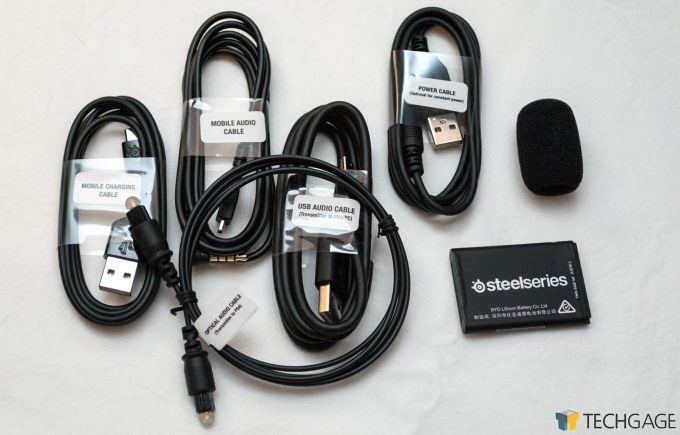 On the next (and final) page, I'll talk usage, caveats, and wrap things up.

Usage And Final Thoughts

Getting the headphones paired was very quick and easy, via Bluetooth and 2.4 GHz.  I was able to connect the Pro Wireless easily without consulting any of the documentation that was included.  If you have ever used a pair of Bluetooth headphones before, you won't have any trouble getting started.

Judging audio fidelity is always a little tricky, as everyone has their own tastes and expectations.  Some people are bass-heads, while some are looking for unaltered reference headphones. I consider my tastes more well-rounded, as I have vast range when it comes to musical taste.

When it comes to audio fidelity on the SteelSeries Arctis Pro Wireless, I give them very high marks for sound – they really do sound great.  The Pro Wireless have a very balanced tone, leaning neither on the bass or highs, a very nice symmetry across the spectrum, really superb.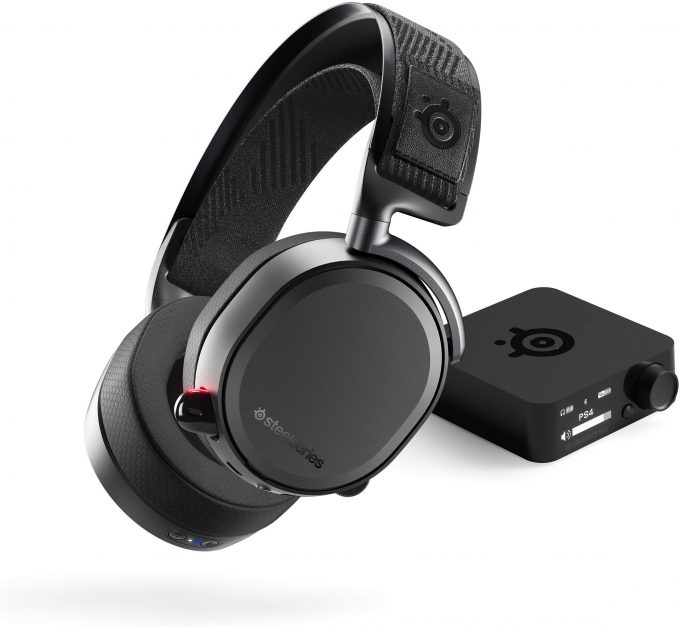 Wearing the headphones leaves a little to be desired.  The headphones are nice and light, and the earcups are very soft, covered with that great Airweave material, but my fellow large-headed guys take note:  they don't have a great range for larger sizes.
I have a pretty good-sized head, and I was able to adjust the strap out as far as it would go and make them work, but I still would like to have had more room for adjustment.  Don't get me wrong, they do fit, but I would like to have some more room.
I've worn loads of headphones in almost every style of headband, and I don't recall ever feeling like I didn't get enough adjustment like I do on the Arctis Pro Wireless.  Not a deal breaker, but something worth considering if you are among us cranially gifted. One other thing worth mentioning, these don't fold up much at all, so if you intend to travel with them, keep in mind they don't have a small footprint.
This headset comes with two wireless options – Bluetooth 4.1 and and 2.4 GHz through the transmitter base station.  The performance between the two yielded no discernible (to me) difference in audio fidelity, but I did notice a slightly faster and more reliable connection when using the 2.4 GHz via the transmitter base station.  Range was also a bit better through the 2.4 GHz transmitter base station. I was able to move all around my house without a single drop, something that is not possible for me using Bluetooth 4.1. There doesn't seem to be a notable difference between Bluetooth and 2.4 GHz for battery-life, but based on other wireless peripherals we've tested, the 2.4GHz mode will likely drain the battery a bit quicker.
Battery life is spec'd at 20 hours total – 10 hours per battery.  My testing found this to be the case when listening at moderate sound levels.  The ability to have a spare battery standing by at a moment's notice is really nice.  One thing I did notice is there is no hot swap. If you pop out the battery, the headphones go down; there is no power reserve which would enable you to remain up during a swap.  This isn't a deal-breaker, but the technology is definitely here, so maybe in the next revision?
The connectivity of these headphones is unlike anything I have ever seen.  The options you have are absolutely amazing, I am truly impressed. On the box of the SteelSeries Arctis Pro Wireless, it advertises PC and PS4, but with the connectivity options being what they are, you could connect these headphones to just about anything on the planet.
With the mic boom extended, you get a visual indicator that you are muted, a red LED in the mic, which is truly fantastic.  I thought I wouldn't care for the light, but it quickly earned its way into my heart, and you can't even see it once the boom is retracted.  To unmute, there is a long flat button on the left can. This button is very sensitive, however; just touching it will toggle it. I would like to see a stiffer button or one that doesn't register until a near full press is registered.
Also on the left side of the headphones is the volume wheel.  The placement of these controls leaves something to be desired, you really have to learn to adjust your grip when taking these headphones off your head.  It is too easy to bump the mute button, or the volume wheel when taking these off. I would much rather see these buttons relocated to the side of the can, where your hands don't usually go when putting on or taking off headphones.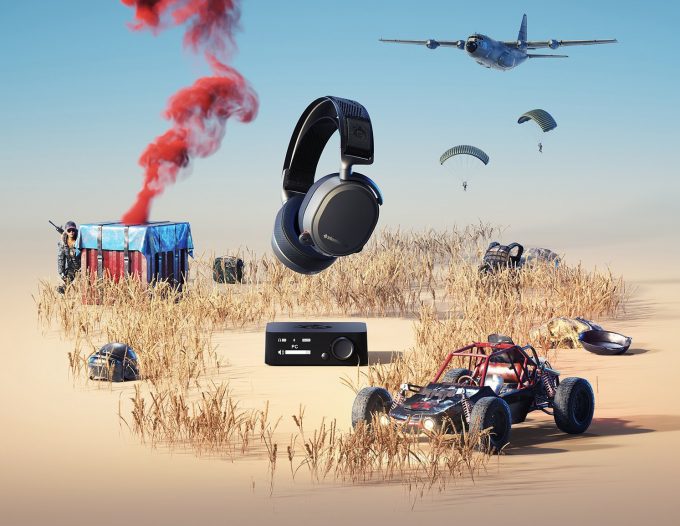 The Arctis Pro Wireless has companion software you can download, which offers configuration options such as toggling the 7.1 Surround, equalizer settings, and profiles you can create and auto assign to games you have installed.  The UI is clean and intuitive, simple and easy to use.
In closing, I really do like the SteelSeries Arctis Pro Wireless.  I know that I gave some definite criticisms, but at this price point of $329 USD, I had to be thorough and make sure you were aware of even the slightest things that I didn't care for, even if they are things that may not bother you personally.
I think that this Arctis headset offers a lot of value in how customizable they are with the companion software, the audio fidelity, and the connectivity.  The connectivity makes these probably the most versatile headphones I have ever reviewed.
Pros
They sound great – really, really great.
The boom mic is retractable so it won't get in the way.
The boom mic sounds fantastic and does a great job with background noise.
Setup is very easy.
Cons
They're expensive ($329).
People with larger heads may not find them as comfortable.
No hot-swap on the battery (not a major con really).
Copyright © 2005-2019 Techgage Networks Inc. - All Rights Reserved.