SteelSeries Sensei Pro-Grade Gaming Mouse Review

Date: October 3, 2011
Author(s): Rob Williams

SteelSeries takes gaming seriously, as evidenced by its high-end Xai mouse released two years ago. Developed with the help of pro gamers, the Xai boasted high-end specs, unique features and looked good. The Sensei is the Xai's replacement, and with it comes even beefier specs, a CPU under the hood, and interesting aesthetics.
---
Introduction
A term some companies love to overuse is, "A class of its own", but in the case of SteelSeries' Sensei, it'd be appropriate. This isn't an ordinary gaming mouse – not even close. When was the last time you had to study up on features your mouse offered? For me, the Sensei becomes the first.
While "A class of its own" might work here, SteelSeries makes sure that no one ever uses the term "overkill", because while the Sensei does have an enormous collection of features, the company has its reasons behind each one. That's backed up by the fact that it wasn't only SteelSeries who developed this mouse, but also a collection of the world's best gamers.
Competitive gaming is an arena SteelSeries entered itself into early, long before it became as popular as breathing. With the Sensei, the company enlisted the help of at least 20 of the world's best gamers, who play such games as Counter-Strike, Defence of the Ancients, Heroes of Newerth, StarCraft II, Warcraft III and League of Legends. This isn't a mouse set out to appeal to one sort of gamer, but all types of gamers, regardless of their preferred genre.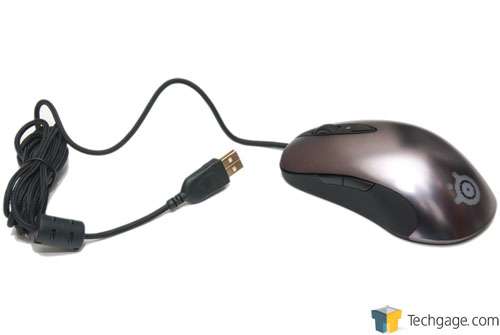 I'm a proud PC gamer, but there's one thing I'm not: a good PC gamer. My ass being handed to me is pretty-well the only sort of action I see while playing competitively – but none of the matters. Professional or not, the Sensei is designed to cater to your needs, whatever they may be. Comfort and accuracy is something all gamers should be able to agree with.
Though the Sensei has just seen its release, not all of its features are unique. Rather, the mouse to bring most of this to the table originally was the Xai, a since discontinued award-winning model that delivered ultra-clean aesthetics and proven pro-gamer features.
Despite the fact that I have reviewed a fair number of gaming mice in the past, some that I've come to love, it never takes long before a family member or friend spots it and I cave into myself and offer it to them. This is not going to become the fate of the Sensei. This one stays – even if I have to bolt it down (that'd make for interesting usage).
A good friend of mine recommended the Xai to me on multiple occasions, as it became his favorite gaming mouse due to its comfort and feature set. Seeing as the Sensei is meant to be the same sort of mouse, just with even more features, I knew I couldn't wait any longer.
For the most part, the differences between the Xai and the Sensei are few, with the latter model having beefier specs overall – especially where CPI is concerned. It also has a new finish, a titanium look but plastic feel. The Sensei also brings something that SteelSeries itself in the past mocked other manufacturers for… lights. Hypocritical or not, lights can be attractive, and for those who don't want them, they can be disabled.
As the Sensei offers a lot of functionality – much more than most people will need, I'll run through the biggest features in rapid succession. For those wanting to dig deeper, the official product page has more details.
Features
When the Sensei was first announced, the most interesting feature was the fact that it had a real CPU under the hood. That CPU is an ARM 32-bit offering, and according to SteelSeries, at 75MHz it's as fast as the original Intel Pentium 75MHz, released in 1994. That in itself doesn't impress me – after all, smartphones today are faster than computers of just a few years ago. What's impressive is that a CPU like this is in a gaming mouse. Overkill? SteelSeries doesn't think so.
In its words: This reference may sound like overkill, but it's this type of power that allows us to do sophisticated calculations directly on the mouse – without the need for software drivers and without having to rely on the user's computer.
For normal mouse use, the CPU might not do much at all. It might be part of the reason a super-high CPI level can be used, but the biggest benefit will be seen with the small LED menu screen on the mouse's belly. On the Xai, a lack of a real CPU resulted in slower operation of said menu, while on the Sensei, it's about as fluid as it can get.
The Sensei is designed to cater to gamers of all stripes, and for that reason it's ambidextrous. As someone who never liked most other ambidextrous mice in the past, this worried me, but SteelSeries has done a masterful job with the design here. The Sensei doesn't quite contour to the shape of your hand, but it still manages to become one of the most comfortable mice I've ever used.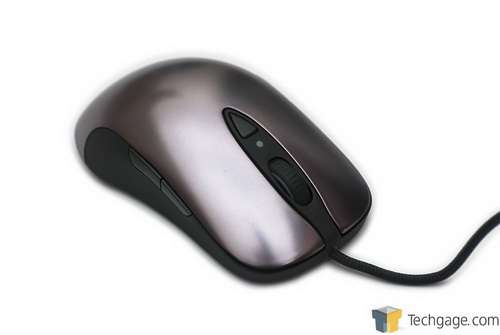 In terms of buttons, the mouse has two thumb buttons on either side, a CPI-change button, a scroll wheel that can be clicked, and of course, the left and right mouse buttons. By default, the left thumb buttons act as a forward/back, while the ones on the right control the Windows volume. All buttons can be reconfigured for other purposes, as expected.
As more and more gamers are moving to multi-monitor setups, higher CPI (or DPI) levels are beginning to see a real use, and for that reason the Sensei has a range of 1 – 11,400 CPI. Yes, I said "1". In the spirit of absolute accuracy, you're able to configure the CPI level with increments of 1. That's hardcore. At 11,400 CPI, I can go move my cursor from one edge of my 1920×1200 monitor to the other by moving the mouse just over half an inch on the mousepad.
Something that sets both the Xai and Sensei apart is the LCD screen on the bottom that can be used to display a logo and configure settings. As it's hard to photograph, I am opting to just use a stock photo here to show the screen in action, since it's an accurate representation: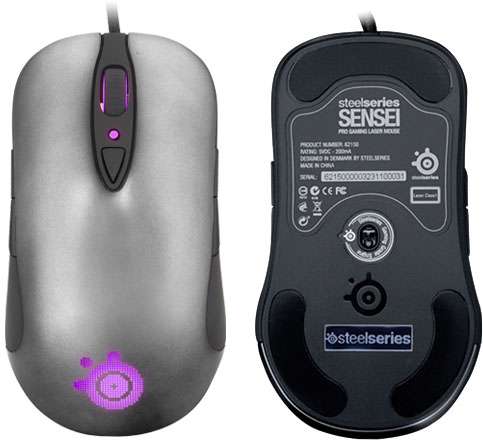 This black and white LCD is 128×32 in resolution and accepts BMPs for replacing the default SteelSeries logo. In our testing, simple logos featuring a flat shape and single color look fine. The 3D "T" in our logo didn't come through well at all, but the "Techgage" portion did. SteelSeries has a good example of a logo that's both simple but still good-looking.
To use the mouse's built-in menu on this screen, the CPI button has to be held down for 4 or 5 seconds and then let go. Then, the mouse wheel can be used to scroll through the options, while clicking it will apply the chosen setting. Clicking the CPI button again will act as a "back" in the menu, and after pushing it a couple of times, you'll be back at your logo, with the settings applied.
In the software, you have the ability to drag and drop profiles back and forth. However, I never was able to copy an edited profile off the mouse and put it back on the PC, as each time I'd be greeted with the error "Mouse profile data download failed". I was however able to alter profiles on the PC and copy them over to the mouse afterwards.
In the software, you will have the ability to drag and drop profiles back and forth from the PC to the mouse, although I never managed to save settings on the mouse and then have them be retained when I opened up the SteelSeries software.
Speaking of software, most of the other features the Sensei offers are tied to it, so let's tackle that next.
Software
The Sensei is a mouse that's meant to be used with or without its Windows software – that's up to the user. However, the software gives far more flexibility than the mouse menu alone (and well, it's far more sane than looking at a 128×32 screen). Our mouse didn't include the software (which could be due to it being an earlier sample), so we grabbed the latest version off of SteelSeries' website.
Most mouse software I've worked with has been horrible in almost all respects. It's either been hard to use, gaudy – or both. SteelSeries' software is neither of those. It looks great and is simple to understand. The one caveat is that you will lose your cursor for a moment whenever applying a new setting. This becomes rather frustrating after a long tweaking session.
The first tab in the software is for the button configuration. Most of this will be left default for most gamers, but the two right thumb buttons have the odd default action of acting as volume change. In this state, they cannot be configured inside of a game. For that, each button will need to be configured as a macro – even if it's just a simple function.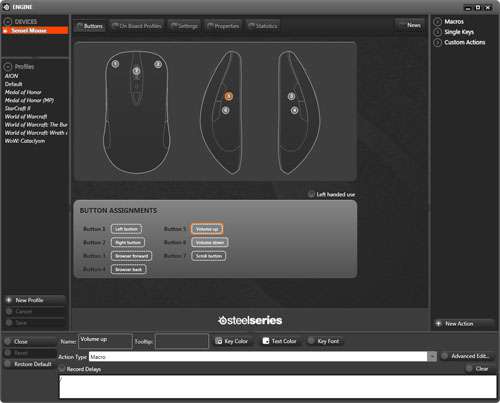 In essence, in doing this you will be applying regular keyboard keys to each button. For one of mine, I used "/" since I never use that button in any game. This way, you can tie functions to that button inside of a game and use it on the mouse. It also means that if you are in a text editor, hitting these buttons will type whatever key they are tied to. Case in point: /–/-//-/. That was all the Sensei.
This design is clunky, because I expected to be able to use those thumb buttons out-of-the-box. This is a gaming mouse, after all… not a "media mouse".
Next up is the "On Board Profiles". Here, the profiles stored on the PC can be dragged over to the mouse, and vice versa. Though as mentioned earlier, I didn't personally have luck with the latter.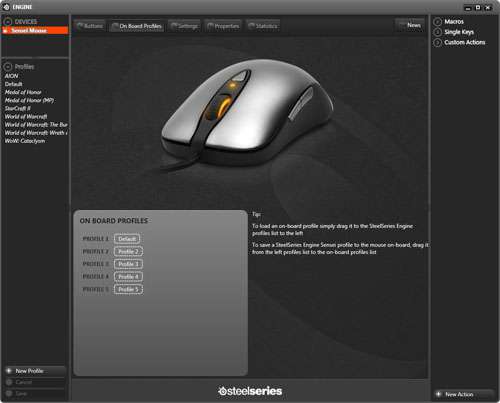 "Settings" is where all the good stuff happens. Here, features like ExactSens, Freemove, ExactAccel and others can be configured, along with the LED lights, the LCD brightness, custom logo and so forth. In the event that you want to start fresh, a restore function is also available.
Most of the features found here won't appeal to most people, and don't to me. CPI is the main exception since that does have a use in most games I play, but the others are for those who really don't mind spending the time tweaking their mouse to give them the best possible response. ExactAim is one feature some will want to look at, as it will make attempting headshots a lot easier by lowering your CPI when needed.
The three LEDs can be color-customized on this screen also, with a touted 16.8 million colors to choose from. Given such a wide range of color, I had hoped that picking the perfect shade would be simple, but it's not. There are 10 pre-defined colors to choose from, but others can be chosen via clicking on an area in the color chart:.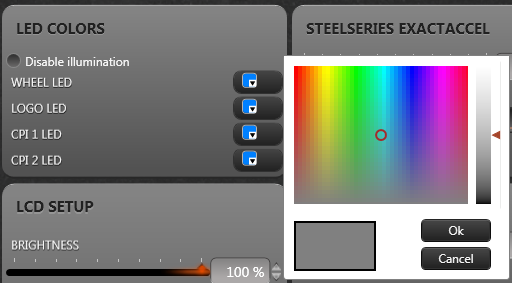 For the most part, this is suitable, but in the event you want all three LEDs to share the same shade, it's just not going to happen – or at least be exact. Ideally, the color-chooser should accept RGB and Hex values for the colors, because that would rid that problem.
That aside, the touting of "16.8 million" colors is a bit generous, as it's not true. Unless the color is dark, the result is going to be nothing like what's chosen. Dark red, orange, blue and so on look fine, but lighter colors that don't fall under those pre-defined base colors will look pink. White looks pink, light and dark brown look pink, and even dark gray looks pink.
I like darker colors, especially blue, so this issue doesn't bother me per se. But when the mouse is claimed to support 16.8 million colors when it clearly doesn't, it leaves a bit of a bad taste in my mouth. On top of that, some colors aren't quite "solid", either. Regardless of which color is chosen, the LED behind the logo will not be flush; rather darker in the middle and lighter towards the outer edges.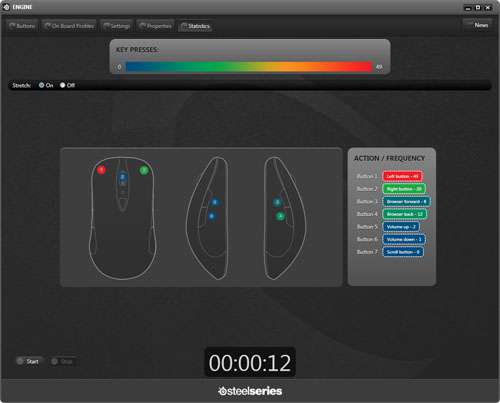 Past the colors, there's a "Properties" tab for launching a particular profile whenever a certain game is launched, and then "Statistics" as seen above. This tool is rather fun because it allows you to record all of your mouse usage during a gaming session. This isn't useful, but it's cool.
Though I do think the software here has a couple of niggles, nothing is major. That says a lot, given that most mouse software I've used in the past I would have paid to not use. This looks great and is simple to understand. If I could change one thing, it'd be easier configuration of the right thumb buttons. Needing a macro to pull it off is a little bizarre.
Final Thoughts
As far as gaming mice go, the Sensei strikes me as being one of the classier types out there. Though it includes LEDs, the focus is on performance and function, not bling. The fact that SteelSeries enlisted the help of professional gamers and their clans helped the Xai set a new bar for gaming mice, and the Sensei makes things even better.
I admit that if the internal specs were the same, I'd choose the Xai far quicker than the Sensei, but that's all a matter of taste. The Xai is clean and simple-looking, while the Sensei is meant to stand out. The LEDs are part of the reason for that, but the reflective finish is really what makes this mouse look unique. Again, whether that's a good thing or not is a matter of personal taste.
The Sensei offers a large number of features, many of which most gamers will never touch. I am not a pro by any means, but I did test the various functions and was impressed overall. FreeMove was one of the more interesting ones. It helps straighten your movement out when you're moving your mouse in a "straight" line in any direction. Even in simple desktop tests, the performance of this was almost scary good.
Of all the features the Sensei (and Xai) have, the LCD menu screen on the mouse bottom is the most interesting. I could never see me using this feature ever, but I've talked to gamers who do see a use, or have used it themselves. Like the aesthetics of the mouse itself, the included features will not be for everyone – but it's nice to have them nonetheless.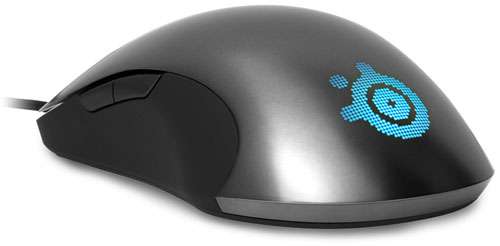 Things like the inaccurate LED color and clunky macro setup were a bit annoying, but minor in the grand scheme. If this mouse does something wrong, it makes up for it with a couple of other things that it does well. Alright, not just "well", but "great".
The Sensei is the best mouse I've ever used. Despite being ambidextrous, it's comfortable – plus it's also accurate. I played a couple of rounds of Call of Duty: Black Ops the same night I received the mouse, and was instantly impressed by how much more accurate I felt. Thinking this was some sort of giddy school-girl placebo effect, I used it over the course of a couple of weeks and my opinion hasn't changed.
Does that mean I have become a better gamer? Not even close. That's not to be expected, though. While I appreciate the increased accuracy, there's more to improving your game than just getting a different gaming mouse, and that's something SteelSeries itself acknowledges:
"Will the Sensei make you a badass 1337 n00b-owning gaming hero? Probably not, sorry. A mouse is a tool, like any other tool. Even the very best, most expensive, most amazing tennis racket in the world will not make you a better user of the tennis racket. Nothing, except your own talent and dedication will do that for you. Any company or product promising that is full of it. Period."
A "tool" is a good way to sum up a mouse, because that's basically what it is. If you feel more comfortable with your mouse, then gaming is going to be more enjoyable, and if you don't need to fuss over a problem the mouse is causing you, that's a good thing. I've put about 80 hours of game time into the Sensei thus far and still love it like the first day I received it. That says a lot, as I usually get bored of any peripheral after a couple of weeks.
Another plus: The Sensei uses a good sensor. Lately, 95% of gaming mice released, even high-end models, use a lackluster Philips sensor that's prone to stalling when the mouse is picked up and sat back down. I am not sure what sensor this mouse uses, but it doesn't suffer from issues like those.
It'd be a good time to mention that the Sensei costs $90. Sometimes, more expensive products are just worth it, and the Sensei falls into that camp. It could be better, but when it's the best mouse I've ever used, it's hard to complain about the minor issues.
Pros
A mouse for both right and left-handed gamers that is still comfortable.
It doesn't get more accurate than this.
Features a quality sensor, unlike most gaming mice of late.
Sufficient number of buttons, and good layout for them all.
Flexible. Tons of tweaking-ability.
Easy-to-use software.
On-mouse menu is… interesting, and could be useful in some cases.
Built with the help of professional gamers.
Cons
A dedicated macro profile button would have been nice.
Annoying lock-up when a mouse setting is applied.
LED colors are not as accurate as expected.
Needs to be cleaned often; plastic chassis loves finger dirt.
Pricey, at $90 USD.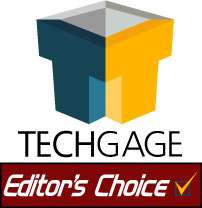 SteelSeries Sensei Gaming Mouse
Discuss this article in our forums!
Have a comment you wish to make on this article? Recommendations? Criticism? Feel free to head over to our related thread and put your words to our virtual paper! There is no requirement to register in order to respond to these threads, but it sure doesn't hurt!
Copyright © 2005-2020 Techgage Networks Inc. - All Rights Reserved.