SteelSound 5H v2 Headset
Date: October 27, 2006
Author(s): Greg King

A good pair of headphones can sometimes be difficult to find. You need top notch sound quality in games as well as in movies and music. Today we are taking a look at a pair of headphones that break the norm in their design. Is it worth it, and if so, how do they perform?
---
Introduction
As gamers and enthusiasts, we appreciate quality hardware. Perhaps it's the amount of time we spend each week in front of our computers either playing games, listening to music, watching a movie or working from the comfort of our own home. There really isn't much that we don't use our computers for and because of this, we can appreciate what quality hardware can do for us more than the everyday regular user.
In the past, we have taken a few looks at different offerings in the headset world and while every set we have taken a look at has been good in its own way, I have yet to find the perfect one. The Razers didn't have the bass that I wanted and both sets of Sennheiser headsets that I have worked with did cover my ears entirely. As said before, I liked every set very much but none really stopped me in my tracks. Today we are taking a look at the latest offering from Steel Series for the gaming community.
Steel Series has long been known for their support of gamers and more importantly, their almost classic 5H headset. The full sized headphones were fan favorites for their sound quality, comfort and the ability to break them down for travel. This made them perfect for any and all LAN attendees as it allowed the headset to be transported to and from any LAN event easily and without the fear of them breaking in a bag.
Today, we are looking at the second revision of the above mentioned 5H headphones. From the first edition, the second looks to build on that success with the improved microphone quality, a longer microphone cord, larger ear cushions, additional frame pressure and 'numerous other technical design improvements.' These improvements come straight from the mouth of Steel Series themselves but are they accurate? Going into this review, I want to state that I have worked with the first revision of the 5H headphones but never had a problem with them so I am curious to see if the improvements are significant enough to warrant a production mulligan and re-release of the same old headphones.
Closer Look
The 5H headphones came to me in the retail packaging. The same packaging that you would receive should you decide to purchase them yourself. There really isn't anything special about the box but it is full of the vital information that you would ever need.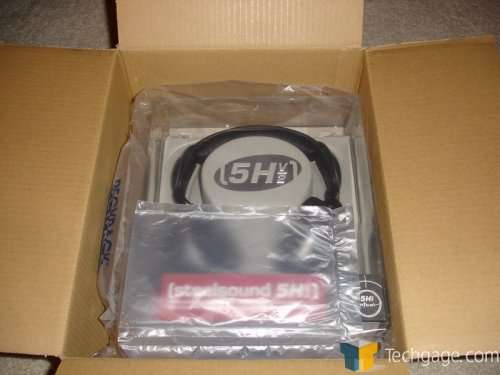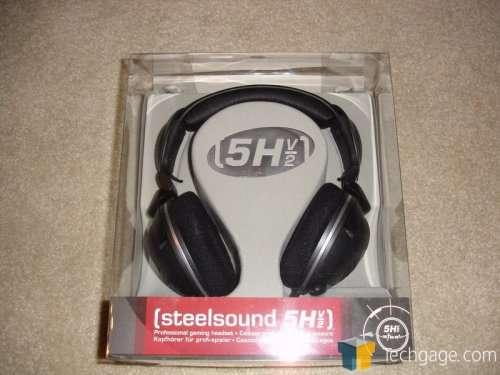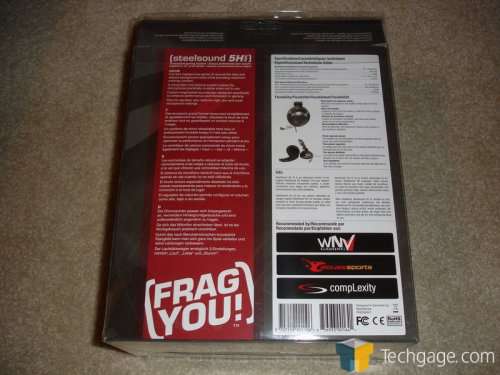 Once out of he box, the 5H headphones are surprisingly light, which is good if you are going to be wearing them for any extended amounts of time, like at LAN parties. Before we get into any of the results, let's get into the specifics.
Headphones
Frequency Response – 16 – 28.000 Hz
Impedance – 40 Ohm
[email protected] 1kHz, 1 Vrms – 110 dB
Cable Length – 3 meters (10 feet)
Connectors – 3.5 mm
Microphone
Frequency Response – 75 – 16.000 Hz
Pick Up Pattern – Uni-Directional
Sensitivity – -38 dB
Impedance – 2k Ohm
With all that said, the 5H headphones certainly good on paper but the point of this review is to determine how they sound and perform. Let's get into the headphones themselves.
Below you will see a pair of pictures provided my Steel. They show the 5H headphones from a front angle as well as a profile angle. Both pictures show the microphone extended as well as retracted into the left ear pod itself. This is a great feature and a personal favorite of mine. The ability to slide the mic into the headphone itself is great and adds a lot to the overall look of the headset as a whole.
The cord of the 5H is 10 feet long and is wrapped in braided fabric to add to its durability. Approximately 2 feet down from the headphones, there is an in-line volume knob as well as an on/off switch for the microphone. If you head down another foot or so, you come to a set of audio plugs that allow you to extend the cord to its full length. Personally, I would have thrown this in at around the half way mark but this is not the case here. While this isn't a problem, it would make more sense as the original 4 or so feet before the extender jacks seems a bit short for those of us with our PC on the ground or in a desk.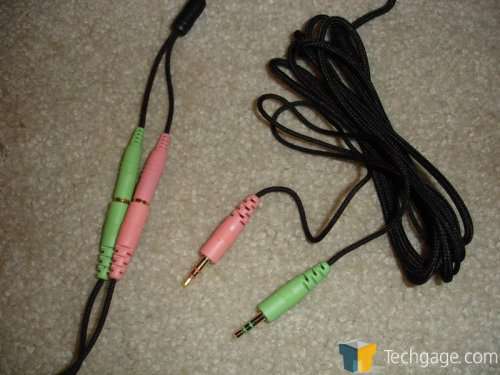 Final Thoughts
Another great selling point of the 5H is the ability to disassemble the headset for easy and safe transport. On the sides of the headphones, directly above each pod, you can push in a small button and take the pods off of the top head support.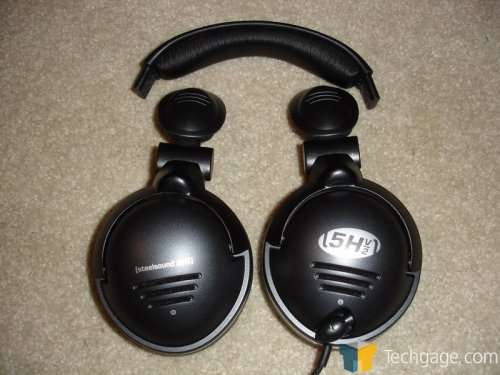 The headphones as a whole are solid and have an elegant look to them. In college, I had friends who would spin at parties and with their turntables and vast collection of albums; they would also have a significantly expensive pair of headphones. Those expensive headphones looked amazing and the 5H headset compares nicely to the higher priced studio headphones.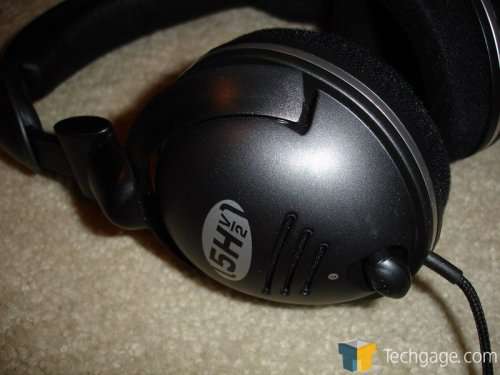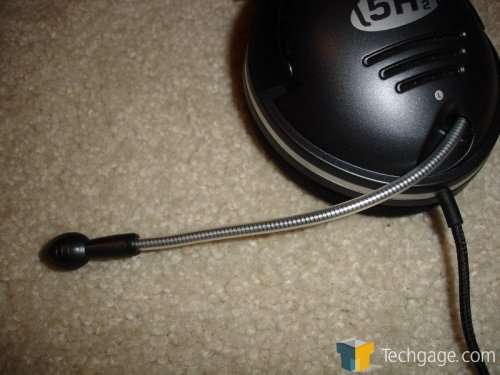 Testing
To test the headphones, I used them for a week straight. This includes daily operations from gaming to research to writing reviews. In this time, I made sure that I used the headphones with the same games and songs that I have used in the last few headphone reviews that I have written. For the games, I used Battlefield 2 and Counter Strike: Source.
Battlefield 2 is a game that almost demands quality sound devices. You can gain a lot of advantages if you just use your ears. Since it's release, BF2 has been a favorite of LAN gamers and with this in mind, I played a hour or so to get the full feel of the headphones. In the time that I played, the lows of the explosions and vehicles were life like and sounded good. The highs of the guns and some vehicles were crisp and clear.
The second game I used was Counter Strike: Source. This is a personal favorite of mine and the one game that I play more than any other 'LAN games.' Once again, the sounds clarity was superb and the detailed sounds such as footsteps came in smooth and clear.
On the music front, I have a set few songs that cover most popular genres that I use to test out the musical abilities of the headphones. These songs are:
Beethoven ' Piano Sonata No. 14 in C sharp minor (Moonlight Sonata)
Crash Test Dummies ' Two Knights and Maidens
DJ Tiesto ' Conjure One
Breaking Benjamins ' Polyamorous
Ming + FS ' Nevada
Warren G ' Why oh why
In all of the songs, the sound quality was great. The lows of Why oh why could almost be felt and the instrumentals in Two Knights and Maidens could be heard clearly and precisely.
Moving along to the sound in movies, I picked a personal favorite of mine, The Matrix. I know by now, this movie is obvious to the computer crowd but whatever. I picked the lobby scene where Neo and Trinity blow everything and everyone to hell and throughout the entire scene, the sound was amazing'. amazing.
Conclusion
The Steel Series 5H headphones have been a pleasure to work with. The sound quality is great and the comfort level is top notch. The ability to take the headphones apart is a nice option when transporting them to and from anywhere you might want to take them. As an extra, I used the headphones with my iPod and the sound quality was just as good as it was with my PC and it's Audigy ZS2. The microphone was able to pick up my voice and I never once heard a complaint of anyone that they had a hard time understanding me.
Pros
Extremely comfortable
Ability to take apart for safe and easy transportation
Accurate microphone
High quality sounds
10 foot cord
In-line volume and mic controls
With all this in mind, I am awarding the Steel Series 5H headphones an 8 out of 10. I know that these headphones will be on my personal gaming PC for a long time to come.
Discuss in our forums!
If you have a comment you wish to make on this review, feel free to head on into our forums! There is no need to register in order to reply to such threads.

Copyright © 2005-2020 Techgage Networks Inc. - All Rights Reserved.