Sumo Omni Bean Bag Chair

Date: September 20, 2006
Author(s): Greg King

You may find it odd that we are reviewing a bean bag chair and… so do we. Yes, this is far from being hi-tech, but it's of very hi-quality. Whether you want to lounge in front of the TV or fall asleep on a comfortable chair, Sumo has you covered.
---
The bean bag. A gamer's best friend.
I have always wanted a bean bag. I had a friend in school that had one and I loved going over to play NES and sit in his bean bag. His house was the only place I could enjoy the comforts of a bean bag as my parents never would let me have one. If it rips, it would make too much of a mess they said. As I got older and moved away for college, I was finally on my own to do whatever the hell I wanted to.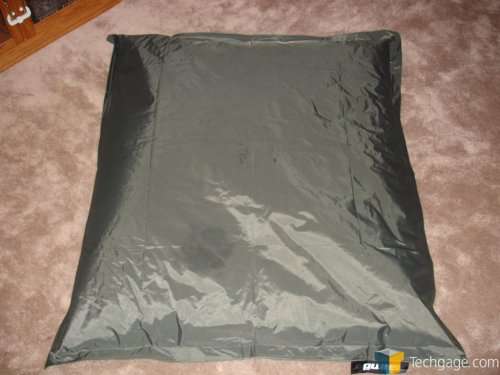 Most of the time, I choose to waste my parents money, and my own, on various activities of which most involved alcohol. Copious amounts of alcohol. This was also the time that I got my first bean bag and man was it comfortable. It was black (was there ever any other color) and really fit nicely in front of our stolen couch we 'barrowed' from our dorm floor lobby. As time went on though, the beanbag began to leak beads everywhere and finally it was given a glorious send off that included a field, a can of kerosene and some lighters.
Enter Sumo and their Omni.
A few months back, we at Techgage were contacted by Sumo and asked if we wanted to give the Omni a try. After finding out what the Omni was, I quickly called dibs. It turns out, the Omni is an enormous beanbag made of space age rip-proof nylon and targeted at those of us who remember the convenience of the bean bag but might need something a bit sturdier this time around. To give it its shape, the Omni is filled with Sumo beads. When placed in any room, the Omni is without a doubt the most interesting piece of furniture. Coming in at 4.5′ x 5.5′ and weighing only 18 pounds, the Omni is large but in a slacker's heaven sort of way.
To 'test' the Omni out, I set it up against my couch and sat in it the same way one might sit in a recliner. I leaned back and enjoyed many of games of Madden 07 with my friends. As the evening went on, everyone wanted their time in the chair and through many games, and many beers, the stain proof Omni stood up to all that we could throw at it. The next weekend, I let my two girls have their go at it. They are 5 and 7… and over the course of the weekend, they were not able to destroy the Omni either.
Anyone interested in the Omni can pick their very own up off of the Sumo website. Coming in at $125 for black and platinum, or $149 for any of the other colors, the Omni is a bargain if you are in the market for a virtually indestructible bean bag that you can use almost anywhere. Sumo states that they have come up with 10 different positions that you can use the Omni for but I am sure that you all can think of a few more off the top of your head. This reviewer might just have to order one for himself and let the kids keep the one I have now since they like it so much. The Omni is a lot of fun and comfortable to boot.
The more I have used the Omni, the more I have come to appreciate all that it delivers. This is something that feels at home in a gameroom, a dorm room, a kid's room or even the bedroom. I am working with my wife to prove that it does in fact belong in the bedroom but that is neither here nor there.
The Sumo Omni is a winner for everyone looking for something to lounge in around the house. In the time that I have had mine, it has withstood nights of Madden with friends, my children as well as the daily tasks of moving it around, setting it up, throwing it around and plopping down into it. The Omni is all that I have ever wanted in a bean bag and leaves me with only one question'
Where were you 15 years ago Sumo?
Discuss in our forums!
If you have a comment you wish to make on this review, feel free to head on into our forums! There is no need to register in order to reply to such threads.
Copyright © 2005-2021 Techgage Networks Inc. - All Rights Reserved.