Synology DS209+ 2-Bay Disk Station
Date: February 10, 2009
Author(s): Greg King

Synology has become well-known over the years for producing some of the highest-quality NAS boxes on the planet, some of which we've taken a look at in the past, and the new DS209+ is no exception. Though expensive, it has a huge feature-set and superb performance to back it up, which makes it a good buy for anyone with a fairly lenient budget.
---
Introduction
Way back in August of 2007, we had our first look at a Synology NAS device. In our testing, we found the DS207 to not only perform well, but also offer a great amount of additional features that might help tip the purchasing decision of anyone who was in the market for a NAS storage solution. Since that time, we have followed the progression of the Disk Station brand closely, and with each passing year, Synology's products grow in not only speed, but in features as well.
One of the most exciting features of the Disk Station brand is the time and effort the engineers at Synology put into each edition of their Manager OS. Up to v2.1 (beta until March of 2009), not only do their NAS boxes provide a fast and convenient way to store, serve and backup the data on your network but they also allow you to leverage their NAS many other ways. For example, you can host your own web site with the built in tools found in the DM software. You can host your own FTP site, setup scheduled downloads, use the NAS as a database server with its baked-in MySQL and also host a blog and share photos with anyone on the net by using their photo station.
Today we are looking at the Synology DS209+, a NAS box marketed towards small to medium sized businesses with the need for fast and reliable storage, and with a budget to accommodate those needs. Having worked with both the DS207 and the DS207+ in the past, I'm interested to see how well the new NAS will perform with its heavily-upgraded specs.
So what's different? New on the DS209+ is a Freescale MPC8543 800 MHz CPU and 512 MB of DDR2-667 SODIMM RAM. The footprint of the device is exactly the same as other two bay models from Synology with the major aesthetic difference being a flat black exterior rather than the standard white that has been used to success in the past.
Closer Look at Synology's DS209+
Arriving in standard packaging, the DS209+ was unharmed thanks to the secure orientation inside of the box. This too is a bit different from the other models that we've had a look at and the plain brown box is a welcome change in my personal opinion.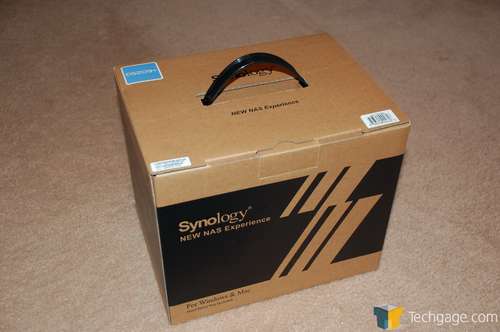 As with other Synology devices, the DS209+ ships with plenty of documentation and a setup disk that includes the Synology search program that will scan your network to find your device and allow you to easily set it up. Also included is a power brick, power cord and a short length of CAT5.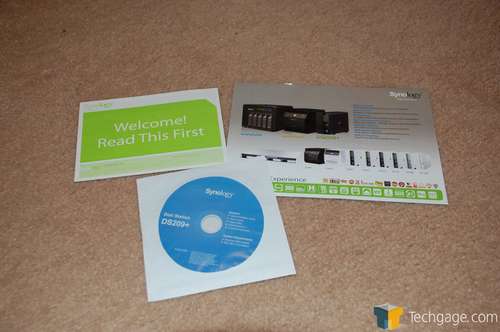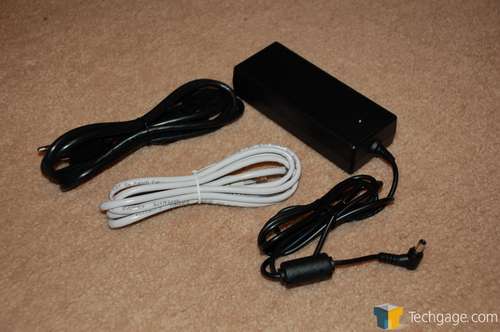 As we said earlier, the DS209+ is an all black NAS with the same dimensions as the other dual-drive devices offered by Synology. On the front, there are the same status lights, a power button, a single USB port for simple thumb drive backup, a backup button and an eSATA port for additional storage capacity. We set the DS207+ next to the DS209+ for no other reason than for a comparison. As you can see, they are externally different in color, except for the I/O panel on the front.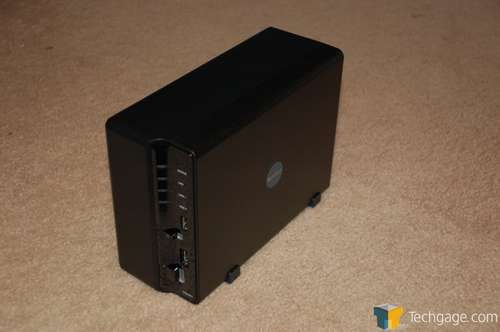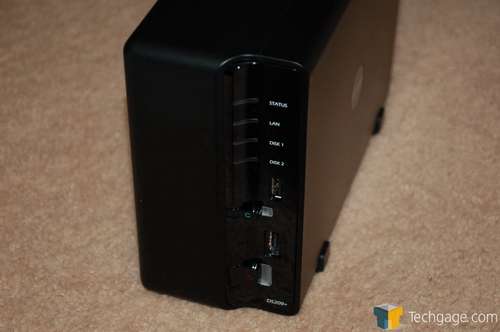 The back of DS209+ is arranged slightly different than its predecessor, the DS207+. There is a convex fan grill that keeps fingers away from the three-stage fan. Below the fan there is a pair of USB ports and a lone gigabit LAN port.
For those who are interested, the USB ports are controlled by a NEC D720102 host controller and the LAN is courtesy of a Marvell 88E8001 PCI gigabit Ethernet controller. Side by side, we see that the DS209+ has a larger fan which is a welcome sight as the DS207+, while not loud, is audible enough to be heard from across a room.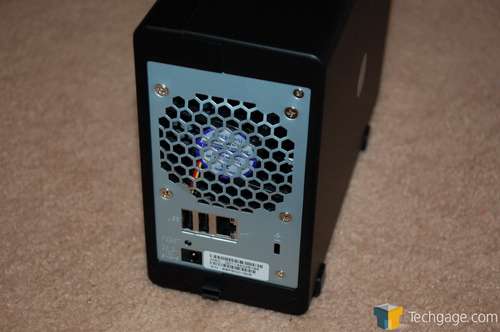 The bottom of the DS209+ is open at the front to allow cool air to be pulled into the NAS, channeled across the drives and expelled out the back of the enclosure. For stability, there are four large rubber feet.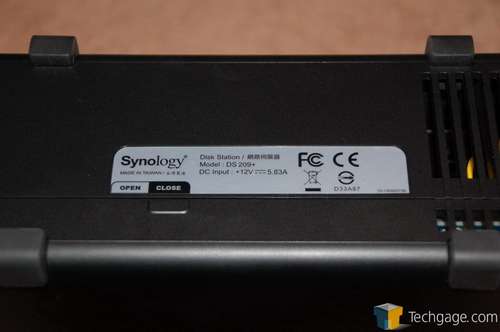 The DS209+ looks great on the outside, but how about the inside? On the following page, we'll break it open and also take a look at Synology's robust software package.
DS209+ Internals, Software
Breaking open the DS209+, we see that from an installation standpoint, there isn't anything new to report. Synology still employs a stacked hard drive arrangement and the connection locations have not moved. Once we remove the motherboard however, the differences are quite noticeable.
New to their 2 drive line is the addition of a SODIMM slot for DDR2 notebook memory. There is a "NO WARRANTY IF REMOVED" sticker across the module, so upgrading your internal memory while retaining your manufacturer's warranty is out of the question, sadly. There is also a small heat sink over the 800 MHz CPU with fins that run parallel with the airflow from the fan.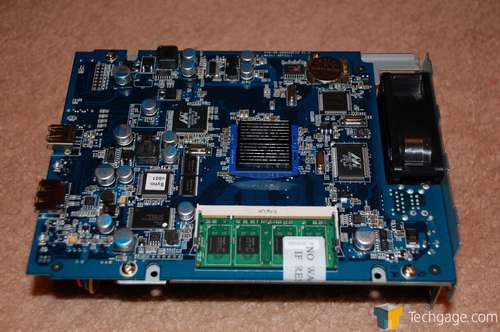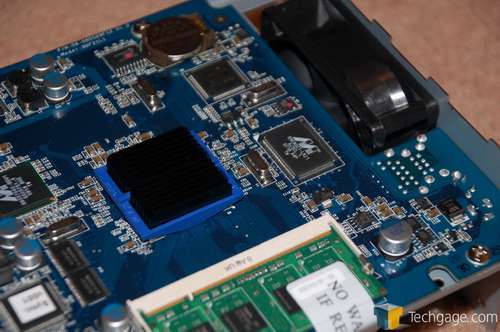 We have no word from Synology as to how much memory you can install in the DS209+ or how much of an increase in performance you would see if you decided to go that route. While this would invalidate the warranty, I would like to think that if the benefits were there, a fairly competent systems engineer for a small company could upgrade with a larger stick of memory.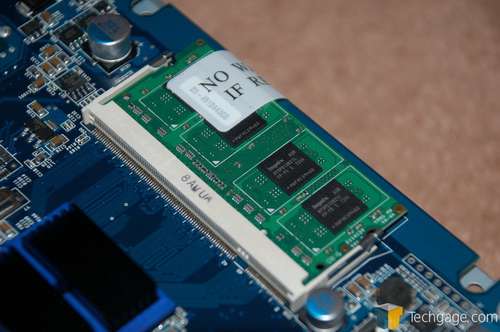 Synology chose to send our review unit pre-installed with the new Disk Station Manager 2.1 software and a pair of Seagate 7200.11 500GB drives with 32MB cache. These were setup in a RAID 1 configuration initially but in our testing, we used both RAID 1 and RAID 0. For a NAS, I personally do not recommend RAID 0. The added performance is marginal, and any redundancy is lost. So unless you need the additional performance, RAID 1 is a far better option, especially for those whose primary need is a simple and reliable place to back up their data.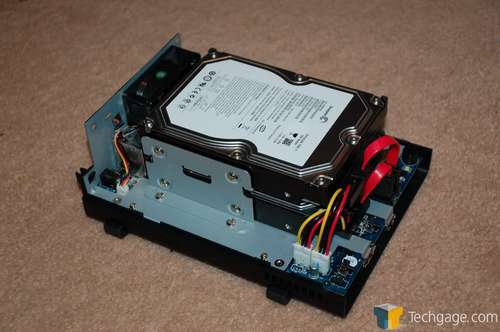 Disk Station Manager 2.1 Software
The Disk Station Manager software is a pretty straight-forward affair with many options available to the administrator. Logging into the admin console is simple and once in, you are presented with the administrator console. If you happen to have any of the available services enabled, you will be able to choose which one you want to access first.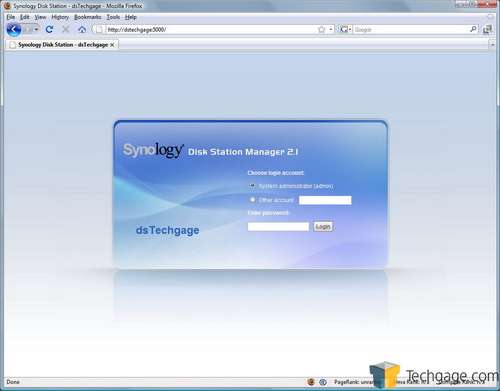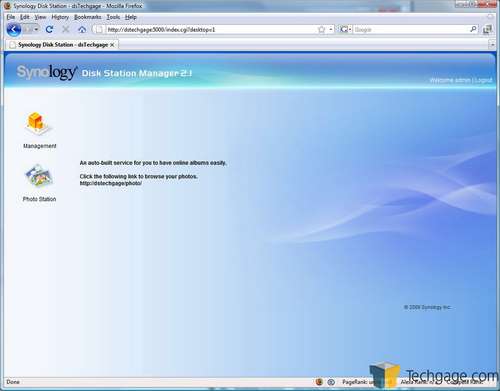 The admin console allows many settings to be enabled, disabled, tested, changed and installed. These are organized in a vertical column on the left side of the screen. On the home screen, you are given the option to drag and drop icons from the column into a central location thanks to their use of AJAX. This is useful for areas of the software that you access frequently. I personally use the user, volume and firmware update icons the most, so I dragged them into place for easy access for when they are needed.
For those that use Jumbo Frames, you have a fair amount of available options if your network it setup to utilize these features.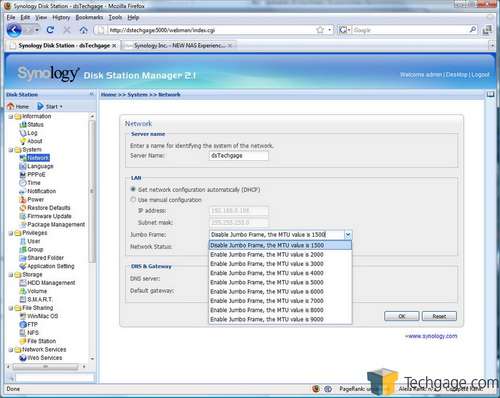 A new feature that Synology has incorporated into their software since the original DS 2.0 is the packet manager. This allows the installation of additional services onto the NAS. For example, we browsed to the Synology web site and downloaded the Logitech Squeezebox SqueezeCenter software. Once installed, this allows the popular streaming devices to access the DS209+, rather than a host PC, allowing you to turn your PC on and off as you choose without the fear of preventing access to your media library.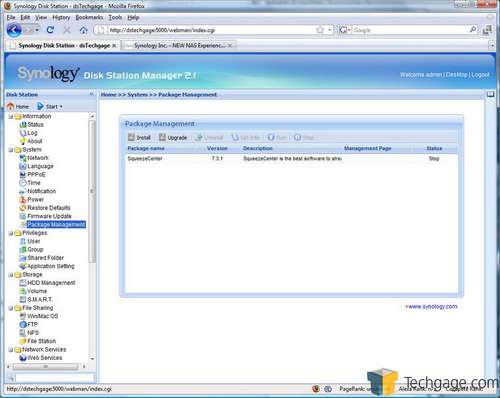 Before we get into testing, I would like to point out what is possibly my favorite option on the Synology NAS boxes and one that I use regularly. Incorporated into the software is what Synology calls "Photo Station 3". Here, we can upload photos, sort them into groups and then share them online with anyone you want.
That's a great way to share your photos with family and friends, regardless of where they live. Another cool feature is the incorporation of a third party app called "Cooliris". Cooliris is essentially a browser plug in that allows the user to view their photos in a "3D wall" environment. This is actually a neat little add-on, and while not earth-shattering, it's fun to use, especially if you have a large amount of photos to go through.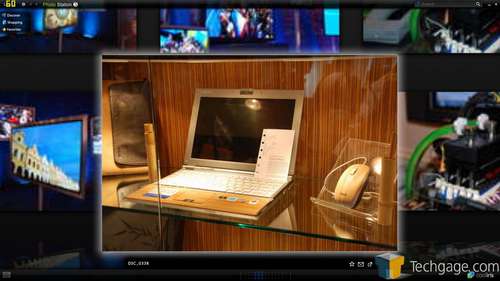 Another feature that I use is the blogging section. This is an area that allows you to post updates to you blog (everything is stored locally on your Synology NAS) and change the features of your page. Using a dynamic DNS account, you can make this so it can be browsed from anywhere on the net.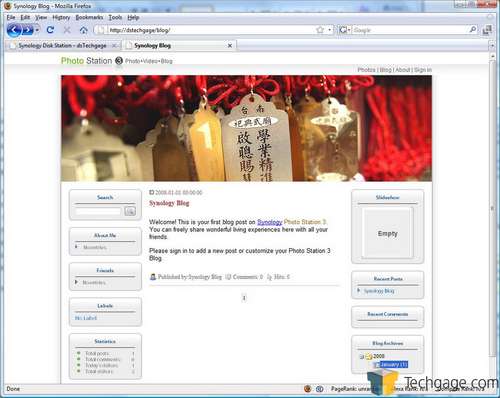 In truth, Synology's software is so robust, it could have its own devoted article. But take our word for it… the company really puts effort into their products as a whole, and their passion especially shines through in their software. With that all said, let's get right to our performance testing and then my final thoughts.
Testing & Final Thoughts
While the drives are different in the DS209+, our testing methodology has remained constant. To test out the unit, we ran our standard test of transferring a solid 600 MB file across the network from our host computer to the NAS. We then transferred a 600 MB folder containing many small to medium sized files including photos, documents and system files.
In each test we timed each transfer and after running the same test three times, the results were averaged. In each test, a write and read was run in RAID 1 and RAID 0 configurations. While my general consensus is that users who are going to purchase a dual-drive NAS have the intention to use it as a reliable backup solution, the need for testing in a RAID 0 configuration is necessary.
The host PC is a custom built Intel platform using a Q9450 (2.66 GHz), 8 GB of DDR2 RAM, a DFI X48 LANParty LT and connected to a TRENDnet 8 port gigabit switch via the DFI's onboard Marvell Yukon 88E8053 PCI-E Gigabit controller. The DS209+ is also on the TRENDnet switch.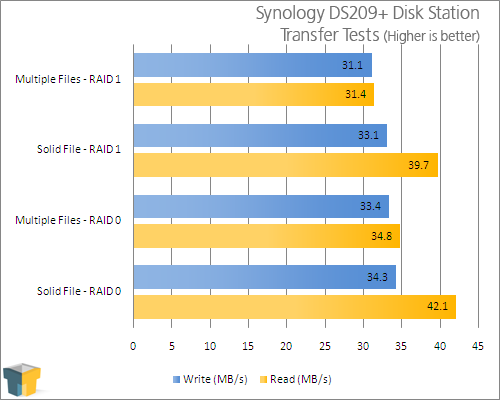 The numbers don't lie. This is hands down the fasted NAS box that we have ever tested here at Techgage. A sustained read of just over 42 MB/s for the solid file transfer and just over 33 MB/s for the write. This performance can partially be attributed to the upgraded processor and additional RAM.
Final Thoughts
Synology has another winner on its hands with the DS209+. With speeds creeping towards that of servers, the DS209+ is almost everything that a small business owner could need. With the 2.1 software (still in beta), you can leverage your DS209+ as a web server, a mail server (new to 2.1) and of course as a central location for sharing files. Users are a breeze to setup and with the NAS being compatible with Windows Active Directory (ADS), permissions are simple to setup.
Other users include encrypted FTP, support for HTTPS, scheduled downloads via HTTP, FTP or BitTorrent. Each of these options have the ability to be customized for sensitive networks.
Also included in the Synology software is the ability to connect web cameras, record the live feed and view it from any net accessible PC. This allows a business owner to use their Synology NAS as a security hub, on top of everything else. License packs can be purchased from Synology for anyone interested in using this feature.
By and large, the DS209+ is a top-shelf device, and with high performance, comes an equally high price. Synology has never aimed their products at the bargain crowds, so to justify this premium, they continually update their system software, adding new features with each new version. There are literally dozens of uses that the DS209+ can be used for.
As we mentioned many of these uses earlier, what's astounding is that most all of these features are available on all of their NAS boxes. This adds a tremendous amount of value to their lineup of products, and while there will always be a trade-off between price and performance, you could pick up a cheap single drive Synology NAS and use almost all of the features that have made the DS209+ a complete and total winner in our book. With all that said however, the DS209+ is not a perfect machine, but it's close. I enjoy the black build, and while a metal body would be ideal, the plastic used in its build is sturdy and in no way did it feel flimsy.
With all this taken into account, the Synology DS209+ has earned our Editor's Choice award. Shipping without drives, the DS209+ will set you back just under $500USD, so once you add in a pair of drives, you're looking at close to $700 US, if not more. This is not small change, but with the price, you do get a ridiculously fast NAS box, and a feature-packed one at that. As with all their devices, the DS209+'s available features is astounding and it's clear that this is an area where Synology has invested a fair amount of resources.
If you have the budget, the DS209+ is a no-brainer.
Discuss this article in our forums!
Have a comment you wish to make on this article? Recommendations? Criticism? Feel free to head over to our related thread and put your words to our virtual paper! There is no requirement to register in order to respond to these threads, but it sure doesn't hurt!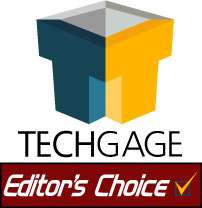 Copyright © 2005-2021 Techgage Networks Inc. - All Rights Reserved.