Techgage's Best Of CES 2015

Date: January 12, 2015
Author(s): Techgage Staff

2015's CES is over, but before we wrap-up our coverage, we want to hand out some virtual awards to the products that stood out to us the most. After spending the weekend mulling the contestants, we've come up with 11 that we feel fit the bill as being the best of show.
---
Techgage's Best of CES 2015
Another CES is in the bag, and as usual, there's been an unbelievable number of notable products to come out of it. That's so much the case, in fact, that a "Best of CES" article could surely include a few dozen mentions – but… we've decided to go all Spinal Tap and stick to 11.
Among the eleven products we've chosen to receive our Best of CES 2015 award, some we covered last week, and others we discovered after-the-fact. Each Techgage staffer had the choice to choose one or more, so this 11 could have been higher or lower, depending. So, with that, please enjoy our picks, and for more CES product love, don't miss our roundup.
Note that this list is in alphabetical order, not in order of best-to-worst, or vice versa.
ASUS' PG27AQ 4K G-SYNC IPS Monitor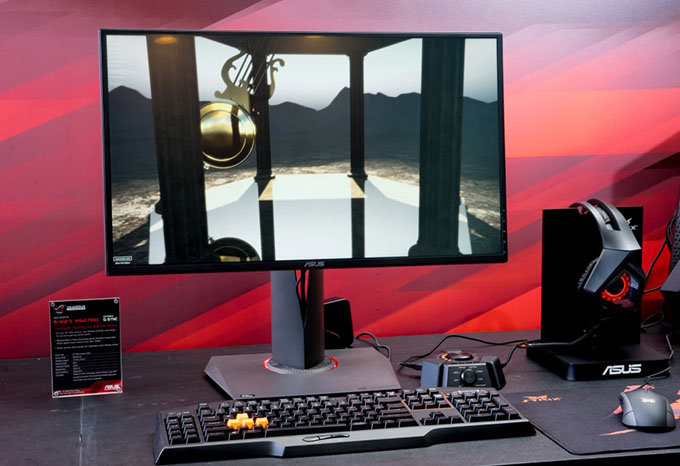 Rob Williams: It sure did take a while to hit the market, but when it did, ASUS' PG278Q impressed – a lot. When we took an in-depth look at it a couple of months ago, we were sold. It looked great, had an even better picture, and packed NVIDIA's G-SYNC frame-smoothing technology under the hood – one that a lot of people don't want to give up after using it for a while.
With the PG27AQ, ASUS gives the PG278Q a 4K sibling, and at the same time, it takes care of an obvious (but minor) flaw of the original: the TN panel. That's right, the G-SYNC capable PG27AQ features an IPS panel, making it the ultimate 4K monitor. One caveat must be noted, though. Due to DisplayPort bandwidth limitations, the PG27AQ runs at 60Hz, not 144Hz like its 1440p sibling. It'll be up to you to decide whether the trade-off is worth it.
CoolChip's Kinetic CPU Cooler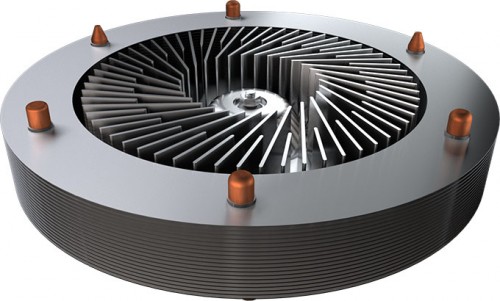 Ryan Perry: Being the chassis and cooler guy, regular Techgage readers could have guessed that I'd name this as one of my Best of CES picks. Having watched CoolChip Technologies and its Kinetic Cooling heatsinks for some time, I was tickled pink to hear that the company has got into a partnership with Cooler Master. That should mean that retail markets (and in turn, enthusiasts like us) will see these snazzy little coolers sooner thanks to the manufacturing and marketing weight that Cooler Master can put behind a product.
These coolers are packed full of innovation and if the claims are true, it could mean the rejuvenation of the air cooling game. Here's hoping we can get our grubby mitts on one soon.
HP Stream Mini Desktop
Tom Roeder: A reinvented desktop PC – that's what HP is claiming with its Pavilion Mini and Stream Mini – and it's the latter of which I've chosen to award our Best of CES badge to. Consumer needs are changing, and many want their devices to be smaller, faster, leaner, and most of all, less expensive. HP is answering this call with the Stream Mini. Under the hood, we find an Intel Atom processor (with a Core i3 model rumored), 2GB of RAM, 32GB of solid state storage, 4 USB 3.0 ports, HDMI and DP outputs, 802.11b/g/n Wi-Fi, gigabit Ethernet, 3-1 Media Card reader, Bluetooth 4.0, and Windows 8.1 with Bing.
For many tech junkies, a device with specs this modest will never replace a powerful desktop, but I think that this item and devices like it will be the hot new ticket for a home theater PC. At a starting price point of only $179, the Stream Mini is sure to be just that!
Intel's Compute Stick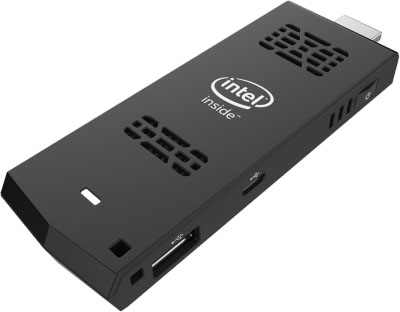 Brett Thomas: The Intel Compute Stick wins my vote for a lot of reasons. As a living room device, it's poised perfectly to upset the limited selections. But my greater interest is in what it can mean to bring back personal computing. A device this size, with a real processor, RAM and full-sized OS, means anyone can have access to their own personal "thin client." The implications for convenience, privacy and security, especially at the enterprise/business level, are astounding.
In Win S-Frame Chassis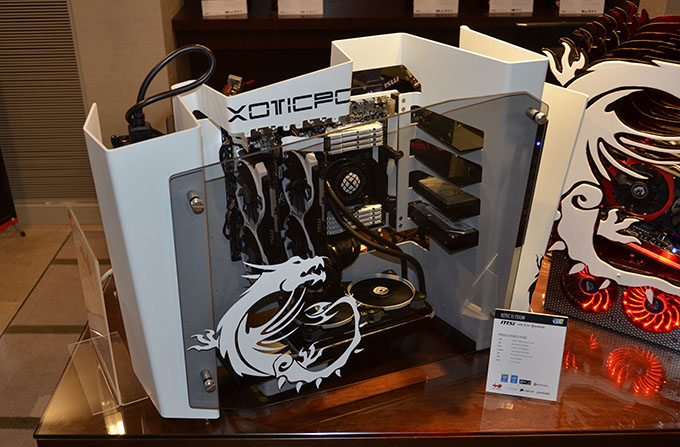 Greg King: In Win is a company the PC enthusiast community has known of for quite a while, but unfortunately, Techgage hasn't taken a look at any of its products since the summer of 2009. In that review, the X-Fighter chassis received mediocre marks for styling, but the editor loved its build quality.
It's that review that I had in mind when I saw the company's latest offerings at a few industry parties around Las Vegas. Of all of its products, the S-Frame swept me off of my feet. Never have I seen a product quite like it. With a six-foot piece of 4mm thick aluminum, In Win bends the single piece into a truly unique shape. After the PC's components are installed, they are sort of protected with a beautiful piece of tempered glass. This is a chassis that has to be seen to be believed. It's so unique that I had a difficult time thinking of something to compare it to.
Pictured is an In Win S-Frame chassis at the MSI suite. Definitely boutique, costing $800 USD, the S-Frame is an absolutely amazing design to see.
MSI GS30 Shadow Notebook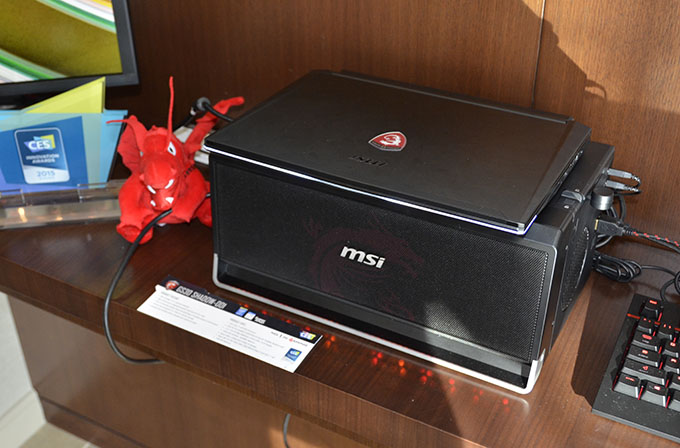 Greg King: Like many exhibitors at CES, MSI passed on a booth and opted for a suite to showcase its latest offerings. While many stood out as exemplary, the GS30 Shadow stole the show for me. A rather unassuming 13.3" notebook ships with an Intel Core-i7 processor and its associated integrated graphics to drive the 1080p IPS screen. Additionally, up to 16GB of DDR3L can be installed, as well as a pair of SSDs that can be set up in a RAID configuration.
What sets this notebook apart from MSI's competitors is the included dock that allows the notebook to use a discreet GPU (up to the monster GeForce GTX 980). Alienware has a similar solution, but I liked what I saw with MSI's offering. The dock has space for one 3.5" HDD, Killer Gigabit NIC, a pair of speakers, and four USB 3.0 ports. How does the discreet GPU connect with the notebook? That's a good question: The two communicate across a full x16 PCIe connector for speedy transfer.
I wish I had something like this when I was living in the dorms.
NVIDIA's Tegra-based DRIVE System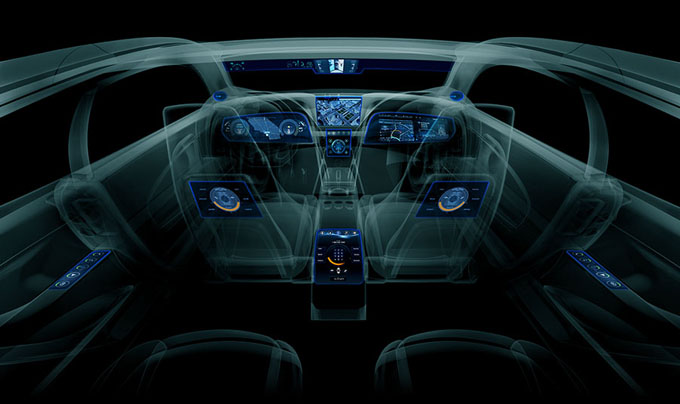 J.D. Kane: My favorite thing from this year's CES is not a particular product, but an initiative. As an automotive enthusiast who loves technology, NVIDIA DRIVE is exciting to me like nothing else. DRIVE CX will make the driver feel more connected to his vehicle via improved interface with the cockpit and controls, while DRIVE PX will make autonomous automobiles capable of actual deep learning truly feasible. The hardware seeds for these programs are already here in the form of NVIDIA's Tegra X1, and that's just the starting point.
DRIVE makes it clear that NVIDIA is not just a graphics card company. It's a legit technology think-tank with big ideas.
Samsung's SM951 M.2 Solid-State Drive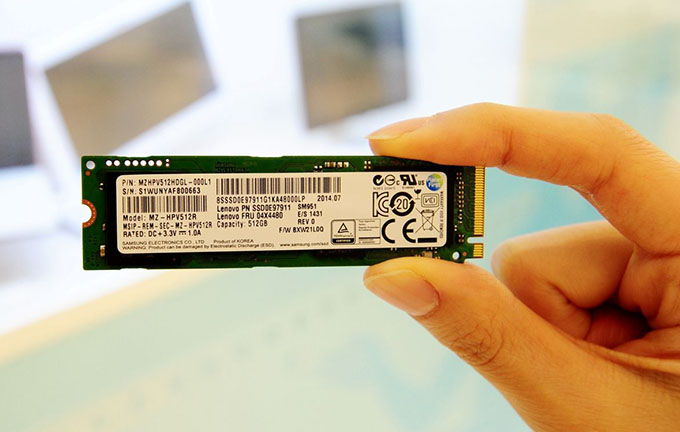 Robert Tanner: It has been some time since a new SSD launch made us sit up and take notice, but Samsung's SM951 M.2 SSD has broken the lull in spectacular fashion. Even though it will be an OEM-targeted product (at least for now), it will offer pretty much every feature one could hope for in an upcoming drive.
The SM951 is a svelte M.2 gumstick capable of utilizing a PCIe 3.0 x4 interface to reach unparalleled speeds of 2150MB/s reads and 1550MB/s writes. Some other features are the addition of a new L1.2 ultra-low power state and especially NVM Express support which promises much reduced CPU overhead.
Samsung's SM951 M.2 SSD has all the makings of an industry-leading drive and is already in mass production. We can only hope that etailers like Newegg will get them quickly as they did with Samsung's OEM XP941 predecessor.
Snail Games' W3D Gaming Smartphone
Ryan Perry: Okay, so this isn't related to chassis or cooling, but I'm all about having fun on-the-go; apparently, Snail Games is, too. How about a phone and a true portable gaming system in one? Those who might think the idea is ho-hum, think again!
Snail Games' W3D looks like a phone and gamepad cracked open some fine Courvoisier, put on some Barry White, and made a beautiful, beautiful love child for those who want a high-powered, octa-core portable gaming system, but also a capable Android mobile phone.
Seeing one of these in North America any time soon is probably a pipe dream, but that doesn't change the fact that I'd be the first one in line to pick one up when they arrive.
Sony's Bravia Smart 4K TVs (XBR 900C)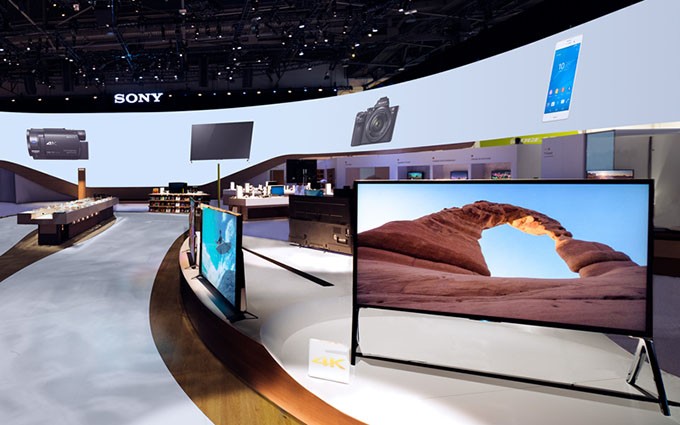 Greg King: With all of what was announced at CES, this is one that had to be seen to be believed. At just .2" (4.9mm) thick, Sony's new lineup of smart 4K televisions is an example of beautiful engineering. For comparison, Apple's popular iPhone 6 is .27" (6.9mm) thick. The bottom of the television's back is a bit thicker, but still sits almost flush (4cm from the wall) with the wall when mounted using the included mounting kit. Apparently the TVs are light enough to mount with drywall anchors – but should you do that, you deserve for it to fall. The new XBR 900C 4K televisions come with the new X1 4K processor, giving the televisions greater picture quality while improving the dynamic range and color.
Another great feature of the XBR 900C lineup is shared with all of Sony's new smart TVs: Google's Android TV. This is not as a plugin or an app, but as the television's firmware. With Google's television OS, Sony smart 4K televisions will have the capability to integrate into the larger Google ecosystem. Another perk is PlayStation Now, Sony's subscription-based PlayStation 3 streaming service. Available in 55", 65", and 75", the XBR 900C lineup is, without question, "Best of CES"-worthy.
SteelSeries Sentry Eye Tracker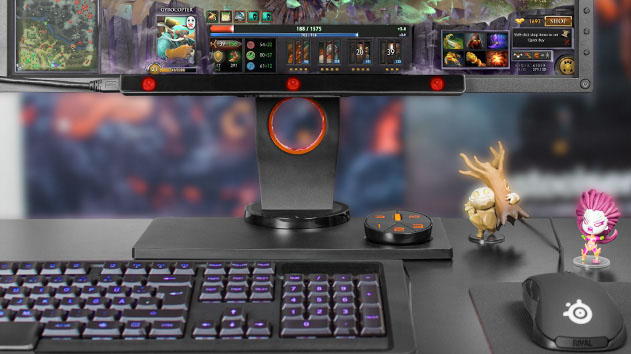 Greg King: Some of my most enjoyable time at CES was walking around the smaller shows that occur before the event even starts. This year I ran into SteelSeries while walking around CES Unveiled, a pre-show that showcases smaller companies' offerings. Immediately, I was drawn to what the company was showing off, the Sentry.
Using eye-tracking technology that polls your eyes 50 times-per-second, the Sentry can keep track of where you are looking on your screen with surprising accuracy. This is a combined effort between SteelSeries and Tobii, the developers of the technology found in the Sentry.
The company first showed off the Sentry at E3, so it's not exactly new, but at CES the company was showcasing its usability with Dota 2 and StarCraft II. By tracking the eyes of the gamer, and broadcasting that stream, the idea is that normal users can get inside the head of the professional gamer they are watching. This could be a great tool for e-gamer training. Another use of the Sentry was showcased in a tech demo where the player could interact with the surrounding in similar fashion to the Half-Life 2 gravity gun. Only with the Sentry, the player simply needs to look at the object they wish to interact with, all the while remaining on the same forward course they are on. This does away with the need to align your cursor on the enemy.
Time will tell if the Sentry will take off or silently be forgotten. But, I see plenty of potential in the technology for gaming and training alike. You can check out a quick video of the Sentry in action here.
Copyright © 2005-2021 Techgage Networks Inc. - All Rights Reserved.