The Gaming Mouse That Has It All: COUGAR 700M Review

Date: January 14, 2015
Author(s): Tom Roeder

Mice – there is never a shortage of options in the gaming market. They range from $10, to well over $100 – some are a tremendous value, some are not. COUGAR is no stranger to this market and have put its best foot forward with the 700M Gaming Mouse. How did it fare? Follow me, I'll show you!
---
The Gaming Mouse That Has It All: COUGAR's 700M Review
Here at Techgage, we have reviewed our fair share of gaming mice, and there are many great options to choose from out there – whether they are battery operated, rechargeable, or corded, or styled with simple clean lines or incredibly wicked industrial-looking design, the selection can be quite daunting.
I've personally waded through the sea of these mice, and I have to say one thing for sure: many companies have offered fantastic mice with impressive hardware profiles, boasting top-notch materials and workmanship. Where many of them fall short, however, is the accompanying software. Most of it is just outright horrible to use, over-complicated, counter-intuitive, and just plain disgusting to the eye.
Moving forward I will take you through a complete tour of the 700M and its accompanying software, missing no detail, so that you can make an informed decision as to whether this mouse is right for you.
COUGAR is not a company that I was very familiar with when I got this sample, to be honest. My initial impression with the products has been very favorable, a very pleasant surprise.
The 700M Gaming Mouse features many industry-standard specs:
1000HZ polling rate, 1ms response time, on-the-fly DPI adjustment, Omron switches which are rated for 5 million clicks, gaming-grade mouse feet, and a generously long braided cable with a gold-plated USB connector.
The body of the mouse is far from simple looking. Right away you'll notice the incredibly modern look – the wicked angles and the myriad buttons; the combination of anodized aluminum, plastic and rubber has been stylized to give this mouse a serious industrial-look, like it was designed by a team of Formula One engineers.
The aesthetic of the front of the mouse is really consistent with the entire mouse body – a hard industrial extreme look is the best way that I can describe it.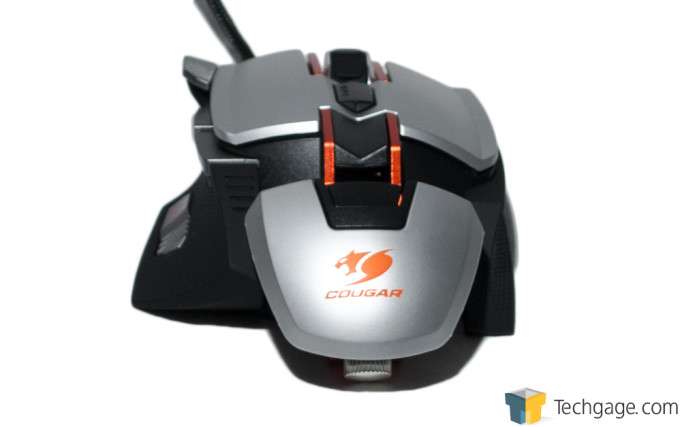 One thing that is abundantly clear with this mouse: it is not ambidextrous, so southpaws need not apply.
The cord comes out of the left hand side of the front of the mouse – personally I would have liked to have seen it come out of the right side to best accommodate my personal setup, but it really is not a big deal at all. The cord is the industry standard black braided material which has a nice low coefficient of friction, and glides across my desktop and mouse pad, allowing you to quickly forget that this is a corded mouse.
The left side of the mouse, where us right-handers thumb resides, is a little busier with buttons than a lot of mice out there. This is something that you might like or hate, depending on your needs.
You have the standard "forward" and "back" buttons in their regular spot (right thumb); a generous amount of space separates those two from the "45 Sniper Button" below. This button can be programmed for any task really, but COUGAR has designated this button to provide a quick access for better stability and more precise aiming when you are gaming. I personally never used this button for what COUGAR intended, but it is in a great spot that is easy to access, to press at that crucial moment when you just have to blow someone's head off (in game play, of course).
Just to the left of the standard left mouse button, we find another programmable button, dubbed by COUGAR as "The Fire Button". It is close enough to the left click that it is easy to click quickly, but not so close as to where you will be accidentally clicking it at the worst possible moment. I have this button programmed to activate a shortcut that I made to power off my monitors – makes life a lot easier than manually switching off both my displays – this is just one example of ways you can program these buttons to make your "E" world a little better.
The mouse scroll wheel may be the best part of this mouse for me. Too often I find myself making the decision to love a mouse or not to simply by the feel of the scroll wheel. This wheel has a nice rubber covering that feels very nice on your finger, providing you with great grip and comfort. The breakaway torque needed to get the wheel moving is absolutely perfect in my opinion – and the coarseness of the detents is very pleasant, giving you the tactile feedback that you need, while being very smooth and quiet – a balance that is rarely accomplished. The MMB (middle mouse button) is just a little more stiff than I prefer, but just barely. It is probably necessary that it be that stiff, as some users may be very heavy-handed and accidentally click that button when they are in game play – not something you want happening at the wrong moment!
Just south of the scroll wheel we find the on-the-fly DPI adjustment. This button is in the perfect location for my personal use, as adjusting on the fly is not something that I do very often, but even for the users that are constantly changing their DPI, the button is still very easy to get to – you will find that you don't have to reposition your hand in order to click this button. The DPI change is indicated with a visual bar graph on the left lower side of the top of the mouse.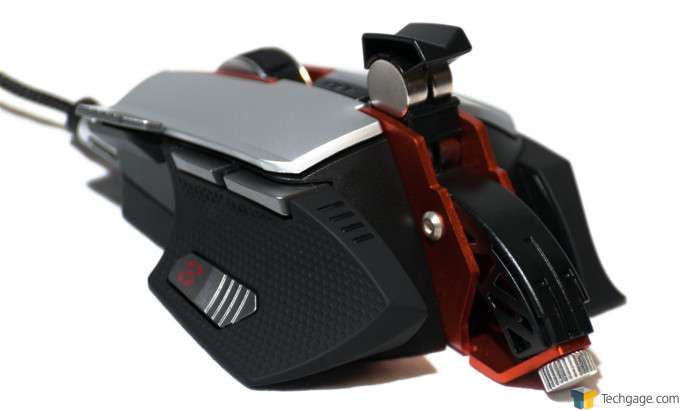 At the backside of the mouse you will find the weight system cavity. I have to say that this weight cavity is not as elegant as some of the others that are out there, but it is quite decent at that. You simply remove the tail piece and lift up to remove the weight carrier assembly. The mouse comes with a generous amount of weight that you can add to suit your preference.  As far as weight distribution, there are mice out there that have better methods; as with this mouse, all the weight is in one place. Personally, I don't have an issue with this, as making the mouse heavier is nice, but I never really saw the need for adding weight to the front of the mouse, and not the rear – more on one side than the other… just never really made a difference to me. There are some people out there that really prefer to have the weight a little more customizable, so do keep that in mind.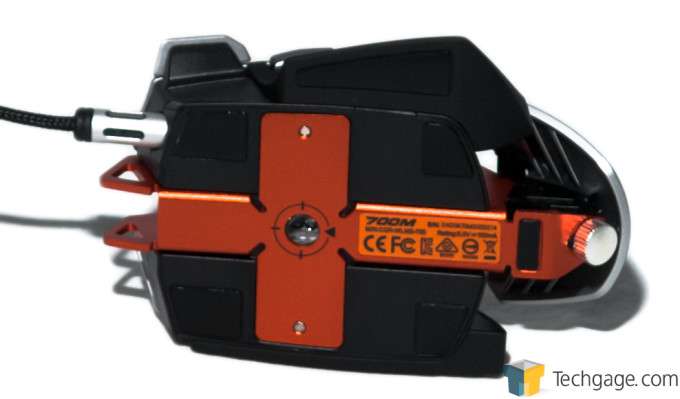 On the rear end of the mouse you will see the changeable cover, customizable to fit large or small hands. Just below that you will find a thumbscrew that adjusts the height of that rear pad, thus changing the feel of the mouse; catering to the needs of those of us who are very particular about how their hand rests of the mouse – after all you will spend more time touching your mouse than any other component on your computer!
Software
Now that we have taken a tour of the appearance of the mouse, it's time to move on to the accompanying software. This is often a point of contention for me, as this is usually the part where the manufacturer really, really misses the mark – with the occasional exception made by the larger companies.
COUGAR has really done a good job with this software – it is intuitive, attractive, fluid, and just overall a pleasure to use. I found it very quick to master, and refreshingly easy to make this mouse do exactly what I wanted it to do.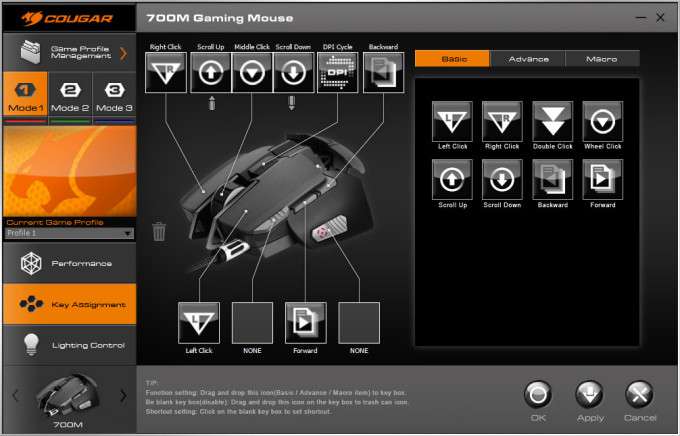 Using this software, you can fine-tune almost every aspect of the electronic operation of this mouse. You can make a profile catered simply for one game, and have a different profile for another game, or even tailor them for other uses. One example that comes to mind that I have programmed mouse buttons for before is, when coding in HTML there can be times where you have to inject a long line of code for a certain task, in multiple places in your work; this is where a mouse capable of programming and executing macros really scores. Macros can save you a lot of time and make you much more productive.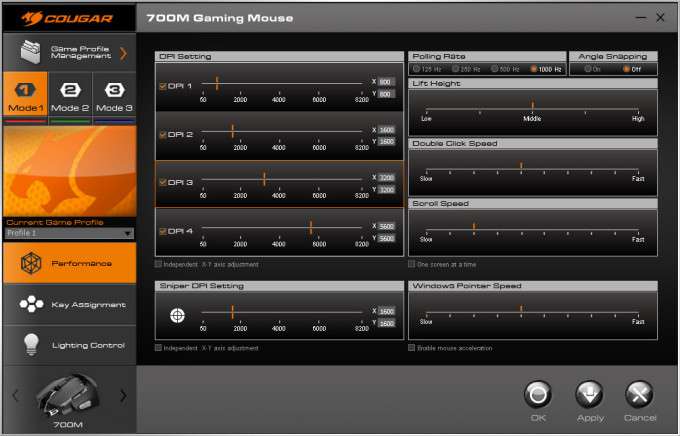 Under the DPI settings you can, as I am sure you guessed, adjust your DPI. You can custom-tailor up to 4 different DPI shifts per profile, and here is where you will find the DPI setting for that Sniper button on the side of the mouse that I mentioned earlier. You can set them at whatever increments you like, or leave them stock. Here you can also adjust the double-click speed and scroll wheel speed.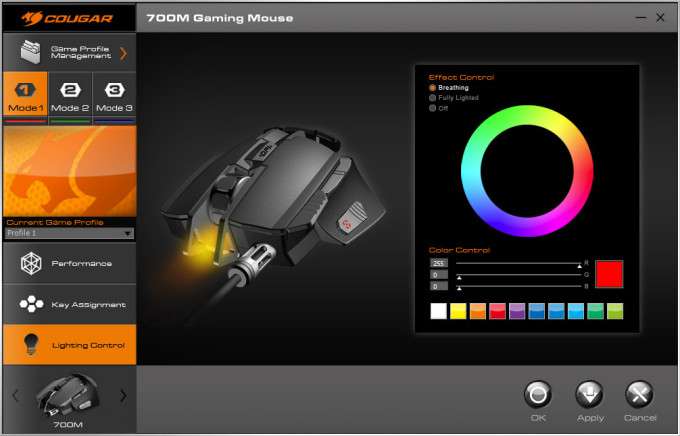 In this software you can also fully customize your lighting – whether you want to turn it off all together, adjust different zones of the mouse for different colors, or make the lighting have the "breathing" effect, the possibilities are really only limited by your imagination!
COUGAR also sent a mouse pad to go along with the mouse, the COUGAR Gaming Mouse Pad SPEED series. A lot of people will overlook mouse pads these days because in most cases, they are simply not needed. My desk top is glass, so a mouse pad for me is a must.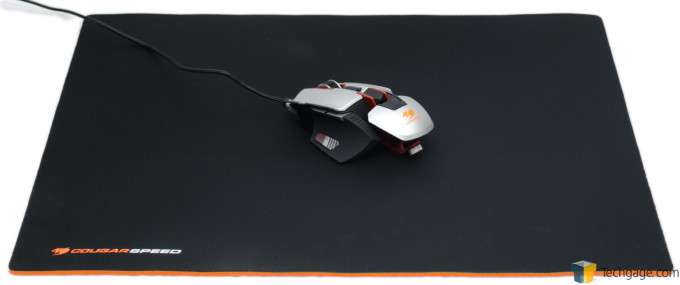 First of all, the one they sent me is their large one – 400mm x 450mm. I personally like the large format, as it gives me plenty of room when I am gaming. The surface has a very pleasant feel, and the mouse glides effortlessly across it. This mouse pad is rubber on the backside and has no noticeable odor. I mentioned this detail because, all too often, mouse pads with rubber in their construction have a rubber odor. It seems to be very well made, and I have been using it for quite some time now, and none of the edges are fraying whatsoever – it is the perfect complement to my desk, and this mouse.
Final Thoughts
I have lived with this mouse for some time now – from working from home doing IT technical support, gaming, and just casual web browsing and what not. I have to say that this mouse has really impressed me. There is not one single thing that I can really fault this mouse for; I think that it is an ideal gaming mouse, and you the consumer will not be disappointed!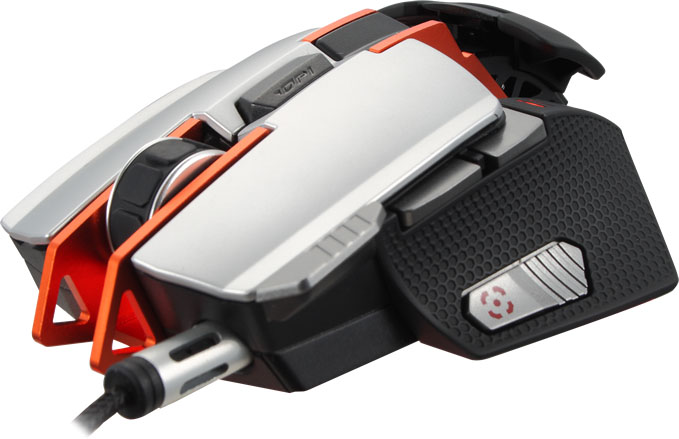 A mouse can really be a difficult thing to write about sometimes, since they are such a personal part of your computing experience, and everyone has a different expectation and preference as to what the mouse should do or feel like. Buying things like video cards, or CPUs is so much easier in my opinion – it is just a numbers game. A mouse, however, is something that you will look at sometimes, but have your hand on more than any other single part of your rig.
I hope that I have given you enough information about this mouse, to help guide your decision as whether or not to add this device to your repertoire. About the only thing that I can say for sure, is that I love this mouse, and I think that you will too.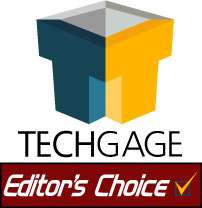 COUGAR 700M Gaming Mouse
Copyright © 2005-2020 Techgage Networks Inc. - All Rights Reserved.