Thermaltake at CES 2011

Date: January 12, 2011
Author(s): Rob Williams

At its hotel suite setup for CES, Thermaltake didn't have a lot of product to show off, but what it did is worthy of looking into. That includes the company's upcoming high-end CPU cooler, the "OCK", its feature-packed Armor A30 mini chassis, the "budget" Level 10 GT, its Max 5G external HDD enclosure and more.
---
Thermaltake at CES 2011
In its suite at the beautiful Palazzo hotel in Las Vegas, Thermaltake had a fair amount of product to show off, including a couple of coolers, a chassis, gaming peripherals and other accessories.
Building off its success of the FRIO CPU cooler (which we awarded an Editor's Choice award and use in a couple of our test machines), Thermaltake showed off its "OCK", which is in essence a beefier version of the FRIO made for additional cooling power.
Details are super-slim on this thing at the moment, and whether or not it's going to be called the FRIO OCK or simply "OCK" or anything else upon its release is beyond us. Like the FRIO, it's tall and wide, but it includes two fans by default in a push/pull configuration.
The bulk of the cooler, featuring a mass of fins and a staggering six heatpipes looks efficient as it is, but add on two high-performance fans and this cooler might just be one of the most effective air coolers available. It doesn't look too bad, either!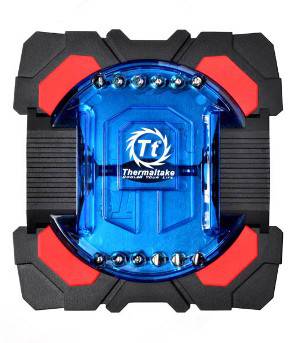 For those gamers who want a portable PC but still need to pack a ton of power inside of it, the Armor A30 might be worthy of consideration. During our meeting with Thermaltake, the cover was taken off of this chassis, and it was hard to believe that so much was fit inside, including a full-sized graphics card, and multiple 2.5-inch hard drives.
Thermaltake touts the A30 as having a "bulletproof armor design", but I'm not quite sure it'll survive that many bullets (nor are we the ones to test it out!). The chassis has a large 230mm blue LED fan that sucks warm air out, and the front features USB 3.0 ports – a huge plus. For GPU support, the A30 can handle cards up to 13″ long, which is essentially anything on the market at the moment, including the super-long AMD Radeon HD 5970.
Both the front and sides have air intakes that are designed to suck air in through the entire chassis, which then leaves the hot air to escape through the top of the rear. For installation's sake, the interior features a ton of room for a chassis of this size, and once everything is installed, there should be no blockage for effective airflow.
Thermaltake last year released its super high-end Level 10 chassis, designed with the cooperation of BMW, and overall, it was a success in terms of design. But, it was expensive, so to give people an alternative, the company unveiled its Level 10 GT at CES. The overall design looks quite similar, but it's far more cost-effective, and features a more reasonable airflow scheme for gamers and enthusiasts: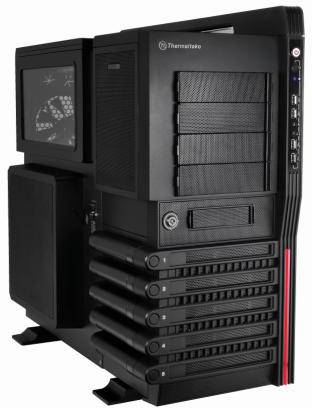 I admit that I'm not one for "gamer" chassis and prefer the cleaner designs, but this one tempts me. It's quite attractive, to say the least. To learn more about it, Thermaltake has launched a Flash site that talks all about it.
Thermaltake didn't have too much from the Tt eSPORTS line-up to show off except what we've already seen, but it remains committed to delivering a whack of solutions for regular and hardcore gamers alike. It's upcoming "mechanical" keyboard, pictured below, is one that it had on display. It looks a bit different, and is rather small compared to other keyboards on the market, but it does clickity clack clack, for those who like that.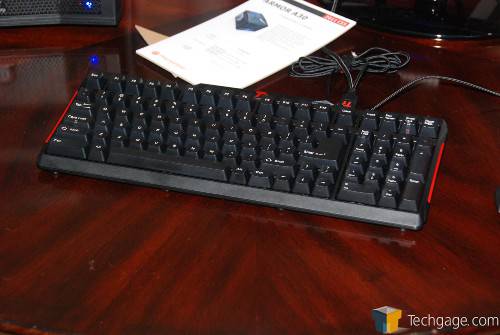 A couple of other things Thermaltake showed off was its Dr. Power II power supply tester and also the Max 5G external USB 3.0 enclosure.
Overall, Thermaltake didn't have a lot to show off at CES, but what it did show off seemed to be quality. We look forward to receiving samples of most everything we took a look at here in the upcoming months and relay our experiences to you.
Discuss this article in our forums!
Have a comment you wish to make on this article? Recommendations? Criticism? Feel free to head over to our related thread and put your words to our virtual paper! There is no requirement to register in order to respond to these threads, but it sure doesn't hurt!
Copyright © 2005-2020 Techgage Networks Inc. - All Rights Reserved.