Thermaltake WATER2.0 Performer & Pro CPU Coolers Review

Date: September 10, 2012
Author(s): Rob Williams

Want to take your CPU cooling to the next level and adopt a self-contained liquid cooler? The market at the moment is packed with such offerings, and Thermaltake just padded it further with its WATER2.0 series. Available in three flavors, we're taking a look at the Performer and Pro variants here to see if they deserve to be in your rig.
---
Introduction
Self-contained liquid CPU coolers are no longer a niche product, as the market now proves – and, it's for good reason. Their price often enables those who would have otherwise purchased a higher-end air cooler to jump on board, and thanks to both their simplicity and popularity, many vendors have joined the party as well. There's a lot of competition, and such coolers are now more affordable than ever.
While many vendors have begun offering these coolers, there are few that have been catering to cooling products as long as Thermaltake. Despite its huge product portfolio, the company's motto remains "CoolAll Your Life". That might sound like horrible translation, but it gets the point across.
The company recently released its "WATER2.0" series, aiming to give enthusiasts three levels of cooling effectiveness to choose from; Performer, Pro and Extreme. The latter doesn't seem to be pushed too hard, as it's difficult to find in stock. Performer and Pro are readily available, however, and to kill two birds with one stone, we're taking a look at both of them here.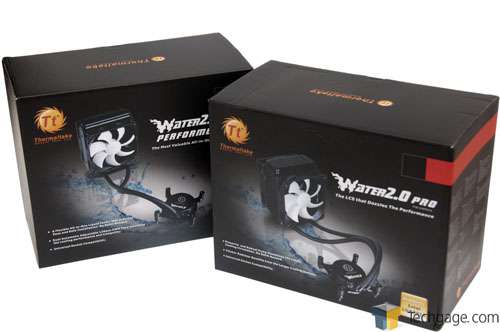 Understanding the differences between the Performer and Pro is made simple with the help of the official table below. Both coolers include two fans, but the Pro version comes equipped with a double-width radiator (49mm vs. 25mm). The Extreme, by contrast, retains the 25mm thickness but doubles the length. The effectiveness of the cooler increases with the higher models, and compared to the Pro, Performer looks quite modest.
Performer
Pro
Extreme

Socket
Intel: LGA2011, LGA1366, LGA1156, LGA1155
AMD: FM1, AM3+ AM3, AM2+, AM2
Radiator
Price Does Not Compromise Performance Even with the great value of the WATER2.0 Performer it uses a top quality engineered performance 25mm radiator.
A Step Above The WATER2.0 Pro take the Performer design even further by applying a thicker high performance radiator which allows for more surface area and better cooling potential
When "Good Enough" is Not The WATER2.0 Extreme is for the user who wants the absolute best performance with room to push the limit. With a expanded 240mm radiator the WATER2.0 extreme can push the limits of an extreme platform.
Radiator Size
120mm
120mm
240mm
Radiator Thickness
25mm
49mm
25mm
Radiator Cooling
1385 cm2
3730 cm2
4755 cm2
Maintenance
Trouble free for life The WATER2.0 line is designed to operate through its complete lifespan with no internal maintenance or top off of fluids required.
Smart Control
Silence is Golden with the dual PWM fans any 4 pin motherboard header can keep the fans in silent operation until the cooling power is needed such as heavy workloads or extreme gaming sessions.
The Ultimate in Control the WATER2.0 extreme offers built in cabling and included software to allow full control of the cooler from within windows so that the fans are not just throttled by the motherboard but instead are exactly how you want them including custom fan curves for absolute precision control.
Fans
2x 120mm PWM Fans included and controllable via available motherboard 4 pin fan headers for temperature controlled fan throttling.
2x 120mm PWM fans included. (optional: up to 4x 120mm fans can be installed on both sides of the radiator for maximum cooling efficiency)
Fan Speed
1200 ~ 2000 RPM fan speed range. This allows for adjustment from the silent and tranquil low 1200 RPM speed up to the powerful and high performance 2000 RPM setting.
Performance
Good Great for anyone looking to get a first step into liquid cooling at the lowest possible cost of entry.
Better For the user who likes to push performance and wants a high performance cooler to support their lifestyle and demands.
Best For the extreme user who has to tweak and tune every bit of performance from everything, this is the no compromise overclocker and tweaker friendly solution.
The nice thing about these coolers, especially the Performer, is that all of them include fans. While it debuted at about $75, the Performer can now be had for $50 after mail-in rebates. If you get it at that price, it's a really good value given it includes two fans, which sold separately would set you back about $20. Using the "Smart Control" feature of the coolers, these fans can keep quiet at 1,200 RPM when idle, and ramp up to 2,000RPM during a heavy workload.
The blocks on the WATER2.0 coolers have been milled from a single block of copper, with the aim to keep efficiency to a maximum. Unlike some competitor units, there is no manual fan control here, nor is there any special display on the pump. Personally, this doesn't bother me, though I do wish more of these pumps would at least come equipped with an LED that would let me know it's functioning properly.
Let's take a look at what comes in the box, shall we?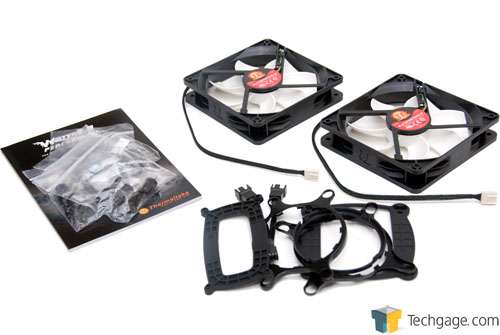 Both the Performer and Pro include identical accessories. These include the mounts for all of the sockets supported, various screws and components to build the mounting assembly and a manual. This manual is sufficient, but as its fonts and diagrams are rather small, I found myself downloading the PDF version from Thermaltake's website.
One thing I have to give Thermaltake kudos for is giving the included fans a sufficiently long cable. Included among the accessories is a Y cable for first connecting both fans to it, and then this cable to a fan header, but because the cables were long enough on the fans, I didn't have to use it. If you're limited on fan headers, you won't be so lucky, but the fans that came with the H70 (original) didn't have that luxury, so this stands out.
Here's the Pro model, with its delicious double-width radiator: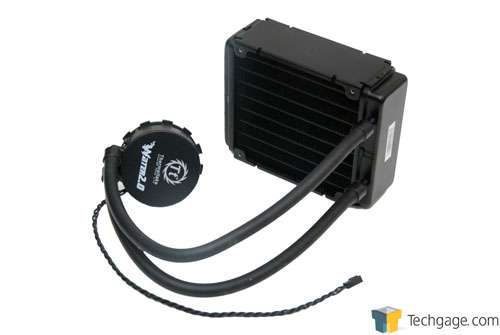 Here's the Performer model, with its wimpier-looking radiator (as we'll soon find out, it's not so wimpy in performance).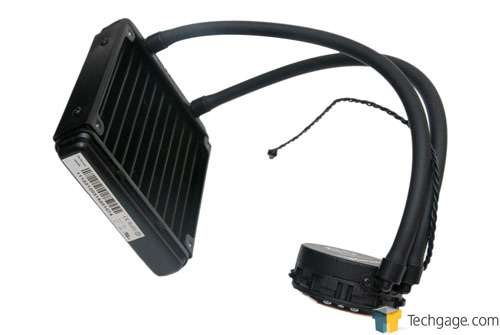 If you've installed a cooler like this before, you've pretty much installed them all. The major difference will come down to the socket. In our particular case, we're testing these coolers on an X79 platform, so its built-in cooler mounting mechanism allowed us to skip installing the one in the box.
Thermaltake recommends a push / pull configuration with its WATER2.0 coolers, which means both will be blowing air towards the back. The first step of the installation is to position the back fan where it needs to be, feed a screw through to catch the radiator, and then screw it in. Once all four screws are in, you connect the second fan the same way. It's important to note where your available fan headers are during installation, or you may find yourself having to reposition the fans in order to allow the cable to reach where you need it. As you can see in the photo below, the inner-most fan had no problem reaching a fan header to the right of the DIMM slots (the photo makes it look like it barely made it, but it's just an illusion – it had a fair bit of slack).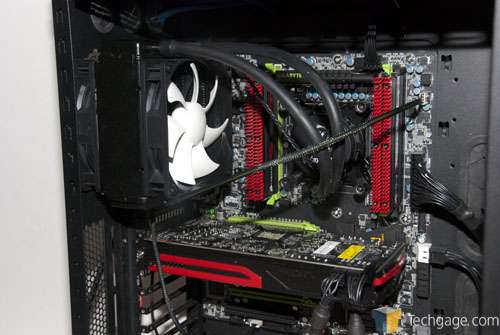 Installation-wise, I have no complaints with the WATER2.0 coolers. While there are instances where you have to exercise your patience getting things into place, it's pretty unavoidable. The only way it could be made easier is if Thermaltake included industrial adhesive to affix the cooler, but the company probably imagines that people might want to remove the coolers at some point.
With the coolers all installed, let's get right into temperature-testing.
Testing & Final Thoughts
This CPU cooler review isn't like most of our others, where we have many other coolers to compare to. Instead, this is more of a one-off article. It's with regret that I don't have other coolers to compare to; I had wanted to compare to the Corsair H70 already equipped in our GPU test rig, but the results I saw were not reasonable, so I didn't feel comfortable posting them here.
That said, when I built this machine for our GPU testing, I had tested out Intel's RTS2011LC self-contained cooler, also developed by Asetek, to see if it'd be suitable for use in the machine. At stock, the CPU reached 69°C during the same stress (I didn't test it overclocked). Bear that in mind as we check out the performance of Thermaltake's coolers.
But first, a quick look at our test PC:
Graphics Card Test System
Processors
Intel Core i7-3960X – Six-Core, 3.30GHz, Default Voltage
Motherboard
GIGABYTE G1. Assassin 2 (X79)
Memory
Corsair Dominator GT 4x4GB – DDR3-2133
Graphics
AMD Radeon HD 7850 1GB
Audio
On-Board Creative X-Fi Audio
Storage
Kingston HyperX 240GB Solid-State Drive
Power Supply
Corsair AX1200
Chassis
Corsair Obsidian 700D Full-Tower
Cooling
Thermaltake WATER2.0 Performer Self-Contained Liquid Cooler
Thermaltake WATER2.0 Pro Self-Contained Liquid Cooler
Et cetera
Windows 7 Professional 64-bit
To test these coolers, I waited for the room to get as close to a 70.0°F ambient temperature as possible, then boot up the machine and started AIDA64 immediately. After about five minutes of sitting idle, I then used the program's built-in stress-test and allowed it to run for 15 minutes. AIDA's stress-tester is one of the most comprehensive out there, so we feel confident using it for our cooler testing.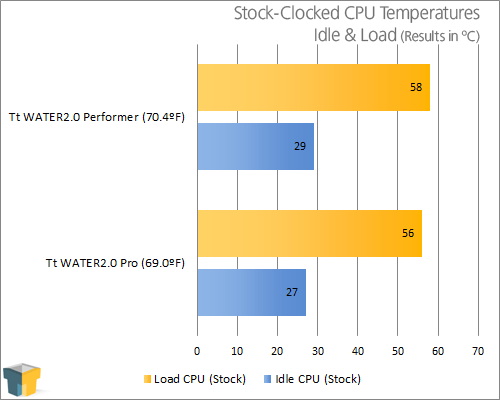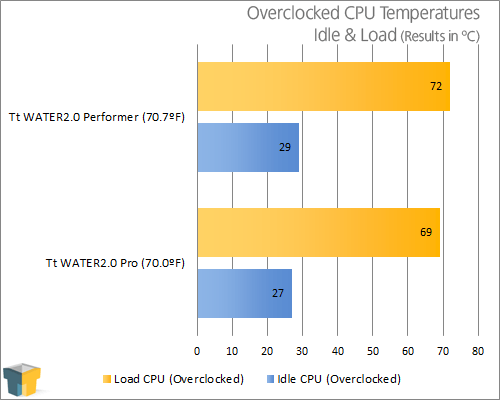 To say that I'm impressed with the performance of the Performer would be an understatement. At stock speeds, it managed to keep this beefy six-core CPU under the 60°C mark during a stress, and with the CPU kicked up to 4.4GHz, it peaked at 72°C – a completely safe temperature. Compared to the Intel cooler I tested before, which is quite similar in design, there was just no comparison.
The Pro, on the other hand, didn't impress at all – at least in comparison. It managed to shave a couple of extra degrees – 3°C at best – but costs about 50% more. I am going to bet that most people wouldn't find that too compelling.
Final Thoughts
I must say – I am very impressed with the WATER2.0 Performer. To keep a six-core under 60°C during a stress is quite impressive. I am currently using a Corsair H60 in my personal rig, and I regularly see 80°C temperatures from the Core i7-990X. While that CPU does run hotter to begin with, the differences in efficiency here is staggering.
In terms of noise, neither the Performer or Pro are particularly loud at full load. They're clearly audible, but not to an annoying extent, and compared to a stressed GPU, the noise from them is actually pretty modest. I run seven fans in my main rig, so the noise of the benchmarking PC with these coolers was a breath of fresh air.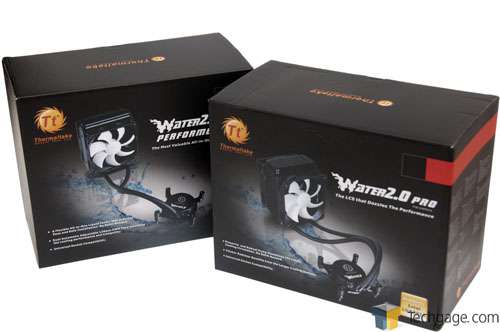 If you're worried about a complicated installation with coolers like these, don't be. If you take a minute to analyze the diagrams in the manual, you'll be set. From start to finish, swapping out one cooler and installing one of these WATER2.0s took about 15 minutes.
Overall, I highly recommend the Performer, because it does live up to its name. Overclocked to 4.4GHz, our six-core never went above 72°C, which is rather impressive. This cooler regularly sells for about $60, but if you are not adverse to taking advantage of mail-in rebates, you can score it for under $50 – which quite honestly, is a steal. Especially for the fact that it includes not one, but two competent fans.
The Pro on the other hand simply didn't separate itself enough from the Performer to warrant its 50% higher pricetag. We're talking a difference of 2°C at idle, and 3°s during an overclocked stress. Thinking I must have had the cooler installed wrong, I happened to notice that Thermaltake's own numbers back me up (scroll to the bottom).
While the Pro leaves a lot to be desired, the Performer is excellent for its current price and amazing if you take advantage of a mail-in rebate.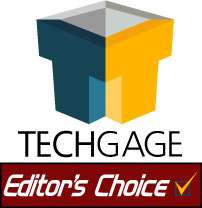 Thermaltake WATER2.0 Performer Liquid CPU Cooler
Discuss this article in our forums!
Have a comment you wish to make on this article? Recommendations? Criticism? Feel free to head over to our related thread and put your words to our virtual paper! There is no requirement to register in order to respond to these threads, but it sure doesn't hurt!
Copyright © 2005-2020 Techgage Networks Inc. - All Rights Reserved.