Toshiba Satellite P205D-S7479
Date: December 24, 2007
Author(s): Rob Williams

Toshiba's latest AMD notebook offering proves that even those on a relative budget deserve a feature-packed model. Besides its 17-inch display, the P205D-S7479 offers nice harman/kardon speakers, a thumbprint reader, a large 250GB hard-drive, an ATI HD 2600 – all for a light price.
---
Introduction
While AMD may not be dominating the desktop market at this point in time, their notebook processors are doing rather well. Numerous notebook-builders are bundling Turion Dual-Core offerings into their product line-ups, which is great for any consumer who is looking for a low-priced notebook with a solid feature-set.
Case in point: Toshiba's P205D-S7479. This is the first Toshiba notebook that I've had to use over the course of a few weeks, although I've been meaning to get one in for quite a while. At CES this past January, their notebooks' feature-sets impressed me, as did their design. The models I looked at then were high-end however, while the P205D is designed to be affordable for anyone. As we will see though, that doesn't mean that you will end up with a lackluster machine. Far from it.
Included in the $1,299 price tag is a lot of functionality and nice specs including a large 17″ display, 2.2GHz AMD processor and an ATI HD 2600 mid-range graphics card. The P205D is touted as being a media notebook, so it should prove perfect for all video-viewing along with regular computer usage as well.
Given its specs, the P205D-S7479 is not going to be the perfect gaming notebook – although it will suffice if you don't mind lowering the graphic detail. The mid-range video card, along with other specs, will not be ideal for any of todays latest releases. At this price-range though, it's difficult to fault the notebook for its lack of high-end gaming capability.
It will also not appeal to the businessman, thanks in part to its lackluster battery-life (as we will see) and also its heavier weight, at 7.2lbs. Luckily, Toshiba and others have a large variety of notebooks to better "suit" that lifestyle.
Closer Look
The P205D is packed well in a compact box. I appreciate this, because a few ASUS notebooks I've reviewed recently have included enough cardboard to build an outdoor shelter. The actual product box is slightly larger than a good briefcase – perfect for storing in a closet or the attic.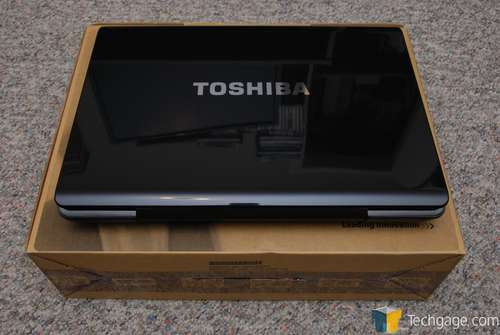 The entire cover is glossy black, with a slight shimmer if you look close enough. Where the word "glossy" pops up, so does "fingerprints", and that's no exception here. If you are looking to keep the notebook looking as clean as possible at all times, prepare to wipe it off with a soft cloth every few days. The Toshiba logo is silver metallic and perfectly blends with the rest of the cover.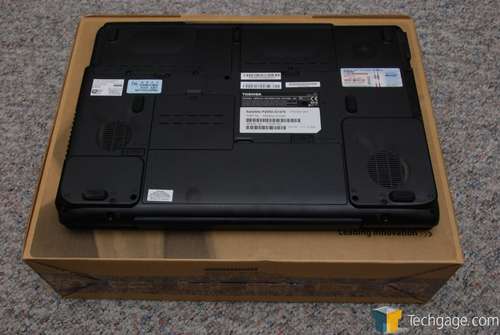 All important information can be found underneath, including the model, serial code, Windows product key, MAC address for the WiFI and various other information. Towards the bottom left-hand and right-hand corners are system fans, while the other opening at the top (relative to your right-hand area during normal use) is an audio subwoofer.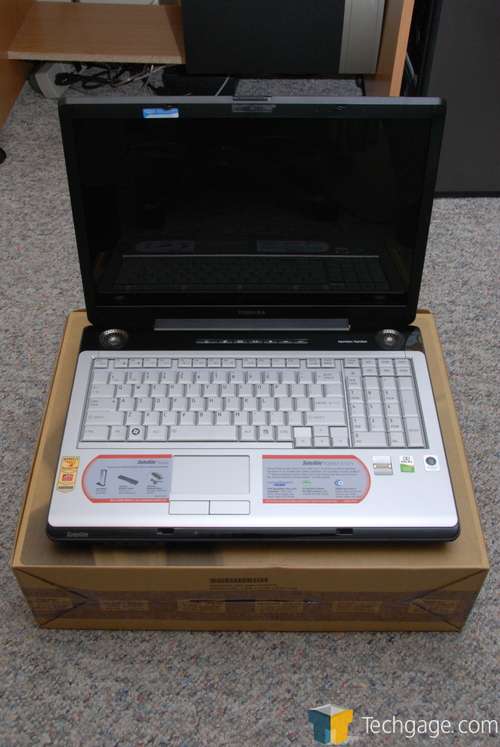 Sure doesn't look like a $1,300 notebook, does it? Personally, when comparing this model to a similar Dell, I find no comparison. Toshiba has a great design here. It's feature-packed, yet retains a clean look. The stickers are gaudy, but I believe that consumer models come clean, minus the standard brand-badges, such as Microsoft Windows and Dolby.
The notebook design is common through Toshiba's notebook line-up, but it works and works well. As mentioned, this looks like a notebook that has a much higher SRP, especially thanks to its harman/kardon speakers. The keyset looks clean and the fact that a full-fledged keypad was included impressed me.
Taking a look around, our first stop is the fingerprint reader. At first, this struck me as odd, because in the past I only recall seeing this functionality on higher-speced notebooks. It's good to see that it's becoming more common. These are useful because they allow you to have a very difficult password to crack (and one that's complicated to type in), while still allowing you to access the OS with a simple swipe of a finger.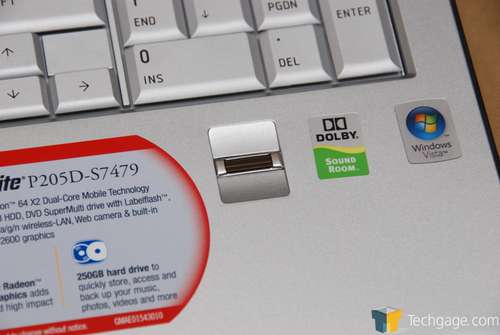 The touchpad is a simple affair, but I found it to be fairly accurate. There were a few times when I felt it didn't respond to my command as it should have, but it was a rarity. The location of the left/right buttons made for comfortable usage in short doses. I am not a fan of touchpads, but was able to get by with this one when I didn't have a mouse handy. That said, I still prefer a mouse any day over a touchpad.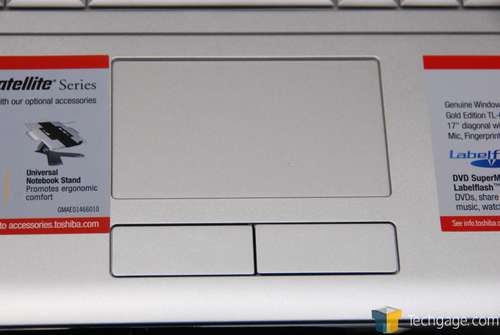 The included harman/kardon 2.1 speakers are a nice touch and the sound quality is excellent for a notebook of any price-range. Thanks to the subwoofer, there is a fair amount of bass and the sound is quite defined considering the speakers are slammed into a small notebook frame. Headphones will almost always be a better choice for movie-viewing/gaming to have a more robust sound, but if you happen to be without, these speakers will not rub you the wrong way.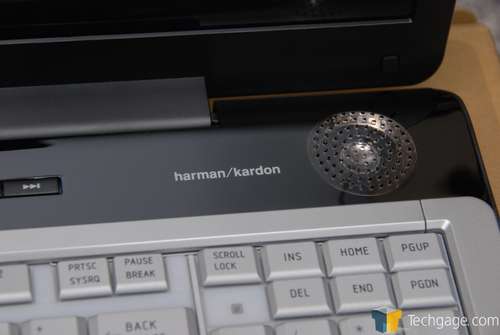 The top media keys don't need much of an explanation, so I won't delve into it. They are located right above the keyboard as you can see, and are very convenient.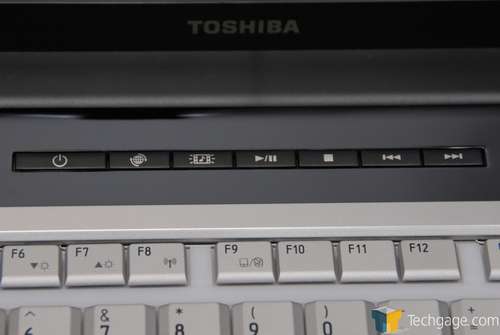 There is no real shortage of connectivity options here, with WiFi, LAN and Modem connections available from the get go. On the left side of the notebook is the LAN port, VGA, 2x USB and an S-Video Out. The right side is where the DVD-RW drive is situated, beside four more USB ports, modem and a Kensington security port.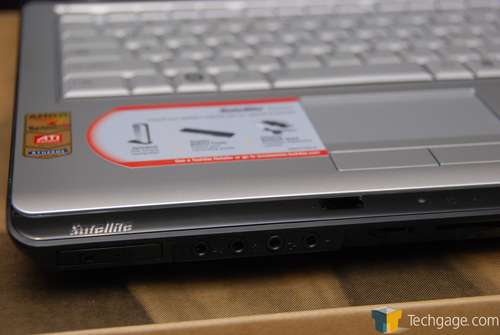 The front contains audio ports, WiFi enable/disable, card reader and a volume roller. Run your finger left and right on this wheel in order to increase and decrease the volume. I would have preferred an actual volume button on the notebook, but this solution worked fine when I needed it.
The WiFi enable/disable button is one useful feature I found myself using often. Click to turn the wireless off, and no connection will be possible. It beats the need of going into the network manager in Windows Vista to disable the driver manually. This method is far less painful.
I am pleased overall with the layout and functionality of the P205D and don't have any serious issues to bring up. I personally did not find the keyboard to be to my liking, but I can't exactly put my finger on why, either. After using it for a half-hour, I found myself becoming more comfortable with it, so it could have been "keyboard-shock" – moving from one notebook to another. Like most notebooks, a slight learning curve might be needed.
On the next page, we will cover the full specs of the P205D-S7479 and also tackle software.
Further Specs, Software
As mentioned on our intro page, the specifications for the notebook are not that high-end, nor low-end. Rather, they are catered more towards those who want a great notebook for a great price. The P205D-S7479 seems to be holding those two requirements together quite well.
The processor is AMDs Turion TL-64 dual-core, containing a 2.2GHz frequency along with 1MB of L2 cache. It's far from being a powerhouse, but should get the job done fine. At idle, it sucks out 0.80v, while load inches up to 1.10v. The notebook also includes a standard 2GB of RAM.. perfect for the memory-sucking Windows Vista operating system.
Feature

Toshiba P205D-S7479

Processor

AMD Turion X2 TL-64 (65nm)
2.20GHz, 1MB L2 Cache
0.80v Idle, 1.10v Load (Approx)


Memory

2GB (2 x 1GB) Hyundai Electronics
DDR2-667, 5-5-5-15


Graphics Card

AMD ATI Radeon HD 2600 (65nm)
256MB GDDR3, 500MHz Core, 800MHz Mem


Hard-Drive

250GB Fujitsu MHX2250BT
SATA 1.5G, 4200 RPM, 12ms See


Optical Disk Drive

Pioneer DVR-K17LF ATA
2MB Buffer, LabelFlash Support
CD-R / CD-RW: 24x
DVD+R / DVD-R: 8x
DVD+RW / DVD-RW: 8x / 6x
DVD+R9 / DVD-R9: 4x


Connectivity

Atheros AR5008X WiFi
Handles a/g and Draft-N
Realtek RTL8101 PCI-E Gigabit
56K Modem

Peripherals

6x USB 2.0
VGA-Out / S-Video Out
Realtek ALC260 (AMD SB600 Audio)
Microphone/Audio Ports
PC ExpressCard Slot
Card Reader
Integrated Chicony Webcam
Thumbprint Reader

Display

Samsung LTN170X1-L02
17.0" WSXGA+
Display Size: 37 cm x 23 cm (17.2")
1440×900 (16:10 Aspect)


Et cetera

Microsoft Windows Vista Home Premium
Weight: 7.2lbs
1-Year Parts/Battery Warranty
Battery: 4000 mWh

The video card is a nice offering considering the notebooks price, but is still short of being a great gaming card, so don't expect to be playing brand-new titles. Other things that stand out are the 250GB hard-drive and abundance of connectivity ports. There are six total USB ports and a card reader as well.
I am not a fan of the 1440×900 resolution, at all, but its become the new standard for value 17-inch notebooks. It's definitely enough to allow you to handle a nice workload, but I still look forward to a time when 1680×1050 will be found on notebooks of this price range.
Setup and Software
The setup of the notebook was as to be expected… simple. After the first boot, you will be required to enter user information, choose a wallpaper and then sit back and wait for everything to finalize.
Once in Windows, the first word to hit me was, "Wow, bloat!" Sure, that's two words, but details as such are minor when you have this much bloat staring you down. There's little doubt that Toshiba makes coin for having certain applications pre-installed, such as Google Desktop, but at some point it becomes far too much. I am far from being a minimalist, but I am not a fan of sitting around for a half-hour just to uninstall programs I do not want.
Ideally, I'd love to see a checklist be prompted after the first boot, and then from there the software would install only what you've approved it to. It can be argued that inexperienced users would be too confused, but nothing would stop them from hitting the "OK" button and bypassing it all. I actually found it quicker to wipe the machine and install my own copy of Vista… then install the drivers manually.
Trial software includes McAfee Internet Suite which will run for 30 days before nagging for a purchase. Microsoft Office 2007 Student also offers a trial, of 60 days, and asks for $149.99USD to continue usage after that time.
On top of generic bloat, I found some of the installed Toshiba software to be frustrating. For example, the webcam software includes an on-screen display which docks itself to the side of the screen and makes itself apparent whenever your mouse touches it. This could not be turned off, and from what I can see, it's the only way to use the webcam outside of another application (IM, for example). If this dock is uninstalled, so is the driver. No driver = no webcam.
There is another system dock at the top of the screen, which drops down whenever your mouse is close. I wouldn't mind this if the dock had a quick response, but it doesn't. It's slower than a Toyota Prius driving through melted roadway. Luckily, it can be uninstalled, which is fine since it serves no real purpose. It offers quick access to turn on and off various notebook functions, but I found it easier to just handle those tasks manually.
Performance
Being a notebook designed for value-conscious shoppers, we are not going to expect extreme performance here. Clock for clock, an Intel CPU would likely prove a better choice for overall application performance, although the AMD Turion is still fully capable of handling your tasks with relative ease.
There are a few components that will assure less-than-perfect application speeds, including the hard-drive and the video card. Although the 250GB drive is sweet to have, its 4200RPM speeds will make a few processes slow, such as game level loading, saving a large file, or even copying a folder from one part of the drive to another.
The video card, might be another huge bottleneck, but that's to be expected for a notebook of this price-range. The HD 2600 will prove no limitation for video or other simple 3D applications, but games will need to be run in lower resolutions in order to be playable. On top of this, brand-new games (such as Crysis, Bioshock) are not going to be enjoyable on this particular notebook.
For testing, I used a variety of real-world benchmarks in addition to PCMark Vantage and Sandra, two synthetic benchmarking tools. Our battery tests are completed with the help of Bapco's SYSmark 2007 Preview. If you are new to our reviews and are unsure how we complete our real-world tests, please refer to our recent Intel QX9770 review, where all tests are explained in detail.
Benchmark

Results

Battery Life
Productivity
DVD Movie Watching

1h 30m
1h 25m

7-Zip Archiving
Compress 4GB Folder

25:09
Adobe Lightroom
Export 100 RAW to resized JPEG

8:00
Autodesk 3DS Max 9
Render 1920×1080 Single Frame
Render 490×270 60-Frames

2:05
8:35
HD Tach RW/3
Burst Speed MB/s
Average Read MB/s
Latency

49.6MB/s
31.1MB/s
19.9ms
Nero Recode
Recode 9GB DVD to 4.5GB
Recode 9GB DVD to 1GB for iPod

16:03
25:46
Sandra Memory
Int MB/s
FLOAT MB/s

6515MB/s
6506MB/s
PCMark Vantage
PCMark Suite
Memories
TV and Movies
Gaming
Music
Communications
Productivity
HDD Test

2505
1716
1762
2260
2533
2286
2322
1883
The absolute biggest problem with our results, to me, is battery life. While not a notebook that promises long-life, for a "media-notebook" you'd imagine that you could at least finish a single DVD movie before needing to shut down, but that's not the case at all. To make sure that the battery life was accurate, I manually tested using one of my concert DVDs, and sure enough, I hit 1h 20m. SYSmark hit 1h 30m, so I averaged the result.
Performance aside from that is acceptable, but nothing mind-blowing. It's going to be one of those notebooks that offers sufficient performance, but is for those who have a fair amount of patience and don't mind waiting a few extra minutes for an intensive process to finish.
When you consider that our E6600 machine hit a 4:31 time in our Adobe Lightroom test, the notebook didn't perform too poorly. The E6600 has obvious benefits, including that it's based on the efficient Core micro-architecture, and also had a higher clock speed and a much, much faster hard-drive.
I did a fair amount of gaming on this notebook, but didn't record the frame-rates, because often the Avg FPS will appear far better than the actual game play represents, so I am just going to relay my experiences instead.
Brand-new FPS games are not going to play that well on this laptop, and if you lower the graphic settings enough to the point that they are playable, it will not be that enjoyable thanks to poor graphics. Half-Life 2: Episode Two offered perfect performance at 1440×900 with medium settings, but that was an exception. The Source engine has always been optimized to work on all sorts of hardware, so its performance was to be expected.
Unreal Tournament III on the other hand, ran horrible. I tested it out at 1024×768 with 2/5 quality setting and the game stuttered at the most inopportune moments. Not to mention that at those settings, the game was very displeasing to the eyes.
Racing titles should run without much of an issue at lower settings. Need for Speed: Carbon was tested, and at 1024×768 medium quality, the game didn't stutter during any of the few races I put it through. Games like Juiced 2, having far more intense graphics, will not run near as well. Overall, this is not a notebook for gaming. While it will offer good performance for older titles, newer ones are out of the question.
Final Thoughts
Toshiba did a great job with the development of their P205D-S7479 and I believe it's worth the $1,300USD retail price. It includes a large screen (albeit with low resolution), fantastic harman/kardon speakers, a full-fledged Numpad, fingerprint reader, a whopping 250GB hard-drive and plenty of connectivity options – this model doesn't falter on much.
However, as much as I enjoyed working with this notebook, I can't help but notice other models in Toshiba's own line-up that look to be of a better value. First, let's take a look at the $1,149 P205-S7476, an Intel-based offering. It includes a 1.50GHz dual-core, which might be a little bit slower than what we have here in our AMD machine, but to make up for it, this model includes an HD DVD-Rom drive, allowing you to watch high-definition content at 720p. The included video card is weaker than that of our P205D-S7479, but as we've found out, the HD 2600 was not ideal for newer titles anyway.
How about the P205-S7482, an offering that retails for $1,400? It also includes an HD DVD-Rom drive, on top of an HDMI output – you could hook this up to your high-definition television while at home and enjoy full-resolution HD content. The hard-drive here is also 50GB larger, and included still is the HD 2600 graphics card. The 1.66GHz processor should not prove much slower, if any, than the AMD 2.2GHz that's included in the P205D-S7479.
If I had to choose, I'd pick up the P205-S7482 due to its competitive specs and addition of an HD DVD-Rom drive and larger hard-drive. The CPU might be marginally slower, but overall it seems like a better value.
When comparing AMD notebooks to one another though, Toshiba proves to have a better value on their hands. For comparison, I went to the Dell.com homepage and built up an Inspiron. Though it's $50 less, the Toshiba model offers improvements in both connectivity, audio and storage. Not to mention a better video card and the addition of a thumbprint reader.
I still cannot get past the lack of overall battery life on our S7479 though. An average of 85 minutes for DVD playback seems unreasonable for a "media" notebook. The video and audio quality while at home are fantastic, but a media notebook should at least be able to complete a full movie if brought onto a plane. This is another thing to expect of a notebook in this price-range, it seems.
Pros
At $1,299, the P205D-S7479 is a great value
Design is top-rate; features are well-presented
Thumbprint reader and speakers both offer strong benefit over the competition
Crisp and bright screen, but subpar viewing angle
Full Numpad is a welcomed feature
Cons
Battery-life (85 minutes on average)
Considering the price to Toshiba, an HD DVD-Rom addition would have been stellar
Small screen resolution (not dissimilar to competition, however)
Software bloat is asinine, as is webcam and top-screen docks
Not much in way of included extras (mouse, for example)
Discuss in our forums!
If you have a comment you wish to make on this review, feel free to head on into our forums! There is no need to register in order to reply to such threads.
Copyright © 2005-2020 Techgage Networks Inc. - All Rights Reserved.