Transcend SSD370S MLC SSD Review

Date: December 19, 2016
Author(s): Robert Tanner

Got that new laptop or desktop and want to start the new year off right with a solid-state drive upgrade? Need an SSD that will theoretically outlive every system you will ever own for the duration of your lifetime? If that's the case then you've come to the right place as Transcend has the drive for you.
---
Introduction; A Look At Transcend's SSD370S SSD
With the holidays in full swing, new devices in need of a solid-state storage upgrade abound. Shoppers may not be familiar with Transcend as it isn't one of the big names in the SSD market, but suffice to say it has been in the storage business for two decades running.
Transcend is a Taiwanese company that markets a wide range of flash storage and storage related products such as dashcams, and even operates brick & mortar locations in Taiwan. There was a time when Transcend even produced its own brand of motherboards for Intel and AMD processors!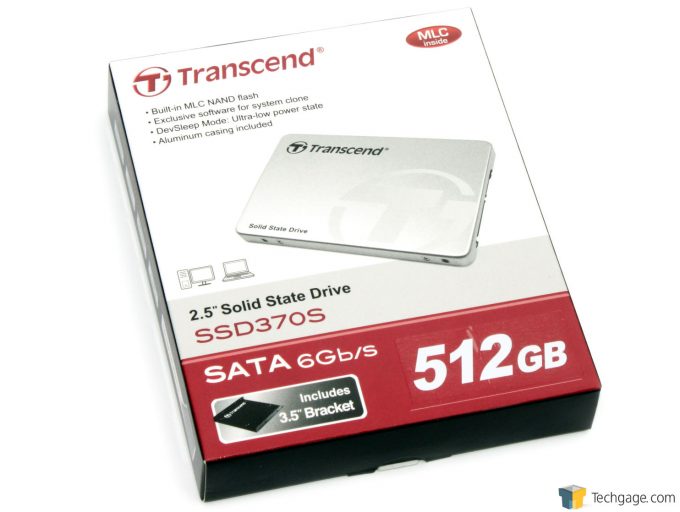 Back to the present, the SSD370S is Transcend's current flagship model SSD. Under the hood is a Transcend TS6500 controller, which is actually a Silicon Motion SM2246EN controller in disguise rolling a customized firmware. As prices declined and competition surged, companies were forced to either leave or tighten design costs, so the TS6500's customized firmware is something rarely seen anymore in the solid-state drive space.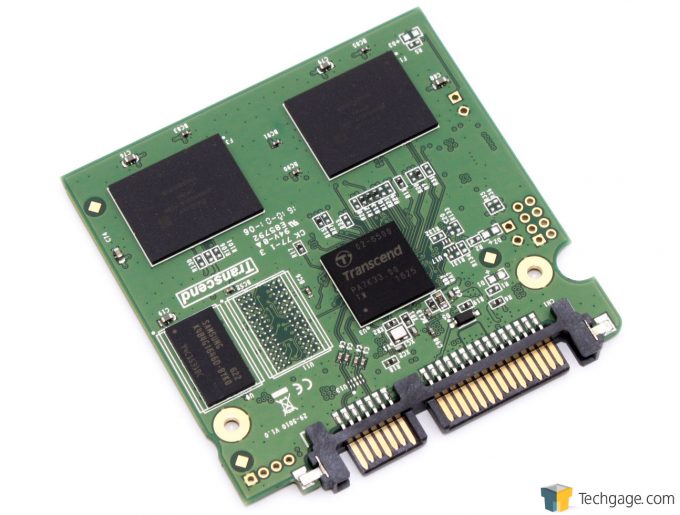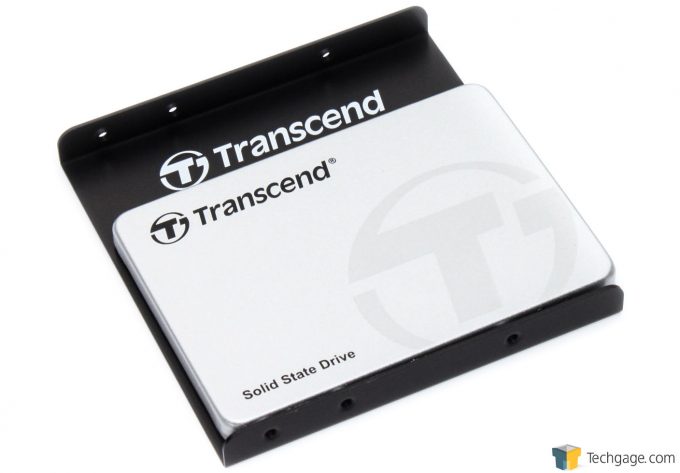 The TS512GSSD370S is a bit of a mouthful so we will stick to just SSD370S for the review. Interestingly the top half of the housing is aluminum with the smaller insert, plastic, which gives it a surprisingly solid feel and extra durability over the typical 100% plastic housing SSDs tend to use nowadays. This model features SanDisk 15nm 128Gb MLC flash, you won't find any mention of 3D, V-NAND, 256Gb chips or TLC here. This is especially important to note due to the extremely high endurance ratings Transcend is giving these drives, which we will delve deeper into in our conclusion.
This drive includes the usual mounting screws and drive cloning software, but also includes an aluminum adapter bracket for quick 3.5″ bay mounting. Also included was the most detailed quick-installation guide we have ever seen included with any SSD that clearly had been intended for use by a human being. It even includes a short walk-through section for the drive cloning process as well as installation of the drive into a Mac.
128GB
256GB
512GB
1TB
Form Factor
9mm 2.5-inch
Interface
SATA 6Gbps
Controller
Silicon Motion SM2256EN (custom Transcend firmware)
DRAM
Samsung 512MB DDR3 (512GB model)
Flash Memory
SanDisk Synchronous 15nm 128Gb MLC
Sequential Read / Write
550 / 170 MB/s
560 / 320 MB/s
560 / 460 MB/s
560 / 460 MB/s
4K Random Read / Write
70K / 40K IOPS
70K / 70K IOPS
75K / 75K IOPS
75K / 75K IOPS
Endurance
150TBW
280TBW
550TBW
1160TBW
Street Price
$60
$97
$185
$381
Warranty
Three Years
As expected for any performance SSD Transcend is uses a 512MB DDR3 DRAM cache buffer for improved performance consistency. For data protection, the Silicon Motion SM2256EN controller utilizes the standard combination of LDPC and a form of NAND RAID parity checking for monitoring of data integrity and ECC support. DevSleep is also supported to save power when the drive is not in use.
Interestingly SSD-Z gets this one incorrect as our sample utilized SanDisk NAND; it appears Micron 16nm MLC is also used for some drives based on supply but Transcend promises both meet the listed performance and endurance ratings for the SSD370S family.




For utilities Transcend differs from most other manufacturers by incorporating its drive cloning and migration software as part of its SSD Scope toolbox. Although the tool has a basic interface, after some consideration I rather like this as it makes it much simpler for non-technical users to quickly swap a current OS install over to a new SSD. Enthusiasts that want a more powerful utility likely already have one or know where to find one of the free alternatives readily available.
Included are performance monitoring, easy firmware updates, secure erase functionality, drive status and a diagnostic scan option. The only thing missing that I would really like to see is an actual indication of total lifetime data written to the SSD. Most other toolkits show this value and it provides more information to the viewer than just a flat "wear out" indicator that has no context associated with it.
Last but not least is something I almost missed entirely. Transcend also offers the separate utility RecoveRx which as the name implies can search for and attempt to recover deleted files on any Transcend storage products, not just SSDs.
SSD Test System
Processor
Intel Core i7-4771 @ 3.7GHz
Motherboard
ASUS Z97-A – BIOS 2801
Memory
Crucial Ballistix 8GBx4 DDR3-1600
Graphics
EVGA GeForce GTX 750 Ti SC
Audio
Onboard
Storage
Transcend SSD360S (SATA)
ADATA SP550 480GB (SATA)
Intel 520 240GB (SATA)
Intel 730 240GB (SATA)
Kingston Predator 240GB (PCIe)
Samsung 950 Pro 512GB (NVMe PCIe)
Power Supply
BitFenix Fury 650W
Chassis
Cooler Master HAF 932
Cooling
Noctua NH-D14
Et cetera
Windows 10 Pro x64
To ensure all drives have fair representation regardless of capacity we use IOMeter to conduct continuous file writes beyond twice the rated capacity of each SSD. This will make sure every block has been written to at least once including the unaddressable spare area present on all solid-state drives, ensuring all drives begin testing in a normalized "dirty" state.
SATA drives are tested on an Intel 6Gbps SATA port, while PCIe cards will use the PCIe Gen 3 x8 slot to the processor. M.2 drives will make use of a PCIe adapter card in this same slot to bypass the M.2 x2 interface bottleneck, allowing drives to utilize the maximum bandwidth (PCIe Gen 3 x4) that the M.2 interface supports. Where applicable we will ensure drives are using the NVM Express protocol.
The test system's processor has had Intel's Speedstep and Turbo Boost functionality disabled and all cores are locked to the same 3.7GHz frequency in order to ensure maximum consistency between test runs.
Test Suite, PC Mark, Iometer & AS SSD
Benchmark Programs
Futuremark PCMark 08: Normal settings are used including the default setting of three runs. This gives us an extended test that takes roughly 45 minutes to complete resulting in a sustained load that will thermally challenge drives. The free (demo) version is available on Steam for public use.
AS SSD: This handy little utility was custom-written for solid-state drives. We selected this program as by default it utilizes incompressible data and bypasses the Windows cache. This is another free program anyone can use to quickly test or verify normal performance of an SSD, available here.
ATTO: The bar graphs generated by this utility provide a huge amount of data in a condensed format. It is extremely handy for detecting problematic file sizes, performance bottlenecks, or simply inconsistent performance. Though this is significantly less of a problem today as solid-state drives have matured it is an essential piece of any benchmark kit.
RoboCopy: This is Windows command-line utility included in most versions of Windows and provides for features beyond the default file copy handling of Windows. More information is available here. Due to a quick in Windows caching tests are run once before the system is restarted to avoid caching problems. Windows Defender is also disabled to prevent bottlenecking the folder copy.We utilize a 9.81GB Movie file, and also a 1.6GB Folder with, 11,511 files across 449 subfolders.
RAMdrive: Primo Software's Ramdisk utility is a handy, convenient way to create a 12GB direct-IO ramdisk meaning no indexing or caching is utilized. File performance varies by I/O size but exceeds 6GB/s above 16KB IOPS.
dBpoweramp R15.3: We convert 500 FLAC encoded music files (14.4GB) into Apple Lossless encoded files for playback on Apple devices. As no lossy compression is taking place this minimizes the CPU workload while maximizing the amount of data written to the destination drive. Unfortunately this test would show more variance in results for systems with greater than four cores as dBpoweramp will fully load any size processor.
IOmeter – The most powerful piece of storage testing software freely available, IOmeter allows the creation of practically any kind of test workload. We first utilize it to dirty every new SSD before we test the basics of every solid-sate drive, namely random 4K read and writes as well as 2MB sequential read and write performance.
Footnote – Disk I/O Tracing
If you are still reading our benchmark profile, thank you! It is not easy to devise tests that can tax a modern solid-state drive so if you have any suggestions or know of any software that you would like to see added to our test regimen please let us know. We are especially eager to add disk I/O trace recording and playback to replace the batch file testing we utilized in past storage reviews. We are still looking into how to make this possible, so if you know of a piece of software that is free or doesn't cost a few grand please do drop us a note!
Futuremark PCMark 8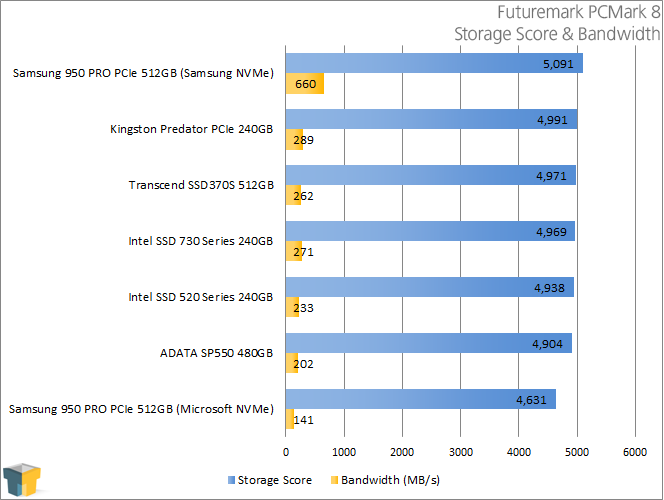 | | | | | | |
| --- | --- | --- | --- | --- | --- |
| | ADATA SP550 | Transcend SSD370S | Intel 730 | Kingston Predator | Samsung 950 PRO (Samsung NVMe) |
| World of Warcraft | 59s | 58s | 58s | 58s | 57s |
| Battlefield 3 | 134s | 133s | 133s | 133s | 131s |
| Photoshop Light | 114s | 114s | 115s | 112s | 110s |
| Photoshop Heavy | 374s | 360s | 364s | 355s | 351s |
| Adobe InDesign | 60s | 57s | 58s | 57s | 55s |
| Adobe After Effects | 71s | 71s | 70s | 71s | 70s |
| Adobe Illustrator | 72s | 72s | 72s | 72s | 71s |
| Microsoft Word | 28s | 28s | 28s | 28s | 28s |
| Microsoft Excel | 9s | 9s | 9s | 9s | 9s |
| Microsoft PowerPoint | 9s | 9s | 9s | 9s | 9s |
Immediately Transcend's SSD370S is off with a bang, beating all other SATA drives in overall score. Though the SP550 features the same controller its use of TLC NAND holds it back despite the SLC caching feature.
Performance is even very close to that of the M.2 Predator which is no small feat given the higher bandwidth available on the M.2 interface. Load times either equal or exceed those of the SP550 with the largest gains in the heavy Photoshop test.
Iometer 2010 1.1.0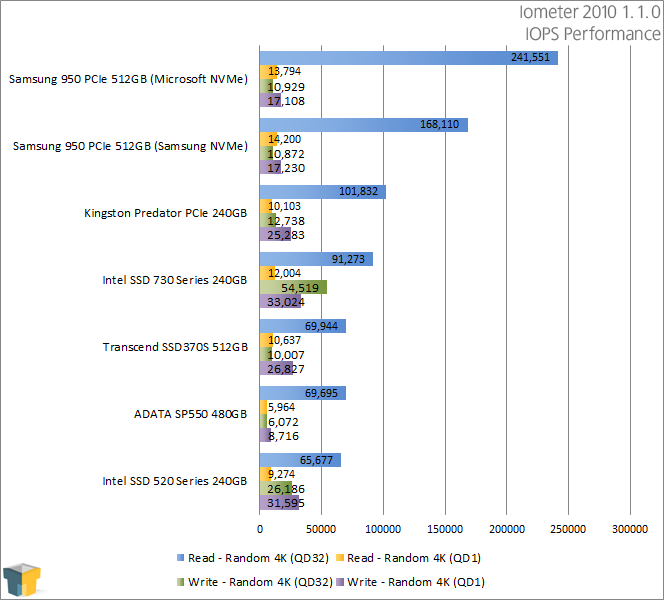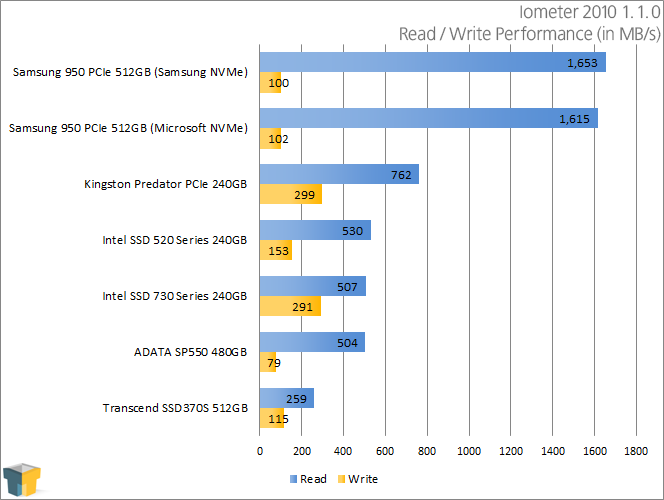 One thing to keep in mind is Iometer creates a test file that spans the entire size of the SSD. So it should come as no surprise that this effectively negates the SLC caching performance of the SP550. Because of this the SSD370S is able to easily exceed it in write performance, though for some unknown reason it didn't like Iometer's sequential read test.
Whether it is due to the SP550's caching system or the SSD370S's customized firmware the Transcend drive is able to scale much better delivering almost twice the performance of the SP550 in both the Random Read QD1 and Random Write QD32 tests. The Transcend performs even better at random low queue depth write operations.
AS SSD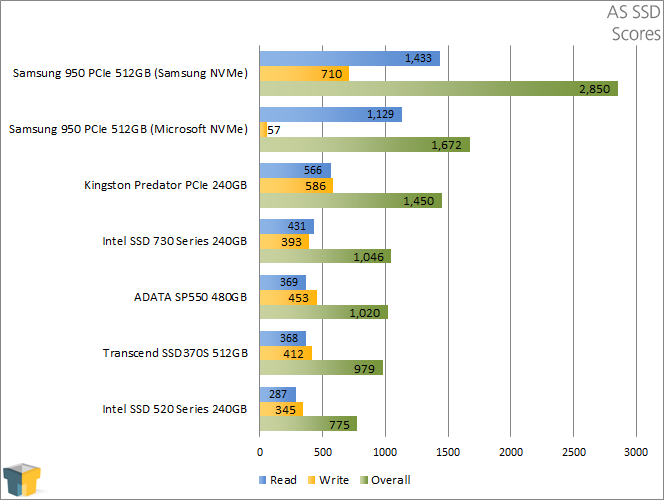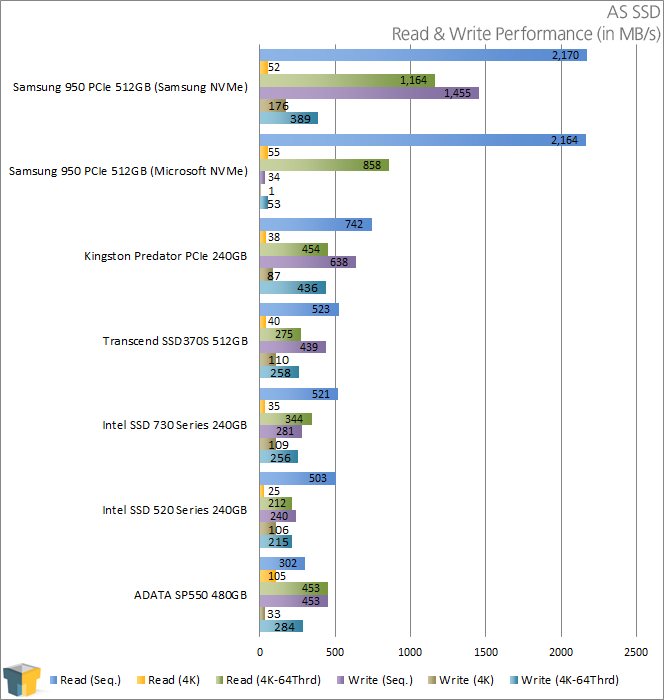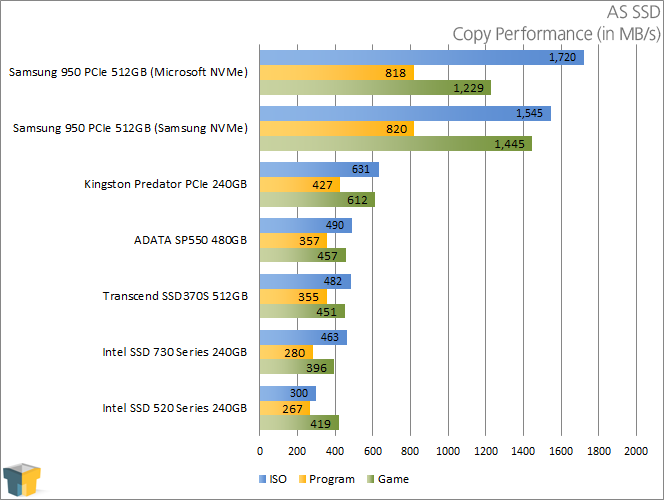 | | | |
| --- | --- | --- |
| AS SSD – Latencies | Read | Write |
| ADATA SP550 (480GB) | 0.035ms | 0.034ms |
| Intel 520 (240GB) | 0.110ms | 0.173ms |
| Intel 730 (240GB) | 0.032ms | 0.032ms |
| Kingston Predator (240GB) | 0.041ms | 0.047ms |
| Samsung 950 PRO (Microsoft NVMe) | 0.027ms | 2.670ms |
| Samsung 950 PRO (Samsung NVMe) | 0.023ms | 0.021ms |
| Transcend SSD370S (512GB) | 0.032ms | 0.035ms |
By default AS SSD uses a 1GB file for its test run and that is what we utilized in our tests, though this can be modified. The SSD370S is able to again easily best the SandForce 520 controller in raw scores, though the SP550 does manage to edge it out slightly due to its SLC cache buffering.
While the Transcend utilizes custom firmware it still shares the same physical controller as the SP550, which is probably why the two drives deliver virtually identical results in the copy performance testing. Read and write latencies are also effectively the same with the differences within the margin of error.
ATTO, Robocopy, dBpoweramp & Final Thoughts
ATTO

Transcend SSD370S 512GB


ADATA SP550 480GB

Intel 520 240GB

Intel 730 240GB

Kingston Predator 240GB


Samsung 950 PRO 512GB (Samsung NVMe Driver)


Samsung 950 PRO 512GB (Microsoft NVMe Driver)

Transcend's drive delivers fairly solid performance at all levels. Compared to the similar controller in the ADATA drive the SSD370S does offer stronger 4KB read and write performance, worth noting as the majority of file operations still tend to be 4KB in nature.
RAMDrive Robocopy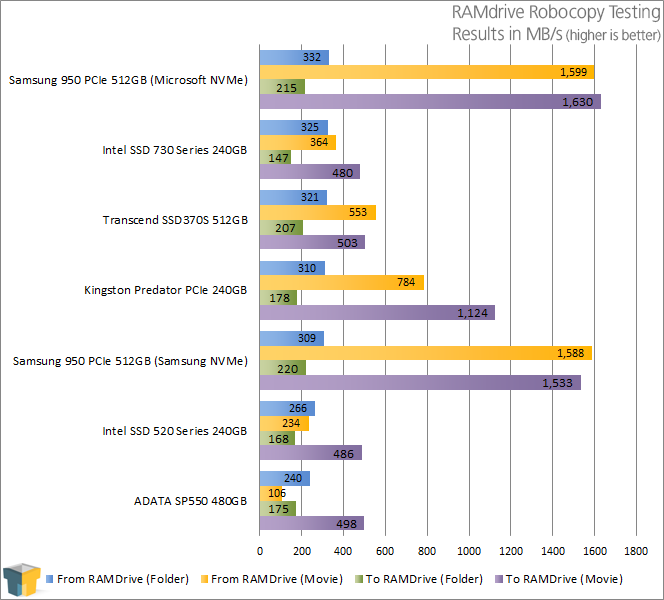 Robocopy gives us some valuable real-world usage over synthetic tests, and immediately we can see why this is important. One key thing to note about the synthetic benchmarks in general is that they use very small file sizes, while our movie is nearly 10GB and our 1.6GB test folder includes almost 12,000 files and subfolders.
It therefore wasn't any surprise that the Transcend drive bests the SP550 in all four transfer tests. In fact the SSD370S manages to come out on top of all our SATA drives and trade blows with the M.2 drive again. The Predator has higher sequential performance thanks to its higher bandwidth M.2 interface but the Transcend drive is still able to hold its own in the folder read and write tests.
dBpoweramp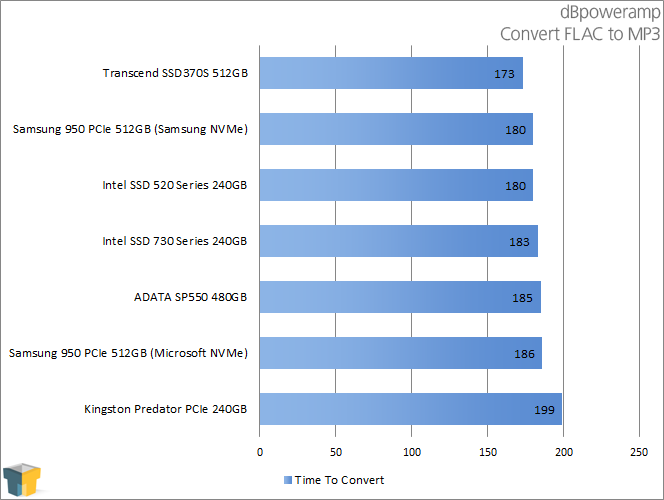 In this test we are CPU bound with a quad-core 8-thread processor, but oddly our Transcend drive seems to still be quicker than all other drives here. We of course restarted the system and verified the settings yet on the second run the Transcend did one better by shaving another second off its time at 172.
Final Thoughts
Transcend has an interesting drive in the SSD370S. Though it has been on the market for two years, it means it is using older, higher endurance NAND. These offer endurance ratings not even the newest 3D MLC NAND can quite hope to match.  Transcend has also put more effort than usual into an easy-to-follow installation guide and easy to find and use SSD cloning clearly aimed for the consumer that knows nothing about computers. It is easy to forget but enthusiasts will likely know how or at least know where to find help for migrating an old system to a new SSD but the average consumer will not, and there certainly is no need for them to pay extra for a shop to do it.
Performance-wise the SSD370S delivers strong, consistent performance through the use of solid MLC flash. There are no SLC cache buffers or negative performance from TLC NAND to deal with so overall performance will remain consistent allowing the drive to max out the SATA interface under many read operations.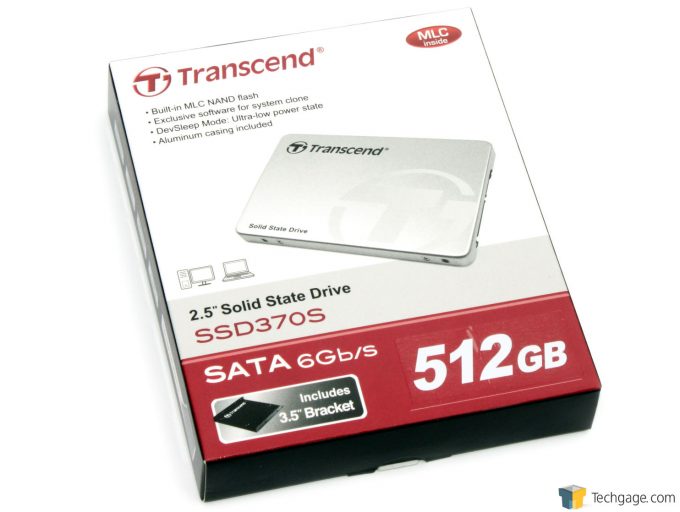 Unfortunately no SSD is perfect, else there wouldn't be any question as to which drive to buy! The SSD370S's single biggest drawback is its street price. At $165 direct from Transcend (via Amazon) the 512GB model is 32 cents per gigabyte which gives it a small price premium over many competing drives. In fact, the price history of the SSD370S indicates the drive spent several months below $150 originally before going back up. Many retailers are even selling the drive closer to $185, which was the price of the drive two years ago! To be clear the SSD370S isn't a budget drive as it uses performance MLC flash, but even so at $165 it commends a moderate premium over models around the 28 cents-per-gigabyte price point.
Now is that price premium justified? That's going to depend a lot on the use case for the drive(s) and for consumers personal preference regarding drive endurance. As we indicated at the start of the review the endurance rating on this drive is extremely high; the 1TB model is rated for a whopping 1160TB! The latest-greatest like the 1TB 960 EVO is only rated for 400TB despite its significantly higher cost, while the 960GB 3D TLC SP550 drive is rated for less at 360TB. This effectively gives the Transcend drive an estimated three times the endurance of TLC budget SSDs and even the EVO's. This is partly feasible due to the older process NAND Transcend utilizes, regardless of whether it is Micron or SanDisk it is still 2D MLC type flash on a mature ~15nm process node.
Is this level of endurance worth it? Again that depends entirely on what you need the drive for. It is beyond overkill for a typical consumer, but any sort of serious server or workstation use, content creation, or a scratch disk would have need for such high endurance. To put it in perspective, assuming 20GB of writes a day it would take 159 years just to reach the 1TB drive's endurance rating. A typical consumer writes less than 5GB to an SSD a day, so you get the picture! Undoubtedly 159 years from now the SSD will not be compatible with any computers built in that time frame.
Quixotically, despite the extraordinary endurance rating the drives only feature a three-year warranty while those very same drives in previous example can fetch up to five. Even so Transcend stands by its endurance ratings up to those three years (amounting to over 1TB in writes per day), so interested buyers looking for a cheap server drive or serious content creation applications that need such insane endurance need look no further than the Transcend SSD370S.
If there is one universal constant it is change, or rather the change in prices. The Transcend SSD370S is a solid performing drive with an impressive endurance produced by a mature company that knows a thing or two about flash memory. At $165 for the 512GB model it commends a $20 premium above similar drives. But for anyone that wants the highest endurance ratings available without having to pay the premium for server-class or flagship enthusiast drives it may just be a bargain.
Copyright © 2005-2018 Techgage Networks Inc. - All Rights Reserved.