TRENDnet TEW-827DRU AC2600 WiFi Router Review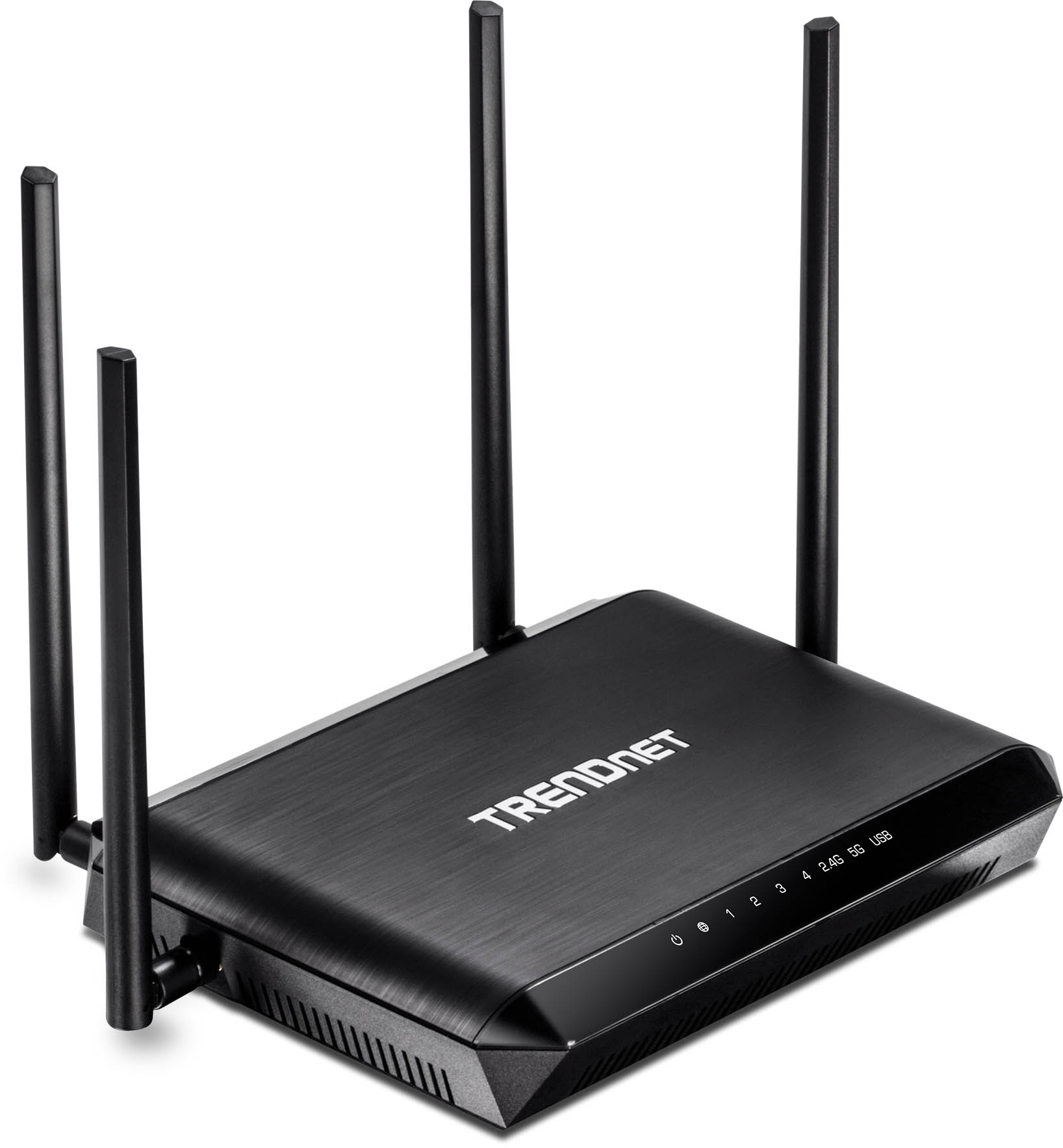 Date: November 8, 2016
Author(s): Brett Thomas

802.11ac is all the rage in routers these days, despite a slow start in clients that can use it. Even if you're ready for the upgrade, a variety of market-hyped products makes figuring out the best investment a tough choice. We're taking a closer look at TRENDnet's offering, which sits in the middle on price and the top on features, and put it through some real-world use.
---
TRENDnet TEW-827DRU Review Introduction
I love networking. I'm sick, I know. But there's something just… primal about making the roads and highways that allow one computer to talk to another.
For all my love of networking, though, my home network has remained fairly bare-bones simple – a setup of ages-old Apple Airport Extreme and Express stations smattered through the house for WiFi on a Cat6 backbone.
The throughput wasn't great, the range even less-so due to my home's construction… but it worked, and it was easy to administrate.
Thus, when Rob contacted me about looking at TRENDnet's new 802.11ac router, the TEW-827DRU ($189.99), I was a bit hesitant. I've tried other routers and keep going back to the same problem – they either don't have the distance, or they don't have the throughput.
Older model n-band networks revert the whole network back to g-band or slower speeds the minute you get a non n-class device on it, and newer ones don't seem to have the signal strength to pry my old Airports out of my house.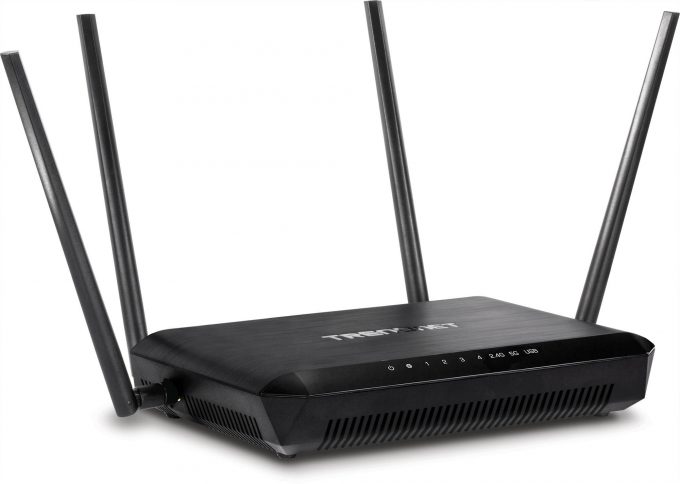 But, it had been a little while since I'd looked, and TRENDnet promised me great things – with its MIMO, it didn't revert the whole network backward, and it promised enterprise-class administration options and coverage. Oh, and it was also ac-band at the top end, making it one of the fastest SOHO routers available. So fast, in fact, that they didn't even have a USB-based card ready yet for it, so I'd have to use a second router as a bridge.
Challenge Accepted.
The Hardware
You've seen a router before, right? TRENDnet doesn't try to reinvent the wheel here, opting for a brushed black finish with shiny black detail. The front indicator lighting is provided by blue LEDs that are bright enough to land an airplane. They're bright enough that they're clearly visible (without being nuisances) in a fully lit room, alleviating the need to guess whether your router is actually routing anything.
Once they start strobing in a dark room, however, you may wish to be concerned if you have epileptic issues. Save your electrical tape, though… one of the nicest physical features that TRENDnet was kind enough to include was an "LED off" switch on the back, which takes the air-traffic-control navigation down to a sleek black front again.
Also along the back of the router are four Gigabit Ethernet ports and a WAN port, typical fare for a SOHO router but a bit underwhelming for one at nearly $200.  I run a 32-port switch off this network, so it's not terribly inconvenient for me. The Airport Extreme I was using before was only three ports (only Jobs knows why), so I guess this is an upgrade to me… but I find it a bit lacking for anyone who has several devices.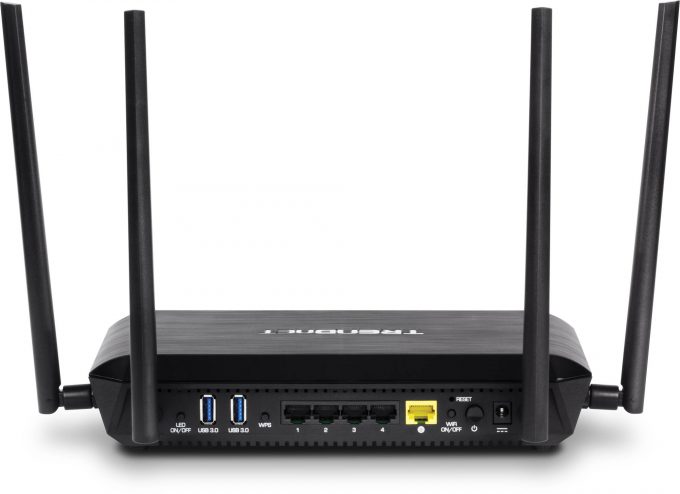 Along with the four Ethernet ports are two USB3 ports for attaching USB hard drives or printers. This is a nice, but fairly standard feature for a router at this price point. Two USB ports is nice, the lack of an eSATA port is a little puzzling, though.
The four antennae are provided in the box and screw on like one would expect. I will note here that these did not impress me – they don't like to stay in the position you put them in. I had two different routers to test this on so I feel I was able to rule out the "it's just mine" issue. Once in place, each antenna will fall over very easily if disturbed – enough so that a good knock of my desk will shake the unit enough for one to drop. It's the only part of the build that feels lackluster so far, but it's also the only "moving parts."
Setup And Administration
Oh, TRENDnet… where do I begin? Let's start with the positives, of which there are a lot.
First, there is the default security. Every router is sent with a unique hard-coded default admin password, WiFi network name and setup URL. This means that a rogue reset, whether intentional or accidental, isn't going to allow any old user to hop on and get control before you do unless they are at the router. It's common-sense thinking and should be industry standard, yet somehow still isn't. Even in enterprise equipment, this somehow doesn't always happen. The information is presented on a sticker along with the router's MAC address and serial, which is great if you remember to take said sticker off and put it somewhere safe (i.e., not attached to the router for anyone to just snap a picture of).
Second, there are a LOT of options in the administration. A LOT. There are all sorts of different types of firewall options, network control options, logging options, and even built-in packet capturing. Changes that you make stack in RAM and are applied through a separate process, so the router only needs reset once, even if you tweak a ton of items. Settings can also be exported to a file that can be passed back to the router easily on a hard reset, so you can get right back to where you were.
Now, please allow me to revisit that packet capturing for a second. HUGE props there, TRENDnet… this is easily one of the most useful features I find on enterprise equipment, and it's a BEAR to not have that at home when I run a switched network. The router is exactly where I need that feature to be, and the admin panel makes it as simple as hitting a few buttons, doing what I need to, and having it downloaded to me right off the web interface to open up in Wireshark. Not having to ARP-poison my own network just to get a good pcap is a blessing and a half.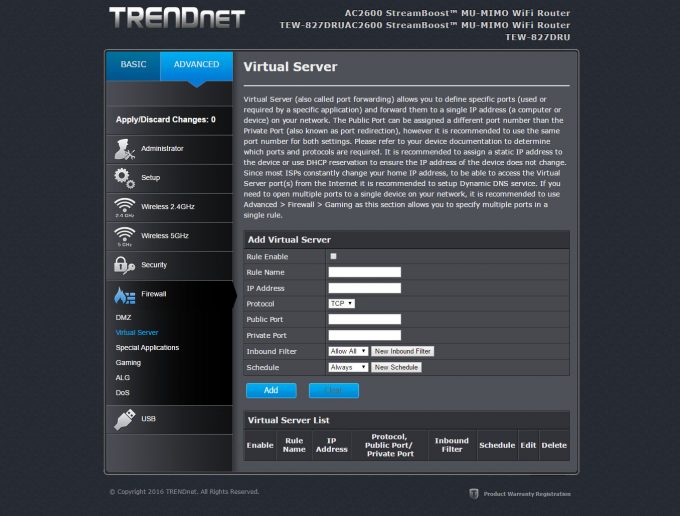 Also of enterprise level is the system logging. The admin panel provides a full and complete log of each process the underlying hardware is executing, which allows you to see if someone has hijacked your device (WW-DRT style) to execute malicious code. The Syslog is exportable automatically to a machine on the network capable of receiving the updates, so you don't need to log into the interface to access it.
The TEW-827DRU features a great set of options for traffic and network control; frankly, too many to list here. The basics of UPNP, "games settings" and application allowances are all there for the home user, and are accompanied by the lower-level port forwarding, static routes, scheduling and rules that more enterprise-based users will be looking for. Probably the hardest part of it is figuring out what on earth TRENDnet might have named them all (for instance, port forwarding named as "Virtual Server" settings?). There's even automatic Denial-of-Service attack prevention.
And this is where the router's interface starts to go south. There are so many options, and so many of them not with their industry-conventional names, that it becomes very difficult to find where to enable or disable something. Further, it's not terribly clear what any one option does if it's not a standard name… the manual is of little help, and the options often do not provide sufficient direction to even know if you're filling them out properly. Thanks to the misnomer of port forwarding, it took me three tries to figure out how to get a couple of ports rolling – I simply didn't even know where I should be putting it (there are two other areas on the router that are labeled something similar to port forwarding, but the actual name TRENDnet uses is "Virtual Server").
There are still bugs I am trying to quash in this setup due to poorly labeled options that make it nearly impossible to find what I'm looking for. I'm sure they're IN there – I feel like I could find a new kitchen sink if I look hard enough, but probably under the name of "liquid transportation."
What is extremely useful, is that TRENDnet provide a demo site for the web interface for you to check out yourself. Flick through the different options and you'll see how the naming conventions are. Good looking, but not completely straightforward.
Extras Of Note
TRENDnet just doesn't stop on cramming things in here…
Outside of my favorite feature of having tcpdump built-in, the administration side has some other great additions that are very well-suited for a network enthusiast. There's automatic support for dynamic DNS services (dyndns and no-ip.org are built-in), a handy feature for those running a home network but serving a couple of services to the outside world. The built-in diagnostic tools also include netstat (extremely useful), traceroute and nslookup directly in the interface along with the more basic but ever-helpful ping.
There's also a full built-in VPN suite (which works wonderfully for up to 25 users) which is actually very painless to set up and is based on OpenVPN. After configuring a couple of simple settings, the router creates a client setup file for you and points you where to download OpenVPN's client software. That's it… simple, effective, and functional.
The USB device attachment features a lot more than basic attached storage, as well. File sharing from the USB drive can include sharing as an iTunes library, a DLNA media server, or Samba server in easy-to-configure sections. That may handle your internal needs, but just in case you need to share, there's a full FTP server that you can configure off of it. And if you perhaps don't have all the media you wanted on there, there's a fully integrated bit-torrent client to get more.
The Usage Environment
My house is a nightmare of randomly interspersed concrete block and brick walls among timber construction. The central router needs to serve from a basement alcove on one side and fuel a network that runs a forty-foot span in one direction and twenty feet in the other on the x-axis, about twenty feet on the z-axis and about -5 to +30 on the Y. Brick, concrete, tile, old wiring… you name it, I've got it. My house can stop g-band (2.4GHz) wireless at about twenty feet from source and n-band at about 10 feet. The distance from my central router (basement, back of house) to my office (2nd floor, front of house) is a bit under twenty feet as the crow flies, through a 6-inch concrete foundation and two brick walls. To call it sub-optimal is an understatement… but it also makes a great testing ground.
In my office, I equipped one TEW-827 unit in "Bridge mode" to serve as a hotspot from the central router. I then plugged my computer into the LAN ports on that unit. I would then attempt to do basic connections through my network (to the outside world and internally) using SpeedTest for the outside and Linux-based file transferring internally. The internal transfers came from my server, which is hardwired to the switch that the central router feeds.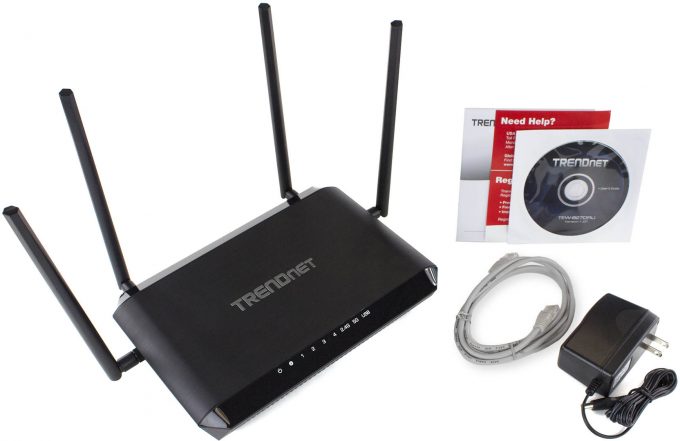 Side note here, I had some problems with this setup that are worth mentioning. The upstairs unit did not always like to stay in bridge mode if it lost signal for long enough. It would occasionally lock up and reset, dumping all of its settings. I tried using the other model in its place and had the same issue, so I assume this to be a firmware problem. It is really nice to have two identical units, as I'm able to rule out a lot of "just this one" issues! The issue seemed to happen most in the early testing phase, when I was still leaving my old central router in place and setting the bridge router up to test its receiving throughput. Once the bridge router consistently received strong signal from the central router, the problem disappeared… but this means an outage on one router could cause me to have to re-calibrate the second.
Speed And Range
When TRENDnet said "Oh, don't worry about that. It'll work fine," regarding my house construction, they really weren't kidding. External transfers (from the web) both in and out maxed out my 50Mbps ISP connection with nary a problem. Internal file transfers happened at an appreciable clip – a transfer from a RAID6 array on my home server coasted along at a snappy 64MB/s… not bad at all, given the environment (currently, the ac-band should be capable of up to about 160MB/s under ideal conditions).
The biggest reason for this speed boost is the amount of data that can be shoved into transmissions between 802.11ac devices. The bandwidth difference from even n-band is simply not comparable, and not having to "fail back" to g-band across the connection due to older devices is a godsend.
Coverage was suitably impressive, as well. The ac band worked well across most of the first floor and reached the 2nd floor for the bridge router with enough gas to maintain a good connection. On the fallback g band network (2.4GHz), there were only two spots in the house that did not get at least 2 of 3 visible bars on phones, and they wouldn't be where someone would be trying to use a device. Even then, it stayed on the network and DHCP table, it was just slower.
What was most impressive was the consistency  of the connection quality on the ac-band even with non-802.11ac devices (as there really aren't all that many) clogging up the network. Throughout the range, until you were in a position where signal strength dropped to nearly nonexistent, it felt like you were standing right next to the router. Response was snappy even if there was more than one device in the vicinity, which is a testament to the execution of both the 802.11ac MIMO protocol and its beam-shaping. Some of the ac-band compliance has also taught the router makers some physical tricks that can still be used even as it falls back to n-band for other devices.
Final Thoughts
There are really two questions to answer here. The first is, "Do I need to move to an 802.11ac router?" If you're using an older (2-3 years or more) n-band router, this answer is a simple yes. The difference is like going from night to day both in speed and in range. Since routers are always backwards-compatible, your old devices will still work with a few of the benefits learned from making the new routers. The n-band isn't going away anytime soon and the ac-band still has LOTS of theoretical room to grow, so this is a good time to step in and sit down for a while, content in the step forward.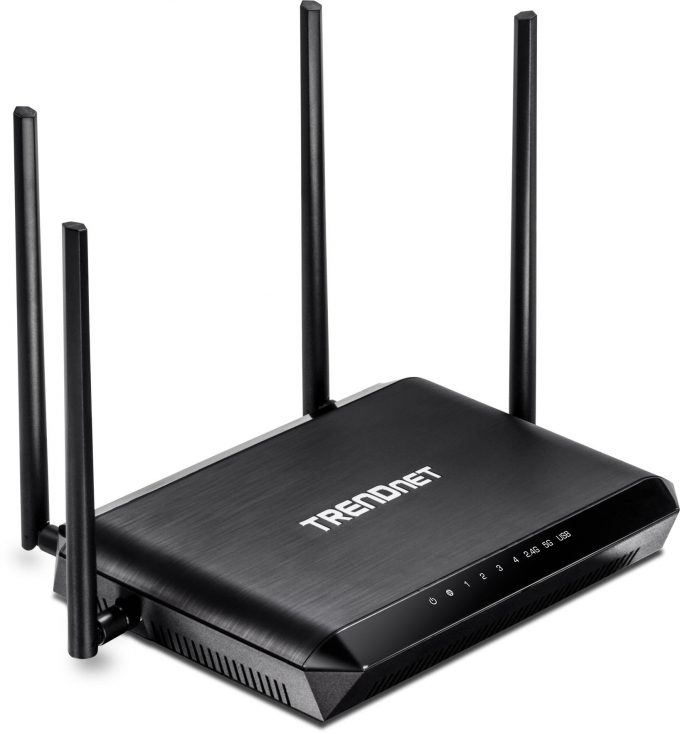 The next question is, "Do I need a TRENDnet TEW-827DRU router if I'm going to upgrade?" At an asking price of $189.99USD, it sits in the middle of a slew of candidates. However, I would say TRENDnet outshines many with its robust configuration and its nearly enterprise-level control, even if it leaves a bit to be desired in the clarity of setup. Most ac-band routers are currently targeted as premium gaming-based products, which routinely are a lot of hype and pretty packaging over a basic, well-functioning but low-frills unit. TRENDnet is offering the reverse – it's a basic wrapping around a very well-featured and solid performer with good range. Given the option, I'll choose that anytime, which is why it gets our Editor's Choice award.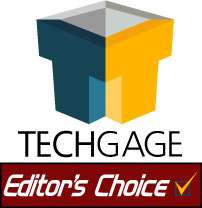 TRENDnet TEW-827DRU AC2600 Router
Copyright © 2005-2020 Techgage Networks Inc. - All Rights Reserved.