TRENDnet 300Mbps Wireless N Travel Router

Date: November 25, 2009
Author(s): Rob Williams

Travel often? Need a full-featured router, but not its full-featured size? If so, the TEW-654TR deserves your attention. Despite its small size (smaller than an iPod classic), it delivers a lot of functionality, including the ability to act as an AP and also a wireless card. It also happens to offer great performance, and a price tag of under $60.
---
Introduction
When I received a press release from TRENDnet this past August touting the "World's Smallest" travel router, I found myself with piqued interest. I'm not much of a networking guy, I admit, and very rarely does any sort of networking equipment jump out at me. But, the TEW-654TR was different. I travel a lot, and wherever I go, I always bring a standard wireless router with me, so the idea of being able to shrink that down to size sounded great.
The "TR" in the product's model name stands for "Travel Router", but as we'll see, it doesn't have to be used for that purpose alone. It's a multi-purpose router that opens up a world of opportunity, and I'll be covering a couple of cool scenarios throughout the review.
The primary selling-point of the router is of course its size, and to be honest, that alone is going to sell some people on it. There's a major difference in size between this and a standard desktop router, and you can fit it anywhere, even in a filled-to-the-brim bag of a luggage.
Where a "travel router" shines is with the options it opens up when you are traveling. If you find yourself in a hotel room that offers only wired Internet, this router will allow you to turn it into a wireless connection, so you can kick back and not have to sit at a cramped desk. It also opens the ability to allow additional computers access the same net connection, whether it be room mates or multiple PCs you've brought with you. These two scenarios alone is where the TEW-654TR can shine, and they're also the scenarios that tend to directly pertain to me, and I'm sure to many other frequent travellers.
Closer Look
Since the TEW-654TR is considered a "travel router", I had assumed that the feature-set would be whittled down, but that's not the case. Despite the lack of external antennas (there are two internal), the router supports b and g, and also n (draft 2.0) speeds, the latter of which can reach up to 300Mbps in ideal configurations. The operation frequency is 2.412 ~ 2.484GHz, while power consumption will reach a maximum of 2.5W.
While travelling, keeping your data safe is of unparallelled importance, and it's for that reason that all of the wireless security standards are here, including both 64-bit and 128-bit WEP, WPA and WPA2, along with WPA-PSK and WPA2-PSK. Offering even greater control, the router also supports MAC address configuration and IP/URL filtering, and of course, a "hidden SSID" feature.
As you can tell, the router is no lightweight, and it supports all of what's important to see from the big boys. Probably my favorite feature, though, is the fact that you can configure the router to use one of three modes. These include "Router", which acts as a normal router, "Access Point", allowing you to extend your wireless network's range or to set up a private network and also "Client", which turns the router into an adapter, essentially opening up wireless support on computers with none.
For even more intricate detail about the capabilities and specs of the router, I recommend hopping on over to the official product page at TRENDnet's website. For now, let's take a quick tour of the TEW-654TR and see what it's made of. As I mentioned in the intro, TRENDnet claims this router to be the "world's smallest", and to be honest, even that didn't prepare me for what I took out of the box. As you can see below, it's actually smaller than my iPod Classic 120GB (6.5G), and of course, it's much, much lighter as well.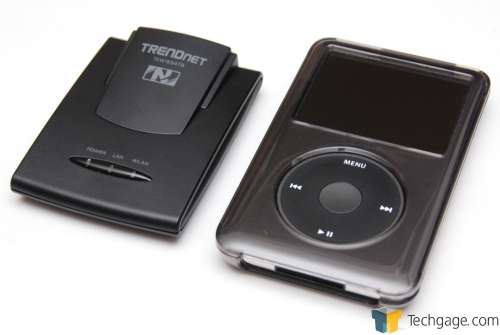 There's not much to look at on the front, although the status LEDs could prove useful during the setup process. There's not much happening on the back of the device, either, with the lone button being the switcher to choose between the three available modes. At the top of the device is the LAN port, the power connector, and the reset and WPS (Wi-Fi Protected Setup) buttons. Overall, the device is small, and since most of the configuration is done in the Web-based admin system, there's no real need to over complicate things here.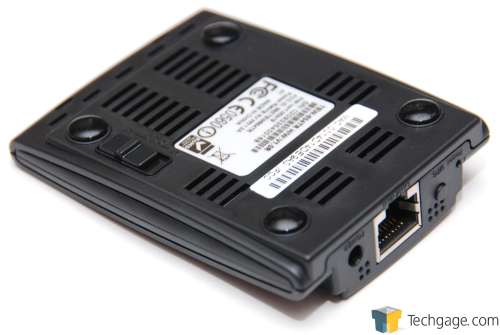 The router includes a few accessories that are imperative to its operation. Along with a flat RJ-45 LAN cable are two choices between powering the device. You have the option to use an AC adapter, or to take up two USB ports on the machine. The router might not draw that much power, but it's apparent it draws enough to require more than one USB port. For notebooks with a slew of such connectors, there shouldn't be a problem, but for those using notebooks with just two USB ports to begin with, the power adapter would be the ideal choice.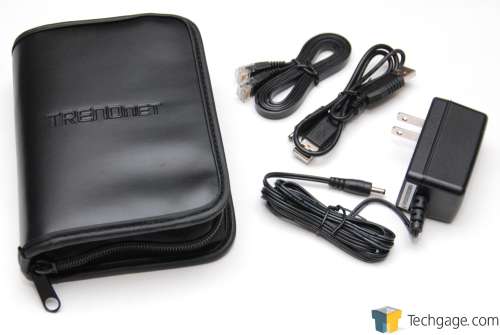 Along with the travel router, TRENDnet included one of its recent USB wireless adapters for use in our testing, also supporting the draft 2.0 n standard. An adapter like this is only needed if your desktop or notebook doesn't offer draft n speeds, or if you'd rather take the USB route over any other solutions (for desktops, I'd recommend a PCI or PCI-E wireless card for improved reliability).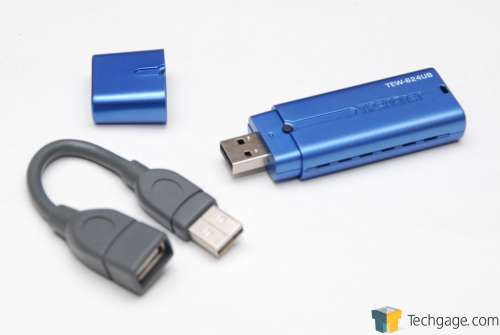 Going through our shopping affiliate, the TEW-624UB USB adapter is currently selling for just under $50, while the TEW-654TR travel router hovers around $70. This not the least-expensive, however, as a quick check at Newegg revealed an even better price of $55. It pays to shop around, as always.
Setup & Router Mode
As a travel router, there's one aspect that's of utmost importance, and that's an easy installation. Who wants to fiddle around with their router for an hour after getting checked into a hotel room? I sure don't, so I was quite pleased to see that setting up the TEW-654TR wasn't a complicated process, and before I knew it, I was online. Before taking the router of out of the box and setting it up, you have to make a choice of whether to use it as a Router, AP or Client.
When setting the device up as a router, it acts just as a desktop router. It allows the creation of a network (sharing files and other protocols between computers/devices), and delivers Internet access to whatever connects to it. An Access Point is more of a home feature, where someone may want to extend the range of their primary wireless router. For example, if your router is in the living-room, but you want wireless access outside, you could run a cable from your primary router to the access point (located somewhere much closer to the back door), which would allow for much better reception when you are outside.
The third choice is to have the router act as a client, and it's probably my favorite feature, for reasons I'll touch on later. As a client, you can add wireless access to any PC out there in mere minutes. You connect the LAN cable to both the PC and the router, hit up the proper IP address, let it seek out a network, put in credentials, and after a reboot, you're online… no drivers or software needed. This solution is sure a lot clunkier than just having a network card, but the setup couldn't be easier.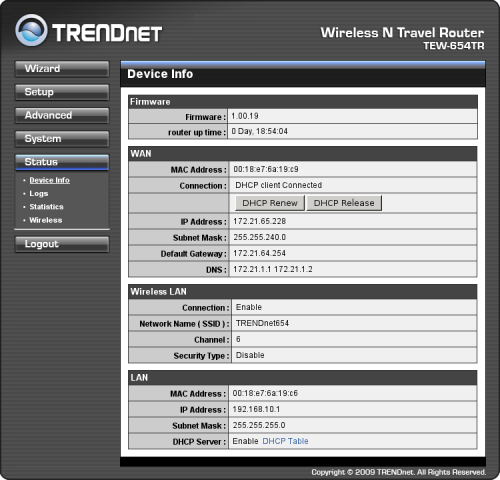 Before powering the router up, it will be important to make sure that the switch on the back of the device is set to the appropriate option. The switch is deliberately tough to move, so as to avoid hassle and confusion down the road. The reason the switch is important is because after accessing the admin, the menu will be customized, and some options are not going to be available from mode to mode for obvious reasons.
Router Mode
The device's default IP address is 192.168.10.1 with the infamous admin/password of "admin/admin". The first screen you'll see in the router mode will be a summarization of the device's information, including uptime, DHCP status, various network information, SSID and other tidbits of important information. There are five tabs found on the left side of the page to access various parts of the router, with the quick-setup wizard found at the top.
That menu will be where most new-comers will want to head first, because it allows for a quick and easy setup process, taking about a minute for most configurations (might take longer if you have a complicated network). You'll be asked for a password (which should be changed) and timezone, network configuration information, such as IP address and whether or not DHCP should be enabled, hostname and MAC address, simple wireless configuration and that's it. Assuming you have an Internet-connected cable plugged into the router at this point, you should have access after it reboots and you connect to it via your wireless device.
The setup wizard is simple, so for more robust configuration, you can head to the "Setup" tab, where you'll surely have as much control as you could possibly need. You'll be able to configure five main things here including the wireless, LAN, WAN, WPS and also the dynamic DNS. The wireless section will be the most important to hit up, as it allows you to configure the network's security, and also the passphrase, along with other options, such as channel, channel width, broadcast mode and also whether or not you want your SSID to be hidden.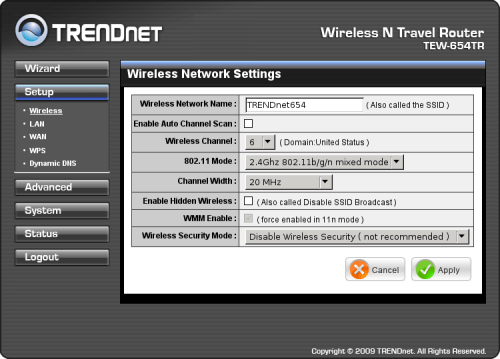 Rather than bloat this review with images of every section of the admin system, I highly recommend checking out TRENDnet's "emulator" on the official product page (found on the right side of the page). There, you can go through the admin system just as you would on the real router, so you can see if all of the support you need is there.
For even greater control over the settings, the "Advanced" tab will be worth visiting. Here, you can configure a wide-array of specific settings, from access control, IP filters, firewall, DMZ and even parental control. Even more advanced LAN/Wireless settings can be accessed here as well, with may be necessary to access if you need to turn on or off UPnP, ping, remote management or specifics like wireless beacon period, RTS threshold, fragmentation threshold and so forth.
Under the system tab, you can find such common options as passwords for the admin or other users, time setup, firmware update, ping test and also the ability to save the router's configuration to a file on your computer, which could very well come in handy if you are testing out different configurations.
Under the final tab, status, you'll be greeted with the same screen you saw after initial login, for the device information. Also here are system logs, statistics and and also your wireless status. Next up, we'll take a look at access point and client mode.
Access Point & Client Mode
The primary difference between using the TEW-654TR as a "router" or an "AP" is that the latter has a much slimmer admin system. The menus are all there, but the options inside them are barebones. This is because an AP doesn't need advanced configuration, as for the most part, it's little more than an extension of your primary network.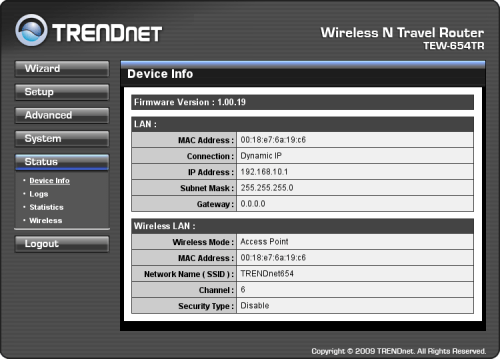 Although it'd be nice to be able to configure an access point without the use of wires, it's just not possible here. Instead, wherever your AP is going to be, you'll need to run a LAN cable straight to it. It is inconvenient, but the improved performance around the house is going to be worth it for a lot of people, or as I mentioned in the above example, you'll even be able to get better reception outdoors, should you want to compute there.
Client Mode
Of all the modes available on the router, it's the client option that I find myself most excited about. As mentioned earlier, this mode allows you to have the device act as a wireless adapter, in order to enable wireless connectivity on any computer that doesn't already offer the support. The upside is that the router works fine on pretty well any computer, but the downside is that it's a clunkier, and slower, solution than simply having a wireless card.
There's more than one simple reason why I like this mode, but one of the main ones is that it enables you to add wireless to not only your computer, without the use of a driver, but other LAN-equipped devices as well. As an example of what's possible, I had first set up the router to act as a client on my Linux PC, and when done, I plugged it straight into my Xbox 360. Because there's a standard LAN cable between the router and whatever device you're connected to, and also thanks to DHCP support, consoles like the Xbox 360 have no issues configuring the connection.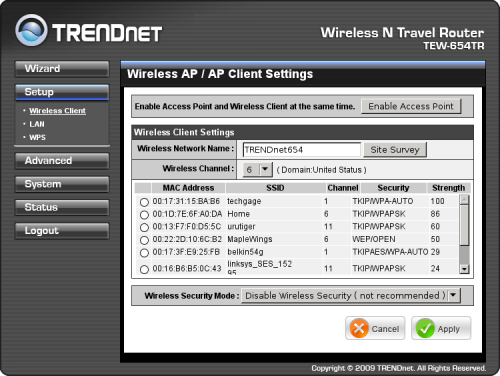 When I say the time and effort it took to get this working is minor, I'm not kidding. The process began with unplugging the LAN cable from my PC, and instead plugging the router to the same LAN port with the included cable. After I configured my LAN in my OS, I could go to the router admin in my browser, and there is where the wireless access points are found, and connected to. The device simply saves the information, even after it's unplugged, so when you plug it into something like a game console or PC without a wireless card, the respective system's operating system will simply configure it as a regular LAN connection, never knowing that it's actually a wireless connection on the other end.
I'm sure what I'm excited over here isn't entirely new, but to see it implemented in such an easy-to-configure means is, to me, unbelievable. It doesn't matter what OS you're running on your desktop, because the device simply acts as a LAN connection… it is just a router after all. Drivers simply don't come into play here, so in OS' where drivers aren't always easy to install, like Linux, there's nothing to worry about. It just works.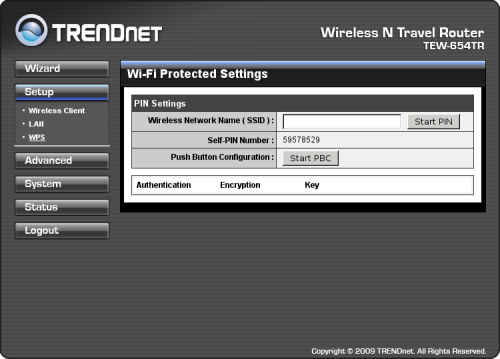 But, I also have to mention an unfortunate caveat. Because this is a router at the heart, it doesn't offer the same kind of performance that a real wireless adapter would. In file transaction tests, it hovered at around 500KB/s, compared to 3MB/s for wireless G and 3MB+ for wireless N. The latencies are also higher, sporadically jumping from good to bad. So while the adapter might work in a console like the Xbox 360, it's not going to be the ideal gaming router.
I did test this out, however, with a couple rounds of Halo 3. In all honestly, I actually found the latency to be quite good, and on the player summary page, I almost always showed as having a full connection, or with one bar lost. But, I also had an occasion where I was in the red (this wasn't obvious to me in the game, but I wasn't in a dual at the time). I've never had superb wireless performance in the room I use for testing, though, likely due to interference, so you might experience better performance than I did, but it's impossible to say. I can't outright recommend the router for this use, although it'd work in a bind. Outside of games, for simple things like downloading demos off of Xbox Live, it's fine.
It's undeniable that the TEW-654TR is a feature-packed router, and it's the price-point that impresses me quite a bit. Desktop wireless routers can be had for around $40 most often, and while this costs a bit more, it's far smaller, offers a ton of features, and has the above mentioned client mode that is sure to come in handy for many people. With all of the modes covered, let's get right to our testing results, and then my final thoughts.
Testing Results, Final Thoughts
To see where the TEW-654TR stands from a performance stand-point, I performed a couple of quick tests. The first is a simple ping command, where I send a ping command to our website, while the others test the upload and download speed, using my primary PC as the server. I ran tests across three different configurations, and because my primary router doesn't support n (I know, I'm behind on things), I had to get a little creative.
The first configuration is more of a baseline, as I'm not using any of TRENDnet's products here. Rather, I'm using the g wireless on my netbook, the HP dv2. The second configuration is the most unique. Here, I remove the LAN cable from my main PC and replace it with the router, acting as a client. Since my netbook doesn't have an n wireless card, I used TRENDnet's TEW-624UB as shown on the first page of this article. This means that I'd be using n wireless between the netbook and my primary desktop, which equals improved performance.
For the last configuration, I use a wired connection just to show the differences between wired and wireless. These are here for no other reason than for simple interest. I was going to add a fourth configuration where I had the router act as a client, but the overall performance is so degraded compared to the other configurations that testing would have taken far longer than I would have liked it to. It's clear that for ultimate performance with this router, you don't want to have it act as a client.
Pinging the router might have been a better test, but I am a bit fan of real-world tests since people do more with their gadgets than benchmark. All four configurations in the graph below were conducted within an hour. Also, I should note that I live half of a continent away from our servers, so latencies normally hover at around 50ms on a wired connection.
With the TEW-654TR acting as a wireless card, the overall pings weren't horrible, but we achieved overall better performance from our notebook. The real loose pings came about when the router was connected to my main PC as a client, and then the notebook connecting to it. That's a great solution for file transfers, but not so much for online surfing. The connection is essentially going through not one, but two wireless routers in this configuration, so the end result isn't too surprising.
The benefits of draft n are clear, with major gains over our notebook's g wireless. Of course, nothing can compare to a wired connection (ours was also 100Mbit, not 1Gbit), but that's again to be expected.
Final Thoughts
I'm no networking enthusiast, but when it comes to the TEW-654TR travel router, I can't help but feel excited. When I look at this router, I think of the old saying, "big things come in small packages", because it details it perfectly. It's exceptionally small, and as we've discovered, it's still feature-packed, offering some functionality not even found on desktop routers (namely, client mode).
Because of the router's size, I had figured that its pricing would be the opposite… huge. But that's not the case at all, as it can be found quite easily for $60, or even less, at various e-tailers. For all you get, that's a great asking price, no matter how you look at it. If it cost $20 or $30 more, I wouldn't have thought much different, so this thing really does offer great value for the price.
The best part of the TEW-654TR is of course its size. It's smaller than my iPod, and really could be squeezed in any luggage you may have, no matter how full, or in a tougher situation, it could even be carried in a briefcase, or a jacket pocket. Try doing that with a regular router! Another perk is that while it gets warm after long-term use, it's never too hot to touch, unlike some other desktop routers which could almost fry an egg.
My favorite feature still has to be the client mode, because it's useful in so many different situations. The performance isn't extreme as we discovered above, but that's not the point. It's also understandable, as it's a router, which is meant to pass through data, not handle it exclusively at either end. To make the feature even better, not only can you use it as a network card in your laptop or desktop, but you can use it as a "Client AP", meaning that while it acts as a network card, it will also allow connections from others. This feature will come in handy where a hotel only offers wireless connectivity and you have more than one person sharing the room.
Simply put, the TEW-654TR from TRENDnet is a superb product, and I couldn't want to award a product an Editor's Choice much more than this. The price is right, the features are better, and the size just can't be compared. Looking for the perfect gift for that frequent traveler in your life? You just found it.
Pros
The size… this thing is small.
Offers three modes: Router, AP, Client AP.
Allows adding wireless connectivity to a computer without it, and without a driver.
Huge number of configuration options to feed most appetites.
Great performance with most configurations.
Ability to power it via USB connectors is a nice touch.
Doesn't get overly warm, nor uses much power.
It's very easy to set-up pretty much any type of connection.
Priced right, at ~$60.
Cons
LAN cable required for all connections, whether it be to the router, or your PC.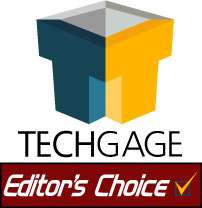 TRENDnet TEW-654TR Travel Router
Discuss this article in our forums!
Have a comment you wish to make on this article? Recommendations? Criticism? Feel free to head over to our related thread and put your words to our virtual paper! There is no requirement to register in order to respond to these threads, but it sure doesn't hurt!
Copyright © 2005-2020 Techgage Networks Inc. - All Rights Reserved.