Trials Fusion Review: Future Stunt Biking, Slightly Exaggerated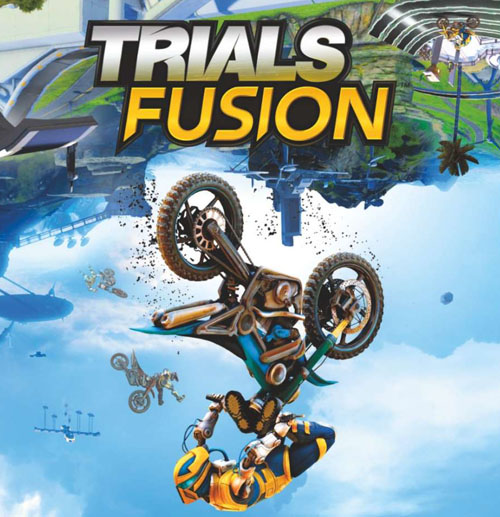 Date: April 30, 2014
Author(s): Rob Williams

Since its first title was released in 2000, more than half of RedLynx's 25 published games have been Trials-related – and that should tell you something. For those who enjoy stunt biking but would prefer occasional stints of low-gravity, higher altitudes, more explosions, and more futuristic landscapes, Trials Fusion will be worth a look.
---
Trials Fusion Review
In the summer of 2009, I had trouble finding a reason to turn on my Xbox 360. Nothing grabbed me, not on the marketplace, and not on disc. Then came Microsoft's second annual Summer of Arcade event, which featured a handful of games to be released through the summer months (as one would expect with a title like that). One of the games released was called Trials HD – and it grabbed me. And then flung me into a deep pit at the end of a level.
At its heart, Trials falls into the racing genre, but it's far more than just racing. In any one of the games, you can expect truly bizarre events one moment, and then a simple race from A and B the next. I had a lot of fun with Trials HD, and likewise with Trials Evolution. With Trials Fusion, I can honestly say that this is a series that gets better with age.
Trials Fusion falls into the category of games I like to call "patience testers". These games start off easy, and lead you to believe that you're a Sensei at the art of stunt-biking. Then, without warning, the game will grab you by your neck, and make you sweat. Some levels or "tests" are so difficult, that you'll probably find yourself resetting the track, or reverting to a checkpoint, a countless number of times. I can also guarantee that your hands are bound to hurt after a while.
But it's so freaking addictive. Like past games, Fusion has environments filled to the brim with eye candy, but the developers managed to kick things up a notch here. The large number of different environments is impressive, as is the number of ways your driver dies at the end of some levels. Clearly, you might be able to tell that this isn't the most serious of games, and that of course is one thing that makes it so great.

9 minute gameplay video showcasing 5 different levels
I'd recommend checking out the video above to get a better feel for the game than what text and screenshots can provide. Then, come back and read. If you don't come back, I'll probably send out a search team – and that'd be embarrassing, wouldn't it?
The most important thing about Trials' mechanics that I should mention right off the top (but which is probably obvious from the screenshots) is that the entire game is played on a 2D plane and features 3D elements. In a way, this is what makes the game so easy to get into; you mostly have to worry about keeping your bike level by using the left and right analog control. Despite the 2D plane though, the game is heavily involving.
Eight tiers of levels are available with the launch version of Fusion, with more levels and features to come down the road with the help of 5 separate DLC packs. These DLC packs can be purchased in advance with the oh-so-common "Season Pack", which costs as much as the game itself: $20. "Did he just say the game is $20?" You bet I did. And believe me, there's a lot here to keep you hooked for the long-haul.
As unrealistic a game as Trials Fusion is, its physics are largely very impressive and believable. The game can be played with a keyboard, but those who go that route are effectively crazy – a gamepad is definitely a better input choice here because when precision is needed, analog wins.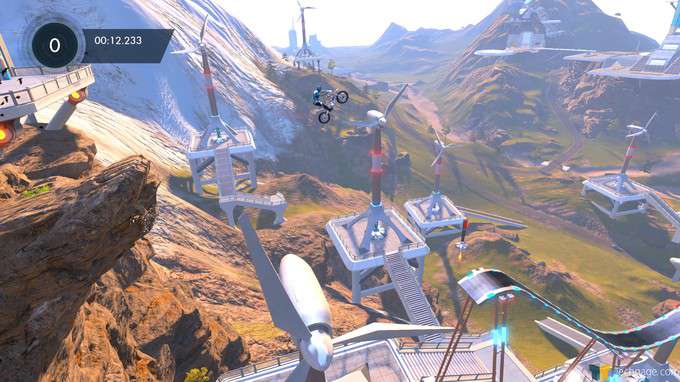 Fusion's start screen plays a song that sings, "Welcome to the Future", and that's what sets this game apart from the previous titles in the series the most – some of the levels are very futuristic. One good example is a gravity-reduced factory that features a track which gets built while you drive along it. Another example has you in space, racing along while buildings and other contraptions float in the background.
Not all of the levels are undeniably futuristic though; as I said before, the variety here is quite impressive, and given the forthcoming DLC, it's sure to improve even further.
An example of an event that's not a simple A to B race can be seen in the next shot. Here, you drive down a steep ramp and bailout at the end, trying to rocket your driver through the sky as far as possible before gravity takes over and he slams down. In stunt events, you'll be required to traverse levels trying to score as many points as possible before the end – ideally, you never crash, and you always combine tricks if possible.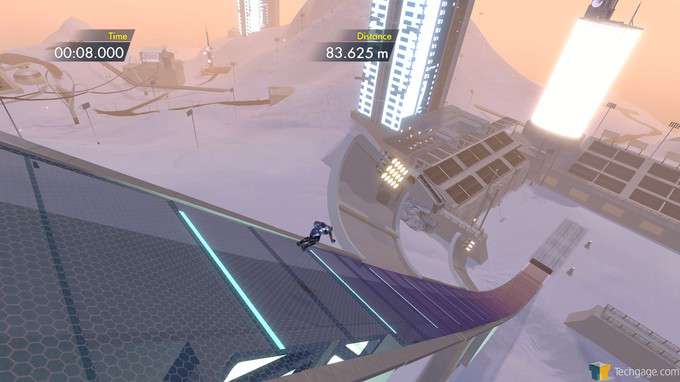 Some of these special events are more complicated than others. Imagine, for example, needing to go as far as possible in a level without tilting your bike in either direction; all you can use is the gas and brake. Believe me, it's a true test of patience trying to get far in such levels, and you should never underestimate the chance of you repeating a level over 50 times just to improve your furthest distance.
At the moment, one area where the game is kind of light is with the bike selection, but at six total, it's still not too bad – especially considering an ATV is included. Speaking of that, the ATV may very-well be one of my favorite vehicles in the game; it's refreshingly stable in comparison to the bikes. What you gain in stability you lose in speed, however.
Like most games with a career mode, the further you get in Fusion, the more equipment that gets unlocked, whether it be additional bikes, suits, wheels, body kits, and so forth. To actually acquire most of the gear, though, you'll need to spend some money, and thankfully, it's entirely ingame currency we're talking about.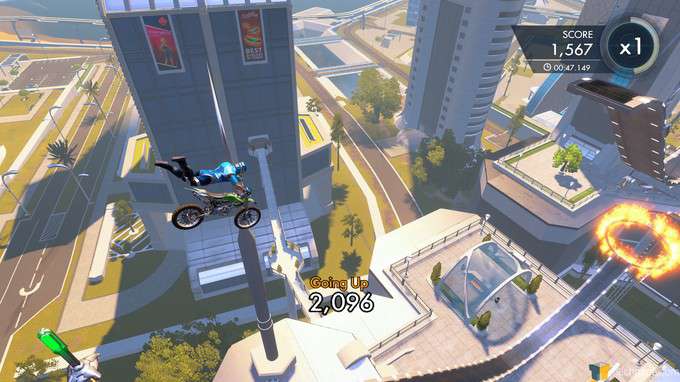 As I mentioned above, the game has 8 tiers of levels to trek through, each one progressively more difficult than the last, and overall, getting through all of these is going to take a little bit of time. This is especially the case if you're someone like me who tries for a gold medal on each stage before going onto the next one. Once you're satisfied with your performance in all levels though, the gameplay doesn't end there.
One thing to keep you hooked are challenges, with most levels featuring three each. These challenges can be simple or difficult, just like the levels themselves, and range from finding a hidden area to getting through the entire level following a certain rule. Each challenge completed gives you XP towards your level, which is important in unlocking late-game items.
The number of things to do doesn't stop here, either. For those who like multiplayer gameplay, there's that to partake in as well. However, as at the moment there is no online counterpart, only local, it's not a mode I've tested. The developers have promised online capabilities in the future, but an exact date has not been mentioned (as far as I'm aware).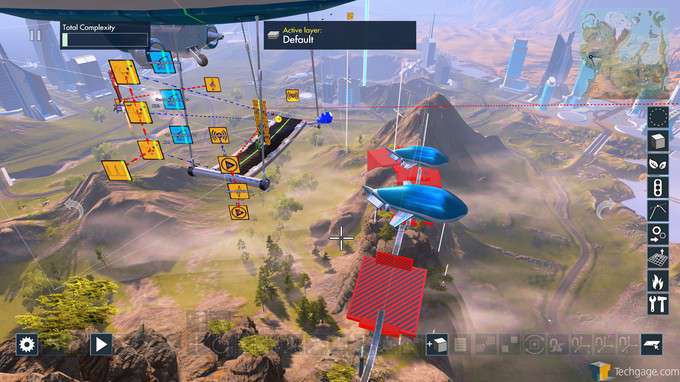 Beyond that, one of the richest parts of Trials Evolution was its level editor, and a lot of fans took advantage of it. A level editor is available in Fusion, as well, and it's hugely robust. Seriously, the amount of flexibility it unbelievable. Two people could create two vastly different experiences using the exact same part of the game's map.
Be it laziness or an absolute lack of creativity, I'm not too interested in making my own levels. But, that doesn't mean that I (or you) can't reap the rewards of the editor. Once someone builds a level, they can submit it online and allow others to download it. Want to filter out most tracks and list just the highest-rated ones? You can, and I have, like the ice cave one seen below. One thing that was proven to me rather quickly was that the level editor doesn't really seem to hold many people back; I saw things I didn't even think would be possible, such as objects in the level moving to change the path as you're driving through.
If Fusion is anything like Evolution, we're sure to see an insane amount of mods for it as well, which could utilize the game in ways you probably couldn't dream of.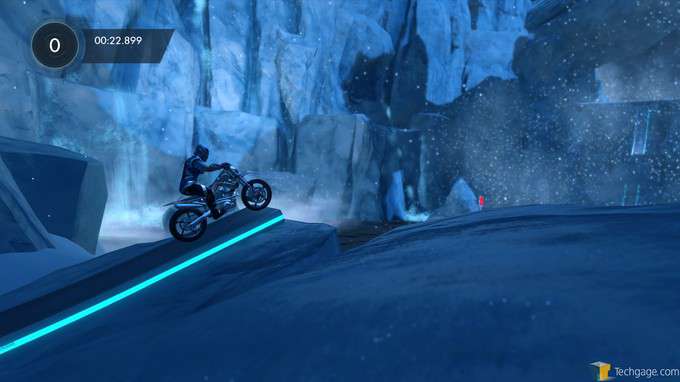 With as much praise as I can give Trials Fusion, it does have a couple of annoyances. The biggest one has to be the fact that NPC voiceovers are tied to your position in a level, so if a voiceover occurs at the start of the level, and you restart a lot (which you will), you can expect to hear these same voiceovers too often. For those who could do without the voiceovers, there is an option to disable them, but that's not the path I want to take. I want to hear them. I just don't want to hear the same lines uttered over, and over, and over again.
The general challenge of being unable to pull off a certain move can be a little frustrating as well. In some areas, you'll have to blast yourself through the air by pushing left and then right before a bailout – but for me, I find I can pull this off one out of twenty times. Some levels make it easier than others, but for levels where you are required to do this, it can become tedious.
Also, I am not sure the reason behind it, but at least with the game as it is now, the bike selection screen takes a good 30 seconds to load. You're free to choose a bike based on its name before the actual graphics load, but it's a bizarre issue nonetheless. And, the last real issue I have to complain about is that even with anti-aliasing set to "High",it doesn't seem to work too well. The nearground looks alright, but railings and certain other objects don't look too hot.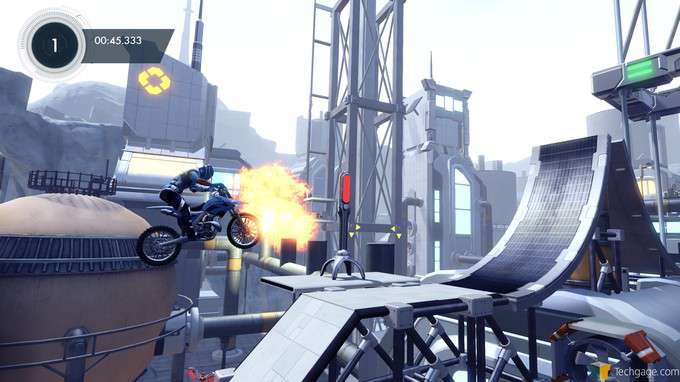 Every game has issues, and for every game I review, I need to list them. But sometimes, the issues don't do much to deter me from still loving the game, and Fusion is fortunate enough to escape my wrath. Quite simply, Trials Fusion is a fantastic game, if you're into games that really test your skill and look beautiful while doing it. I best compare this game to TrackMania, which also follows that beautiful locales + super-challenging methodology.
For its $20 price tag, the game offers a lot, and even though the DLC will cost upwards of $20, if it can bring as much content to the game as the base game itself, I am doubtful many will complain. And even if you do complain, you still have a lot of gameplay to take advantage of thanks to the online community and their levels.
I'd be remiss to mention Trials Frontier, a mobile game that's going to be tying into Fusion in a couple of different ways. The only way I've seen so far is that a gold medal in one specific level from each will unlock a special suit, but chances are we'll see more of a tie-in once the game actually launches (it's available in select countries in beta-testing now, and only on the Apple App Store).
For a handful of other screenshots of select levels and the game's UI, check out the next page.
Pros
Challenging, but fun.
Fantastic, varied environments.
Lots of different events to keep things interesting.
New freestyle mode is a good addition.
Replayability is high, thanks to challenges and user-made levels.
Its $20 pricetag.
Cons
No online multiplayer – yet.
The repetitive voiceovers.
The repetitive voiceovers.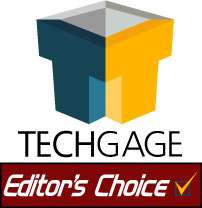 Trials Fusion
Extra Screenshots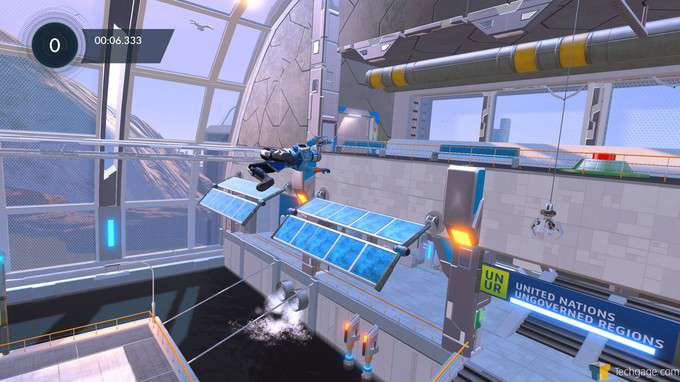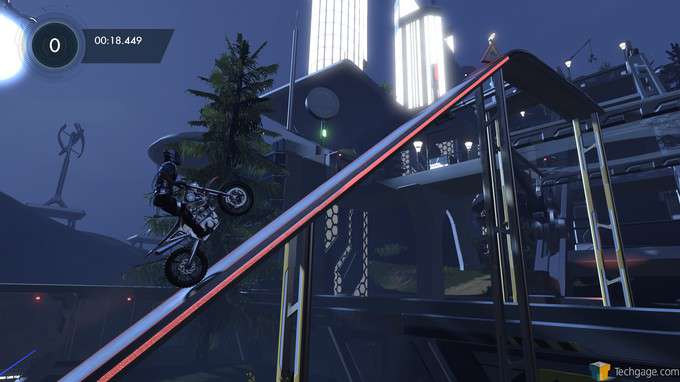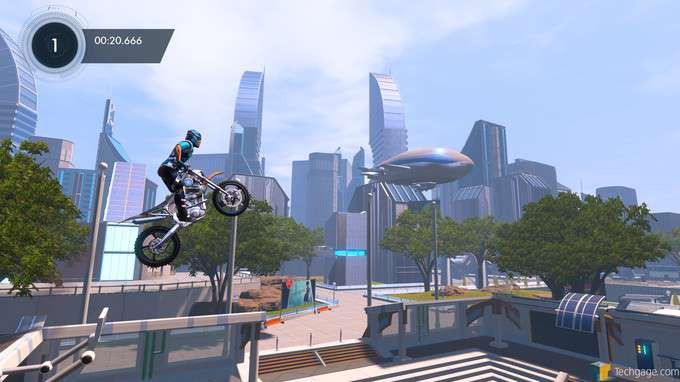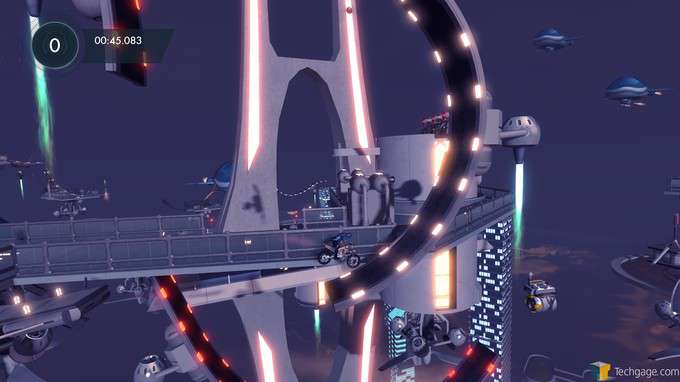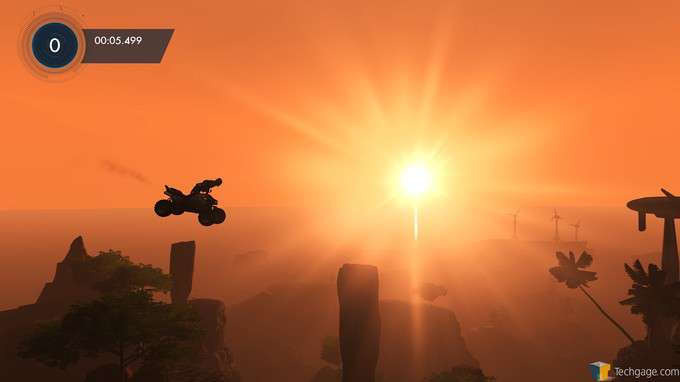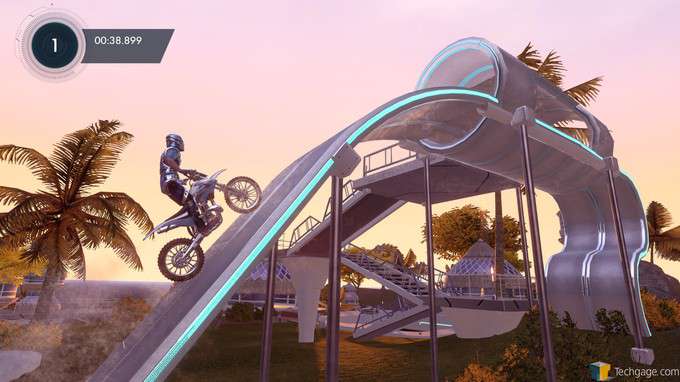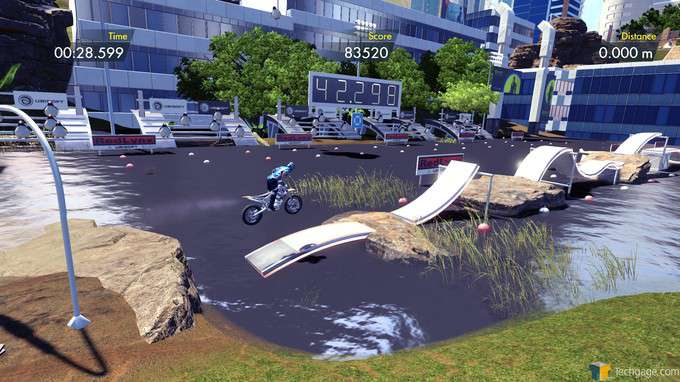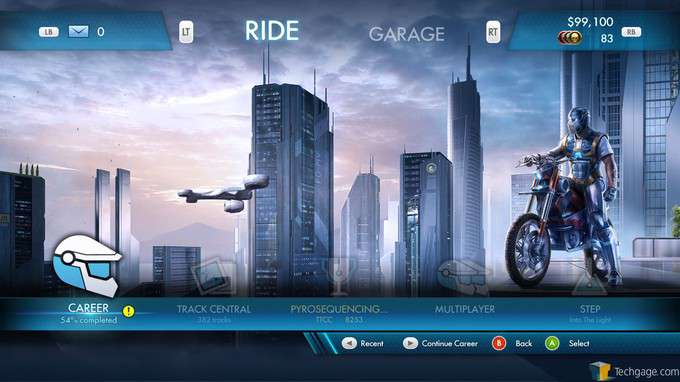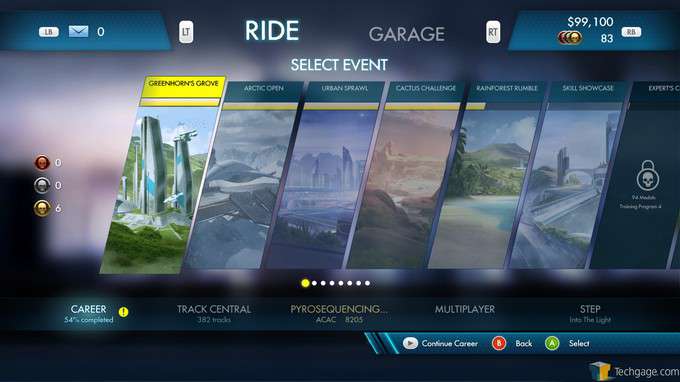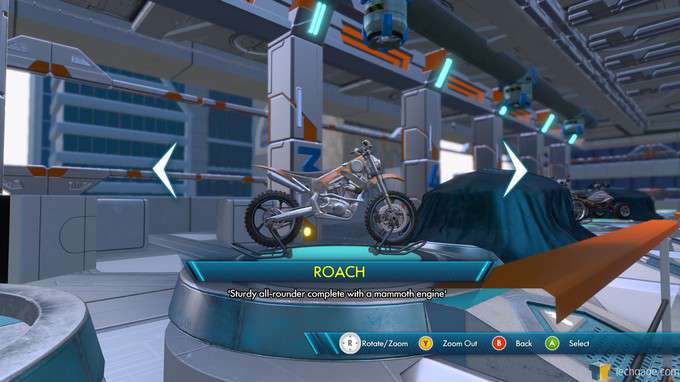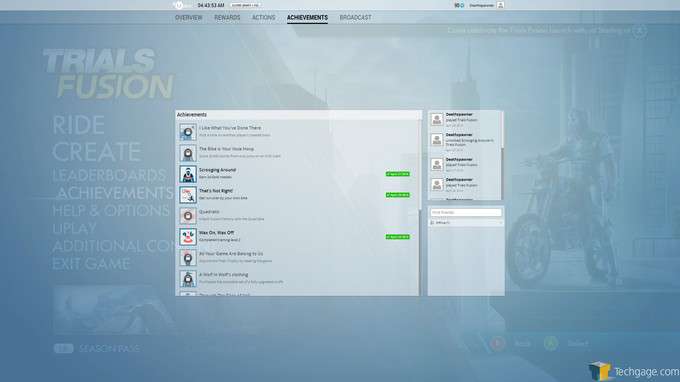 Copyright © 2005-2020 Techgage Networks Inc. - All Rights Reserved.