Tt eSPORTS Challenger Pro Gaming Keyboard

Date: November 29, 2010
Author(s): Rob Williams

The "professional gaming" market is filled with some first-rate competition, but Thermaltake believes it can deliver some of the best offerings out there. To help prove it, it's even created a unique brand, called "Tt eSPORTS". Let's take a look at one of the first products to fall under that brand, the Challenger Pro gaming keyboard.
---
Introduction
Compared to some of its competitors, Thermaltake is a rather young company. It was founded in Taipei County in 1999, and since then, it has become the go-to component company for many PC builders, enthusiasts and gamers. I've had friends of mine who weren't too well-versed in PCs request Thermaltake parts, so there's something that the company has done very right.
After the company's founding, it produced computer chassis, power supplies and cooling products, but it has recently been on the path of major expansion. A couple of years ago, the company launched its LUXA2 brand, which features higher-end components and mobile accessories. In continuing this expansion, the company announced earlier this year its foray into professional gaming accessories, and the fruits of that are finally beginning to come to market.
It's important to note that these gaming products aren't part of a series put out by Thermaltake, but rather are categorized under a different branding, "Tt eSPORTS". At its heart, Tt eSPORTS is still part of Thermaltake, but the company clearly expects enough success to warrant unique branding. This is a trend we've seen other companies do as well, such as Cooler Master with its Choiix brand.
We first learned of Tt eSPORTS almost eleven months ago at the CES event, and then saw a slew of related product at Computex this past June. The time to launch here is rather interesting, because the keyboard I'm reviewing today, I used at CES in what seemed like its near-finished form. Thermaltake has proven itself to be a company that doesn't rush things, that's for certain.
Closer Look
In talking to Thermaltake at Computex this past summer, I was told that it had enlisted the help of professional gamers in designing its Tt eSPORTS products, although it didn't name names. The company has been active in the LAN party and professional gaming circuits, however, so it can be assumed that it has gathered information via a number of different means.
Kicking things off, there are two different keyboard models that are currently available on the market, the Challenger and Challenger Pro. The non-Pro version lacks the robust macro solution, backlighting, replacement keys (8 in total) and the two USB 2.0 ports. The pricing difference between the two models is ~$20, and given what the Pro packs in, the premium seems reasonable.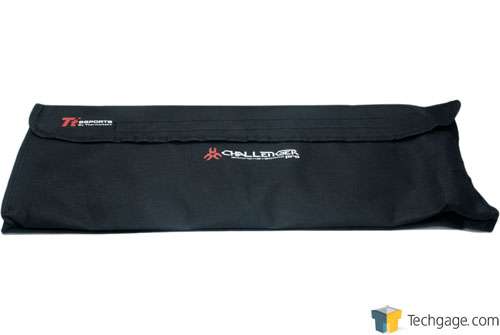 After taking the keyboard out of its box, you'll find it safely stowed away in a bag made of a soft durable material. This is a useful addition not only for shipping purposes, but also for LAN gamers who want a reliable way of safely bringing their keyboard to and from a LAN party.
For those who care a lot about the keys on gaming keyboards, you'll likely know right away whether or not the Challenger is for you. I wouldn't go as far to say that these keys are like those found on notebooks, but they are not close to being mechanical offerings either. They're silent and don't offer a lot of feedback, but they're very responsive.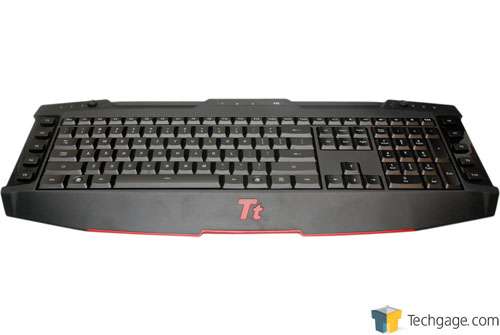 The Challenger is going to appeal greatly to those who want a clean-looking board, as there's nothing too flashy here. The only non-black aspect is the red trim at the bottom and also the logo. Like the keys, the Tt logo lights up red when the keyboard is in use (both can be disabled).
Continued Look
Similar to many other gaming keyboards out there, Thermaltake has chosen to situate the macro keys to the side, rather than keep them above the F keys. Even further, there are five macro keys on each side, with is appreciated since it minimizes the width of the left side.
I don't personally like macro keys to the sides, because I am far too used to the Ctrl and other keys being at the left-most part of the board. When macro keys are shoved in there, I find myself often having to slow down or look at the keyboard to find the Ctrl and Shift keys, and even after more than a week of straight use, I still haven't completely gotten used to that.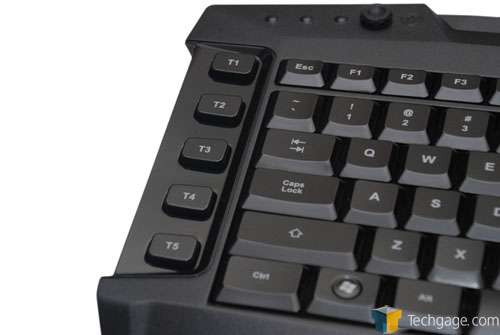 On the opposite side of the keyboard, you can see the numpad and some multimedia keys up top. As far as layout goes, I've found nothing wrong with where the keys are located, but I do have some other concerns I'll talk more about in the final thoughts section.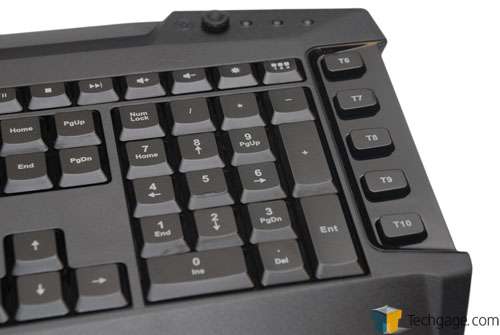 The status keys are up top, and if one of them is lit up, a red LED circle lights up beside the respective icon. The status icon to the right represents the current macro profile, and rotates between red, green, blue and purple.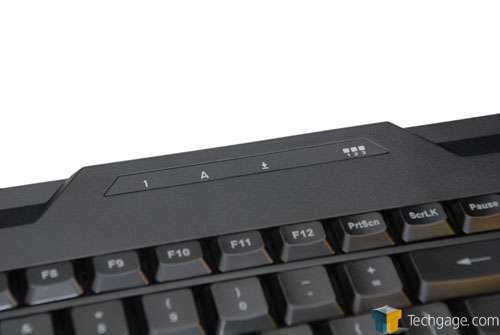 To make transport easier, Thermaltake doesn't preinstall the USB cable on this keyboard, but instead allows you to install it manually. It seems like a bit of an odd choice, but it doesn't really seem to have a downside, so I have no complaints. At the rear of the board, you'll have access to two USB 2.0 ports, and also be able to store the board's fan in the empty compartment there.
Wait, did I just say "fan"?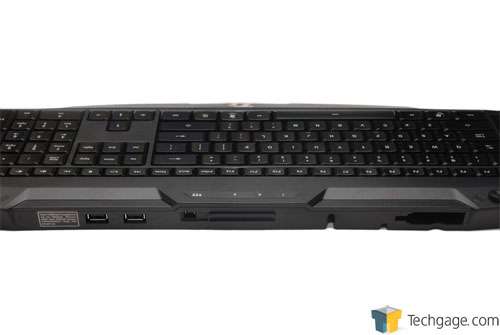 Yes, I did! In an interesting twist to the typical gaming keyboard, Thermaltake has bundled a super-small fan that mounts in either the left or right side of the board that aims to keep your hands dry during intense gameplay. Though small, the fan doesn't whine at all, and as you might expect, it's not all too powerful either.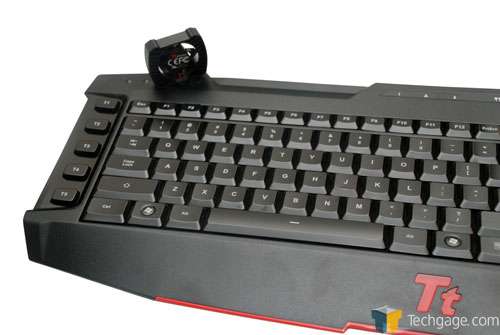 This is one of the flattest keyboards I've ever encountered, which is a +1 in my book. It can be raised if you like with the help of two durable legs. To the left of the right leg in the photo, you might notice the mouse cord holder – another plus. I have a couple of mice that either have heavy cords or just keep rubbing against the edge of the desk, so being able to secure the cord is nice.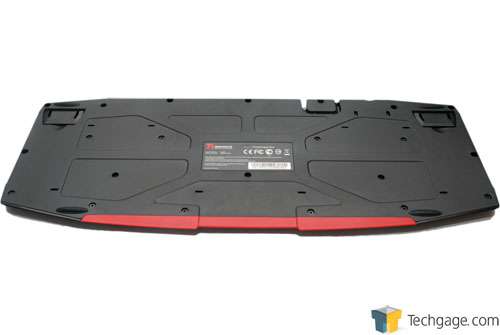 In way of accessories, Thermaltake bundles in eight extra keys (the color isn't the only change… the surface is a bit rougher, and was preferred by me), a key remover ring, the fan, a manual, USB cable, and a couple of "Windows Key Blockers". What's that, you ask? They are simply flat pieces of plastic that can replace your Windows keys, so as to prevent accidental drops to the desktop while in a game (frustrating, to say the least).
I'm not sold on this implementation personally, because there are better options out there. On GIGABYTE's K8100 we took a look at a couple of weeks ago, there's a quick switch that allows you to disable the keys entirely. That to me is a much better solution, and a better-looking one as well.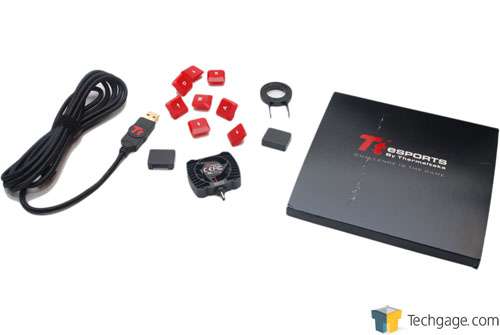 The photo below shows off a couple of different things. First is the key removal ring, which allows easy removal of any key. You simply push down on a key with it, pull up and it's out. The below photo shows off the key style used here. There's no real mechanism… you push down in the key and it pushes down on a piece of rubber which touches the PCB to activate the key. I am not really against this kind of implementation, but I really like quiet keys as well, and don't particularly need the tactile feedback enabled by other solutions.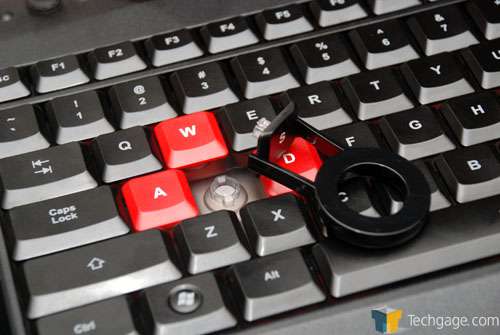 Since I've seen this keyboard on multiple occasions throughout the year, nothing really came as a surprise, but that's not a bad thing. The design overall is good, but not perfect, and I'll tackle all of those points on the final page of the review.
Software
When Thermaltake showed us around its Tt eSPORTS line-up at Computex, I got to test out the configuration software for a little bit, and I have to say, I'm surprised by how little has changed. The major version number jumped from 1 to 2 since then, but overall, the software looks almost identical, and has the same level of functionality.
The Challenger Pro allows up to 40 macro combinations to be used, and being that there are 10 macro keys, it means you will have to use the macro profile change key at the top of the keyboard to switch between them.
On the main screen of the application, you'll be able to adjust all four profiles independently, and back up all of the settings to your computer if you want to. That would be useful if you wanted to use more than 40 macro keys, because it would allow you to switch between these saved profiles on the fly. Additionally, you could create a profile file for each game you play, and load the respective one before jumping into your game.
If you don't want either the keys or the Tt logo lit up, you can control that here, along with the brightness level of the keys. You can control the latter on the keyboard itself, but this piece of software is required to turn off the Tt logo. Catering to addicted gamers, there's also a "Timer" here, allowing you to record how long you've been in a game.
To create a macro, you need to click on the drop-down menu next to any one of the "T" keys. Here, you can also choose some simple pre-defined actions in lieu of creating an actual macro.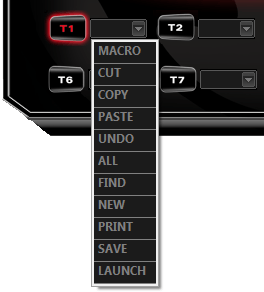 Once the macro setup pop-up is visible, creating a macro couldn't be much simpler. You need to hit the record button, then type or click away. For fine-tuning, you could adjust the time delay for each action after the fact if you want, which in some cases might be necessary depending on the game and the macro.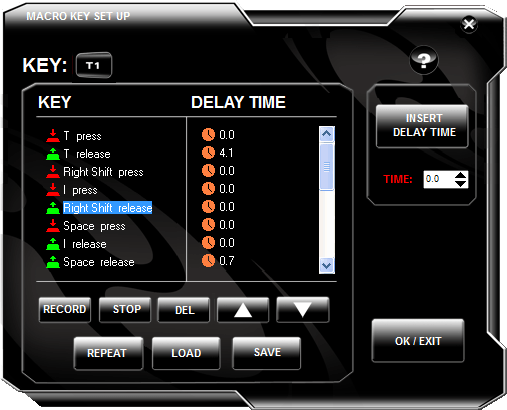 To choose which execution style the macro will have, you can click on "Repeat" and choose between "One-Time", "Repeat when press and hold." and "Repeat until next key is pressed."
One immediate downside I discovered about creating macros on this keyboard is that thanks to the limited amount of on-board memory, the raw number of actions you can have assigned to each T key is small, 20 in all. That might seem sufficient, but consider that a single key press is two actions.
I'm not sure of the reason for this, and I'm also not sure if that's something that could be remedied, but I'm hoping so. This IS a gaming keyboard, after all, designed for "professional" gamers, so to see such limiting macros is a bit strange.
Final Thoughts
Being that this is Thermaltake's true first crack at producing a "professional" gamer's keyboard, the company has done a lot of things quite well. For one, the Challenger Pro simply looks good. It's almost completely black, features backlit keys, and is comfortable. If you are a gamer that thrives on stiff tactile feedback, though, this keyboard isn't for you.
The Challenger Pro and also Challenger Ultimate (to be released) offers a lot of frills that some might consider to be gimmicky, and in some cases, I could agree. The fan, for example, never did too much for me, as it's just not that powerful. Even in still air, the breeze from it is hard to feel, and though it is noticeable when your hands are sweaty, it didn't keep mine dry.
The problem here is twofold. The reason the fan isn't too powerful is because it's small, and if it was larger, say, 50mm+ or even leaf-blower style, chances are good that your skin would get super-dry over time from the constant flow of dry air hitting your hands. The other problem is that it's not my fingers that ever got sweaty, but rather my palms. Gimmick? Perhaps, but being that the keyboard is priced at $70 alongside a lot of competition, it's not as though it results in a price premium, so it might be appreciated by some gamers.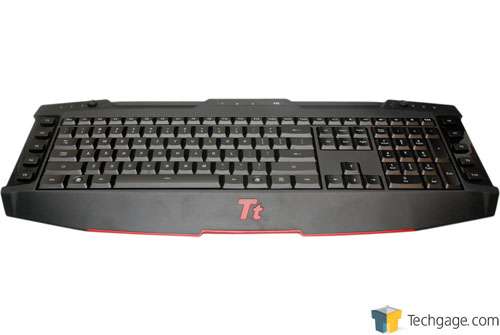 The additional keys could be considered a little needless as well, but I don't believe that they are. The original WASD and arrow keys have a glossier kind of finish, while the red keys have a more defined texture, which I like. Chances are good that you will prefer one or the other, and if it's not the red ones, then you don't need to change them.
I also liked the fact that the keyboard was completely flat on the bottom. I don't remember the last time I ever touched a keyboard like this, but it seems to be rare. I also appreciated the addition of a mouse cord routing feature since it does do well to keep your mouse from falling off the desk or moving when you are not touching it.
I like the Challenger Pro quite a bit, but there are a couple of issues that I must mention. While I like the layout of the keys, I am not über-excited about the macro keys being on the left and right sides. I prefer those to be on top so that I don't accidentally hit one instead of Ctrl or Shift. Even after a week of using this board, I have to slow myself down to make sure I'll be orienting my hand properly.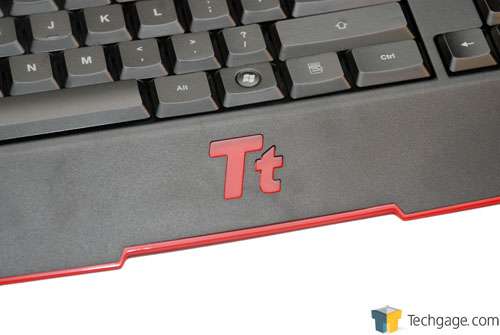 I would have also preferred far better spacing of the top row of keys as well. As you can see in the top-most photo on this page, there is no spacing at all between the F keys or any other for that matter. That to me is a concern, because if you play a game where F keys are regularly used, you are likely to have to actually look at the keyboard to make sure you are hitting the right one, and when in the heat of gameplay, that's not good.
This isn't a problem on other keyboards because there are three sets of F keys with a healthy space in between each. They helps you find any particular F key quickly, and without looking. But here, they all flow right into each other so the only option is to hit a key and hope for the best, or look away from the screen. "Print Screen" for me was also a chore to use, since again, it's in the same row.
Aside from the physical attributes, the software and macros didn't do too much to impress. The program itself is a little finicky, but I do like the fact that it's simple. The biggest problem for me is the lack of being able to create lengthier macros. I haven't taken a stab at a gaming peripheral for as long as I can remember that limited the number of actions to just 20, so it caught me by surprise here. For some gamers, it might not matter, and you should know if it would affect you or not. If you are someone who likes to create grandiose macros, the Challenger Pro is not for you. Not now, at least. Nothing says Thermaltake couldn't improve this in the driver later on. However, I do think the 64KB of on-board memory is the biggest throttle here.
Despite the issues, I'm still pleased for the most part with the Challenger Pro, but I do think it could have been improved quite a bit with the help of some small changes. For the price, this keyboard is very attractive, and I'd recommend it if the cons I mention below don't affect you.
Pros
Solid design, well-built.
Comfortable, and easy to type with.
Ability to save macro profiles to your PC.
Additional textured WASD and arrow keys included.
Up to 6 keys can be used at once.
Mouse cord routing feature is a nice addition.
Backlit keys (featuring three levels of brightness).
Very flat bottom, if that's important to you.
Priced right, at ~$70.
Cons
Lack of spacing in top row of keys.
Limiting number of actions per macro.
Macro execution is a bit touchy.
Included fan is not too powerful.
No mute multimedia key.
Discuss this article in our forums!
Have a comment you wish to make on this article? Recommendations? Criticism? Feel free to head over to our related thread and put your words to our virtual paper! There is no requirement to register in order to respond to these threads, but it sure doesn't hurt!
Copyright © 2005-2021 Techgage Networks Inc. - All Rights Reserved.