Turtle Beach Ear Force X2 Xbox 360 Headset
Date: October 9, 2006
Author(s): Rob Williams

If you play on Xbox Live often and are sick of using the flimsy headset you received with your console, then you are in luck. Turtle Beach released their X2 headset earlier this year, and it proves to be a very worthy upgrade to the headset you have now.
---
Introduction
If you have an Xbox 360, then chances are good that you have partook in some Xbox Live action. According to some recent reports, over 60% of people who own a 360 are online, so it's a huge market and one that welcomes supported periperhals.
When I picked up my console at launch last year, I loved it. The system was great, made it easy to get online and most importantly, the games were fun. However, one thing that struck me as odd was the included headset. They are junk, and I am sure there are not too many people who would disagree. They are flimsy and have very sub-par sound. Coupled with the fact that you only hear the game out of one ear, that seriously detracts from the gameplay experience… you should be experiencing.
Turtle Beach released their X2 headset earlier this year, and as of now, I regret not having heard of it until just now. Yes… I love this headset. It has a few downsides, but I will get into all of this later.
Closer Look
The X2 is primarily marketed as an Xbox/Xbox 360 headset, but it can be used for other audio equipment also. Actually, I see no reason why this would not work with any of your consoles, due to the way the installation is performed. What sells the X2 are three primary reasons: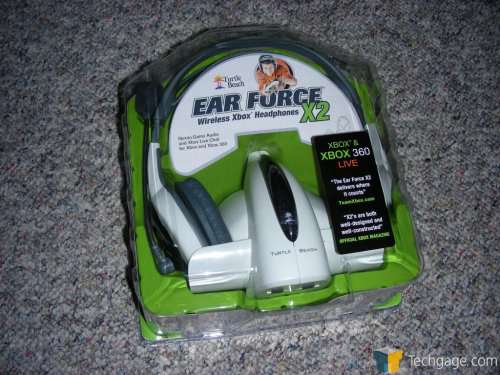 Game Audio & Xbox Live: Instead of hearing sound through a single earpiece, you will hear it in complete stereo. You will hear both the sound from the game, and also the speech. This in itself is one of the -best- reasons to pick up the headset.
Comfort & Quality: Self explanitory… these are comfortable headphones and not flimsy. Built to last… at least hopefully.
Late night gaming! No more pissing off your family when you blow up someone in the middle of the night. Even though you will hear everything your game has to offer, people around you will hear nothing.
Surprisingly, they don't include the fact that these are wireless in their three-point guide. However, that's another great feature for very obvious reasons. The only wire you will have to deal with is the headphone, if you wish to use it.
The X2 arrived in a huge plastic blister pack, which was hardly fun to open. I immediately grabbed my box cutter and spent 3 or 4 minutes tearing it open, making sure not to slice a hand off. Once opened, you will reveal a manual, ac adapter, cable extenders, microphone cable and some batteries.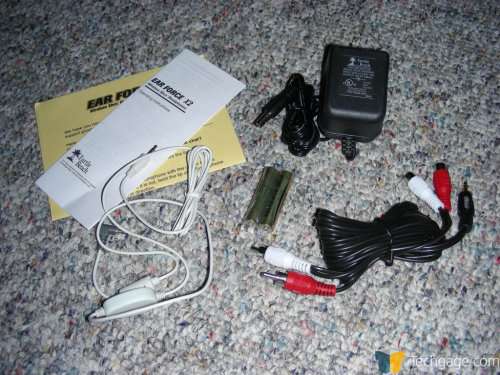 The receiver base… is ugly. If you don't agree with me, that's fine. It looks more like a piece of abstract art than a headphone holder, but whatever. This is -not- a charging base either, so you will need to replace the batteries in the headphones whenever you have some die. The front dim piece of this base lights up with a few LEDs to let you know the connection to the headset is good.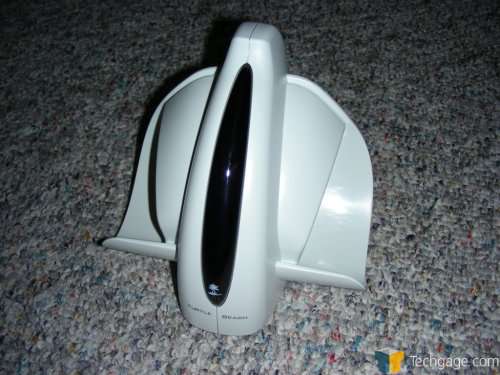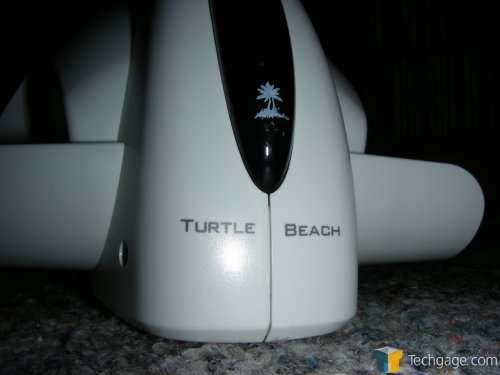 On the back, we have input level and power port. For use with the Xbox 360, it's recommended to use the Low setting, because by default the console will spit out some incredibly loud sound… and you don't want it to do that when you are wearing the headset testing it out for the first time. We can also see here the the wireless is accomplished via infrared.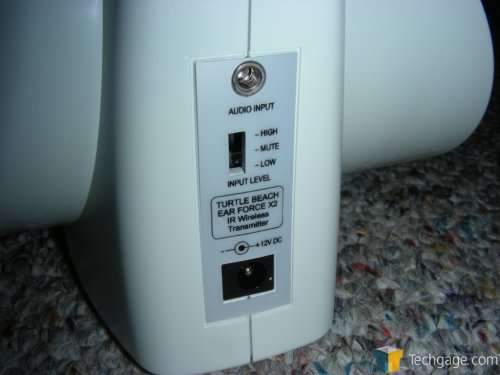 I have no complaints about the headset itself… really. The design is good and rather comfortable as I had hoped. The earpieces are well padded, and the strap at the tip is comfortable enough so that its not even noticeable.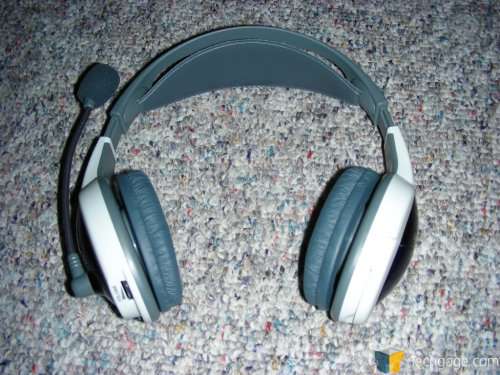 Closer Look Cont., Installation
On the right earpiece, there is an on/off button at the bottom, and also the volume control. These are somewhat oddly placed and difficult to reach. At first, I had to take the headset off before I turned the volume up… only because I wasn't even sure where the button was. The opposite end has the port for the microphone. If you don't plan to use the microphone, you will never need to touch this.
The microphone itself cannot be removed, but that's fine since it in no way gets in the way. Yeah, way. It pivots up or down, and then you can move the end piece to the desired location.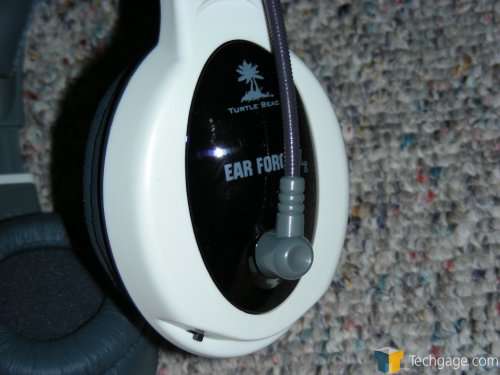 As a whole, you have a rediculous looking base, and then the headset which sits nicely on it. Not -that- nicely though… it almost feels like these two pieces were not made for each other. Usually bases will securely hold the headset, but this one does not hold it straight upwards.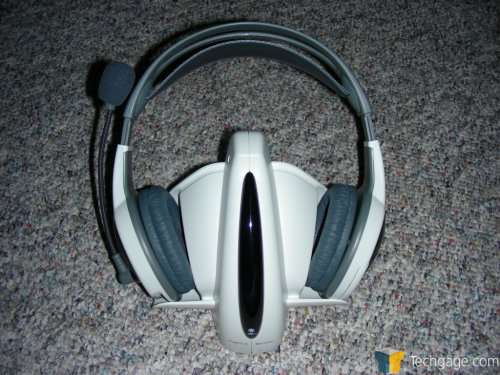 Installation
The installation… could not have been easier. If you use digital input to your television from your Xbox, you will have five cables, two of which are red and white. These are the standard audio cables that we've used for our consoles for… ever. You simply use the splitter that the headset includes… childs play really. The other end of the splitter plugs into the back of the base. Finally, you have to plug in the AC adapter to the base and into the outlet. Again, this could not have been any more simple… they didn't even need to include instructions though they have.
The last step is to insert the batteries into the left earcup. Once done that, you are good to go. When you first boot up the 360 though, you will want to go into the headset configuration to set it up accordingly. The default setting will output voice into the headset, but nothing else. Changing a setting will allow you to hear the game as well.
At first, I was unsure if the headset was even working, but after a couple minutes with of fiddling I had figured it out. The easiest way I found to configure these, was to mute the television and deal with the headset solely. I kept the headset at the lowest volume, for the sake of not blowing my eardrums out. After half a minute I had gotten it to a reasonable sound level, and was ready to start playing some games.
Due to the way this is set up, there are a few different ways you can configure the usage of the headset. First off, if you have people in the room watching you play, you can either still use the headset, or take them off and unmute the TV. If you wanted, you could use the headset as normal, and unmute the TV, which would allow others to hear the action. You would be the only person to hear the voice from other players though, probably.
All in all, the installation is so easy… that anyone could do it.
Testing, Final Thoughts
The first thing that concerned me with the headset was hearing static. I recently took a look at another wireless headset and had a horrible experience. The static from those was SO bad, that they were virtually unuseable. At that time I had figured that something in the room was causing the static, but after using these X2's, I now know that was not the case.
In total so far, I have used the headset for around 12 hours worth of gaming. During that time, I heard a static spurt twice, and that was because the base was hidden behind my television. Even with no sound, the static heard was so minimal, that I can't even consider it static. It was silence.
But the important thing is actual sound quality. For all of the testing, I played Enchanted Arms, Sonic demo and also the NFS: Carbon demo. I am not exagerating when I say I was immediately impressed by the sound quality of these headphones. I had been incredibly wary of the sound, because everything else went so smoothly.
By far, these sound superior to what a normal television will provide. Though these are output stereo sound, at some points I would swear they were 5.1. The directional sound was great for the most part. Even at loud volume, the sound was crisp with no audible static whatsoever. I didn't go too loud though, because it was needless once I reached a certain point.
I had some music loaded onto the system, so I gave it a quick listen also. Even in this instance, the sound came out GREAT. So in a sense, you could use this for more than just gaming. Load up a CD, throw on the headphones and go do some housework.
Of course, with all good there are things that could be improved upon. In this case though, what can be improved upon doesn't really detract from the overall greatness of these headphones. I can't see myself going to anything else after these…
However, the earcups… are not that large. I don't have massive ears, but they didn't cover them that well. So, if you have huge ears, this may prove a little uncomfortable. Luckily though, even though they didn't feel that snug, not once did they slip off, or even budge. I walked around the house just to test them out, and moving my head around did nothing.
Another thing I will mention is the fact that the controls on the earpieces are ackwardly placed. They are difficult to reach without taking the headset off. It would be more sensible if the controls were on the outside of the headphones, rather than underneath.
Lastly, make the damn things rechargable Turtle Beach! I hate having to worry about whether my current batteries will make it through a gaming session, or having to keep others handy. Sure, rechargable batteries would work, but it would have been far better if there was a built in battery, and the base used to recharge them.
Final Thoughts
I was skeptical when I first received the X2s. To me, it was almost too good to be true. The fact of being able to play my games late at night and not disturb others was great. It did not take too long however, to realize that this headset delivered in all of it's promises.
There was no audible static during gameplay, the sound was -superb- for a stereo output, and the microphone was equally impressive. Though I do not play many of my games online, I did hop on to PGR quickly to test it out. The mic was easy to position, and the sound went through to the other players very clear.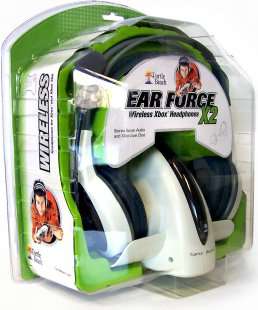 Is this the ultimate Xbox 360 headset? It may very well be. I am left satisfied, and only wish I had known of it sooner. If Turtle Beach took my considerations seriously, this would clearly be one incredible gaming headset.
To my knowledge though, this is one of the very few third party headsets for the console. Actually, I couldn't even think up another one. If anyone out there knows of other similar headsets out there, that may even prove better, please let me know.
Though I am not that impressed with the overall design, the X2s deliver. For that, I am giving them an 8 out of 10. If you have an Xbox 360 and want a good headset, don't even think. Pick these up… you will not regret it. Unless you have a huge head, of course.
Pros
One of the few headsets catered for Xbox 360
Superb sound
Easy to install
Great price
Cons
Small earcups
Non-rechargable base
Volume control in an odd location
Discuss in our forums!
If you have a comment you wish to make on this review, feel free to head on into our forums! There is no need to register in order to reply to such threads.

Copyright © 2005-2020 Techgage Networks Inc. - All Rights Reserved.