Ultra 2000VA UPS

Date: August 25, 2006
Author(s): Matthew Harris

Life isn't certain but one thing you can be certain of in life is that your power is going to fail at one point or another. When that happens you can either be prepared with a UPS on your PC or you can go commando and be caught short.
---
Introduction
Ever been pounding away on something that was of the utmost importance when out of the blue *wham* you're suddenly sitting in a darkened room with a sick feeling it the pit of your stomach as two hours of hard fought work goes into the ether? Yes you can be smart and save every three seconds but that slows progress and helps to derail your train of thought. You can also buy a UPS and work assured that when your power does fail you've got time to save and exit your work and shut your PC down properly.
Today I'm taking a look at the Ultra 2000VA / 1200W UPS and I've even been fortunate enough to put it to a real world test that can help to show what you can expect from it.
Let's see what Ultra has to say about it:
The Ultimate Power Protection!
Featuring $125,000 Connected Equipment Warranty!
If you're looking for the most complete, technologically advanced power protection unit, the Ultra 2000VA is exactly what you need. The Ultra 2000VA is an absolute must for anyone running small servers, workstations and powerful PCs. And we're so confident that the Ultra 2000VA offers the best power protection in the world that this unit carries a $125,000 guarantee against damage to your connected equipment while the 2000 VA is in use! You simply cannot afford to cut corners when it comes to safeguarding your valuable equipment, and the Ultra 2000VA delivers the most comprehensive protection for computer, peripherals and data files at a remarkably low price.
The Ultra 2000VA offers an incredible array of features and benefits including line interactive design, AVR (auto voltage regulations), USB communication port, alarms for battery backup, low battery and overload, energy saving function (UPS green mode), automatic charging when UPS is off and much more. This outstanding unit protects up to four devices simultaneously and is fully digitized microprocessor controlled. For the ultimate protection at a minimal cost – choose the Ultra 2000VA power protection unit.
General
Model
2000VA
Watts
1200
Backup Time
About 65 Minutes
Net Weight Kg (lbs)
14.5 (31.93)
Shipping Weight Kg (lbs)
15.9 (35.02)
Digital Display
Yes
Output
Voltage (on battery)
Simulated sine wave at 100V / 110V / 115V / 120V or 220V / 230V / 240V +/-

5%

Frequency (on battery)
50 or 60 Hz +/-1Hz
Voltage Regulation( AVR)
AVR automatically increase output voltage 15% above input voltage if -9%

to -25% of nominal.

AVR decrease output voltage 13% below input voltage if +9% to +25% of

nominal

Transfer Time
2 / 4 milliseconds, including detection time
Input
Voltage
100V / 110V / 115V / 120V or 220V / 230V / 240V +/- 25% at line input
Frequency
50 or 60 Hz +/- 10% (auto sensing)
Protection & Filtering
Spike Protection
2100 Joules
Unit Input
Breaker or fuse for overload & short circuit protection
Overload Protection
UPS automatic power off if overload exceeds 110% of nominal at 60

seconds and 130% at 3 seconds

Telephone Protection
RJ-11 (1 in 2 out* or 1 in 1 out) compatible jacks for telephone surge

protection.

Ethernet Protection
RJ-45 compatible jacks for Ethernet network surge protection
Coaxial Protection
F1 terminal for cable TV/modem surge protection
Short Circuit
UPS output cut off immediately or input fuse protection
Battery
Type
Sealed, maintenance-free lead acid
Typical Recharge Time
6 hours (to 90% of full capacity)
Protection
Auto discharge protection
Interface
Dimension WxDxH (mm)
130 x 382 x 192 (5.1" x 15.0" x 7.6")
Input Inlet
IEC 320 power inlet
Receptacles
NEMA 5-15R (UPS outlets x 4 , Convenience outlets x 2 )
IEC 320 female appliance coupler
(UPS outlets 4 , Convenience outlets x 1 )
USB / RS-232
Detect battery low, Schedule UPS on/off, AC input/output power status

display

Alarm
Battery Back-up
Slow beeping sound (about 0.47 Hz)
Battery Low
Rapid beeping sound (about 1.824 Hz)
Overload
Continuously beeping sound
Environment
Ambient Operation
3,500 meters max, elevation. 0-95% humidity non-condensing, 0-40 deg
Audible Noise
<40dBA (1 meter from surface)
Storage Condition
15,000 meter max. elevation
Features
Line Interactive Design
AVR (Automatic Voltage Regulation)
Fully Digitized Microprocessor Controlled
Protects up to 4 Devices at Once
Energy Saving Function (UPS Green Mode)
50/60Hz Frequency Auto Sensing and Selection
USB Communication Port
Advanced Battery Management (ABM Technology)
Close Look
The ultra UPS arrived in a rather large box emblazoned with pictures of the UPS and listing the various features.
This was in fact the shipping box. As you can see the corners of the box got a bit damaged on the trip to me so I was interested to see what was inside.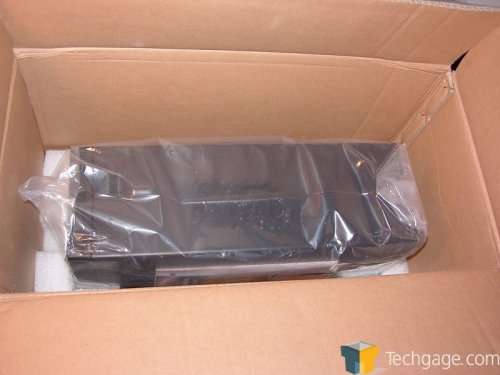 After opening it I removed a piece of cardboard with close-cell foam glued to each end and underneath was the UPS in a large nylon bag. The cradle under the UPS is the same as the top, I just hate including pictures of pieces of cardboard when there's nothing to be gained from them.
Inside the box along with the UPS you'll find the USB monitor cable, the UPS power cable (which happily is a standard PC power cable) and a phone cable. The bag that the UPS is packaged in is very strong and thankfully so. With the design of the ends of the cradle under the UPS you cannot get your hands underneath the ends of the UPS to lift it out and instead have to lift it by pulling it up by the upper corners of the bag. It would be nice if Ultra could put reliefs in the foam to allow you to get your hands under the front and rear of the unit. This thing is a trifle heavy at >35lbs.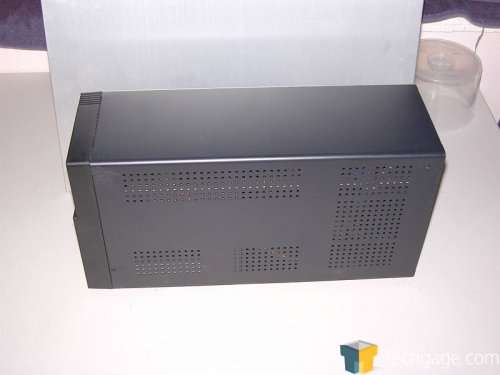 Once it's all out of the packaging we see the manual and the UPSMON software included with the unit. The manual is very well written and detailed and does a good job in explaining the care and feeding of your new UPS. One thing that I would have liked to see included with the UPS would be a short LAN cable.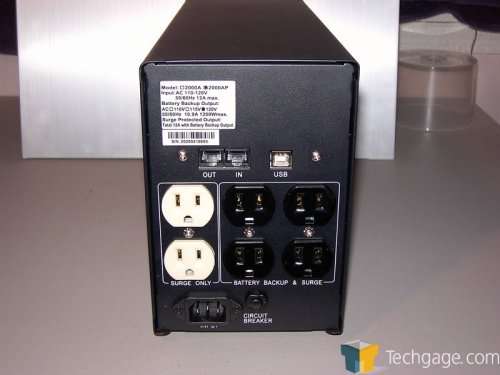 The ports on the rear of the UPS are made up of 4 battery backed up and surge protected outputs, 2 surge only outlets, combination RJ11/RJ45 input and output, USB monitoring port and power input. This is why I say that I wish Ultra had included a LAN cable rather than just a phone cord. If you want to hook your NIC to the UPS you'll have to run out and purchase a short patch cable. Having your NIC on a surge protector is a nice touch since it can stop lightning damage from cable modems from reaching your PC. After living in a state for several years that gets hit by tornados and the storms related to them I can't begin to express how handy having your networking on a surge suppressor can be.
Ultra's UPS has a nice touch that many of their competition doesn't, a handy front display unit on the UPS. The unit shows at a glance if your UPS is on line power, battery power or even overloaded. The first image in the article shows what the various indicators look like in the order I've listed them. To the left of the status indicators is the battery level indicator. It features five bars with each representing roughly 20% of the battery's life. Below them is the mains level voltage indicator. This shows the output voltage from the UPS. Though these aren't a big deal since you have software monitoring they are handy if you're running anything on the UPS without the PC running. I'll get into that at greater depth in a bit.
Software
When you first install the UPS you're told to not hook up the monitoring cable until you install the UPSMON software, after the software is installed you're greeted by the COM Port screen: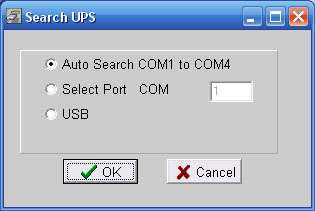 After checking USB press OK and you'll be greeted by the confirmation screen:
Clicking OK brings up the monitoring screen:
The monitor screen features a set of "dials" indicating the input and output voltages, frequency in hertz, the battery level and load level. To the right of the dials are static indicators that are pretty self explanatory. Above those are the buttons for configuration, self test, COM port search, schedule tasks, record viewer, event viewer, call pager and email notification.
The configuration screen allows you to set the amount of time it takes for the UPS to shut the PC and itself down based on different factors.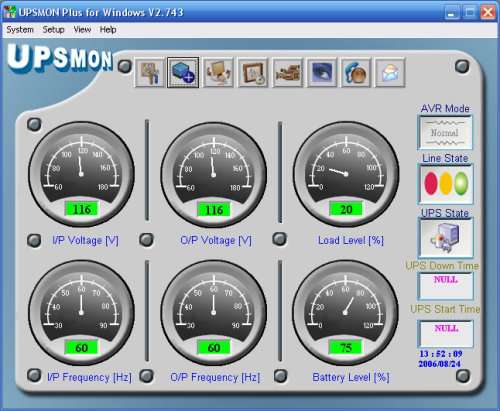 Hitting the self test button shuts the input down for a few seconds although it won't show up in the input voltage dial since there still is voltage coming in. As you can see by the battery level dial the drop is very evident during the test. It's also notable on the front panel battery meter.
The event viewer shows everything of worth noting and allows you to choose what's important and what's not. It's nice having choice in what you have to wade through when you have a problem.
The pager allows you to have your modem equipped PC call the numbers you choose in the event of a variety of reasons.
You can also have the PC email you with the message you input for the 7 reasons pictured.
I've left the record viewer for last since it's the most fun to play with. You can drag your cursor along the plotlines and it will show you the levels of the graph and the time that those levels were reached. For instance if I was to put my pointer on the battery level line and drag it to the dip where I ran the self test you'd see that the battery was at 75% and the time was at 13:52:09. You'll also see the levels for everything else you have enable at that point in time. I find this a very handy and useful feature.
During my testing of the unit I ran into a fair lightning storm, or rather it ran into me. The storm knocked out my power for well over 4 hours. When the power went out I had just finished cooking supper and was sitting down to eat, I have not only my PC running on the UPS but also my lamp next to my desk and a small fan. Anyway, after 15 minutes I decided to shut down the PC and left just the light and fan on the UPS as the only real load. The light is a 20W fluorescent bulb and the fan draws about 30W. Naturally, since I was sitting down to eat I was greeted by a phone call so I sat and gabbed on the phone for a good 30 minutes (15 of those the PC was on) and after I'd managed to persuade my caller that my supper was getting cold I tucked into my food. I spent about another 20 minutes with light before the UPS gave up the ghost which isn't too shabby. All in all I was pretty happy that it had been able to keep up with my PC, fan and light for a good 15 minutes then keep me in the light for another 35 or so minutes so that I wasn't in danger of shoving a fork in my eye during dinner.
Ultra claims the ability to run a PC and 15" monitor for 80-90 minutes but I'm pretty certain that my PC is drawing a bit more than their baseline system so I'm not going to fault them there. Right now I'm drawing about 417W from the wall through the UPS and UPS mon is showing it as a 20% load. This gives the UPS a ballpark 68% efficiency level based on putting about a 260W load on it going by the percentage it's showing in UPSMON. The PF at the wall from the unit is an impressive .98.
Overall I'm very impressed with the Ultra 2000VA UPS. It's feature packed, gives great backup time and solid as a rock. For the money ($229 MSRP) you'd be hard pressed to find a UPS that gives you as many features and the same power. I'm awarding this unit a 9/10 and our editor's choice award for being a great deal with more features than you know what to do with.
Discuss in our forums!
If you have a comment you wish to make on this review, feel free to head on into our forums! There is no need to register in order to reply to such threads.

Copyright © 2005-2020 Techgage Networks Inc. - All Rights Reserved.