Ultra Fan Commander

Date: September 28, 2005
Author(s): Greg King

Modders know… a great fan controller can add wicked styling and great functionality to your case. We are taking a look at the Fan Commander from Ultra, which easily takes care of both of those things!
---
Introduction
I'm back and I bring you good news! We have in house, the new Fan Commander from the fine folks over at Ultra Products. This is not the first Ultra product that we have had in for review and I certainly hope that it will not be the last. The other Ultra reviews can be found on our reviews page. Let's take a look at the specs of this product that can also be found on Ultra's website.
Specifications
Drive Bay: 5 ¼"
Dimensions: 3 7/8″ x 5 1/4″ x 3/4″ (LxWxH)
Color Back Light Display:
HDD Status
Fan Selection
Fan Speed (RPM)
Overheat Warning
Key Lock
Time/Date
Fan Speed Status Bar
CPU Temperature
System Temperature
HDD Temperature
Alarm Temperature Settings: 65°C / 149°F (Default)
Alarm Failure Fan Setting: 7 Fans
Fan Voltage: 12V
3 year limited warranty!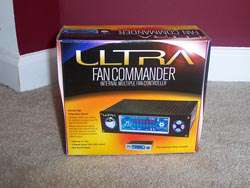 Closer Look
This is a product designed to not only add style to your PC but functionality as well. With the Fan Commander, you can control up to 7 fans individually, as well as monitor your case vitals such as CPU, HDD and case temperatures. This is nice to have when you are in a game or don't have the time to bring up your system monitor from your system tray. Enough small talk, lets get down to business.
My first reaction to opening up the box is that I am happy with all of the items that Ultra included. You get a front bezel in brushed aluminum silver or black. With my black case, I don't need to tell you which one I am going with. The entire housing is aluminum as well, which for the most part also impressed me. This is a very robust little piece of hardware. I am looking forward to seeing how this looks all lit up. Also included are all the cables you will need, a small hex key to switch out the bezel, back up batteries, an adequate instruction manual and tape to affix the thermal probes to whatever components you want to monitor. For this, I am choosing the normal HDD, CPU and case temperatures.
Installation
I am the type of person that hates cables running all over hells half acre in my case, so I try to the best of my abilities to spend ample time during cable management. As much as I want to get this thing going, there must be time to route the cables, so I can provide maximum air flow throughout my case. As you can see, there are quite a few cables that can possibly come out of the Fan Commander. You have one for your power, 7 possible fan cables and 3 system thermal cables.
I will only be using this to monitor one fan, my CPU's Zalman 7000Cu, temps of my CPU, system and hard drive. Obviously I will have one cable for the 4-pin Molex power connector. That in itself is 5 cables that I will have to route throughout my case as to not obstruct any more air flow than necessary. Why would I only choose to hook up 1 fan in my case you ask? It's because all of my other fans use the 4-pin Molex connector and I need a small 3-pin that my Zalman just so happens to have on it. How convenient.
As mentioned above, this occupies a vacant 5 1/4″ that you might have. On my case, an Antec SX1040BII (crazy name, very good case), there are rails for my 5 1/4″ bays so installation should be a snap.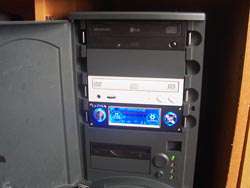 Final Thoughts
As I anticipated, this installation went down with out any problems at all. I am very pleased with the results that I found. The temperature probes worked well and matched the readout of my Smartguardian computer probe. I was pleasantly surprised with the temperature of my WD Raptor, because these drives are a hot one. But with a fan on it, it stays nice and cool. I like the fact that I can control the speed of any fan that is connected to the controller, thus making this a true controller.
The ability to check the time and date on this unit is something that I found to be quite useful as well. How many of us have the time to look over our shoulders to check what time it is? Let alone hang a clock in plain site of your computer desk… I know that I sure don't! Well, with me it isn't a matter of time, rather motivation. But the fact that I can look down slightly and see the time, date, CPU temp and fan speed is wonderful.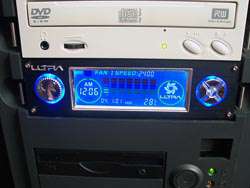 All in all, I feel that Ultra has a really good thing on their hands with the Fan Commander. As much as I liked the last thermal monitor that I reviewed, this stands heads and shoulders above everything else like it. From the very impressive manufacturing of this unit to the accuracy that it reads, this deserves a high score. I want to give this a 9.5 out of 10 but I am going to round up and say that this is a perfect 10. I really can't tell you how impressed I was and still am with this little unit.
This will, with out a doubt, turn quite a few heads at a LAN party with the beautiful back lit LCD read out as well as the blue halos around the two sets of control keys. I have no reservations at all in giving this a perfect 10 out of 10. A 9 was what I was thinking at first, but upon noticing the time and effort Ultra put into manufacturing this, I can't sleep well without upping the score to a perfect 10. Congrats to Ultra and many thanks as well for allowing me to review this fine addition to any PC.
If you have any comments you'd like to make on this review, please feel free to make them in our related forum thread! Comments, questions and suggestions are also welcomed there.

Copyright © 2005-2021 Techgage Networks Inc. - All Rights Reserved.