Ultra Wizard w/ UV Side Panel

Date: March 7, 2005
Author(s): Rob Williams

Ultra Products continues to add quality products to their line up. They produce numerous modding supplies and kits, and are arguably most known fpr their X-Connect PSU. Recently they have released the Wizard Mini-Tower ATX case, which is geared towards giving gamers everything they are looking for, and more. Have they succeeded?
---
Introduction
Specifications
Dimension:7.8″ (W)x16″ (H)x19″ (D)
Premium Steel Construction
3 5.25″ drive bays w/ Easy-Pull Port Covers
6 removable 3.5″ Bays (1 Ext, 5 Int)
"Up-Front" USB & Firewire
Front Panel Vent System
Front Locking Bezel Cover
Adjustable CPU Air Duct
7 Standard Expansion Slots
UV Reactive Clear Side
PC Towers has become a market that everyone wants a part of, Ultra Products included. Competition is fierce, and new cases are being unveiled every day. Some cases are better than others, but one thing that is a given, is that they keep getting better, and better. Ultra is a great producer of modding products, including their popular X-Connect Power Supply. However, Towers is one area where they lack some inventory, but they are changing that.
As with all companies, they know that their case has to be different, but still practical, and have a definite selling point. At first glance, you will see that the Wizard is a modest looking case, and even 'simple'. However, when you look deeper, you will see this thing is pretty packed.
Features
Let's first talk about the box that the case came in. It's made of corrugated cardboard, which is definitely a nice choice made by Ultra. Ok, in seriousness, the box is loaded with details, and they haven't missed anything. Reading the details made me just want to open it that much quicker!
After taking the case out, we see that is has a very clean looking design. Nothing overly fancy here, but what is here.. works well. It's actually a great looking case.. made of steel and the paint job is very clean. It's a navy blue color, which Ultra refers to as "MS Blue".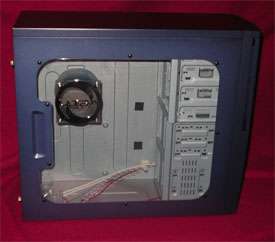 Features
The case comes with (3) 5.25″ front bays, for your drives, fan controllers and whatever else you need them for. What makes these slots special, is the "Easy-Pull Port Covers" which allows for easy removal of the covers, and the ability to replace them with ease. Latch onto both sides, squeeze and pull out. This will save you the time of opening the case and getting your arm in awkward positions to remove them from the inside. Directly below those bay drives, is of course, the Floppy drive bay
To the left of that, is the Power and Reset buttons. Here is where my first of a few gripes come in. You must open the bay door in order to boot up your computer, which isn't that bad really. But what I dislike, is that the reset button is very hard to push. I don't have overly large hands, but I could hardly push the button with my pinky finger. I had to use a pen most times, in order to reset it.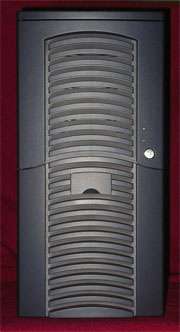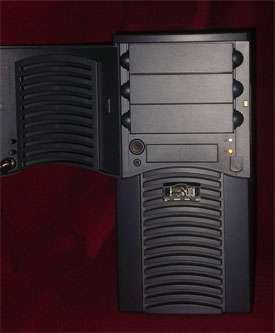 Right below the bay door, is a small latch door where the 2 USB 2.0 and Firewire ports are. It works into the scheme of the case, and is quickly accessible for whenever you need them. To make your computer Ultra secure, they even included a lock and key to keep your bay door from being opened. It's a good feature, and has it's uses. Great if you have kids who like to run around the house turning off computers.
One thing I also found, and yes I am very picky, is that the front plastic didn't seem that durable. There was one time when I opened the door a smidgeon too far, and it fell right off. It took me about 5 minutes to figure out how to get it back on without breaking it. Sadly, I didn't even open it that far, but it could have been the extreme force from my powerful muscles, that came into play. :-/
Below, the left picture is to show you how small that reset button really is. When you look at it next to the floppy drive, you can see it's extremely small. This is not a huge problem, unless your computer locks up and you do need to push the button. On the right, you can see that the front ports are not the cleanest looking part of the case, since you can see the wires behind it easily. Once again, not a big deal, since you will rarely look there.
Installation
This case has a couple of features that are very unique, so let's start with the UV Side Panel. Since I don't currently have the means to test it, below is Ultras interpretation of what the side panel will glow like if you have UV lights inside your PC. On the side panel is the Ultra medallion, which also acts as a vent for the duct.
Duct? A lot of cases usually place a fan in this spot, but Ultra is thinking differently. Instead of a fan, which pushes cool air into the case, the duct, which is directly above your CPU, will quickly grab the hot air from the CPU, and get it outside the case. This is great if you have a basic CPU fan, like a stock one, but it may get in the way if you have a huge Heatsink, like a Thermalright XP-90, or something similar.
This is a great idea, and seems to work quite well. I found that the air from the CPU exited quickly with the duct there, then with it not. This is also good, because unlike a fan, the duct doesn't require power hookup, so that keeps the inside of your case cleaner looking. As you can see below, I'm all about keeping my case clean. /sarcasm
Installation
Usually when building a computer from scratch, I will always, always find something that could have been different to make the process smoother. However with this case, installation was an absolute breeze. The motherboard was especially surprisingly easy to install, with raisers built in, so you can avoid the plastic ones if you wanted. However, not all motherboards may still fit in without the raisers.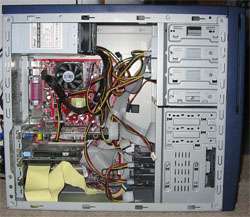 There is a lot of room in the case, especially for fans. However, if you want to use a 120mm rear fan, you will need to drill some holes yourself, since by default, there is only enough holes to support an 80mm one. It would have been great to see the case come with enough holes for a 120mm. The entire installation was smooth though, including installation of the PSU, which I find to usually be a pain.
Performance, Conclusion
The system tested consists of: AMD 2600+ XP @ 2.09GHz, 1024MB DDR400 Ram, 2 * 200GB Western Digital HDD's, MSI Radeon 9800Pro 128MB, Lite-On DVD-RW, Lite-On CD-RW, Phillips PSC724, 400W PSU and a NIC card.
Since I keep my case so completely unorganized, [I swear I'm working on it], the air flow isn't the best to begin with, so that may affect some of the temperatures found below. The 2600+ XP is also a generally extra hot CPU, so that will also come into play. The CPU and GPU both have stock cooling.
To get the results above, the computer was turned on after being off over night. The computer was used for normal use for a few hours, and then a 3D Mark 2005 test was looped three times to help heat up the video card. On average, normal computer use, meaning little GPU use, the CPU keeps steady at 50°C, and the Case temp at 39°C. After the video card was on fire, the temp rose inside the case up to 44°C and the CPU at 57°C.
In some previous cases, the case temp could reach 48°C easily, and the CPU up to 65°C. Even though the computer is not the tidiest inside, the case did prove to have enough circulation to keep the temps down. The figures above were acquired with Motherboard Monitor.
Conclusion
Overall, this is a great case. If you are a hobbyist modder, there is tons of room in this case. Lots of room to add your own fans, cathodes and other things. The UV Panel is also a great feature if you do have UV cathodes, because the side will really glow. The case is made more appealing to look at, due to the great paint color.
Even with the minor problems of the small reset button and flimsy door, I would still recommend the case. The case doesn't come with a PSU, but at the time of writing, you can buy the case and get a free PSU through the FrozenCPU link below.
If you are looking for a cool case that's not overly hyped up and stylish, but want a fully functional case that looks clean, I recommend you check out this case. Thanks a lot to Malsert from Ultra for sending us this case for review!

Feel free to discuss this review in our forums.
Copyright © 2005-2019 Techgage Networks Inc. - All Rights Reserved.