Ultra X-Connect 500W PSU

Date: April 18, 2005
Author(s): Rob Williams

Case clutter has been a problem with computers forever, especially with PSU cables lying all over the place. Ultra promises to solve this problem, by allowing you to only use the cables you need. The X-Connect PSU includes other cool features as well. You can read about them in our review.
---
Introduction
Specifications:
High-Gloss Mirror Finish
Modular Cable Connection System
UV Reactive Shielded Cables
Dual 80mm Fans
Low Acoustic Noise
Price: $89.99US
It's not too often that a product is released, where the thought, "Why the heck wasn't this done a long time ago?", comes to mind. With the X-Connect, it's the very first thing that came to mind. The obvious selling point of this PSU, is the fact that all the included cables are Modular, and can be removed or added whenever you need.
How ugly are the standard power cables that we see in the majority of power supplies today. Ultra also has that in mind, and made sure that their cables would be far from ugly. Let's look further into the features of this unique PSU.
Features
Rather than being a plain Jane power supply, this particular one has many great qualities. Pictures I took hardly compare to the official pictures below. The surface has a high-gloss mirror finish, and looks fantastic. Very, very easy to get your fingerprints on it :)
Since Ultra released the X-Connect, and made the Modular Cable system really stand out, there have been other manufacturers using the idea and implementing ito their PSU's. This is no doubt one of the best things to ever come to a PSU.. it just makes sense. Having cables that you can remove or add whenever you want, can really cut down on the clutter inside your case.
The X-Connect will likely come with everything you need, including a S-ATA cable, which was not included when the PSU first launched. Here is an official list of the connections the PSU has:
1x 20-Pin Main Power
1x 6-Pin AUX (Xeon) Power
1x 4-Pin 12V (P4)
6x 4-Pin Peripheral
1x Floppy
1x SATA Power Adapter
Further Look
What good are the connections without the cables though? Here are all the cables that come with the X-Connect:
1 – 17.75″ 4-Pin Intel Pentium 4 Motherboard Power Cable
1 – 17.75″ 20-Pin ATX Motherboard Power Cable
1 – 17.75″ 6-Pin Xeon Power Cable
1 – 17.75″ 4-Pin Power Cable
1 – 21.75″ 4-Pin Power Cable
1 – 17.75″ Y-Cable with Floppy Driver and (2) 4-Pin Power Connectors
2 – 17.75″ Y-Cable with (2) 4-Pin Power Connectors
1 – 6″ Y-Cable with (2) S-ATA and 4-Pin Power Adapter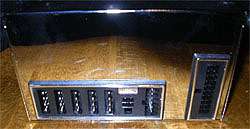 As you can see, there are plenty of connections ready to use. Since it comes with (6) 4-Pin connectors, that's enough to have 4 HDD's and 2 CD-Roms, or 2 HDD's, 2 CD-Roms and 2 for your high end Nvidia card. If you have a real high end system, such as one with numerous hard drives, or dual 6800's, you may need to purchase an extra 4-Pin cable from the Ultra website, but few of us would have to worry about this. Just for the record though, since PCI-Express has been released, Ultra has quickly added PCI-X Cables to be purchased from their site.
For those interested in the output power, here it is:

The combined +5V, +12V and +3.3V Max Output is 480W. The total Max Output for the PSU is 500W. The X-Connect also implements Over Voltage Protection, which allows it to go quite a bit over the regular voltage before it will blow. Meaning, there is sufficient leniency in the voltages, so you will not have to worry about something happening. The OVP for the +5V is 6.1V, the +12V is 14.3V and the +3.3V is 4.1V.
The power supply also comes with two fans, one that's situated at the bottom of the PSU that sucks air up, while the one in the back of the unit, blows the air out to the free world. Surprisingly, the fans are not LED. I would only figure that the bottom one could have been, that way it would have helped in lighting of the cables. However, the PSU has so many redeeming qualities.. it just doesn't matter.
Installation
There were no issues with the installation of the PSU at all. I was curious about the cables during installation, and whether they would feel sturdy or not. These are definitely heavy duty cables, especially the 20-Pin motherboard one.
The cables fit securely in the PSU, very tight. All the cables are sturdy, but are able to be maneuvered easily. The Motherboard cable is the hardest to handle, since it's very thick. The 4-Pin cables especially, though, were very easy to work with.
Overall, I had no issues with the installation, and I am very happy with the fit of everything. Of course, there are some things that could not be connected to the X-Connect, such as the system Fans and video card (Which required a 3-Pin). But it still looks pretty snazzy.
Performance
System tested: AMD 2600+ @ 2.2GHz, 1024MB DDR400, MSI KT4V, MSI Radeon 9800 Pro (420/380), 200GB * 2 WD, 160GB WD, Lite-On 8x DVD+RW, Phillips PSC724, D-Link NIC, 4 system Fans, excluding PSU and CPU.
Now to benchmark this puppy. To get the Idle figures, I booted up my computer, and left it there for 30 minutes, then got the information. For the normal use, I surfed the web, listened to music, did all the normal everyday stuff, including working on this review. To get the max load figures, I ran the Burn-In test on all the components, with SiSoft Sandra 2005. To be more CPU intensive, I ran Prime 95 at the same time. To add to the fun, I had a 4GB DVD image copying from one hard drive to another as well. The results follow:
It's interesting to note that while the +3.3 and +5 are head on, the +12 is actually 0.60 above at max load. Even at idle and normal use it's much above +12. As we see across the three figures though, is that it's quite stable. It doesn't zip from +12 to +12.60, it starts off at 12.50. During the review, I noticed that the +12V got to +13.13, which is high.. that's almost 9% over the sense level. This could be that Motherboard Monitor is not reading it that accurately, but it's still high regardless.
So how does the X-Connect sound? It's not the quietest PSU out there, which is helped by it's dual fans. However, it's still not so loud that you wouldn't be able to sleep in the same room as it, (I know, because I do it).
Conclusion
When the X-Connect was released late last year, there were a lot of skeptics. Ultra also had it's share of problems with the release, including not bundling S-ATA Cables with the launch models. That was quickly taken care of though. There are a lot of people who are unsure if the cables have a 'secure' feel or not. I can say that they certainly do.. they feel sturdy, and fit in tightly.
One thing I would have liked to see, although it may not be that feasible, is to have a cable that allowed you to plug in your fans. A Y-Cable with two 3-Pin and one 4-Pin floppy connector would have been cool. That way, for older video cards like mine, I could plug it in, as well as two available fans. I am surprised that Ultra doesn't sell an add-on cable like this, but of course, I may be the only one who could use one.
Overall, the X-Connect PSU is a fantastic power supply. The design and innovative features are great. I was discouraged a little when I seen the +12V rail hit 13.13 though. I don't believe, with all my hardware even running at the same time, that it should hit that high.
If you want the inside of your PC to look tidy, and have a great looking PSU to boot, I recommend you look into the X-Connect. If Silvers not your bag, Ultra has many colors to choose from.
Have something to say? Discuss it in our forums. Quick signup, and no spam.
Pros
It looks gorgeous!
Cable connect system
Cables are reflective and sturdy
Comes in at a great price
Cons:
+12V rail hit 13.13 during normal use

Copyright © 2005-2019 Techgage Networks Inc. - All Rights Reserved.