Ultra X-Finity 500W w/APFC

Date: August 4, 2006
Author(s): Matthew Harris

Power supplies come in just about every conceivable configuration. High wattages, single 12V rails, dual 12V rails, triple, quad. You name it, you can find it. One of the newer things we're seeing here in the states is active PFC (power factor correction). Today we take a look at an existing PSU that's been souped up with APFC and a hidden difference.
---
Introduction
Ultra's been around for a few years now. They made a big splash a few years ago with the X-Connect which brought modular cables to the masses and followed that up with Flex-Force flat cables which make cable routing a bit easier.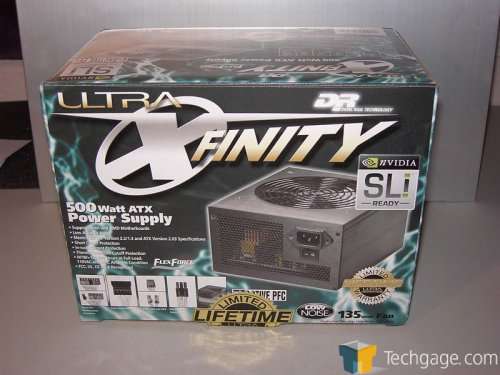 Today I'm taking a look at a new version of an existing Ultra PSU, the X-Finity 500W with APFC. It's bigger, it's black and it sports a honkin' big 135mm fan not to mention a bit of an internal difference to set it apart from the rest of the crowd.
The packaging lists an outline of the features of the 500 APFC, no double talk, no fancy names just straight forward specs and features. Being a tech-head I love packaging like this, no B.S. just the facts.
The specs for the wattage are also listed on the packaging, this makes it easy to judge what you're dealing with. They don't tell the interesting fact that I found by opening up the package and reading the manual though but more on this later.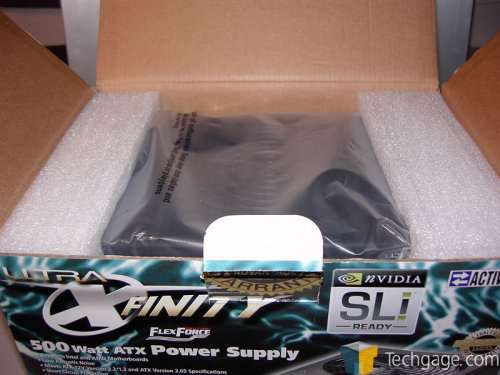 The packaging is basic, no confetti, no flashing lights, just a PSU wrapped in a plastic bag with closed cell end caps to hold it in place.
Inside the package there's the PSU, power cord, pack of screws and the manual (not pictured). Sorry but I was busy reading it and did I ever come away impressed. I found it to be very thorough in that it outlined the number of connectors and where each draws it's power from. For those of you that are in the know on a split rail PSU 12V1 feeds the mobo, PCI-e and drive connectors and 12V2 feeds everything else meaning the CPU core(s). This means that on this PSU you'd have two power hungry PCI-e cards competing for power along with drives, fans, lighting and the mobo from a single 16A (under full loading of both 12V rails or 18A on cross loaded rails) rail and the CPU using 7A or 8A of the other rail. This isn't a wise move as it truly limits the power that can really be drawn from the PSU and hurts it when you're using a pair of big cards on it.
Look Inside
This is why we're seeing the uber wattage PSU's making so much headway today. They split the loads up over more rails and keep the loads evened out. The 500 APFC shakes things up a bit though. Instead of running just the CPU(s) off the 12V2 rail and everything else off the 12V1 rail, Ultra has wisely divided the PCI-e loads over both rails. This means that you can easily load a pair of 7900GT's, a dual core CPU, multiple drives, fans and lights and not have to worry about pushing the 12V1 rail out of spec. Yes, you'll be running the 12V2 rail right at the edge of it's 16A limit (both rails combined are good for 384W or 32A/2) but running it at that load in today's PCs is not unrealistic. The beauty part is that Ultra even labels each PCI-e connector so that you can decide how to load the PSU if you've only got a single card.
Let's take a look inside: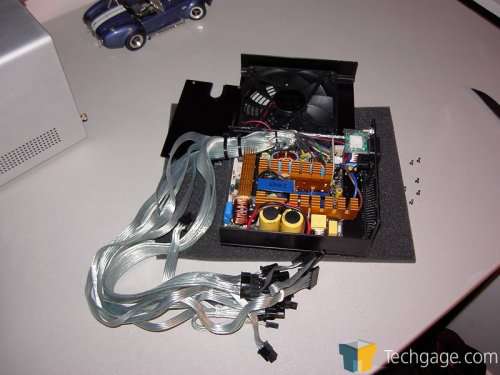 The 500 APFC features a split aluminum chassis which helps to add a bit of visual appeal to the unit and lightens it up a bit.
It also adds the APFC circuitry to the front of the PSU. This is something that's added to the existing X-Finity 500W so it's largely unchanged other than the rerouting of the rail loads (I'm assuming).
The end of the PSU features an inset punched steel grill rather than just a drilled endplate. I personally think it looks pretty slick and gives it a bit of a modded look.
Look Inside Cont., Conclusion
Looking at the front end of the PSU we get a better look at the APFC circuitry. Compared to power supplies I've seen with this circuitry built in it's a bit simpler but since it's basically supplying clean, corrected voltage to a non-PFC PSU I'd imagine that it's level of complexity doesn't need to be as great since it's not serving as PFC and switch mode circuitry.
Here's a better view of the internals just because I love seeing the guts of electronic devices :)
Here's a quick look at the power connectors. It has a 20+4 pin ATX, 4 pin ATX 12V, 8 pin ATX 12V, 8 (yes, 8) IDE 4 pin molexes, 2 – 4 pin floppies, 4 – 5 pin SATA's and 2 PCI-e connectors. The options this gives you for drives, fans and other peripherals is simply astounding as is the number of cables this will force you to hide.
Tested System

Motherboard: Chaintech 9CJS Zenith
Processor: Pentium 4 2.4C @ 3185Mhz
Ram: 2*1Gigs Patriot PDC2G3200LLK
Video: eVGA 6800nu unlocked, 16p/6v, 380core/820mem
Hard Drives: 2* Western Digital WD1600JD 160Gig SATA
Optical Drives: Samsung 16X DVD-ROM, Samsung 16X D/L DVDRW
Cooling: Swiftech Apex Ultra WC kit, 3*120mm fans, 1-92mm fan
Floppy: Sony 1.44Mb
Etcetera: Windows XP SP2
Now that we've seen what it has to offer inside let's see what it does hooked up.
| V | 3.3V | 5V | 12V1 | 12V2 |
| --- | --- | --- | --- | --- |
| Idle | 3.42V | 5.20V | 12.01V | 12.04V |
| Load | 3.37V | 5.16V | 11.98V | 12.02V |
For loading I ran SuperPI v1.04, 3D Mark '06 and Diskeeper 10 on both hdds concurrently.
I was pretty impressed with the results. Like the X-Connect 2 I reviewed a while back the rail voltages were a bit high but not out of spec. Nothing to be concerned about by any means and under load the voltages remained pretty good. Overall I'm impressed with the performance.
Time to dig through the coal and find the diamond:
High Powered:
Big quiet fan
Snazzy black anodized case
Active PFC
Good power distribution
More connectors than you can shake a high tension wire at
Hyperactive:
Not modular
Tons of cables to hide
Larger than average
Slightly pricey
When it's all said and done the Ultra X-Finity 500W with APFC is a solid PSU that gives a lot of flexibility for hooking up nearly anything that your heart desires. If you've got a ton of drives run your video card on 12V2 and you've got amperage to spare for drives. If you're running a pair of power hungry PCI-e cards they aren't choking on the same 12V rail. Quite a plus for what would be a budget PSU…if it wasn't for the added cost the APFC adds to the pricetag. There are more powerful PSU's out there for the same money but you stand to have your vid cards vying for power on an overloaded rail so it's a toss up. Make sure that you've got plenty of room in your case as the 500 APFC takes up the same depth that the Duro 900 does. The added APFC circuitry has to live somewhere after all.
The abundence of cables is both a plus and a minus. You've got plenty of options but then again you've got even more clutter to hide. I'd like to see Ultra rework an X-2 with APFC and the same rail topology so that users could have the added horsepower that the ability to tap both rails fully unleashes and have a slick modular interface.
Overall I'm awarding the X-Finity 500W APFC a 9/10 and our editor's choice award due to the forward thinking design.
Discuss in our forums!
If you have a comment you wish to make on this review, feel free to head on into our forums! There is no need to register in order to reply to such threads.

Copyright © 2005-2020 Techgage Networks Inc. - All Rights Reserved.