Ultrasone HFI-700 Headphones

Date: December 20, 2007
Author(s): Rory Buszka

A relative newcomer to the high-end headphone market, German manufacturer Ultrasone is making waves in the industry with their competitively-priced offerings that deliver excellent sound quality and value. We take their HFI-700 headphones for a spin, and find plenty to get excited about.
---
Introduction
In the past, when I've been asked to name manufacturers of high-end headphones, several names would immediately spring to mind – among them AKG, Sennheiser, Grado Labs, and Audio-Technica. Recently, however, I've added another 'name to know' in high-end headphones to my list – the German maker Ultrasone.
A relatively new company as compared to the other four I mentioned, Ultrasone's offerings range from the relatively Spartan HFI-15 on-ears to the opulent Edition 9, trimmed in brushed aluminum and rich high-gloss plastic, with sumptuous Ethiopian sheep's-leather earpads. What does $1500 sitting on your head feel like? Like Ethiopian sheep leather, I suppose.
For our first review from their product line, Ultrasone kindly sent along their $249 (MSRP) HFI-700, an elder sibling of the HFI range. The HFI-700 headphones feature around-the-ear design and closed earcups, as well as the company's proprietary 'S-Logic' technology, which is said to enhance the listener's perception of a three-dimensional sound field, like one experiences when listening to a pair of high-end stereo loudspeakers.
Other than that, these headphones are fairly ordinary – only two channels, without any crazy multi-driver surround effects (which, I find, generally tend to backfire from a sonic standpoint). Simplicity, however, can be strength, and more than that, it can be a sign that real attention has been paid to the details.
At the $249 price point, the Ultrasone HFI-700s rub shoulders with the Beyerdynamic DT 770, the Sony MDR-7509, and the Grado Labs SR-225 – some very stiff competition from respected names in the business. However, as we'll see, the HFI-700 headphones bring quite a bit to the table sonically as well, with some characteristics that make them especially appealing for music listening and home studio use.
Packaging and First Impressions
Ultrasone's HFI-700 headphones are targeted toward the high end of the consumer audio segment, and Ultrasone's attention to detail in the HFI-700's packaging helps reinforce a high-end image. The headphones come in a full-color retail box, highlighting Ultrasone's 'S-Logic' technology, as well as pertinent technical specifications like frequency response and impedance. It's a bit presumptuous for Ultrasone to call themselves 'The German Headphone Company' – I'd be more inclined to give that preeminent title to Beyerdynamic or Sennheiser – but the fact that the Ultrasones come from the land where great headphones are born is encouraging.
Inside the box, the Ultrasone headphones are cradled in cardboard packaging and wrapped in a plastic bag. By contrast, Beyerdynamic's DT 770 model (a classic that's in the same price bracket) ships in a large padded case, but that's likely because the DT 770 do not fold as compactly as the Ultrasones, which can fit easily in a backpack without fear of damage. Also in the box is a polyester-fabric drawstring pouch silk-screened with the Ultrasone logo, for safe carrying.
Ultrasone's packet of documentation includes an audio CD with various types of music (mainly orchestral), for demonstrating the sound quality of the HFI-700 headphones. While the included music didn't really cater to my specific tastes, it was indeed well-recorded.
| | |
| --- | --- |
| Specification | Value |
| Model | HFI-700 |
| Frequency Response | 10-25,000 Hz |
| Impedance | 75 Ohms |
| Sensitivity | 94dB |
| Driver | 40mm gold-plated dynamic |
| Input | Straight cable, 3.5mm plug with ¼ adapter |
| Type | S-Logic Circumaural |
| Color | Black with gold earpiece |
| Weight | 265g |
As first impressions go, the Ultrasones make a decent one. Though the construction of the earcups feels fairly lightweight, they feature real leather ear pads, as well as plenty of curved surfaces – which should help them avoid internal reverberation. The headband seems well-designed and sturdy – by spreading the cups far apart, I didn't feel I would in any way break the headband. The real proof, however, is in the pudding, and the proof of the pudding is in the eating, so we'll have to wait until the 'testing' section of the article for more pointed discussion of comfort and sound quality.
Features Overview
Ultrasone's HFI-700 headphones may look fairly ordinary, but there are plenty of performance-enhancing features and thoughtful design touches that set them head and shoulders above most 'consumer'-level headphones. Here's a look at the features of the HFI-700.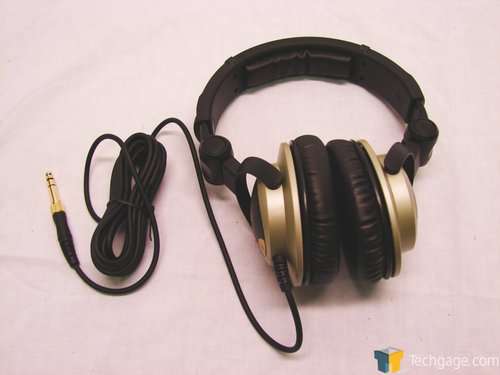 The Ultrasone HFI-700 are 2-channel, closed-back, circumaural headphones. They've got a generous ten-foot cable, and plenty of padding for comfort, including an additional leather-trimmed pad up top. Styling is understated, for the most part – the headband is completely black, with "HFI-700" printed tastefully in yellow in the center.
The earcups are of gold plastic, and feature curved surfaces that, together with the "S-Logic" driver placement, prevent the formation of internal standing waves that can cause frequency response irregularities. The single input cable enters through the left earcup, and the right-channel signal travels through a small wire through the one-piece rubber headband to the other earcup.
The earcups of the HFI-700 headphones are multi-jointed, and can tilt and swivel in just about every conceivable manner to suit any head size – I even had my big-headed friends try them on for fit. The earcups themselves tilt and swivel, and can even be folded up into a tiny package for carrying in the included pouch. They feature soft leather pads that seal nicely against the head, and are much larger and significantly more comfortable than the Altec Lansing AHP524 headphones reviewed in May (a perfect example of what I mean by 'consumer' headphones).
The HFI-700 headphones feature 40mm Mylar drivers that are 'gold-sputtered'. The company has other headphones which use 50mm titanium-coated drivers; the 'sputtering' process simply deposits a layer of the metal on top of the diaphragm surface using a 'vapor deposition' technique commonly used in the making of high-end studio microphones. Metal coatings are used to extend the upper frequency response of drivers by stiffening them, without adding a large amount of additional mass.
So why use gold? Gold is a softer metal, which would begin to damp vibrations in the very top end of the frequency spectrum as the accelerations applied to the diaphragm become large enough (that is, at high frequencies) reach the point where the gold layer begins to deform. The 40mm drivers still offer plenty of 'oomph' in the lower ranges, and their 75-ohm impedance means that your sound card won't have to work as hard to drive them to high levels (not that we recommend this).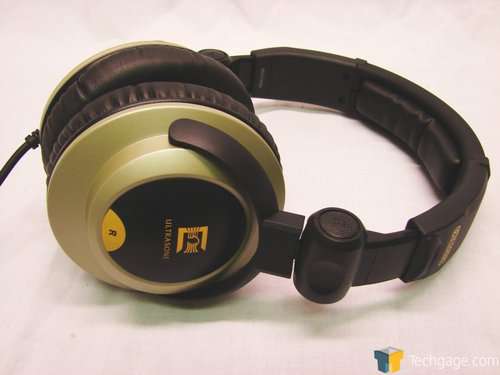 "S-Logic" is Ultrasone's highly-touted technology for providing 'natural surround sound' from 2-channel headphones. If you're thinking some half-baked DSP algorithm, think again. Here's how it works: When you hear a sound, the shape of your ear lobe creates frequency response variations in sounds that originate from different directions, which your brain interprets (along with phase information) to determine where a sound originated.
A drawback of conventional headphones is that the center of the transducer often fires directly down your ear canal, causing much of this positional information to be lost, and causing the sound to sound as if it's coming from inside your head. Ultrasone's 'S-Logic' technology involves firing the headphone driver at an upward angle, toward your ear lobe, where it can reflect and enter your ear much like a natural sound from outside your head. I'll comment in the 'listening testing' section on how well this works.
Listening Testing
For my listening tests, I listened to a variety of music and gaming program, served from my 'reference' PC, which takes a ground-up approach to sound quality. In addition to the high-quality ASUS Xonar D2 sound card (which I reviewed in September), fed with audio CDs and high-quality 192kbps WMA and 256kbps MP3 files, my 'reference' PC also features a microprocessor-controlled silent cooling system, which minimizes background noise. The headphones are driven directly by the sound card's output stage, which features Burr-Brown DACs and op-amps, and is capable of 5Vpp voltage swings, which is enough to drive even the most difficult headphones.
The Test System
CPU: AMD Athlon 64 X2 5200+ 2.6GHz
Motherboard: ABIT KN9 Ultra (NForce 570; MCP-55)
Memory: 2 GB OCZ Gold DDR2-1100 @ DDR-800
GPU: ATI Radeon X1650XT, 256MB
Sound Card: ASUS Xonar D2
PSU: Antec NeoHE 500W
Silent microprocessor-controlled cooling system
To begin my critical listening, I picked a well-recorded album that's in the spirit of the season, Josh Groban's new release, NOEL. The entire album features the London Symphony Orchestra for accompaniment, as well as guest vocalists and instrumentalists like classical guitarist Andy McKee, featured in the CD's second track, "Little Drummer Boy." The HFI-700 headphones articulated the fine detail of McKee's playing, while rendering Groban's characteristic warm voice smoothly and richly – indicating that while the HFI-700s have a slight lift through the upper midrange, they're mostly 'flat' without an ear-fatiguing lower-midrange suckout.
The HFI-700s are very well-spoken, though a bit less laid-back than other high-end headphones like the aforementioned Beyerdynamic DT 770. The more 'forward' character makes them satisfying to listen to, since they seem to pick out and slightly emphasize audible detail.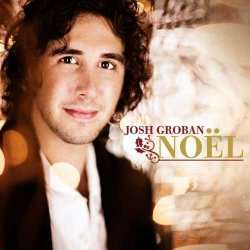 The Ultrasone HFI-700 feature a voicing through the bass range that's closer to 'flat', without the DT 770's slight lower-end lift. For this reason, I'd choose these headphones for studio monitoring applications – the flatter bass range helps to ensure that the bass on the final recording will be satisfying, instead of having been pulled way back to sound 'flat'.
The HFI-700's bass is far from anemic, however – in Groban's "The First Noel", a duet with Faith Hill that culminates in a spectacular gospel finale, there's real, head-compressing synth bass that's both deep and authoritative – rest assured, though there's no artificial lift, these headphones can deliver plenty of satisfying lows when the program material calls for it.
What about that 'Natural Surround Sound' effect that's so highly advertised by Ultrasone? When compared with traditional headphones, the S-Logic design does seem to be effective at creating a more diffuse sound field that seems to come from outside the earcups. While it won't emulate a front soundstage, it does help take the music outside your head, instead of sounding like the orchestra is playing inside it. The effect, in addition to being nifty, and lending a more 'panoramic' character to the sound, also makes these headphones very listenable for long periods.
Can high-end 2-channel headphones make a huge difference for PC gaming? As far as today's modern games are concerned, the answer is a resounding "Yes!". To test these headphones for gaming applications, I used Activision's Call of Duty 4: Modern Warfare. With the level of detail these headphones are capable of retrieving from the source material, I was able to accurately locate the source of even the most subtle sounds, and the extended deep bass gave a terrifying realism to explosions. If you're looking for the extra edge in gaming, don't go for gimmicky, half-baked "surround-sound" headphones – a really good 2-channel set like the HFI-700 will do more for your game than those 'surround headphones' ever did.
Comfort
I won't beat around the bush – the Ultrasone HFI-700 headphones not only sound great, but they're comfortable as well. Velour earpads can feel like you're wearing a stuffed animal, but the HFI-700's foam-filled, leather-wrapped earpads have a slightly more utilitarian feel that's also less likely to pick up body oils.
Some headphones clamp your head in a vise-like hold, but the HFI-700 headphones stay in place without exerting massive side forces on your ears, making them an excellent choice for studio applications – where headphones are often worn for long hours. The HFI-700 aren't flimsy, yet they do manage to be fairly lightweight. You won't forget you're wearing them, but you won't feel your neck drooping after long sessions, either.
Final Thoughts
Until I was asked to review these headphones by our Editor-in-Chief Rob, I had never heard of Ultrasone. However, the company is working actively to make waves in the American head-fi market with their attractive, competitively-priced offerings. While they may not yet have the traction of other brands like Beyer or Sennheiser (to be expected in a market where brand recognition plays a huge part), believe me – they're closing in fast, particularly among head-fi enthusiasts. The Ultrasone HFI-700 are an excellent example of why, with their excellent sound quality, superb comfort, and a price that puts them on competitive footing in their price category.
I'm not much of a head-fi enthusiast, but I do tend to be won over by products that display obvious attention to detail, and deliver on their performance promises. In the case of the HFI-700 headphones from Ultrasone, one of the highest praises I can give is that there are so few nits to pick – with the design, the build quality, or the performance.
The HFI-700 aren't particularly opulent headphones in their design or materials, but they deliver lifelike sound that's perfect both for critical monitoring applications and casual listening. They're also comfortable to wear, and they look good. In my mind, they do everything a really good set of headphones at this price should do.
That's not to say that the HFI-700 headphones are perfection in a 'can' – their somewhat 'forward' sound may not appeal to everyone. If you prefer a more laid-back sound that you could listen to for days on end and never feel tired, a more laid-back set of headphones like the Beyerdynamic DT 770 may be a better fit for you. On the other hand, if the retrieval of detail in the recording is particularly important to you, and you're looking for headphones that approach the character of studio monitors, the HFI-700 from Ultrasone are an excellent choice.
Should you buy the HFI-700 headphones? If you're upgrading from 'consumer'-level headphones, and do a lot of casual listening, these are easily the headphones for you. If you've got a home recording studio, these headphones' flat frequency response and detailed sound makes them especially attractive.
If you're a seasoned audiophile who knows that you prefer a 'laid-back' sound to a 'forward' one, then these may not be for you, and you may find them slightly ear-fatiguing. Audio, especially at the high end, can become an intensely personal thing, with your own subjective preferences carrying a substantial amount of weight.
The Ultrasone HFI-700 headphones deliver a superb, comfortable listening experience and balanced, detailed sound. I'm awarding them a Techgage score of 9 – they're a must-have upgrade from the sub-par headphones so frequently foisted on the 'gaming' crowd. It bears mentioning, however, that while the HFI-700 is still available in the United States, Ultrasone has released their successor, the HFI-780, to the European market, and they should be hitting these shores soon as well. Ultrasone's German web site already reflects the transition, but their U.S. site still shows the models available in North America.
Pros
Balanced, clear sound
Clean, articulate bass
S-Logic design provides lifelike reproduction
Comfortable to wear for long periods
Collapsible design for portability
Cons
Somewhat 'forward' sound can be ear-fatiguing
Lofty price tag isn't for everyone
Discuss in our forums!
If you have a comment you wish to make on this review, feel free to head on into our forums! There is no need to register in order to reply to such threads.

Copyright © 2005-2020 Techgage Networks Inc. - All Rights Reserved.