Vantec NexStar3 Enclosure
Date: January 13, 2006
Author(s): Greg King

We all know that keeping our components cool is the best way to prolong their life, and our Hard Drives are certainly no different. Vantec is offering us a great looking solution for our external drives that grants us great speed and enough class to satisfy anyone.
---
Introduction
Have an old hard drive lying around? Perhaps you just hate the IDE ribbons or bulky sleeved ribbons that you have to use to connect that lonely hard drive up. Have you ever thought about turning it into an external hard drive?
/People with notebooks, take note.
For far to long, we have been forced to pay humongous premiums on external hard drives just because they are different from the normal internal HDD's that we are so used to. The only real difference between the external and internal hard drives is the enclosure itself.
/Enter Vantec.
We all know Vantec, or at least have heard of them. They have been in the game for a long time now making superb cooling products. Their line now includes everything from basic case fans up to power supplies and cables. I have even recently reviewed a Vantec HDD cooler and that review can be found here.
Today, we are going to take a look at Vantec's line of HDD enclosures. The model name is NexStar and the interface is SATA. I am going to see just how this thing works and along the way, see if it would be a practical purchase for anyone with an extra HDD lying around and a need to use that space.
Packaging
The box came shipped in a regular brown box that any package of this size would be shipped in. Once removed, the NexStar packaging looks colorful and well done.
The colorful packaging comes with pictures, product specifications and descriptions as well as the package contents clearly labeled on the box itself. This is certainly something that would catch my eye when walking though a store.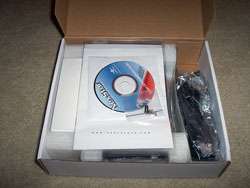 The contents of the box are seen in the above picture. Everything comes wrapped in plastic and is nicely tucked into the box. Once opened, this is what I find.
Clockwise from the left: USB 2.0 cable, power cable, external SATA PCI bracket, power supply and the external SATA cable.
Installation
The installation of the HDD into the enclosure was nice and easy. In this next picture, you will see the back end of the enclosure where the power switch is and where you plug everything into.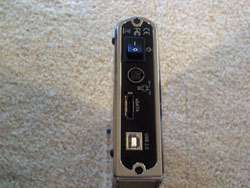 At the top and the bottom of the enclosure, on the back side, there are 2 small black Phillips screws. To remove the hard drive tray, you must first remove the 2 black screws. Once the 2 screws in question are removed, the tray slides right out and the hard drive is secured in the same fashion as a desktop case. Easy enough.
The hard drive that I chose to pick up is a Seagate Barracuda 7200 RPM 250 GB. Seagate is been a long time favorite of mine when it comes to hard drive manufactures but that is for another review. This particular hard drive comes with NCQ and can be found at Newegg.com for the sick price of $130 US. Here is some serious linkage lovin' for all you in need of a good SATA hard drive. Get one. Now.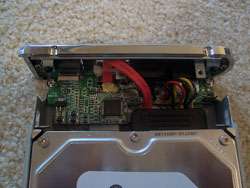 Above you can see the SATA connection that will have to be made before you place everything back into the enclosure. Once inside, replace the 2 black screws and power her on.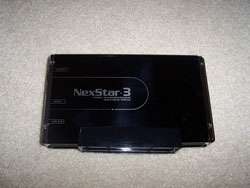 The enclosure is made to be setup either flat on its side or vertically with some help of the provided stand. The stand is made out of black plastic and just slips around the bottom of the enclosure. If placed on its side, gravity does the work for you and the four rubber nubs in each of the corners help.
I have chosen to use this with its stand and go the vertical route. This will allow me to test this drive on my desktop.
Conclusion
After a couple of hours of using this enclosure with the Seagate drive, I have had absolutely no problems with it. I have transferred approximately 132 GB of data over the past couple of hours (not non stop) and even during all that work, the case temperature never got above what I would consider warm. Not hot, but not room temperature either. I think the aluminum casing helps dissipate heat and that's why the overall temp of the enclosure is not anything near worrisome.
The shiny black finish to the case is attractive and the lighted Vantec logo on the front is a very nice touch, especially at night when it shines the brightest. This is a very nice addition to anyone's hardware list if you happen to have an extra SATA drive lying around and even if you don't, the current prices of hard drives are almost daring you to pick up a large one and order this HDD enclosure with it as well.
Pros
Attractive. Sexy even.
Light
Keeps your hard drive cool passively and silently
Silent
eSATA option
Nice blue activity light on the front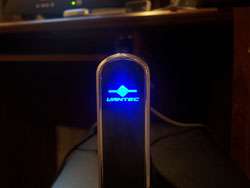 So to wrap this up, with a retail price at Newegg.com of $44.99 US, there really isn't any reason you shouldn't pick yourself up one of these babies. This comes in so handy in so many ways that I am not sure how I got by without one for so long. The small size and portability are as impressive as the features themselves. I am giving this a coveted 10 out of 10 and am going to smack an Editor's Choice on for good measure.
Feel free to discuss this review in our forums. You do not need to register to post in our content threads, so what is your excuse?!

Copyright © 2005-2021 Techgage Networks Inc. - All Rights Reserved.